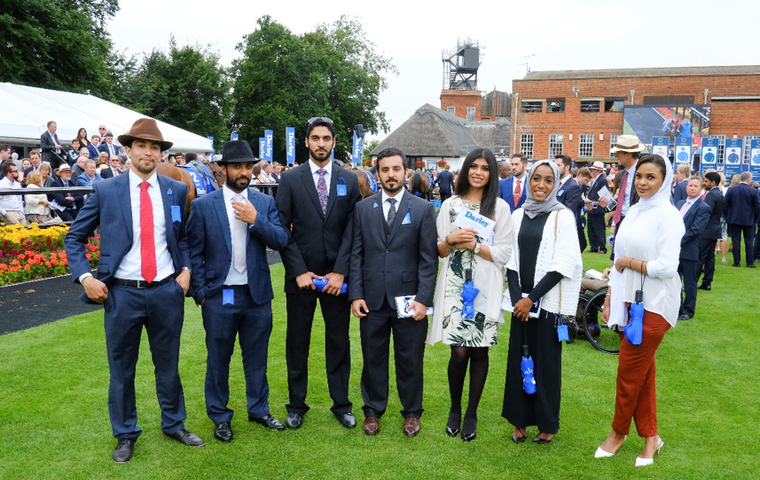 Masar Godolphin, an academic and experiential training programme exclusively for UAE nationals, will be celebrated at Dubai Future Champions Festival at Newmarket on Friday and Saturday.

The one-mile G3 Masar Godolphin Autumn Stakes will be the second race on Saturday's card. The 2-year-old contest was won last year by Best Solution, trained by Saeed Bin Suroor. The prizes will be presented by the Masar Godolphin students currently based in the UK.
The group have been helping in the lead-up to the festival as well as in other areas of the business, which is based at Godolphin's global headquarters, Dalham Hall Stud in Newmarket.
The course, which operates under the patronage of Sheikh Mohammed, offers participants the opportunity to experience the unique world of international Thoroughbred racing and breeding, as well as to embrace equestrian heritage, with the aim of becoming the business leaders of the future.
The eight Emirati men and women aged between 20 and 30 selected for the course have been benefitting from Godolphin's superb facilities and expertise.
The programme is delivered in Dubai, Newmarket and Kildare from January through to October. It begins in Dubai with an induction phase, before moving to the UK for formal study and riding lessons at the British Racing School. The trainees spend time in Godolphin's fast-paced UK operation, gaining insight into best practice in the breeding and training of Thoroughbreds and the management systems that support them. The program is brought to a close with a graduation ceremony in Dubai.
During the program, the trainees have the opportunity to visit some of the UK's leading sporting and professional organisations with the aim of developing their leadership, management and teamwork skills. Attendance at some of Britain and Ireland's historic race meetings ensures many busy weekends, but it offers trainees an exclusive opportunity to network with industry leaders.
On completion of the course, students not only receive a certificate of completion from Godolphin, they also receive lifetime membership of Club Godolphin and have the opportunity to apply to work for Godolphin.
Masar Godolphin and Dubai Future Champions Festival Education Week are just two examples of Sheik Mohammed's contribution to the regions where Godolphin operates.
Dalham Hall Brunch
Also taking place again this week is the Dalham Hall Brunch, which is available to 50 university students across the country. Like the Masar Godolphin program, this initiative helps engage students with the industry, with a range of attendees from different establishments across Britain, including specialist veterinary courses and local universities, including nearby Cambridge University, which Sheikh Mohammed himself attended.
Students will attend a special morning at Dalham Hall on Friday, with talks from a number of key Godolphin personnel, before seeing some of the best stallions in the world. They will then head to the Newmarket's Rowley Mile Racecourse to enjoy the first day of the two-day Dubai-sponsored Festival.