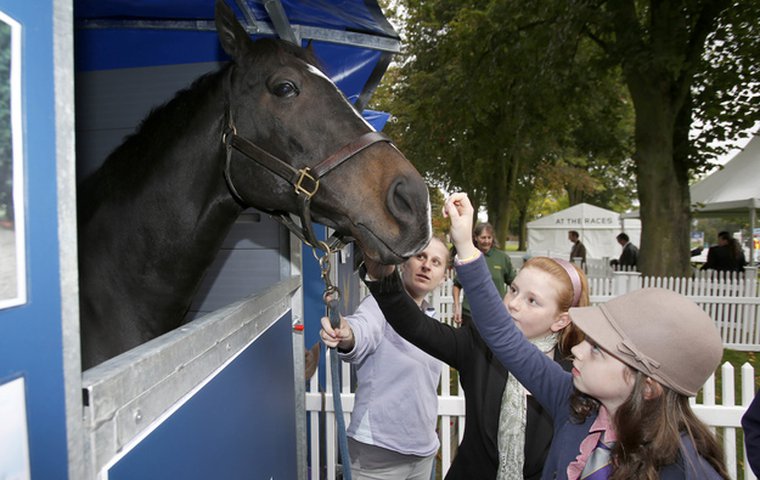 Many of the most important changes and innovations that have characterised the development of Thoroughbred racing down the years have had their roots at Newmarket. Traditions and practices that are now part of the fabric of the sport have often begun at the historic English town renowned the world over as the headquarters of British racing.

And this week, Newmarket is at it again with another initiative that could ultimately bring widespread benefit for the industry.
You may, of course, think this refers to Dubai Future Champions Day on Friday (Oct. 17) – part one of the spectacular £4.75 million ($7.63 million) Weekend of Champions at Newmarket and Ascot racecourses. Future Champions Day (at Newmarket's Rowley Mile course), featuring three of the most prestigious 2-year-old G1s in the calendar, has been re-packaged and shifted back a week to sit on the eve of Qipco British Champions Day (at Ascot), which in just three years has already delivered what it was conceived it for - establishing itself as one of the world's great racedays.
The Weekend of Champions is indeed a creation that could deliver further benefits for British racing. Yet, away from the glare of such publicity, another, lower-profile initiative of possibly even greater long-term importance will be culminating on the same day at the same racecourse.
Future Champions Education Week is a fascinating attempt to get young students to absorb the possibilities of horse racing. For the first time anywhere, every pupil from an entire year (grade) at a secondary school will devote a whole week to learning about racing-related topics.
That's 96 children, all the 12- and 13-year-olds in Year 8 at Newmarket Academy.
It may sound obvious and straightforward, and of merely fringe relevance to mainline horseracing, but make no mistake, this is real innovation, real seed-sowing, and nobody's done it before. For anyone searching for an answer to the biggest question in racing – how do we reverse the decline in its popularity? – Education Week is reason to sit up and take notice.
Newmarket Racecourses (the banner under which The Jockey Club runs the two famous tracks on the edge of the town) and the Academy have devised the programme together with the town's main racing bodies, including the National Horseracing Museum, the National Stud, Racing Welfare, Newmarket Equine Hospital, and The Jockey Club Rooms.
The week will be split into different themed days, starting Monday with history and heritage, with the students visiting racing landmarks.
"We've worked with all the teachers so that it's education-based," said Amy Starkey, who runs Newmarket Racecourses as East Regional Director for Jockey Club Racecourses. "So, for instance, they'll go to Newmarket Equine Hospital and learn about the anatomy of a horse, or find out how you become a vet."
The students will spend the week on racing-related tasks and lessons in science, geography, history, art, fitness, nutrition, photography, and fashion design. They will also take part in a business and marketing workshop based around running a racecourse. The week finishes with a day at the races on Friday for Dubai Future Champions Day.
"This is year one, but it's something that we very much want to grow and build," Starkey said. "My vision is that every child educated in and around Newmarket during their school life will experience a racing-related education programme. And that's to drive future fans, future employment, and also to give children an insight into the racing industry and give them aspiration and choice.
"I think that if you can nurture that interest in racing in children from a young age, it bodes well for the sport in the future."
The venture is starting at the home of racing, but Starkey believes it has a much bigger future. "It's definitely something we can build on and you can roll out, not only just in Newmarket, but across the country in certain areas, maybe even abroad," she said.
"It's an amazing sport. We employ over 85,000 people here in the U.K. [including those working indirectly in associated industries]. We want to educate children in terms of the different roles, the different careers that racing can provide you with, from the vets to the racecourse managers, to media, to marketing, to catering, to cleaning, to stable staff. There's a whole plethora of different careers."
Education Week isn't the only new initiative being introduced at Newmarket this week. The last race on Friday's card will be the first of what is planned to be an annual Oxford vs. Cambridge race, with the great rival universities fielding five riders each, all current students, in a race over the straight mile. As part of the effort to attract new faces to racing, students everywhere are offered free admission both to Newmarket on Friday and Ascot on Saturday.
This should all help bolster the crowds at the two days, which could be particularly valuable on the Rowley Mile on Friday, as could Books 2 and 3 of the big Tattersalls October Yearling Sale this week. Book 3 closes for business on Friday, ensuring that hundreds of racing professionals from Britain and abroad will still be in town and therefore able to watch some of the horses they may have been bidding for 12 months ago taking part in the three championship juvenile events – the £200,000 ($321,000) Vision.ae Middle Park Stakes (six furlongs), the Dubai Fillies' Mile (which was run at Ascot until 2011), and the most coveted of them all, the £400,000 ($642,000) Dubai Dewhurst Stakes (seven furlongs).
"The whole of Newmarket at this time of year is abuzz with racing and with the sales and there's an international flavour," said Starkey, who is hoping for a few more through the gates than is customary on a normal Friday, when she would expect up to 6,000. "The weather will play a part. But I hope that we'll get to 8,000. We need the weather to be on our side, though."
The Weekend of Champions includes a number of races – the Qipco Champion Stakes chief among them – that have moved between the two courses, and others that have changed places on the calendar, sometimes controversially, with a view to strengthening the overall programme. The Champion Stakes had been run at Newmarket since 1877 until it was switched to Ascot in 2011 to form a centrepiece of the new Champions Day there.
Such selflessness on the part of a leading racecourse – giving up one of its major races - would be rare in most other jurisdictions, but The Jockey Club, owners of Newmarket, see things differently.
"The really important point in all of this that is often overlooked is that The Jockey Club exists for the good of British racing," Starkey said. "We are actually the largest shareholder in Qipco British Champions Day, so it's in my interests that both those racedays are successful and in the sport's interests as well. So there may be a debate about where the day should sit and, believe me, I've been here two and a half years and it's been an ongoing debate, but it is where it is and we are putting down some good foundations for future growth.
"The right home for Qipco British Champions Day is Ascot [which is not a Jockey Club racecourse] and it's about us all working together for the greater good to make both days a success and to celebrate everything that is great about two amazing days' racing. That's what should be the focus."