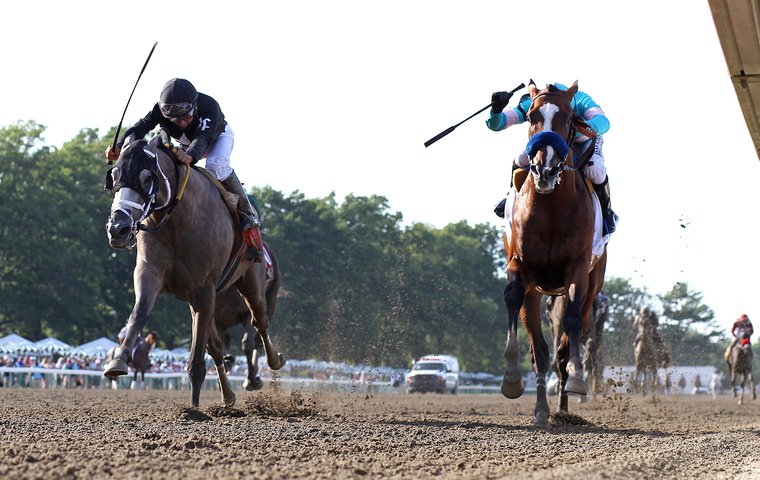 The summer racing season in the U.S. is here and, despite the Covid-19 pandemic, the major tracks are posting strong numbers and quality racing.

Here are recent results from important seasonal tracks. One thing to keep in mind is that almost all the wagers made today are Advanced Deposit Wagering (ADW) bets. Live on-track bets are always more profitable for the track than ADW bets - by a ratio of almost three to one - and purses are also more profitable, roughly by two to one. For this reason, a track can have a ten percent increase in ADW bets but the increase will probably not cover the incremental cost increase to the track for the ADW wager instead of a live track bet.
Monmouth Park launched its 2020 meeting over the July 4 holiday weekend. Almost all U.S. tracks are not allowing customers to attend live racing this summer. However, this past Saturday (July 18), Monmouth was allowed to have 5,000 customers in the seats for the Haskell. And it set a record all-source handle of $20,479,392 on its 14-race card, including five Graded stakes. This broke the previous record of $20,024,509 from July 2015, when Triple Crown winner American Pharoah won the Haskell and set the all-time attendance record of 60,983.
Saratoga opened last Thursday (July 16) with no customers in the seats and had an all-source handle of $19,100,297, which was 21.2 percent higher than the opening day handle for July 2019. And on Saturday, July 18, the day Monmouth set its all-time track record ($20,479,392, 14 races, five of them Graded), Saratoga handled $23,735,162 on 11 races with two Graded stakes.
The NY Gaming Commission will now allow up to eight owners per runner to attend the races in a designated section and will be expected to comply with a number of safety measures. Congratulations to NYRA for arranging this for their owners.
Other major meets where wagering has climbed
Belmont Park ran a curtailed 25-day spring meet, which ended on July 12, as compared to a 48-day meet in 2019. However, the 2020 meet averaged $15,466,095 wagered per racecard, which was 41.62 percent higher than the 2019 average of $10,921,059. Again, Belmont 2020 ran the spring meet with no customers in the stands and no owners in attendance.
The Keeneland 2020 spring meet was cancelled and the track ran a brief five-day meet from July 8-12. Average wagering per card was $12,681,321, which was 32.57 percent higher than the average for 2019 ($9,565,604).
Del Mar's opening week was July 10-12. The average wagering per card was $12,533,6856, an 18.76 percent increase compared to the five-day opening meet of 2019 ($10,533,621). Del Mar's second weekend this time, July 17-19, was cancelled because 15 jockeys tested positive for Covid-19. The current plan is to race the weekend of July 24-26, subject to there being enough healthy jockeys available.
As I will explain below, I believe there are real reasons to expect these positive daily trends to carry on throughout the summer for both large and smaller tracks.
Missing out on casino revenue
However, the racing industry has a large financial hole to climb out of. NYRA and many other tracks lost over two months of live racing, which meant no contribution to the purse account and no operating revenues. NYRA, like many other tracks, receives around 40 percent of its purses, and substantial operating and capital funds, from the Aqueduct Resorts World Casino, which closed in mid-March. No re-opening date has been announced for any of the racetrack-related casino operations in New York.
The New York Thoroughbred Breeding and Development Fund is also currently missing out on the millions of dollars annually for purse supplements and breeders' awards it usually receives from the Aqueduct Resorts World Casino.
On May 28, the Breeders' Cup and the Jockey Club launched a national ad campaign titled Still. Running. Strong - an important strategic initiative attempting to reach sports enthusiasts and bettors who cannot watch any of their favorite professional sports on television.
"As more of our major venues get back to live racing, and with people at home seeking diversion and entertainment, we wanted to be proactive about promoting the sport to a broader audience," said Drew Fleming, President and CEO of the Breeders' Cup.
"With racing returning to major circuits and the addition of many hours of live programming on Fox Sports and NBC Sports, there is now a unique opportunity to appeal to new fans and ask them to sample Thoroughbred racing," said Jim Gagliano, President and COO of the Jockey Club.
The campaign launched on May 28 and continued through July 4. Financial support for it was provided by the National Thoroughbred Racing Association (NTRA), TVG, the Kentucky Thoroughbred Association (KTA) and Thoroughbred Owners and Breeders Association (TOBA). The campaign did not include any Thoroughbred racing media and it ran on NBC Sports, Fox Sports and a variety of targeted digital and social channels.
At the moment, the only other national sport that appears on national television in the U.S. is the PGA tour, and Thoroughbred racing is a much more dynamic, engaging betting product than golf.
Another important long-term strategic initiative has been the Thoroughbred racing industry's investment in national TV programming and exposure. This was launched at the Jockey Club Roundtable on August 14, 2011, when Gagliano and two McKinsey executives, Dan Singer and Michael Lamb, presented the plan Driving Sustainable Growth for Thoroughbred Racing and Breeding. The fourth of nine recommendations was Improve television coverage for the sport.
Sounds simple, right. Well, in 2011, the industry collectively had 43 hours of national television coverage. This consisted of Triple Crown preps and the Classic races themselves, Breeders' Cup 'Win and You're In' races and the Breeders' Cup races.
Slowly and methodically, the industry had increased to 200 hours of national television by 2018. But the real increase came over the last two years.
Racetrack and industry executives have focused on developing relationships with the two Fox Sports networks, NBC and NBC Sports Networks (NBCSN), who distribute TVG programming on their distribution network. Cultivating relationships with broadcast companies that are seeking new quality-content partners have resulted in over 1,000 hours of high-quality Thoroughbred racing on national television networks in 2020.
When you look at the daily little box in the sports section of the newspaper that lists all-important sports programming for that day, you will see the time and program listings for the broadcasts cited above. For the first time, horseracing will be in that box daily.
It is difficult to know how many NFL, MLB, NHL and NBC games will be on television this summer, and what other issues these leagues may face due to the pandemic, which may create further opportunities for Thoroughbred racing. Our goal should be to promote and produce the best 1,000-plus hours of national Thoroughbred TV coverage that we possibly can.
No-Lasix 2-year-old races
On May 26th, I wrote this article, which detailed the importance of most of the major racetracks in the U.S. running their 2-year-old races without Lasix in 2020. The only Horsemen's organization that was challenging this legally was the Kentucky Horsemen's Benevolent and Protective Association (KHBPA).
On May 15, the KHBPA filed a civil suit to prevent Churchill Downs and Keeneland from running 2-year-old races without Lasix under house rules and a hearing was held on May 27. On June 1, a Franklin County Circuit Judge denied the KHBPA motion for a temporary injunction and granted a motion from the defendants, Churchill Downs and Keeneland, to dismiss the case for lack of standing.
The KHBPA lawyer has now filed a new motion suggesting that the decision was unfair and a hearing has been set for next Wednesday (July 29) to hear the arguments.
In the meantime, Keeneland and Churchill Downs have finished their spring/summer meets and there have been no reports of serious Exercise-Induced Pulmonary Hemorrhage (EIPH) from any of those 2-year-old contests. Ellis Park in Henderson, Kentucky, has started its summer meet and is carding no-Lasix juvenile races. Interestingly, Ellis Park was not named in the original KHBPA suit.
Now all 2-year-old races at these tracks are running with no Lasix:
Arlington Park
Belmont Park
Churchill Downs
Del Mar
Ellis Park
Golden Gate Fields
Gulfstream Park
Laurel Park
Oaklawn Park
Presque Isle Downs
Keeneland
Santa Anita
Fair Grounds
While Kentucky was the only state where the horsemen litigated to attempt to prevent the state's tracks from carding no-Lasix juvenile races, there was clearly an outstanding issue between The Stronach Group (TSG), the owners of the Maryland Jockey Club, and the Maryland Thoroughbred Horsemen's Association.
When Laurel Park opened on May 30, it ran three days a week. On June 18, Maryland Jockey Club said in a press release that it would be writing only no-Lasix 2yo races at Laurel. Also that weekend (June 19-20) it reduced its race week to two days for the next four weeks through the weekend of July 10-11.
According to reporting in the Daily Racing Form (DRF), the Maryland Racing Commission said it would have no comment on the Stronach letter until it determined the legality of the decision to card no-Lasix 2yo races. Further, the DRF reported that Alan Foreman, general Counsel to the Maryland Thoroughbred Horsemen's Association, said, "The fundamental question is whether they have the authority to do this under current law."
The Stronach decision to ban Lasix in 2yo races was no surprise as it announced in April 2019 that it was joining the alliance of tracks that intended to card no-Lasix 2yo races. Clearly, TSG, the Maryland Thoroughbred Horsemen's Association and the Maryland Racing Commission worked diligently until the announcement by the Maryland Racing Commission that it had approved a deal at a July 16 meeting with TSG and the Maryland horsemen.
As a result, Stronach has the right to card no-Lasix 2yo races in 2020 and no-Lasix 2yo races and Graded stakes in 2021. In return, Laurel Park would agree to increase the racing schedule to a minimum of three racing days a week, beginning on Thursday (July 23). Also, the agreement calls for an increase in the commitment by TSG to racehorse aftercare in Maryland through the Beyond The Wire program.
Critical component
From my perspective the most critical component of the agreement is that it calls for serious research with respect to Lasix-free racing and states:
"The parties agree to discuss in good faith, in consultation with the MRC, the development, implementation and funding of a study and related protocols for post-race scoping of horses to obtain relevant data.
"The protocols for such study shall include, but not be limited to, establishment of study research parameters and objectives; identification and selection of the horse population for the study; development of scoring, criteria and other scientific methods; selection of persons to conduct the study; and other matters relevant to the study."
It is brilliant that these negotiations between the racetrack, horsemen and the racing commission have resulted in a serious articulation of what needs to be done to study and understand this complex subject. It is embarrassing that various segments of the racing industry have been arguing over the efficacy of Lasix and there has not been one serious study of Lasix ever done in the United States.
Our horses deserve better
We have one of the largest and most powerful Thoroughbred racing and breeding industries in the world. Our horses deserve better.
It is also important to note that we do not need a half-dozen racing jurisdictions attempting to undertake separate studies on Lasix and its use. We need a consolidated effort to study EIPH, resulting in much better solutions for our trainers, vets and their horses today.
Here are the last few paragraphs from my article of May 26:
In 2020 in North America, there will be hundreds of races run for 2-year-olds that will run without Lasix. In 2021, the 2-year-old races that run Lasix-free will be joined by all the Graded stakes races of any age at the same tracks.
This large group of North American races provides the industry with an unprecedented opportunity to study the real incidence of horses that suffer some form of EIPH. The industry can then manage this issue going forward based on real science and real data.
With the test results and a solution in hand, the industry can go on to assure all participants that there can be a more humane and effective manner of dealing with any EIPH in horses on the racetrack. The inability to study U.S. races being conducted only with Lasix has left us with third-party studies that are either inferior and/or inconclusive. It is essential that the North American Thoroughbred industry develops its own comprehensive study from these and future Lasix-free races.
If we are ever going to solve the Lasix conundrum, we need a serious collaborative study to seek and find real answers to the questions that come from both sides of the discussion. The 2yo no-Lasix races of 2020 and 2021 provide the industry with a tremendous sample size that should yield real answers and solutions.