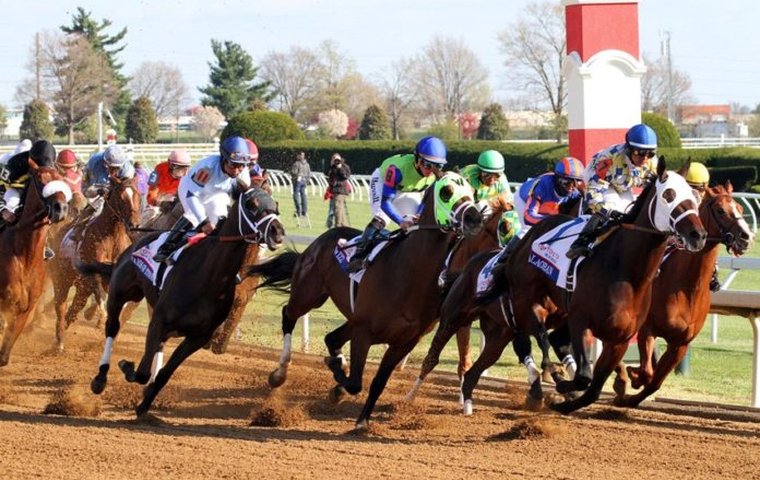 Just over a year ago, a large number of racetracks - controlling 86 percent of the Graded/listed stakes in the U.S. - announced that all 2-year-old racing in 2020 would not allow the administration of Lasix on race-day, and the program would be extended to all stakes in 2021.

The tracks supporting this initiative include all tracks owned or operated by Churchill Downs Incorporated (CDI), the New York Racing Association (NYRA) and The Stronach Group (TSG), as well as Del Mar, Keeneland, Lone Star Park, Remington Park, Los Alamitos, Oaklawn Park and Tampa Bay Downs.
In addition, major national Thoroughbred organizations that signed in support of this proposal include the Breeders' Cup, the Thoroughbred Owners and Breeders Association (TOBA), the American Graded Stakes Committee and the Kentucky Thoroughbred Association (KTA).
In my 20-plus years in the Thoroughbred industry, I have never seen such an overwhelming consensus and endorsement of any racing industry initiative. The breadth of racetracks signing on to eliminate the use of Lasix in 2-year-old races is a huge statement of agreement for the industry. Race-day Lasix has been the most divisive issue in the industry in North America for well over a decade, and we need to move on to more productive and collaborative engagements.
Clearly, the industry has made tremendous progress in addressing this controversial issue. Here are comments made at the announcement of this new rule by two of the most important racing CEOs:
David O'Rourke, President and CEO of NYRA: "This is a progressive and unified approach to the subject of race-day medication, achieving consistency with international standards for young horses and those that form the foundations of our breeding stock."

Bill Carstanjen, President and CEO of CDI: "Over the past several years, we have met with numerous stakeholders to drive action on many of our sport's central issues. This is a significant and meaningful step to further harmonize American racing with international standards. We will continue to work with other stakeholders, including our horsemen and regulatory agencies, to fully implement this and other important reforms."
The comments from these two major executives indicate a strong desire to move forward to improve racing.
However, while a large number of trainers are now supportive of this no-Lasix initiative, as well as the Horseracing Integrity Act, which includes an across-the-board no race-day Lasix provision, the National HBPA remains steadfastly supportive of Lasix on race-day. Here is a quote at the time of this announcement by its president and CEO:
Eric Hamelback, CEO, National Horsemen's Benevolent and Protective Association (NHBPA): "I am disturbed and mystified by the announced initiative by the coalition to phase out the use of the anti-bleeder medication furosemide in all 2-year-olds racing at their tracks in 2020 and all stakes races in 2021. Many of us in the industry strongly believe that it is reckless to unilaterally suggest a policy change that directly impacts horses' welfare without consulting veterinary leadership or the horsemen's representative."
The only comment I have on that is that every major racing organization today has a senior chief veterinary and safety management team in place, as do the state regulatory organizations that oversee some of the racing and veterinary activities at racetracks.
Due to Covid-19, the majority of U.S. racetracks were closed in mid-March and started re-opening in early to mid-May. In fact, Keeneland had to cancel its April 2020 spring meet, where they had planned to run Lasix-free 2yo races.
No surprise
In past years, Kentucky did have some precedent in planning to run races without Lasix. In 2015, Keeneland secured a ruling from the Kentucky Horse Racing Commission (KHRC) to allow Keeneland to run a limited number of no-Lasix races at its spring 2016 meet. However, in December 2015, Kentucky Attorney General Jack Conway ruled that the KHRC had acted beyond its authority and the 2016 Keeneland no-Lasix races were never run.
Therefore, it is not a surprise to learn that the Kentucky HBPA filed a suit on May 15 naming Keeneland and Churchill and the KHRC as defendants in a suit seeking to block implementation of the proposed no-Lasix races. There is a hearing scheduled for May 27 on a request for an injunction against Churchill Downs to prevent it from running Lasix-free juvenile races.
Earlier, during an April 22 public hearing conducted by the KHRC, KHBPA executive director Marty Maline said Lasix had been proven to be effective in preventing exercise-induced pulmonary hemorrhage (EIPH). It was asserted that all U.S. jurisdictions endorse race-day Lasix and the proposed regulation would place Kentucky at an isolated disadvantage.
This may have been true in 2015, but it is certainly not true today.
In fact, the KHBPA is the only horsemen's organization that is legally challenging this no-Lasix initiative.
It should be noted that Maline had been the KHBPA executive director in 2015, when the KHBPA argued successfully against the Keeneland proposed no-Lasix races. It would appear Maline dusted off the KHBPA 2015 playbook for its arguments here in 2020. However, circumstances and attitudes about the use of Lasix have changed, as well the perception of the use of Lasix in North American racing and breeding.
Changed landscape
After the Kentucky decision in 2015, there were no tracks in the U.S. running Lasix-free races, but the landscape has completely changed in the intervening five years.
As noted above, the tracks that will be running no-Lasix 2yo races this year control 86 percent of the Graded/listed stakes in the U.S. One could argue that not offering no-Lasix 2yo races would put Kentucky in an uncompetitive position.
Juvenile races generally start in mid-April and early May. This year, due to the pandemic, these races have been just getting started across the country. Just four tracks have run 2yo races in the last two weeks: Churchill Downs on May 21 with nine runners and again on May 22 with12; Santa Anita on May 17 and 22; Gulfstream Park on May 21 and May 22; and Golden Gate on May 23rd.
Belmont Park, which opens on June 3, has 2yo races scheduled for June 3 and 4. There are a number of other tracks that will be opening and running 2yo races as we move into June and early July. Clearly a majority of these races will be run with no Lasix.
As noted above, the decision by the major U.S. tracks to run no-Lasix 2yo races was made in April 2019 for implementation in the spring of 2020. However, on March 9, 2020, any perception industry participants may have had about the integrity and efficiency of our state-run racing enforcement and regulatory entities was completely destroyed when trainers Jason Servis and Jorge Navarro - and 25 others were indicted by the U.S. Attorney's Office in Southern New York.
Here is a brief section from the indictment, signed by Geoffrey S. Berman, United States Attorney:
"The charges in this indictment result from a widespread, corrupt scheme by racehorse trainers, veterinarians, PED [performance-enhancing drug] distributors, and others to secretly administer those PEDs to racehorses under scheme participants' control … Trainers who participated in the scheme stood to profit from the success of racehorses under their control by earning a share of their horses' winnings, and by improving their horses' racing records, thereby yielding higher trainer fees and increasing the number of racehorses under their control."
It is important to note that all indicted parties are innocent until proven guilty. Here are details of a phone call from the indictment that was recorded:
"On or about March 5, 2019, Servis and Navarro coordinated regarding the procurement administration of SGF-1000. During that call, Servis stated, "I've been using it [SGF-1000] on everything almost," before Navarro stopped the conversation [saying], "Jay we'll sit down and talk about this. I don't want to talk about this shit on the phone, okay?".
"I've been using it (SGF-1000) on everything almost," Servis said.
So what do Servis and Navarro have to do with racing 2yos without Lasix? Well, my view is that the patchwork of state regulatory agencies that write the racing laws and work with the tracks and the drug laboratories to enforce the racing drug laws have completely failed us. Servis is quoted saying that he uses SGF-1000 on almost all his horses.
Performance-enhancing attributes of Lasix
I think that it is very possible that trainers and horsemen's organizations are attracted by the performance-enhancing attributes of Lasix as much as they are by combatting exercise-induced pulmonary hemorrhage (EIPH). The Horseracing Integrity Act of 2019 (HIA), which advocates eliminating race-day Lasix, is in my view the last chance the industry has to retain USADA (U.S. Anti-Doping Agency) to develop proper legislation, testing, investigations, enforcement and penalties.
Clearly our current regulatory system has failed to eliminate the cheaters from the sport. People that like the manner in which racing is managed (manipulated) today use the elimination of Lasix to discredit the many forceful virtues of the HIA.
After the Servis-Navarro et al indictments came down, the Paulick Report solicited industry leaders and organizations for their opinions on these indictments. Here are two most relevant paragraphs from the National HBPA:
"The news today of the indictment returned against racehorse trainers, veterinarians and others involved is extremely troubling. The National HBPA focus has always been, and remains, the health and safety of the horse, the jockey and of all individuals coming into contact with the horse, and we strongly oppose the behavior alleged in this indictment. We firmly believe in striving for the highest standards of horsemanship, and our industry strongly believes that anyone participating in the types of activities alleged in this indictment should be severely punished.
"Horsemen and horsewomen in this industry truly love their horses and want to ensure each horse is given the highest-quality care in accordance with the rules of racing. We recognize an indictment is not the equivalent to guilt. At the same time, however, it's essential to the administration of justice and to the health of our industry for anyone with knowledge of possible illegal activity to cooperate with law-enforcement authorities."
Hollow ring
In 2019, Jason Servis was the eighth leading money-earning trainer in the U.S. with purse earnings of $11,089,040, and Jorge Navarro was 16th with $6,805,611. Total combined purse earnings in 2019 were $17,894,651.
The NHBPA states that it represents over 29,000 owners and trainers. Where is the outrage at the statement regarding potential fraud perpetrated on their members? If Servis and/or Navarro are convicted of the charges, I presume that a number of the NHBPA members would have earned some portion of those substantial purse earnings. The quote from the statement … "it's essential to the administration of justice and to the health of our industry for anyone with knowledge of possible illegal activity to cooperate with law enforcement authorities" … rings hollow.
One final point back on Lasix: In the endless debates that have occurred over the last decade, one of the conclusions that inevitably arises is that very limited data and tests that have been developed regarding the efficacy of Lasix and possible alternatives.
A few tests and reports have been done in South Africa, Hong Kong, etc, yet in the U.S. there is no clarity on how Thoroughbred racing is successfully conducted in other major racing jurisdictions.
In 2020 in North America, there will be hundreds of races run for 2-year-olds that will run without Lasix. In 2021, the 2-year-old races that run Lasix-free will be joined by all of the stakes races of any age at the same tracks.
This large group of North American races provides the industry with an unprecedented opportunity to study the real incidence of horses that suffer some form of EIPH. The industry can then manage this issue going forward based on real science and real data.
This would be seem to be a perfect opportunity for the Grayson-Jockey Club Foundation, in concert with other industry organizations such as TOBA, the National Thoroughbred Racing Association, the Breeders' Cup, the National HBPA and the major racetrack associations to set up a large-scale test on races without Lasix.
With the test results and a solution in hand, the industry can go on to assure all participants that there can be a more humane and effective manner of dealing with any EIPH in horses on the racetrack. The inability to study U.S. races being conducted only with Lasix has left us with third-party studies that are either inferior and/or inconclusive. It is essential that the North American Thoroughbred industry develops its own comprehensive study from these and future Lasix-free races.