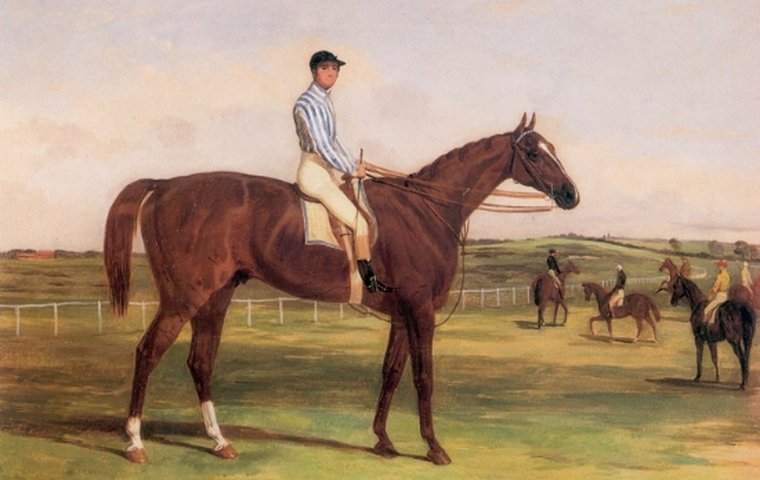 Renowned bloodstock writer Tony Morris with the 16th in his series of articles celebrating 100 horses instrumental in shaping the Thoroughbred.

Stockwell, ch c, 1849, The Baron – Pocahontas, by Glencoe
There are numerous reasons why Pocahontas is widely regarded as the most influential broodmare in the annals of the Thoroughbred, and the case for recognition of her pre-eminence will be argued later in this series.
Meanwhile, the first of her descendants to earn distinction merits a tribute of his own – as a dual Classic winner and a sire who set long-lasting records, including one that remains unsurpassed.
Stockwell was named after his birthplace – now a London borough – and was bred there by William Theobald, who had bought both the colt's parents. Pocahontas had finished fifth in the 1840 Oaks, but was still a maiden when retired at five, whereas The Baron had earned respect as winner of the 1845 St Leger and the Cesarewitch, the latter under a ten-pound penalty.
A blaze-faced chesnut with socks behind, Stockwell did not satisfy every judge of conformation, but while a plain head and small ears meant he could not be described as handsome, his physique was notable for size and strength. The 2nd Marquis of Exeter thought him too big, but was talked into buying him by Theobald, the deal done at £180, with a £500 contingency if he should win the Derby.
Easy to back in the Guineas
Stockwell's early training took place at his owner's Burghley Park in Lincolnshire, and little was expected of him as a big and backward juvenile, so it came as something of a surprise when he was beaten no more than a head on his mid-October debut at Newmarket in the Prendergast Stakes. However, he failed to build on that performance ten days later, finishing fourth in a six-runner contest for the Criterion Stakes, again at Headquarters.
Charles Marlow rode Stockwell in his juvenile starts, but once the colt became installed in William Harlock's Newmarket stable he was invariably the mount of 'Jockey' Norman, who at that time rode exclusively in Lord Exeter's light blue and white colours.
The new partnership did not get off to a great start, beaten half a length in a sweepstakes over the Ditch Mile at Newmarket, which meant that Stockwell would still be a maiden when he went into his first Classic test, over the Rowley Mile at the same course 12 days later. He was easy to back at 10/1 in the 2000 Guineas, but won cosily by half a length in a nine-runner field in the manner of an improving colt.
Three days later Stockwell reappeared in the Newmarket Stakes as a 9/4 on favourite. He duly collected a second victory, but by only a head from Maidstone, one of his Guineas victims, and opinions were divided as to how much he had in hand. He soon traded at 10/1 in the market for the Derby, but his price drifted to 16/1 on the day, the public being aware that he had recently had a septic gumboil lanced.
Whether the abscess and consequent treatment for it affected him at Epsom is a moot point; he met so much interference in the 27-runner field that his failure was readily explained on that count anyway.
Back in the Spring, Stockwell's owner had scratched him from a race at Newmarket in which he was due to meet Harbinger at level weights, but when the pair were set for another head-to-head clash at Goodwood, Exeter was happy to meet the engagement, although Stockwell had to give his rival three pounds this time. He was right to do so, as his colt won cleverly.
That was his Tuesday outing. On Wednesday, he was allowed to walk over for a sweepstakes, and on Thursday he beat three others, including old foe Maidstone, for the Racing Stakes to conclude his sojourn in Sussex.
Stockwell's next venture took him to York for the Great Yorkshire Stakes. Starting at a shade of odds-on in a field of 13, he proved a ready winner by a length over Longbow, who owned a claim to recognition as second-best 3-year-old of 1852.
The race that settled any doubts as to who was best of the generation was the St Leger. Stockwell won his second Classic with an imperious performance, passing the post ten lengths clear of Harbinger, with the winners of the Derby (Daniel O'Rourke) and Oaks (Songstress) back in third and fifth places respectively.
While Stockwell's athletic merit could hardly have been displayed more conspicuously, he still had some detractors over his conformation. According to the Sporting Magazine's reporter at Doncaster, the champion was 'the very incarnation of ugliness'.
Possible soundness issues
On the day after the St Leger, Stockwell walked over for the Foal Stakes before returning to Newmarket. He ended his season with two victories at his home course, the Grand Duke Michael Stakes in a canter by three lengths, the Newmarket St Leger on the following day by two.
Stockwell made only one appearance in public as a 4-year-old, going under by a head to the 1851 Derby hero Teddington in the Emperor of Russia's Plate, the name by which Ascot's Gold Cup was briefly known until the outbreak of war in the Crimea. The colt had three engagements at Newmarket in the Autumn, including a bizarre match over five furlongs against a 2-year-old, but his owner paid forfeit on each occasion. It seems possible that he had soundness issues at the time.
Just over 16 months passed between Stockwell's only race at four and his only – and final – race at five in the Whip, contested over almost four and a quarter miles at Newmarket. He had only one opponent in Kingston, who had acquired a tall reputation in staying events, and was sent off favourite at 6/4 on.
The extreme distance was supposed to be against Stockwell, and his victory by 30 lengths could not contradict that assumption, as Kingston broke down badly in what was his 20th race of the season.
Stockwell retired as winner of 11 of his 16 races, and was advertised to stand at Burleigh at a fee of 30gns in 1855. He attracted some good mares from prominent breeders, but standing a stallion was not an aspect of the business that Exeter enjoyed, and only a couple of months after the horse's first season ended he put Stockwell up for sale.
Little hint of what was to come
Nobody was surprised at the identity of the buyer. Albert Denison had become very active in racing and breeding circles since his elevation to the peerage as the 1st Baron Londesborough in 1850. He had bought West Australian, the first Triple Crown winner, in a £4,600 deal towards the end of that colt's racing career in 1854, and now he laid out 3,100gns to add Stockwell to his bloodstock portfolio. In the Spring of 1856, he had both celebrities in service at Kirby Farm, near Tadcaster in North Yorkshire.
Stockwell had not been a winner as a juvenile, and when his first runners appeared at two in 1858 their achievements were meagre, to say the least. Just two were winners, earning £270 between them. On that evidence, nobody could predict what was to come.
There would also not be much to get excited about among his runners in 1859. He had 12 individual winners of 29 races to rank 13th on the sires' list, but few showed any class or hinted that they might earn distinction in the future.
Such was the early record of the horse whose stock over the next nine seasons would earn him seven championships and two second places.
But Lord Londesborough knew nothing of those achievements. He died in January 1860, long before Stockwell earned the sobriquet 'Emperor of Stallions'. In June, the whole of his stud was dispersed at auction, with Stockwell and West Australian inevitably receiving most attention. Which of the pair would realise the higher sum was the dominant talking point among all those present, and the order in which they were offered turned out to be crucial.
The Comte de Morny came to the sale at Grimston in Norfolk, hoping to buy both, though interested more especially in West Australian, who was popularly regarded as the best racehorse of all time, and who already had two Classic winners – Summerside in the Oaks and The Wizard in the 2000 Guineas – on his CV as a sire.
Stockwell preceded his stud companion into the ring, and Morny found a formidable opponent in Richard Naylor in the battle for possession. Naylor was the owner of Hooton Stud in Cheshire, but was acting on behalf of the Rawclifffe Stud Company when he shocked his French rival with an offer of 4,500gns. Morny felt he could not top that bid and hope to get West Australian as well; he expected the Triple Crown winner to fetch more.
Morny was delighted, if a little mystified, that his offer of 3,000gns was sufficient to secure West Australian. Why would the English let him go so cheaply? Within a few years he would wish he had been a bolder bidder over Stockwell, who became a marvellous money-spinner for Naylor.
Three months to the day from Stockwell's acquisition for Rawclifffe, his second-crop son St Albans won the St Leger. At season's end in mid-November, he topped the sires' list, with The Flying Dutchman his runner-up, while West Australian ranked fifth, his stock earning less than half the prizemoney accrued by Stockwell's progeny. In due course St Albans would become a successful sire, as would his contemporary Thunderbolt, a winner of 13 races.
The best colt from Stockwell's third crop was Asteroid, winner of the Gold Cup as a 4-year-old, but his fillies proved more distinguished in the short and long term. Caller Ou, on her 23rd career start, was his second St Leger winner, beating Derby hero Kettledrum by a head, and she would keep going until her tally of successes reached 49.
The best of all his stock
Others from that crop to make their mark on the racecourse were Pardalote, who won the Nassau Stakes, Bathilde, successful in the 1862 Cambridgeshire, and Lady Ripon, who won five times and ran second in the Oaks. Two of their contemporaries excelled as dams of Classic winners, Bas Bleu delivering Derby (and Gold Cup) hero Blue Gown, while Vaga's daughter Belphoebe won a 1000 Guineas.
The star turn from Stockwell's fourth crop was The Marquis, whose only starts as a 3-year-old came in the 2000 Guineas, Derby and St Leger, registering first, second and first places respectively. In the Newmarket event, he was followed home by other Stockwell colts in Caterer as runner-up and Knowsley as one of the dead-heaters for third place. Caterer had his moments at stud, but The Marquis proved ineffective and was exported to Australia. The most notable females from this largest of all Stockwell's crops – 40 live foals – were Bertha, who won the Nassau Stakes and was second in the 1000 Guineas, and Anonyma, who produced an Oaks winner in Lonely.
Stockwell's fifth crop numbered only 19, its most significant representative being 1000 Guineas heroine Lady Augusta. Lack of back-up for that filly in the 1863 Classics was the reason for the interruption in her sire's reign as champion. In his first three title-winning years, he had the St Leger winner as a major contributor; this time the Doncaster Classic was won by a son of Newminster, who took the championship by a margin of about £1,500.
Stockwell returned to the top of the table in 1864, when his team was led by Derby and St Leger hero Blair Athol, whose dam was the celebrated Blink Bonny, herself a Derby and Oaks winner. A well-made colt, albeit one with an exaggerated blaze that some found comical or unsightly, he was probably the best of all his sire's stock. He won the Derby on his debut and his career ended with his St Leger victory less than four months later. He had five wins from seven starts, one of the defeats coming as runner-up in the Grand Prix de Paris.
There were several good colts in Stockwell's seventh crop, including Blair Athol's brother Breadalbane, Lord Ronald and The Duke, but fillies Regalia and Princess Of Wales made more lasting impressions. Regalia won the Oaks and finished second in the St Leger and was runner-up in two editions of the Gold Cup before a remarkable innings at stud in which she delivered winners of the Gold Cup (Verneuil), the Prix du Jockey Club (Zut) and the Grand National (Regal). Princess of Wales showed only modest form, winning a single minor event at Monmouth, but she went on to produce Derby victor George Frederick.
Annus mirabilis
At the end of 1862, Stockwell became Naylor's sole property, and all the triumphs that ensued provided effective promotion for Hooton Stud.
Stockwell's annus mirabilis was 1866, when his progeny won 132 races and earned £61,340. Both figures constituted records, the first remaining unsurpassed until 2009, the second until 1934. His 3-year-olds dominated the Classic scene, Lord Lyon winning 2000 Guineas, Derby and St Leger, and Repulse the 1000 Guineas. Monarch Of The Glen ran second in the 2000 Guineas, and Savernake (a brother to St Albans) was runner-up in both Derby and St Leger. Stockwell colts filled all the places in the Derby, Rustic finishing third, a head and three lengths behind Lord Lyon and Savernake.
It was not just the 3-year-olds who excelled for Stockwell that year, as the juvenile filly Achievement, a full sister to Lord Lyon, won 11 of her 13 races. She duly progressed to take leading honours again at three, winning the 1000 Guineas and bouncing back after a surprise defeat in the Oaks to foil Derby hero Hermit in the St Leger. Her triumphs that season helped her sire to his seventh and last championship.
The best of Stockwell's Classic-age crop in 1868 was Athena, who was second in the 1000 Guineas and third in the Oaks, but her three seasons in training also brought her 18 victories. Another filly from that crop was Thrift, who managed only one success, but would make her mark at stud as dam of Tristan, who had a Gold Cup among his 29 wins and became a notable sire.
Belladrum, son of Oaks heroine Catherine Hayes, was Stockwell's stand-out performer from his 11th crop. He won ten races, was second in the 2000 Guineas, and would later feature in pedigrees as the maternal grandsire of Barcaldine. But his sire's star was seemingly on the wane. Ranking only ninth in the 1869 table, he was two places below St Albans and one ahead of Blair Athol.
Beaten by his son
Stockwell would never finish higher than Blair Athol again. The son outranked the father, fourth to seventh in 1870, third to fourth in 1871. And Blair Athol would win four sires' titles in the 1870s, giving every indication that he was the natural successor to his sire, the likeliest to become the principal conduit of Stockwell's influence through the generations.
Bothwell won the 2000 Guineas of 1871, the same season in which his paternal half-sister Noblesse was placed in both filly Classics. But both would eventually be surpassed in influence by their contemporaries Chevisaunce and Isola Bella. The former, sister to Lord Lyon and Achievement, would produce a dual Classic heroine in Jannette, while the latter became dam of outstanding runner and high-ranking sire Isonomy.
Stockwell's 14th crop, foaled in 1869, was ultimately notable mainly for the filly Devotion, who won six races and made her mark at stud as dam of Classic-winning sisters in Thebais (1000 Guineas, Oaks) and St Marguerite (1000 Guineas). Nevertheless, in both 1872 and 1873 Stockwell ranked second to Blair Athol on the sires' list, and in the latter year his impact on the Classic races was furthered by the victories of Gang Forward in the 2000 Guineas and Doncaster, who broke his maiden in the Derby. The pair came from a crop of only 16.
Doncaster had been an unconsidered 45/1 shot when he won the Epsom Classic, and was not highly regarded until he had confirmed his merit with a second in the St Leger and a victory in the 1875 Gold Cup. He would never reign as champion sire, but he was the son responsible for the strongest male line from his sire. Blair Athol's branch soon petered out, and St Albans could not advance the cause much further, but Doncaster, through the son known as Bend Or, kept things going.
Could he have done even better?
Some 130 years on from his Derby win, Bend Or was exposed as a fraud, but what was found to be wrong was just the distaff pedigree. There was no disputing that the 1880 Derby winner was a son of Doncaster.
Stockwell undoubtedly earned his recognition as the 'Emperor of Stallions'. Horsemen of his era knew no horse who might be compared to him, proclaimed him a paragon, and did not expect to see his like again.
Among all his achievements, it is the record of his progeny in England's Classic races that marked him as an exceptional sire. His winners in the 2000 Guineas were: The Marquis (1862), Lord Lyon (1866), Bothwell (1871), Gang Forward (1873); in the 1000 Guineas: Lady Augusta (1863), Repulse (1866), Achievement (1867); in the Derby: Blair Athol (1864), Lord Lyon (1866), Doncaster (1873); in the Oaks: Regalia (1865); in the St Leger: St Albans (1860), Caller Ou (1861), The Marquis (1862), Blair Athol (1864), Lord Lyon (1866), Achievement (1867).
To get 12 individual winners of 17 Classics was unprecedented – Touchstone held the previous record with 12 wins – and only St Simon has been able to challenge Stockwell's score. He also sired the winners of 17 Classics, but registered by only nine individual winners.
It is possible to argue that Stockwell might have done even better than is shown by his remarkable figures. From 1864 onwards, Richard Naylor was in every year breeder of a high percentage of the horse's crop. As he used Stockwell on so many of his own mares, opportunities for others were restricted, but he could get 200gns for nominations he sold.
Naylor obviously did well by Stockwell, who was a serious bargain for him. But he wasn't the cleverest breeder of his era, and none of the horse's Classic winners was bred by him.
Coincidence of events
When he was 20 years old and much less in demand than his best son, Blair Athol, Stockwell was made available for only £75 to outside mares. Sir Tatton Sykes took advantage of the reduced fee and became breeder of Doncaster as the result.
Sykes was smart enough to have noticed that a lot of Stockwell's best winners in the early days had been out of mares by Touchstone, that mares by sons of Touchstone had proved an effective cross, and that there had even been good results when mares by grandsons of Touchstone had gone to Stockwell. Doncaster's dam was Marigold, a grand-daughter of Touchstone.
There had been a day in 1860 when Stockwell and West Australian shared the limelight at Lord Londesborough's sale. There came a week in 1870 when the pair commanded attention again.
West Australian, who had never quite realised the hopes that the Comte de Morny entertained for him, died in France on May 2. On the very same day, Stockwell fell backwards off a mare in the covering shed at Hooton and broke off a portion of his tail. The remainder pressed into his bowels, causing severe pain, and the best veterinary attention failed to produce a solution. It was no doubt cruel to keep him alive, and if he had not been a valuable stallion, he would certainly have been put down promptly. The vets conceded defeat on May 5.
The coincidence of events could hardly be ignored. The horse who won two-thirds of the Triple Crown in 1852 and the horse who won the first Triple Crown in 1853 had been stud companions for a time, and had departed this life within days of one another.
One noted chronicler of the time remarked that "in the same week, the best racehorse the world ever saw, and the best stallion of modern times have perished".