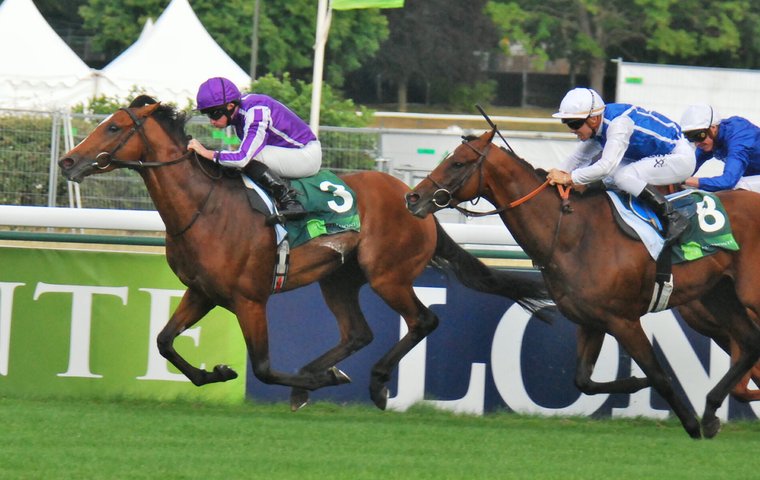 After a weekend of high achievement in Europe, no less than three of this week's TRC Performer of the Week awards are heading in the direction of the mighty Coolmore operation. James Willoughby explains.

TRC SIRE OF THE WEEK
This week's award goes not to one stallion but to a rather special collection, the Coolmore trio GALILEO (+2pts, stays #2), NO NAY NEVER (+11pts, #83 from #130) and GLENEAGLES (new entry #337). This lot combined for five wins and two places from 14 runs in Group and Graded.
With Coolmore Partners winning TRC Owner of the Week and Aidan O'Brien TRC Trainer of the Week, this group of stallions is chosen to exhibit the synergy between different entities across our different ranking categories.
We have touched on the theme that the powerful in racing are becoming more powerful, and with this portfolio of stallions – and several others who might have been included, notably the sire of G1 Derby-fourth Broome, Australia – the Irish bloodstock masters at Coolmore and their trainer Aidan O'Brien are extremely well situated to continue their hegemony into the future.
Had we to choose but one of the Coolmore trio for TRC Sire of the Week honours, it would have been No Nay Never. The sire of Ten Sovereigns is increasingly looking like the heir to his deceased father Scat Daddy. Apart from the G1 July Cup winner, No Nay Never produced Newmarket's G2 Superlative Stakes winner Mystery Power, plus Saratoga's G3 Quick Call Stakes third Neverland Rock.
No Nay Never is a second-season sire and currently ranks just ten points and 38 places behind the mighty #45 Kingman. Now, there is little doubt that the overall portfolio of the exciting Juddmonte Farms stallion is better than No Nay Never, but the latter is quickly making his mark and one fancies his mare quality will go up the sharper. The comparison between the two will be interesting to monitor – and TRC Global Rankings is the ideal tool to do just that.
For his part, Galileo added to his unparalleled legacy with G1 Grand Prix de Paris hero Japan and G3 Stanerra Stakes winner Peach Tree. The latter filly can run, but it must be said that this was something of a cheap Group win when a Racing Post Rating of 94 is all that is required.
Gleneagles, whose son Royal Lytham took the G2 Tattersalls July Stakes at Newmarket, is a very interesting sire. The first-season son of Galileo enters our rankings for the first time this week at #337, but it is likely he won't have a three-digit ranking this time next year.
One could argue that we did not see everything this horse could do on the track for, after winning three G1s as a 3-year-old, his opportunities were limited by his preference for fast going. In total, he raced 11 times and won seven races, including four G1s.
Already, it seems his stock have a tenacious quality which only gilds their natural athleticism and speed.
TRC OWNER OF THE WEEK
This was an outstanding week for COOLMORE PARTNERS (+2pts, stay #2), who drew to within 11pts of Sheikh Mohammed's Godolphin operation (-1pt, stay #1) as the battle between racing's superpowers rages through the middle of the European season.
Coolmore Partners – defined by us as any ownership entity combining John Magnier, Michael Tabor, Derrick Smith, Paul Shanahan or their spouses – annexed the G1 July Cup (Ten Sovereigns) at Newmarket, the G1 Grand Prix de Paris (Japan) at ParisLongchamp, the G2 July Stakes (Royal Lytham) at Newmarket and the G3 Stanerra Stakes at Leopardstown (Peach Tree). In total, they had 16 runners and two other third places.
The Performance Index (expressed in the column Points) of competitors, which determines TRC Global Rankings, is a function of the volume of success considering its efficiency. This works very much in the favour of Coolmore Partners, whose number of Group and Graded wins is dwarfed by Godolphin but who, for most of the era covered by the rankings, have achieved their success with far fewer runners and, thus, with far greater 'efficiency' as we infer it.
Let's see how the numbers stack up for all races that count towards the rankings in 2019:
The usual table is presented with some additional information pertaining to TRC Global Rankings: before an owner's name is their current world ranking, with their world ranking entering 2019 in parentheses.
Notice the following properties of the table:
1) Godolphin has taken over the world #1 spot from Coolmore Partners in 2019, though Coolmore Partners have had much the better of things in the last few weeks. Over the history of the rankings, Coolmore Partners have ranked #1 203 times to Godolphin's 77, with Juddmonte Farms / Prince Khalid Abdulla the only other owner to rank #1 (12 weeks). Godolphin is enjoying an outstanding campaign globally in 2019, however.
2) The current world ranking of competitors follows closely the ranking of aggregate wins expressed in the table. The 1-2-3-4 in the world rankings are also 1-2-3-4 in total wins in 2019, for instance, while, of the ten owners with seven or more wins, nine are in the world's top 13 by TRC rankings.
3) While this might suggest that TRC Global Rankings are heavily weighted to recent success, seven of these top ten by wins were in the world's top 15 by world ranking before the year started. This strongly suggests that the TRC ranking of owners predicts both itself in future – and, more importantly, the aggregate of future wins well.
4) This latter aspect is desirable but is not exactly the mission statement of the rankings. Group and Graded races are, after all, more numerous in some countries than others. If ranking owners were just about totting up total wins, it would be a waste of effort employing machine-learning techniques to the data.
5) What we really care about is head-to-head success. Our extensive research prior to launch led to the conviction that this is the best way to measure an entity's true competitive strength. If, for example, Trainer A has far more wins than Trainer B, this might be a function of Trainer A's deeper resources. If, over a large sample of recent races, Trainer B's horses tend to defeat Trainer A at a high enough rate, this is statistical evidence that Trainer B owns a higher competitive strength than Trainer A, who merely has greater resources to win other races when Trainer B is not present.
6) Now, we do not just measure Trainer A v Trainer B through head-to-head clashes between them, but also through their record against mutual opponents. All the while, our algorithm learns to weight the significance of these clashes through variables like how long ago they were, how competitive the race was, where the two horses finished in the race, how many other runners the trainer fielded and a few other factors. We have to be careful not to overfit past results, that is to assume that what happened in the past determines exactly what will happen in the future; instead, we build in so-called 'regression to the mean'.
7) We presented the results of clashes between the owners whom we refer to as 'the Big Four' a couple of weeks ago. This showed why Godolphin had taken over at #1 – no less than 60 per cent of clashes since the start of 2018 had gone their way at that point. The situation is closer following the outstanding performance of Coolmore Partners this week.