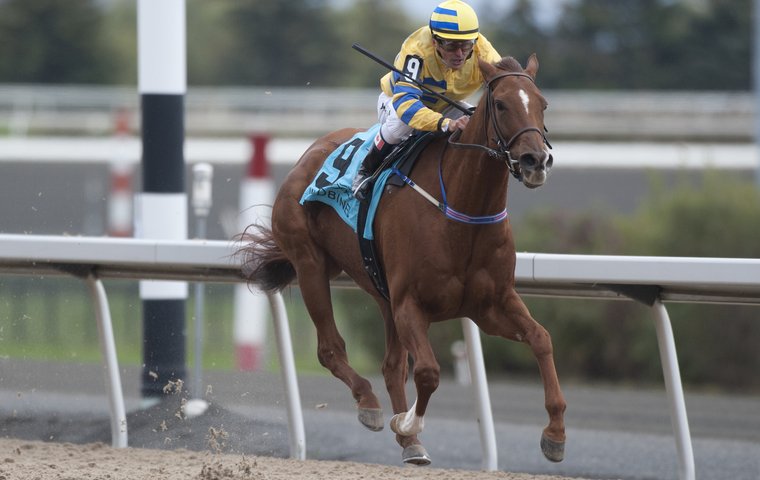 Woodbine's meet-leading jockey, Eurico Rosa Da Silva, will partner Canadian Horse of the Year candidate Pink Lloyd in what could be a significant race for both horse and rider tomorrow afternoon

Trained by Robert Tiller and owned by Entourage Stable, Pink Lloyd will be looking to wrap up a perfect 2017 campaign with an eighth stakes win in the $175,000 G2 Kennedy Road. Da Silva, who has been paired with Pink Lloyd for all his victories this meet, has nothing but high praise for the 5-year-old son of Old Forester.

"He's a very, very nice horse. I get along pretty good with him. He's a very, very talented animal and probably was the most talented I ever rode," said Da Silva. "It's unbelievable how he can hold his fitness. He's very, very consistent. I just trained him last Thursday and he's coming in great shape for this race."

On the big stage at the Toronto oval, Woodbine's resident rockstar has proven his versatility, which is one quality that has been key to the gelding's success all season long.
"He's so good during the race because he's a horse you can put on the lead or you can put him in the middle pace or you can put him way back," noted Da Silva. "It seems like nothing bothers him. When you ask him to run, he just runs."

There will be six other rivals looking to out-run Pink Lloyd in the Kennedy Road, a six-furlong sprint for horses three years old and up, but Da Silva remains confident in his mount.

"He's the horse to beat," he said, assessing the field. "We don't need to look much at the competition because he's doing very, very well. All he needs to do is perform the way he's been performing, and I think he will, and he'll be very hard to beat."

For Da Silva, a victory would move him closer to Woodbine's single-season stakes win record with limited opportunities left as the meet begins to wind down. A 32-time stakes winner so far this year, he will have to take four of the final seven stakes remaining in the season, which concludes on December 10, in order to match the 36-win record set by Avelino Gomez in 1966 and matched by Todd Kabel in 2004. While the record is possible, the humble reinsman is more focused on doing his job.
"Two months ago, I was way more focused on and thought about the record," said Da Silva. "But you know, I have seven stakes races [left] and I believe I will be riding in all of the seven stakes races and my job is to go there, do the best I can, make my horse do the best they can and I keep pushing my limits every day. Not only for the stakes races, but for every race, I'll be pushing myself as hard as I can and I'm going to be very consistent until the last race I ride here. That's my focus.
"We'll see how close it will be. I don't want to think much about it. Really my focus is to be very competitive until December 10. I've been very, very focused on that. I don't work so many horses in the morning now so I'm training in the gym. That will be my focus: just giving my best every day."

Here is the complete field for the race, which is scheduled as race eight on a program starting at 1 pm:

Kennedy Road Stakes
1. Sweet Grass Creek – Slade Callaghan (jockey) – Michael Keogh (trainer)
2. Occasional View – Luis Contreras – Kevin Attard
3. Majestic Slew – Rafael Hernandez – Michael De Paulo
4. Pink Lloyd – Eurico Rosa Da Silva – Robert Tiller
5. Tombelaine (S) – Gary Boulanger – David Cannizzo
6. Yorkton – Jesse Campbell - Stuart Simon
7. Ikerrin Road – David Moran – Vito Armata