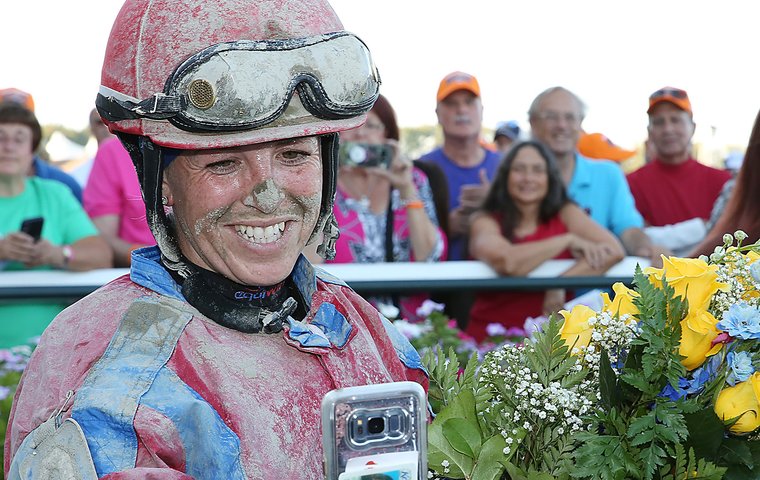 The career of British expat jockey Sophie Doyle has blossomed since she left Lambourn more than six years ago to try her luck in the U.S. in the hope of greater opportunities. Having ridden the last of her 66 winners at home in 2011, the 33-year-old sister of leading Godolphin rider James Doyle (who took part in What They're Thinking last month) has really thrived since moving to Kentucky, where – the current coronavirus impasse notwithstanding – she is much in demand.

She now has nearly 300 victories to her name in the States, including a memorable Grade 1 last year on the Larry Jones-trained filly Street Band in the $1 million Cotillion Stakes at Parx. She is the highest-ranked female rider in the Northern Hemisphere - currently at 247 in the TRC Global Rankings. She lives in Lexington.

Who do you believe is the most important figure in the history of racing around the world?
As there have been so many important figures it's hard to single out one person so I'm going to say the Thoroughbred itself is the most important thing in the history of horse racing around the world. On a personal level, my whole life has been spent around horses – even before I was born, my mum [former Lambourn trainer Jacquie Doyle] was pregnant on the back of a horse. With all the breeds there are, without the Thoroughbred being bred in the first place, where would horse racing be?
Which is your favourite venue and race (anywhere in the world)?
My favourite venue is here at home at Keeneland. People love to go racing here, and the racetrack is packed every single day; the atmosphere is just unbelievable. There's so much history attached to the place: it's amazing when I look back through the history of where people started off, the jockeys, the trainers, the horses that have run here.
As for my favourite race, it's really hard to choose between the English and Kentucky Derbys, but I'm just going to say Epsom. The race has such respect around the world, and I just love the absolute quality of the horses that run in the race, while Epsom is such a unique track. It was always one of my favourite tracks to ride. It's so challenging for a rider and the atmosphere on Derby Day is just incredible. That said, I love the Kentucky Derby too, so it was difficult to choose – when I rode Street Band in the Kentucky Oaks, it was unbelievable.
What is your fondest memory in racing?
Without doubt, it has to be winning my first Grade 1 on Street Band in the Cotillion at Parx last year (see video below). The way it worked out was incredible. There was so much quality with Serengeti Empress, Guarana, Bellafina and Jaywalk – but the best part for me was that I knew there would be a lot of pace in front of us.
I admit I didn't quite figure we'd be so far behind going into the first turn! I was definitely saying 'Uh-oh!' at that point but, on the backside, she was just gliding with no effort. I was like, 'Oh my gosh, steady on steady on!' She was just taking me for the ride of my life and, when we were coming around the turn for home, I actually had to reach up and take a hold of her. I'd been told by many people that going wide on that track would not hinder you, so that's why I took a wide route. She just went into another gear; so much excitement from start to finish. To win that race was the ultimate validation for my move from England.
What do you see as the biggest challenge racing faces today?
It is hard to think about anything other than how we are going to recover after Covid-19. I mean the industry as a whole – trainers, for example, are in a very difficult position because the racetracks have literally closed and kicked them out, and some have lost all their horses and don't have a job. It's had such a huge effect on everyone – assistant trainers, grooms, hotwalkers, exercise riders.
On the breeding side, consignors have taken huge hits – some sales have gone ahead where horses didn't make half the price they were supposed to make, while other sales just aren't happening. Then there are the owners. For a lot of them, it's their hobby, not their business; they have their business to pay for their horses, so if that's struggling, then of course horse racing will struggle.
If you could change one thing in racing, what would it be?
One for England and one for America. I think it should be mandatory around the world that bookmakers should pay more back to racing to help fund the sport. In England, for example, they have such a huge turnover from gambling that they could put more back, like the casinos we have at the racetrack in the U.S. Think of all the money people gamble every day – there's plenty of money to go around.
In the USA, we really need a central governing body to bring medication in line with the rest of the world.