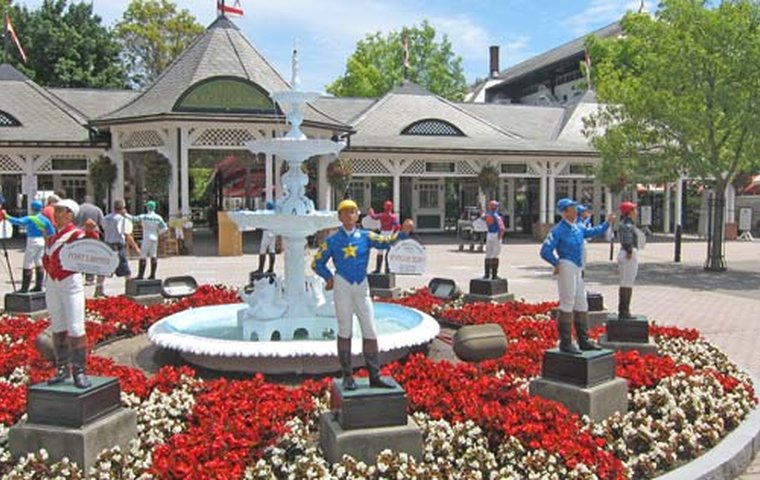 Racism is in sharp focus in all areas of life at present, and horseracing is no exception - witness the decision that 'My Old Kentucky Home', a song associated with slavery, should not be sung but just played by a solo bugler before Saturday's Kentucky Derby. But how much racism has there been in the sport in the past? And how much still exists? Here, in the first part of a two-part report, renowned historian Carly Silver lays out the facts ...

When spectators first enter many racetrack entrances in the United States, they are met by caricatures of Black men: lawn jockeys.
David Pilgrim, Vice President for Diversity and Inclusion at Ferris State University in Michigan and founder of the Jim Crow Museum, noted lawn jockeys began as depictions of Black servants in subservient poses and caricatured faces.
Thus, by displaying lawn jockeys — many of which have been painted white in an attempt to literally whitewash their history — a racecourse is sending a message to black visitors: "You are not welcome here."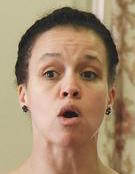 Jamaica Miles (pictured), co-founder of the All of Us organization, advocates for racial justice across the Capitol region of New York. She wondered rhetorically of these lawn jockeys, "What does it mean for people of color to see themselves represented in that way?"
She recalled, "In recent years, we've seen, even before the death of George Floyd, we've seen people push back on what seemed to people of color an obvious offensive figure on the lawns of white America, and white allies and accomplices standing up and saying, 'Oh, my gosh, even if I didn't realize this before, I'm going to end this now.'
"And not just in Saratoga but across the greater Capitol region, there's been some call for that to end."
Yet Saratoga is the scene of the same systemic anti-Black violence seen elsewhere in America. Miles added, "While the murder of George Floyd seemed to be a catalyst for what happened across the country, the reason we've been able to sustain this fight locally, as well as across the nation, is because there were local murders that happened in every single community. And, for Saratoga, it was the murder of Daryl Mount in 2018 that people are still calling for justice …"
When Saratoga Race Course opened in 1863, Black racegoers were not allowed in. As the wealthy white elite flocked to the town each summer, gambling abounded, providing job opportunities; as the status of gambling fluctuated in New York State, however, Black Saratogians found themselves once again sidelined in poor-paying jobs and segregated from white workers.
But each summer, one place did take Black workers aplenty: the racetrack. Many Black men were employed primarily working for white owners and trainers as grooms, stable hands, hostlers, hot walkers, and everything in between. In fact, during the 18th and 19th centuries, Black jockeys dominated racing, winning every major race from Latonia to Saratoga — first while they were enslaved, then as emancipated men.
For centuries, enslavers utilized the enslaved as stable boys and grooms, regarding them as possessions trained to take care of other highly-prized creatures: their expensive steeds.
And the same realities still pervade horseracing today. Miles summarized, "The labor is done by people of color and those that reap the rewards are white men. It is the history of America that this country was built off the free labor of Black people and white people — specifically heterosexual, cisgendered white men — were the ones that received all the profits. The reason America is the wealthiest nation in the world is because of the history of free labor. Saratoga racetrack is not different."
Then, enslavers chose certain men as their jockeys — the best riders, the smallest men. After all, as Katherine Mooney noted in Race Horse Men, "a jockey could be starved down to an exact weight that suited his owner's purpose" (Mooney 49). Sometimes, enslaved individuals were promoted to be trainers, but they were still commodities, just ones carrying 'commensurately high price tags' appropriate to their skill sets (Mooney 40).
The more things change, the more they stay the same
A disturbing article in The Brooklyn Daily Eagle of August 24, 1871, amply illustrates the contemporary prejudice levied against Black riders.
That summer, a standout racehorse named Longfellow, had won fans' hearts, earning the nickname 'King of the Turf'. When Longfellow lost a match race to old rival Helmbold, the Eagle claimed, "Longfellow was ridden and overworked by his negro jockey. Helmbold's white jockey virtually finessed him into victory."
Of Longfellow's Black rider, the commentator added, "He can run a plain race with many contestants well enough. But he cannot do the head work of a white man, except in the abstraction of chickens and the destruction of bacon. The South has lost about all of her champion races, simply because the superb riding of the n***** is relied upon, instead of the capacity for strategy that his white rival invariably exhibits and utilizes."
Once emancipated, Black men continued to dominate the sport as trainers and jockeys. Ansel Williamson trained horses for his enslaver, Robert Alexander, and continued to do so after emancipation. Williamson is perhaps best known for sending out Alexander's Aristides — with young Black jockey Oliver Lewis aboard — to win the inaugural Kentucky Derby. Williamson also trained two Travers winners.
Another individual initially enslaved by Alexander's family earned acclaim on and off a horse.
Edward Dudley 'Brown Dick' Brown blazed a path of wins aboard Asteroid and scored in the 1870 Belmont Stakes aboard Kingfisher (who won that year's Travers for black trainer Raleigh Colston) for Daniel Swigert, then transitioned to training. Brown sent out Kentucky Derby winner Baden-Baden and two Kentucky Oaks winners.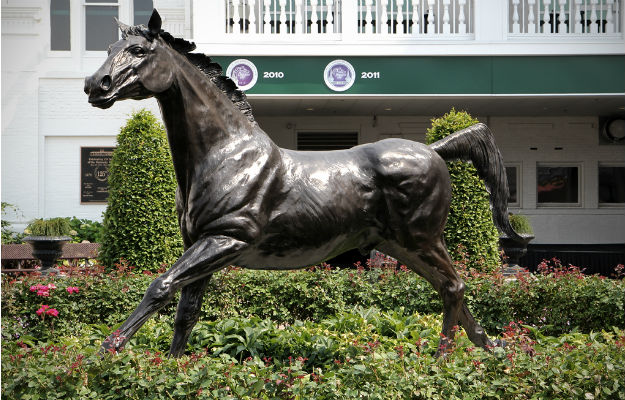 At only 18, Isaac Burns Murphy won four races in one day. He came east that summer of 1879, pointing towards the race that still crowns the Saratoga meet — the Travers Stakes. The big favorite that day was Spendthrift, "the new prize of New York financier and turfman James R Keene," noted the late Pellom McDaniels III, Assistant Professor of African American Studies at Emory University, in his excellent biography of Murphy, The Prince of Jockeys.
Instead, Murphy beat Spendthrift aboard Falsetto.
After his Travers triumph, Murphy was unstoppable. In 1883, he won an astounding 11 of 28 starts at the Saratoga meet. He won three Kentucky Derbys (1884, 1890 and 1891), four of the first five American Derbys, a heart-stopping edition of the Suburban Handicap in 1890 on Salvator, and seven races on the Dwyer brothers' grand Kingston.
There were few obstacles he could not conquer. According to some calculations, Murphy won 628 of his career 1,412 starts — an astounding 44 percent.
Murphy didn't just triumph in his sport, he served as a role model for other young Black jockeys.
Jimmy Winkfield replicated Murphy's feat of back-to-back Derbys, landing the 1901 Derby aboard His Eminence and the 1902 Derby aboard Alan-a-Dale.
Many young Black jockeys also excelled at Saratoga. James 'Jimmy' Lee rose to fame after sweeping all six races on a single Churchill Downs card in 1907, an American first. Contemporary newspapers dubbed him "a real sensation", while also demeaning the talented athlete as "the colored boy".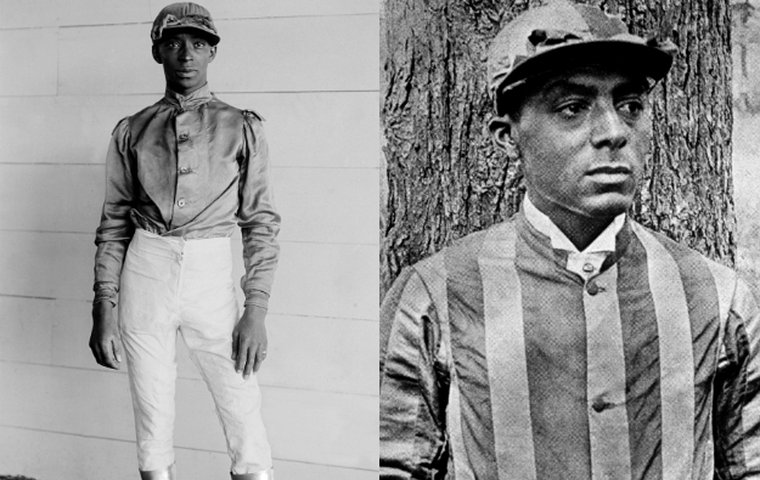 Heading east to Saratoga the next summer, Lee captured the 1908 Travers aboard Dorante. The Buffalo Morning Express of August 12 praised Lee for a "perfect ride".
In 1892, Azra's win in the Kentucky Derby made 15-year-old Alonzo 'Lonnie' Clayton the youngest rider to ever win that Classic. That record still holds today. The pair, who had annexed the 1891 Champagne Stakes, polished off their Derby win with triumphs later that year in Churchill's Clark Handicap and Saratoga's Travers, adding the Alabama Stakes at Saratoga aboard Ignite for a remarkable double. In 1895, Clayton won the Saratoga Flash Stakes aboard Onaretto.
Another young trailblazer was James 'Soup' Perkins. In 1894, the 14-year-old jockey won five out of six races in a single day at Saratoga, plus the following year's Derby aboard Halma. Willie Simms rode two of Edward Brown's former trainees, Ben Brush and Plaudit, to Derby wins in 1896 and 1898 respectively; he added the Preakness aboard Sly Fox in 1898.
Isaac Lewis, who piloted Montrose to victory in the 1887 Run for the Roses, won the 1891 Saratoga Cup aboard Los Angeles. Ed West and John 'Stokes' Stoval each won the Spinaway and Alabama with two different horses, while George 'Spider' Anderson garnered his own Alabama win in 1891 with Sallie McClelland. Shelby 'Pike' Barnes won the 1890 Alabama on Sinaloa II, plus the 1889 Travers Stakes on Long Dance; Roy 'Tiny' Williams won the Midsummer Derby in 1891 on Vallera.
Segregation survives and thrives
By the turn of the 20th century, white authorities began to systematically exclude Black men and women from sports in which they'd long excelled. In Black Collegiate Athletes and the Neoliberal State: Dreaming from Bended Knee, Albert Bimper Jr, Senior Associate Athletic Director for Diversity and Inclusion at Colorado State University, noted the post-emancipation successes of Black athletes were soon countered by organized racist suppression. He referred to examples of how "anti-Black beliefs were met with an institutional structure advancing anti-Black policy to functionalize racism and normalized racist beliefs" (10).
Jamaica Miles remembered of her own childhood, "My father used to take me to the racetrack, and I can remember as a child wanting to see the horses — your typical little girl with her dad, wanting to see the horses." As a child, she wondered if all jockeys were Latinx, not knowing about the great Black jockeys of history or the "colorism and degrees of separation from whiteness" those riders had to navigate historically.
Historian John Drobnicki noted that, when praising Lonnie Clayton, publications emphasized the lightness of his skin — associating his abilities with a lighter skin tone.
Lithographs, cartoons, and articles began to circulate depicting black men as "common stereotypes", aimed at humiliating them and supporting the myth of white supremacy (McDaniels 391). Black riders were denied work; the change to white riders was regarded as the natural order of things. The Courier-Journal of January 21, 1912, claimed waspishly that "three decades ago the negro was in his zenith" as a jockey.
A July 29, 1900, New York Times piece entitled Negro jockeys shut out: Combination of white riders to bar them from the Turf discussed the paucity of Black horsemen. At each successive New York meet, the author noted, fewer and fewer Black riders rode in each race while "comparatively newcomers monopolize[d] the riding".
Why? There had been "a quietly formed combination to shut him out", and "horse owners who expected to win races would find it to their advantage to put up the white riders".
Who organized this blockade? Rumor had it the culprits were white jockeys, supported by white owners, trainers and venerated horsemen. Black jockeys not only stopped getting hired to ride horses but even began meeting with accidents on the track and interference; any owner or trainer wanting to win a race put up a white rider. And, indeed, owners were "content to accept the new order" of things.
Such efforts to exclude Black jockeys proved sadly effective.
Jimmy Winkfield was forced to move overseas to get work, where he thrived. John Stoval was demoted to exercise rider after he shot a white man in apparent self defense. Lonnie Clayton was arrested in 1901 for striking a spectator, a German-born man named Henry or 'Harry' Bolomey, with his whip. He was pulled from the race and a white man, John Bullman, got the mount instead.
Some reports indicated Bolomey verbally assaulted Clayton first. Bolomey took the case to court and requested the equivalent of $300,000 in damages. He made a habit of suing wealthy companies for cash.
Even Murphy was targeted. When he collapsed after losing the 1890 Monmouth Handicap, reports began circulating, in person and in publications, that he'd been drunk. The track's executive committee found no evidence to support that conclusion. In fact, much evidence suggested that either Murphy's severe jockey's diet took its toll, or he had been poisoned.
Still, "because of his color", Murphy "had become a pariah to whites", who didn't "empathize with the treachery of the situation nor endorse an investigation into the facts" (McDaniels 364).
In Part 2, Carly Silver asks: What's changed? And what can we change? Click here to read it.
An associate editor at HarperCollins, Carly Silver, whose writing on Thoroughbred racing has appeared on TRC, the Blood-Horse, Thoroughbred Daily News, America's Best Racing and New York Breeder, has been writing for Turf publications for 16 years. Also an authority on ancient history, Silver has written for Smithsonian, Narratively, The Atlantic, Atlas Obscura, Archaeology magazine, JSTOR Daily, and History Today, among others.