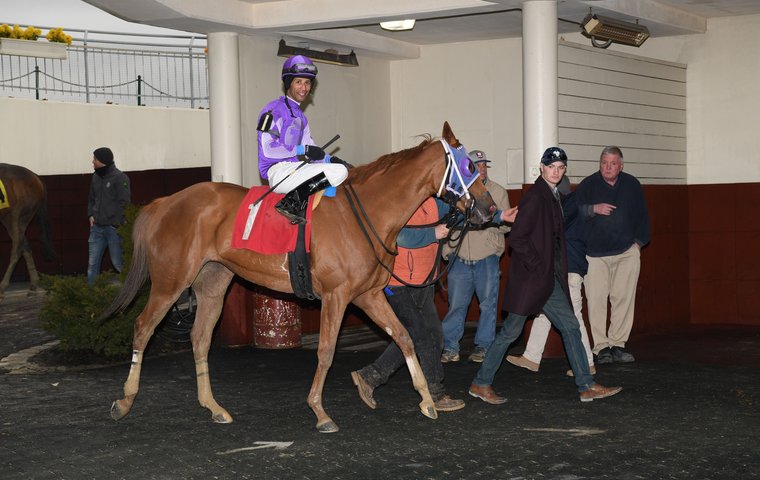 In the final part of this two-part report on the history of racism in American racing, renowned historian Carly Silver asks a number of Black people involved in the sport today if they are affected by racism even in 2020 ...

Black horsemen and women still face systematic discrimination on a daily basis. In an era in which police can kill Breonna Taylor in her own home — in Louisville, nearly on the doorstep of Churchill Downs — or shoot Jacob Blake in the back, causing paralysis, it is not surprising that horseracing deals with the same endemic racism as America at large.
Grade 1-winning trainer Uriah St Lewis shared, "It's a lot of racism. A lot. We go through a lot in New York ..." He stated that track organizations had forcibly scratched his horses due to discrimination, saying, "They make it seem like something's wrong with the horse and there's nothing you can do about it. Because, if you fight them, they punish you."
He added, "I've been doing this for 30-something years. I dot all my Is and cross all my Ts. Everything I do, I have to make sure I do right because they're going to make an example out of me."
For example, with his Grade 1 winner Discreet Lover, St. Lewis said, "We had to have a white lady every time I go to run him; she had to be right there with a cell phone, like she's taking pictures, so the vets wouldn't abuse him. Because they would mess with his leg and he looks a little off, we have to scratch him."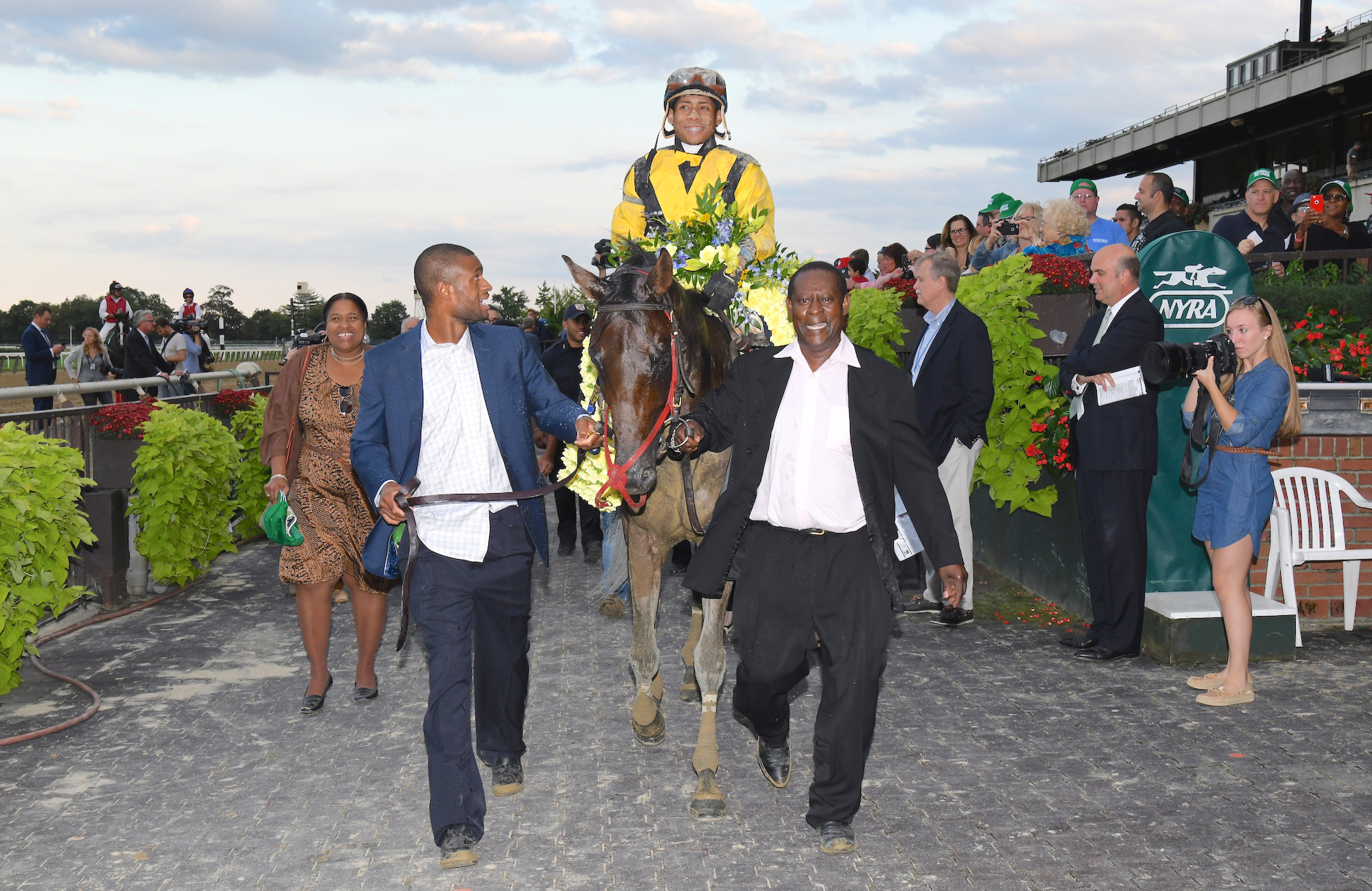 St Lewis shared numerous instances in which he and fellow Black trainers have faced discrimination. For example, at a recent Belmont Park meet, he recalled, "They put Charlie Baker and Uriah St Lewis, the only two Black trainers in recent years to win Grade 1 races, we go in the same barn. We go in 43." Of white trainers, St Lewis shared, "Those guys, it's two minutes to get to the paddock, so their horses only have to go into the holding barn for a minute," adding, "We have to walk 30, 45 minutes to get to the holding barn."
In addition, St Lewis said, "A white guy could come in; he can get 30 stalls." In contrast, he recalled being told, " 'No, Uriah, 25 is your limit."
St Lewis's son and assistant trainer, Uriah Jr, added, "You wake up and you're like, 'I've got to take care of my horse.' And the horse doesn't get taken care of [any better] than any Caucasian trainer would take care of it, but because of their skin color, they get pushed to the top." He added, "They'll figure out ways to make sure you struggle. They'll tell the jockeys not to ride your horse. They'll find a way to make you struggle and that's that."
In particular, equal opportunities are not given to Black trainers. He noted, "It does go back to racism, because they don't give you the same opportunities that somebody who's a counterpart of yours who's a Caucasian will get."
Uriah Sr added, "I love this country, the greatest country on Earth, but it can be the worst country on Earth, too.
Uriah Jr suggested that a mainstream documentary about racism in horseracing, aired on ESPN or another major network, would prove invaluable. "Just like how Black Lives Matter, I think, needs to be brought out into the mainstream, if a documentary is brought out into the mainstream, it might open people's eyes."
He continued, "Until something is actually put forth, it's almost impossible."
Greg Harbut, founder of Harbut Bloodstock, is a third-generation Black horseman, being the great-grandson of Will Harbut, handler of Man o' War.
Harbut recalled, "Some look at him as a groom, but I look at him not only as a great horseman, but when you look at the role that he played in the amount of people that came to see Man o' War … he's probably one of the first African-American ambassadors of any type. But it was certainly unheard of."
Will's son, Tom, became a celebrated horseman in his own right, managing stallions during Spendthrift Farm's heyday and working with Harry F Guggenheim's bloodstock. His grandson proudly rattled off the names of legendary equines that Tom worked with: Dark Star, Majestic Prince, Nashua, and Raise A Native. "The best of the best were going through Spendthrift at that time and they entrusted him to care for those those because of his horsemanship," Greg Harbut added. He also bred and part-owned stakes winner and 1962 Kentucky Derby starter Touch Bar.
Along with Wayne Scherr, Harbut and fellow Kentuckyian Ray Daniels co-own 2020 Kentucky Derby starter Necker Island. Harbut and Daniels are two of the only Black owners of classic contenders this century.
He said, "Like anything, our country has a lot of what we need to do to be more empathetic and inclusive of people of color. I don't think the industry necessarily excludes people of color to just say, because you're African-American or a person of a different ethnicity, that we're not going to allow you to participate.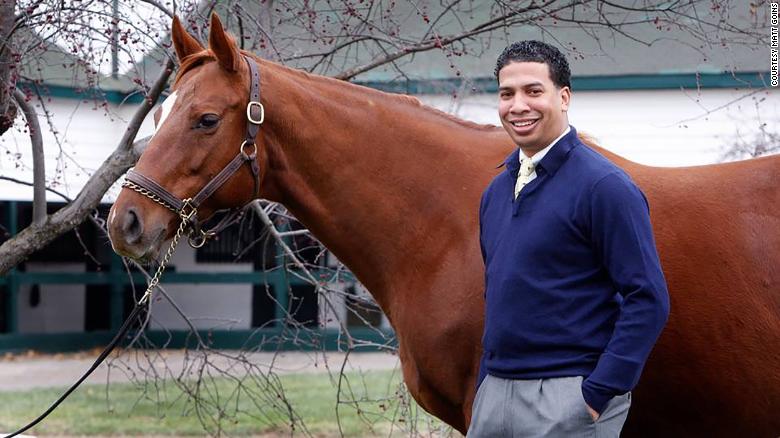 "But I definitely think that there's a lot more the industry can do as a whole to be more inclusive, to do better marketing towards minorities, to put more minorities in leadership positions, whether it be on boards or in executive leadership positions within the racing industry.
Tom Van Meter's racist comments particularly showed the industry's colors. Harbut added, "I'm not naive enough to think that he is the only one to feel those sentiments - but for him to feel comfortable enough to make those sentiments tells us that, not only within this industry but also as a nation, we still have a lot more work that needs to be done."
How can that work begin? Harbut said, "The first thing that I think they need to do is just acknowledge that something needs to be done. Thankfully, now we're starting to have those conversations. but I think we need to get a step farther [from] just having conversations to actually come up with a strategic plan to implement the things that we're having conversations about. Marketing is a key."
He added, "You look at the NBA. You look at what companies like McDonald's and Sprite have done to strategically market towards a certain demographic, being African-Americans. All of that plays a role in making people feel comfortable with your product, your brand, wanting to be a part of that. And then, like I said before, having people on board in executive leadership that is not the norm, I think, is going to be the key.
"To have the same people on boards and executive leadership, I think you're going to continuously have the same ideas, and you're going to see things play out the way they've always played out."
Lack of black riders as role models
Brittney Chambers is the founder of CBC Therapeutic Horseback Riding Academy near Sacramento, California. Chambers learned the basics of horsemanship from her father, Glenn Chambers. In the 1970s and 1980s, Glenn Chambers trained and groomed horses, including several classic contenders, at tracks across the country. He's spent decades rehabbing and retraining horses of every background, including Thoroughbreds.
Recent small-business honoree Brittney, who teaches about 60 clients a week, has a background in counseling and teaching. Under her watchful eye, her young pupils grow in independence and skill in caring for every aspect of a horse. But, as a young rider herself, Chambers recalled the lack of Black riders as role models.
"Growing up, I never saw Black girls," she said, "and I don't blame it on anybody. I feel like it was just where we are located. It's really nobody's fault, but I never really felt like 'this is where I should be' because I'm the only one and I just loved horses so much. I knew I could ride; I knew I was a good rider." She felt herself asking, "But do I belong in the show ring? Because I don't see anybody like me."
Chambers added, "Ever since the Black Lives Matter movement, you're seeing more people but it's still kind of fresh. It still kind of raises your eyebrows."
Chambers had some great ideas to open up the racing world. "I think the biggest one that I've seen right now, the biggest and the easiest one, is marketing." She suggested a national executive team focused on diversity and inclusion could be another way to start. "I have a couple of friends who are on the U.S. Equestrian Foundation; they started a diversity board."
She mused, "I've been, and I think I have a couple panels coming up. I know people are talking about it but it's something that … why aren't there more Black jockeys? Why don't you see Black riders? That's that invisible ceiling that's stopping them and I think it's been happening for so long that it's like, 'Well, do we feel we have a place to become a trainer?'" The ceiling needs to be penetrated, she said, by "making things more accessible".
She suggested a program offering apprenticeships to top trainers or the opportunity to shadow other leaders in their fields. "That's how people learned," she shared. "That's how I learned." She added, "Imagine how many applications a scholarship or like a mentorship [program], imagine how many you'd get if big trainers said, 'Hey, come work under our barn for a week,' or something like that, just introing more people to the horse world, making it more accessible."
Dr Amie Casey has practiced at Baronne Veterinary Clinic in Sunset, Louisiana, since 2004. But the Delta Downs veterinarian is racetrack royalty in her own right, as her maternal grandfather is the immortal jockey Jimmy Winkfield.
By the time she was born, Winkfield lived in Paris most of the year and told his family that the racetrack "was no place for a woman", Casey recalled. She added, "We had very little story time about how and when and why he left the United States to go ride in Europe and Russia and whatnot. So we knew him more as Grandpère, you know, Grandfather as opposed to the famous jockey rider." But she did remember when Winkfield was refused admittance through the front door of Lexington's Brown Hotel in 1961.
Casey became a professional violinist, but, when life threw some challenges her way in the 1980s, she went to veterinary school at Ohio State University. Yet, despite her qualifications, she faced opposition from horsemen. "I think, you know, when I first came down here — well, actually when I was at my first job in the tri-state area — I had to go stitch up a horse …" she remembered. "And here were a bunch of good old boys with beer cans in this barn in the backwoods of Indiana and I went, 'Oh, boy.' I just kept breathing deeply and they looked at me cross-eyed and I said, 'Don't worry. I'm going to take care of your horse." The men in question then started laughing.
'I don't ever want her in my barn'
Casey has faced aggressions and micro-aggressions her entire life. She recalled, "One trainer, he told the assistant that worked with me, he says, I don't ever want her in my barn. I don't ever need her.'" She added, "I overheard that and I didn't flinch. I got done with the work in the next barn and I put my instruments and all my equipment away and I waved and I left the area."
"So I have been going kind of uphill with my life," she said. "Even looked at the same way when I was a concert violinist and I was applying for a wedding job or going to play chamber music with some friends or whatever. It was like, 'Oop, you're playing the violin?' It's very uncommon but as soon as you hear what I'm playing, as soon as you see what I'm doing for your horse, then the evidence comes and the belief comes.
"So I just pick one client at a time. I don't try to overwhelm everybody, just one person at a time, get to know who I am, and they don't care about you until you care about them. So this is the way I work. This is the way I live, and I try to be fair and just with everybody, and now not everybody sees it that way, but this is what I'm trying to do."
She added, "I'm still not one of the good old boys, but they know what I'm talking about. I don't need to be one of the good old boys because I'm still me."
Casey recommended more outreach programs to recruit more black veterinarians and amplify the industry's exposure. "But if you're trying to attract a more diverse population from vet schools … that's going to have to be from an outreach program there," she said, "and actually it was an outreach program that attracted me to go to vet school anyway."
The magic of the horse is the key
Exposing young people from different ethnic and socio-economic backgrounds to the magic of the horse is key.
She shared "I don't think it's going to come from the racetrack. If it comes from the track, there's a certain microcosm of people, aura that comes from the mind when you say 'racetrack', and it's not a good one, so it will have to come from the positive things about the sport. Looking at the equine athlete, there is no more beautiful animal than an athlete, an equine athlete, whether he's a hunter-jumper or whether he's a reiner or whether he's a racehorse or whether he's a flying Lipizzaner in the circus. These are the things that everybody needs to be exposed to."
Top jockey Kendrick Carmouche self-identifies as Black American Creole. While he shared that he's never experienced overt racism at the track, he notes that there is still a lack of opportunity for most jockeys. "To be honest, I never encountered any sort of racism, you know, on this racetrack," he shared. "And I try not to be around people that I feel, whenever I walk past them they don't like me, because I'm a nice person."
For Carmouche, the trickle-down economics of horseracing mean that even the most talented riders and trainers don't get their fair share of good horses. "I think it's all old money from the owners on down to the trainers, you know?" he suggested. "Me personally … I don't feel like it has anything to do with Black or white or what color it is in this game. I just feel like they don't give everybody a chance, you know? They want the guy at the top of the pole and everybody else gets the trickle effect."
He added, "I scratch my head sometimes. Why didn't I get a chance yet? Because I come from up the ranks, I came from smaller tracks and have been leading jockey for seven years at Parx and the second, third leading rider almost everywhere I went for the last 20 years. Besides, when I come to New York, which I knew that would change … I thought whenever you come through the ranks and you're improving, you can come to a huge place like New York, you can make a difference, you should get a shot. That's the way I look at it."

An associate editor at HarperCollins, Carly Silver, whose writing on Thoroughbred racing has appeared on TRC, the Blood-Horse, Thoroughbred Daily News, America's Best Racing and New York Breeder, has been writing for Turf publications for 16 years. Also an authority on ancient history, Silver has written for Smithsonian, Narratively, The Atlantic, Atlas Obscura, Archaeology magazine, JSTOR Daily, and History Today, among others.