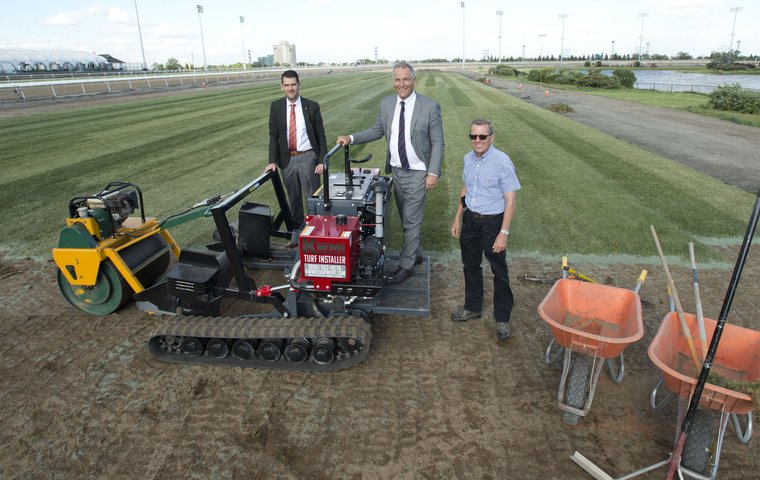 TRC's weekly industry digest - a round-up of international racing news from the past week.

Historic moment at Woodbine
North America: Woodbine Entertainment celebrated an historic moment on Wednesday as the first section of sod was placed on the new inner turf course.
The sod-laying ceremony took place on the front stretch after the first 250-foot section of turf was installed earlier in the day.
"Today's occasion is a celebration of Woodbine's commitment to premier turf racing," said Jonathan Zammit, Vice President of Thoroughbred Racing Operations. "We look forward to the completion of the new course next year, which will complement our existing turf assets and elevate our world-class racing product to new heights for both our horsepeople and customers."
The transformation of the former Standardbred racing surface, which was unveiled in 1994, to a second Thoroughbred turf course began in early April as Woodbine Mohawk Park has undergone multi-million-dollar renovations and is now the site of year-round harness racing.
The new seven-furlong turf course, which will consist mostly of Ontario-grown Kentucky Bluegrass, is expected to be ready for racing by next year's Queen's Plate.
'It's unfair' says jockey banned after weighing-room 'attack'
Europe: Brazilian jockey Raul da Silva has been banned for 21 days after a weighing‑room disagreement with former British champion jockey Jim Crowley.
The altercation at Goodwood on Sunday left Crowley needing stitches in a cut lip, which he said came from an "unprovoked attack from behind with what felt like a piece of lead" after a disagreement about da Silva's riding style. The stewards heard evidence from both parties as well as four of their colleagues and several weighing-room officials.
However, the Brazilian has since said publicly that that he would "swear on my son's life that Jim started the fight" and denies using lead or a weapon of any kind.
"If I had something in my hand he would have lost some teeth," protested da Silva. "If I'd hit him with lead, why not get the police involved? Everyone took his side and I was there with nobody.
"I like to be friends with everybody, I don't want to start trouble. It's difficult for me now. I'm not allowed to go racing for a long time, it's not fair."
Scat Daddy colt stands out
North America: A final-crop son of the late Scat Daddy, sold for $650,000, was the standout lot at the opening session of the Ocala June Sale of Two-Year-Olds and Horses of Racing Age in Florida. He was consigned by Top Line Sales and sold to trainer Carlo Vaccarezza.
The colt put up a quick breeze during the under-tack show, clocking the co-fastest time of 9⅘ seconds for a furlong. The Florida-based conditioner admitted that, despite it being a "last hurrah for Scat Daddy [as a sire]" the acquisition came down to his "good relationship" with Jimbo Gladwell, who consigned the session-topper with his wife, Torie.
Gladwell said that the sale price was "so far beyond our wildest dreams" for the colt, who he believed was "head and shoulders one of the best in the sale".
OBS reported that 171 lots generated turnover of $6,460,500 (£4,806,775/€5,464,290), compared with $7,260,000 for 221 sold during the comparable session 12 months earlier, a drop of 11 percent.
British pool-betting: standstill is agreed
Europe: Britain's two racecourse groups, Jockey Club Racecourses (JCR) and Arena Racing Company (ARC), which operate 31 tracks between them, have welcomed the start of a standstill between the Tote and Britbet, the new pool-betting project set up by 55 British racecourses.
The official impasse will start with immediate effect and run through October 31. The Totepool brand will continue to take all on-course taking pool bets, while Britbet's new technology will be installed across its 55 racecourses, including screens and bet-taking equipment designed to enhance the customer experience.
Totepool's on-course staff will transfer across to be managed by Britbet from July 13.
Simon Bazalgette, group chief executive of the JCR, confirmed that the two organisations would be working together to "secure vital revenues for British Racing" but cautioned that "if [an] agreement cannot be reached through good-faith discussions" then Britbet would launch as a "consumer-facing service".
Martin Cruddace, chief executive of ARC, added: "Having agreed to this period of standstill, we believe that we have a unique opportunity to further develop our offer, in possible collaboration with the Tote. Until this time, we will work with our partners in discussions as to exactly what that will look like and the viability of the business.
NBC's Miller to address owners' conference
North America: Jon Miller, president of programming for NBC Sports Group, will deliver the keynote address at the 2018 Thoroughbred Owner Conference.
It will be the fifth iteration of the convention, which is co-hosted by OwnerView and BloodHorse and presented by Churchill Downs and Breeders' Cup. It is held from October 30 through November 1 and the conference aims to "educate, inform, and entertain new, prospective, and current Thoroughbred owners".
"Jon Miller and his team at NBC Sports Group have been tremendous ambassadors for horse racing through their increased national coverage of our sport," said James Gagliano, president of the Jockey Club. "We are thrilled that he is able to speak at the Thoroughbred Owner Conference and share his insights."
Star apprentice joining Waller for three months
Oceania: Champion New Zealand apprentice Sam Weatherley will relocate to Sydney to join the Chris Waller stable for a three-month stint.
The 19-year-old won the 2016-17 apprentice premiership with 67 wins and is likely to retain his title despite missing the final six weeks of the season. His 63 wins have him 18 clear of second-placed Jasmine Fawcett.
"I was looking at Australia for a while and originally I looked at Melbourne but then this opportunity came along to join the Waller stable," Weatherley said. "He's obviously the best trainer in Australasia, if not the world."
Waller is world-ranked seven in the TRC Global Rankings.
Japanese target for Werther
Asia: Multiple Hong Kong G1 winner Werther has been given the green light for a tilt at top-level glory in Japan.
The John Moore-trained gelding will line-up in the G1 Takarazuka Kinen (2200m) at Hanshin on Sunday, June 24. The former New Zealand-trained son of Tavistock has won at G2 level this season and been G1-placed three times. He won the Hong Kong Derby in 2016.
Longines becomes an Ascot official partner
Europe: Ahead of its signature Royal meeting, Ascot Racecourse has announced Swiss watchmaker Longines as its latest official partner.
The luxury brand will continue its designation of the official timekeeper at the Berkshire track, a role it assumed in 2007. It will still be credited on ITV Racing, with an enhanced presence alongside Ascot's existing official partners, QIPCO and Gigaset.
Longines will supply time pieces to winning connections of any horse breaking a track record over the flat season, as well as enjoying several individual race sponsorships, including the G3 Longines Sagaro Stakes in May.
"We are delighted and honoured to welcome Longines as one our official partners, building on ten years of sponsorship partnership with them as our official timekeeper and watch," said Guy Henderson, Ascot's chief executive.
New role for Cummings
North America: Patrick Cummings has been named as executive director of Thoroughbred Idea Foundation (TIF), a non-profit organisation based in Lexington.
Cummings joins TIF after three years as executive manager of public affairs at the Hong Kong Jockey Club. Previously, the 37-year-old spent four years as director of racing information for Trakus, with seven years with investment giant Vanguard before that.
TIF was established to create an active forum for ideas designed to improve the prospects of the Thoroughbred industry and its stakeholders.
"It is incredibly exciting to be returning home to launch the Thoroughbred Idea Foundation," said Cummings. "Horse owners and gamblers are the foundation of racing and our focus will be on issues that can improve the economics of the sport for these two primary constituencies
"I enjoyed three wonderful years in Hong Kong working in a world-class environment. The Hong Kong Jockey Club is an all-encompassing organisation with a great team, a shining example of what is possible in this industry, and to have been a part of that was a priceless experience."
Noseda runner in positive test for cocaine
Europe: It has been widely reported that the Jeremy Noseda-trained Walk In The Sun tested positive for a metabolite of cocaine in February after winning a race at Lingfield.
The unbeaten 3-year-old's owners, Phoenix Thoroughbreds, removed their horses from Noseda's Newmarket stables last month. The Englishman – who is expected to face punishment from the BHA – was fined two years ago when Temazepam found in a sample also included a metabolite of cocaine.
Jeffcoat moving on
Oceania: Lime Country Thoroughbreds has named the experienced Mikayla Jeffcoat as its new yearling manager.
Jeffcoat – who is currently yearling manager at Newhaven Park in New South Wales – officially joins the operation, also in NSW, next month. She will oversee the growth, development and preparation of Lime Country's yearlings, many of whom will be offered at the Australian yearling sales of 2019.
Lime Country's Jo Griffin said: "We're thrilled that Mikayla will be joining the team at Lime Country as our yearling manager. We have had a wonderful year first year in Australia, two of the highlights of which were selling a A$660,000 colt and a A$550,000 filly at Easter.
"Our yearling operation is a crucial part of our business and it is so important our yearlings are nurtured by an experienced team."
BHA amends novice race conditions
Europe: The British Horseracing Authority (BHA) has announced three amendments to its 3-year-old novice race programme:
The definition of a 'novice' is modified so that horses that have run three times and have won a race are to be ineligible for 3-year-old and 3-year-old+ novice races. This means that the only winners that could run in novice races will be horses with one or two previous runs.

There is a small increase in the number of maiden races restricted to unraced and once-raced horses, changing the balance in these races to around 75 percent novice and 25 percent maiden.

Minor adjustments have been made to penalties scale.
The changes have been made with the full support of the industry's Racing Group after five months of data analysis. They will become effective from novice races staged on Monday July 9.