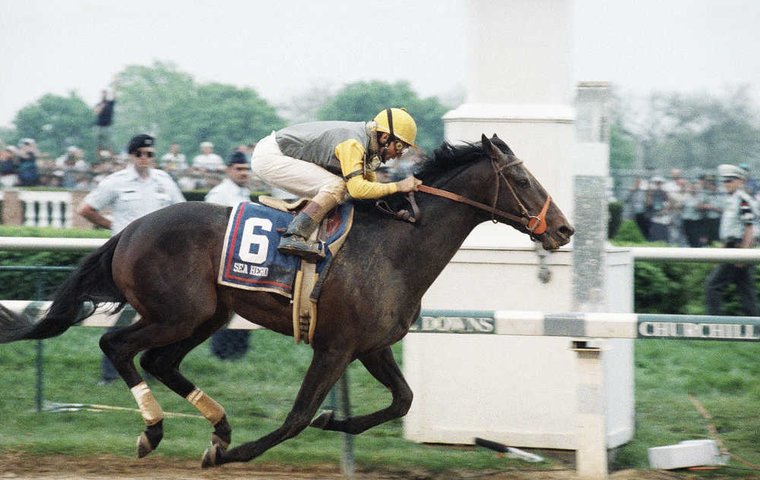 In the second part of our series looking back at Travers Stakes posters produced by equine artist Greg Montgomery, we focus on the mercurial 1993 winner Sea Hero and the 1994 poster that commemorates him. This the second of 12 of the posters we will be featuring between now and Travers week (the race is on August 26), when we will be asking you to vote for your favorite

Sea Hero was a horse who was always likely to have ability. A son of multiple stakes-winning Polish Navy, he was out of stakes winner and multiple stakes-producing mare Glowing Tribute. That pairing was arranged by none other than Paul Mellon, one of the most influential owner-breeders of the 21st century, and owner of the great Mill Reef.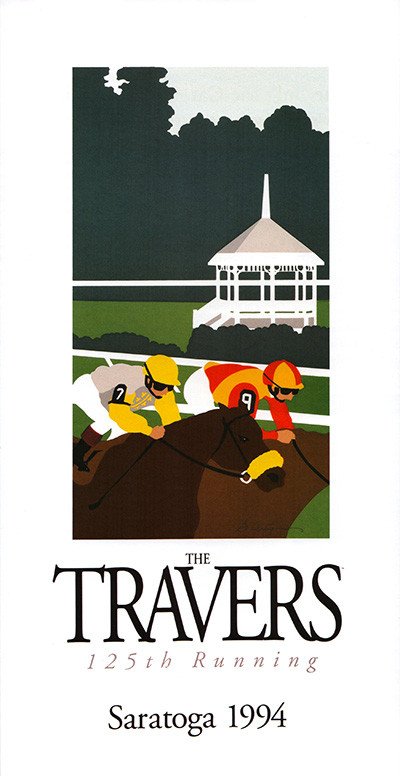 Despite these illustrious credentials, Sea Hero's racing career was often frustrating. He took three starts to win a maiden before going on to put in a great performance to win the G1 Champagne Stakes at Belmont at two. He then ran poorly in the Breeders' Cup Juvenile and in his first three races at three.
He went into the 1993 Kentucky Derby as a 13-1 chance with only a few of the 19 runners at longer odds. Outpaced early, he began to stay on turning for home and found a favourable route through to the rail. He showed previously unseen pace to power away by 2½ lengths.
In his next three races, he wasn't able to show the same level of form and went into the Travers as a 6-1 shot, a big price for a horse that had won the Kentucky Derby just three months earlier. However, that day he was once again in the right mood. He produced perhaps his best performance to win comfortably. In doing so, he became the first Kentucky Derby winer to take the Travers for 51 years.
Despite racing on as a 4-year-old, Sea Hero never re-found the form of his two famous wins. Nevertheless, he is still fondly remembered, partly for his temperamental brilliance, partly because his then 86-year-old owner and then 71-year-old trainer (MacKenzie Miller) were such legends of the sport, and partly because of a life-size bronze statue of him that still stands at Saratoga races to this day.
He is currently the oldest living Kentucky Derby winner and stands in Turkey, where he has been a successful sire.
Sea Hero's biggest achievements
Won Champagne Stakes (1992)
Won Kentucky Derby (1993)
Won Travers Stakes (1993)
What the artists says
Here Montgomery talks about the 1994 poster "Stretch Drive" (above) commemorating that race.
Around the post and turning for home. The jockeys have held their horses back, planned their final moves, and it's here at the top of the stretch where the race really gets interesting. Silhouetted in the background is Saratoga's famous gazebo, another part of this race course's Victorian charm.
The original sketch for this poster showed three jockeys. There was a jockey on the far right with blue silks, but it was just too busy; too much detail. The race actually came down to two runners and riders anyway — the amazing Jerry Bailey on Sea Hero and Julie Krone on Colonial Affair! One of the treasures I have from years at the track is a copy of this poster signed by Jerry Bailey, Julie Krone, and trainers 'Mack' Miller and Scotty Schulhofer. Wow.
You can purchase copies of all Greg Montgomery's posters here
Other posters featured in this series