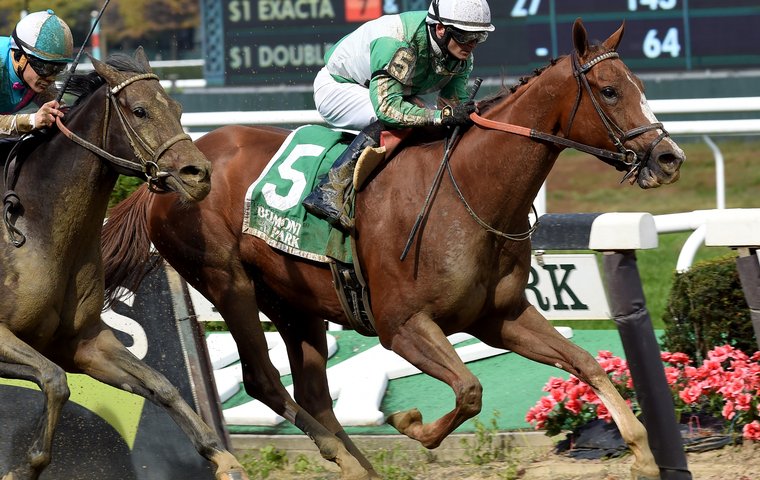 It is the rare Thoroughbred that gets a formal retirement ceremony. Earlier this year, Justify, the 13th winner of the U.S. Triple Crown, paraded on the track before heading off to a stud career, but most horses move quietly on from the racetrack, their retirements noted only in their disappearance from the entries.

As 2019 begins, we bid farewell to three millionaire New York-breds, three runners with a combined 15 years on the track, a combined 100 starts, a combined ten Graded stakes wins. Together, they have helped transform the New York breeding industry from a modest regional program to one whose horses compete — and succeed — at the sport's highest levels.
Mind Your Biscuits retired after this year's Breeders' Cup as the leading NY-bred money winner of all time, with earnings of nearly $4.3 million. Sired by then-New York-based stallion Posse, he is a two-time winner of the G1 Dubai Golden Shaheen sponsored by Gulf News. His other Graded wins include the G1 Malibu, the G2 Belmont Sprint Championship Stakes, and the G2 Amsterdam. He was a runner-up to fellow New York-bred Diversify in the 2018 G1 Whitney Stakes, and he lost the 2018 G1 Metropolitan Handicap by a nose.
Financial sense
In about a week, he'll leave for Japan, where he'll stand at Shadai Farm. Trainer and co-owner Chad Summers will make the long journey with the horse that launched his training career, flying to Japan and then taking a seven-hour ferry to the farm.
"It's going to be freezing cold," said Summers. "Hopefully it's not a Titanic situation."
Summers wanted Mind Your Biscuits to stand in New York as his sire did, but, given that he has seven partners, he was unable to find a stallion deal that make financial sense. "Shadai offered more than three times than anyone else did," he said.
He regrets that he was unable to retain an ownership interest, but he did make an agreement that Mind Your Biscuits will return to the U.S. when his stallion career is over, and, while he has full confidence in the operation at Shadai, he wants to make sure that his stable star settles in … and, perhaps, to delay the farewell for just a little longer.
"I've been with this horse nearly every day for the last four and a half years," he said. "He meant a lot to my life, not just as a trainer, but to my whole life. He's a quirky horse, and I want him to be settled in. It's kind of like sending a kid off to college. I want to help him make that transition and know that it's going to be okay."
Five-year-old Highway Star won't have quite the same transition to make: following the Breeders' Cup, she went home to Chester and Mary Broman's Chestertown Farm, about an hour north of Saratoga Springs, where she was born. Like Summers, trainer Rodrigo Ubillo had a tough time saying goodbye to the mare that brought him his first Graded stakes win.
"I try not to think about it too much," he said. "I've been trying to get ready since the beginning of the year because I knew she'd retire this year, but you can't get ready for anything like this."
In a three-year career, the chestnut mare compiled a record of 23-10-5-2 and earnings of $1.3 million. She won four Graded stakes, and she just missed a G1 when she was second by a head to By The Moon in the 2017 Ketel One Ballerina Stakes at Saratoga.
"She's the best horse I've trained," said Ubillo. "More than anything, she's just so smart and such a cool horse to be around. She means a lot to me."
Like Mind Your Biscuits, Highway Star was sired by a stallion (Girolamo) who was standing in New York at the time of her conception, making two New York-bred millionaires sired by New York stallions.
"When you look at the horses that will be up for New York-bred horse of the year, it's a sick list," said Summers. "The New York program is great. If you've got a New York-bred, New York-sired horse, you get a 30 percent bonus."
Click here for full details of the New York owner and breeder awards
Highway Star shipped to Chestertown in December, in time for a late fall snowstorm. "She's doing well and enjoying the snow," said farm manager Gregg Falk. "She'll be bred to Candy Ride and she'll come home after that."
It's also possible that the Bromans, who have been racing and breeding horses in New York for decades, will elect to sell her as they slowly downsize their operation.
Together, Mind Your Biscuits and Highway Star made 48 starts. Nine-year-old Kharafa topped that, running 52 times before his retirement after a sixth-place finish in the Mohawk at Belmont Park, a race he won in 2014.
"We had made plans to retire him at the end of his 7-year-old year," said co-owner Paul Braverman. "We sent him to Florida to Craig Wheeler's farm, and he told us he wanted to try again."
So the bay gelding came back in 2017, going winless in six starts, leading Braverman to contemplate retirement again. And once again, after a winter off in Florida, Kharafa showed every sign of wanting to get back to the races.
2018 was far from his best year, but he gave Braverman and fellow owner Tim Pinch one last moment of glory when he won the West Point Stakes Presented by Trustco Bank at Saratoga in August, a win that had Braverman choked up in the winner's circle.
Kharafa was sixth in the Ashley T. Cole at Belmont in September, and when Dylan Davis rode him back after the Mohawk, he told Braverman that the horse wasn't stretching out the way he'd used to, that he'd had every chance to win but lacked the kick he'd had earlier in his career.
"That was our signal," said Braverman.
Friends reunited
Unlike Highway Star and Mind Your Biscuits, Kharafa won't go off to the breeding shed. Instead, he's joined his old rivals, fellow New York-breds Lubash and King Kreesa, at Old Friends in Kentucky. The three of them competed against each other for years, trading wins, and the trio is now reunited.
"I live in Boston," said Braverman, "and those three are like Larry Bird, Robert Parrish, and Kevin McHale. I'll never have a horse as good or consistent as he was, so I'm sad, but I'm happy that he's in the best place he can be."
He added, perhaps only half joking, that Old Friends director Michael Blowen was looking forward to a two-furlong match race among the three of them.
On the backstretch and on the track, these three standouts will be missed, for what they accomplished, for their familiarity to fans, and for the level to which they raised the reputation of the New York breeding industry. Let's take a cup of kindness for these trusty friends, whose old acquaintance will surely not be forgot.