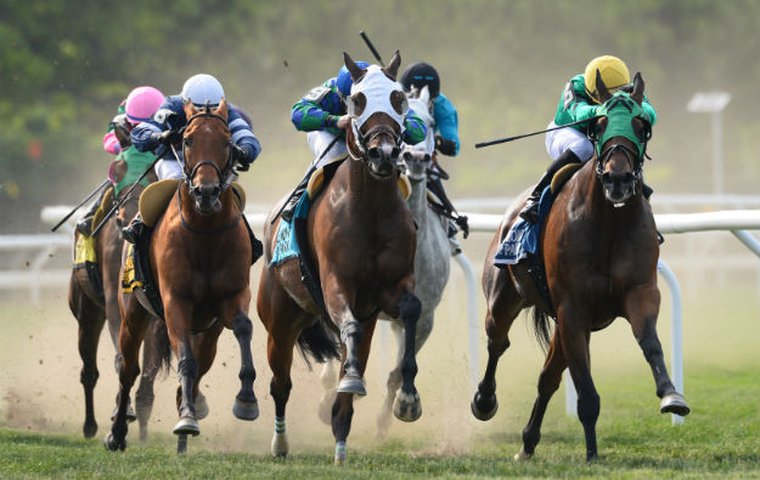 In an era when discretion has pushed valor into the background, it's not uncommon for top horses to travel in different circles until a showdown becomes inevitable.

Then you have horses like King Kreesa, Lubash and Kharafa.
All of them are stakes winners with more than $800,000 in career earnings, and since 2013 they have fashioned a robust racetrack rivalry – and then some.
Think of it as the New York Yankees vs. the Boston Red Sox with the New York Mets tossed into the fray for good measure, only with much more civility and respect sprinkled into it.
While the traditional rivalry involves two protagonists, turf stakes for older New York State-bred males have been the setting for three classy runners – each of them at least 6 years-old – to continually bang heads in a series of exciting battles in which they've turned the winner's circle into their own private club.
Since their first meeting on June 1, 2013, at least two of three horses have been in the same race on 15 occasions, and one of them has been victorious in 14 of them. Reflective of how the trio has risen far above the typical ceiling for New York State-breds, two of those victories came in graded stakes.
"People like to see rivalries and horses running against each other so it's a positive for the tracks, the New York State breeding program and the bettors, too, because they get the consistency they want to see in a horse," said Jeff Cannizzo, Executive Director of the New York Thoroughbred Breeders, Inc.
'They're at the finish line every time they race'
"You have these horses who are sound and who continue to run at peak level even at an advanced age and the stakes schedule we have in place allows them to hook up a number of times each year.
"King Kreesa, Lubash and Kharafa are at the finish line every time they're in a race. They are amazingly consistent and each of them can win in open company. The people behind these horses are doing such a bang-up job with them that people with younger horses do not want to run against them. They're scared to face them."
Thanks to a lucrative slate of state-bred stakes at New York Racing Association tracks, the three horses have been able to feast on races such as the $150,000 West Point at Saratoga and $200,000 Mohawk at Belmont Park while assembling some head-to-head statistics that are amazing for this day and age.
Lubash and Kharafa have squared off an astonishing 11 times since 2013, with Kharafa finishing ahead of him seven times. Their most recent duel came in the $125,000 Ashley T. Cole at Belmont Park when Kharafa posted a two-length victory as the 2-1 second choice and Lubash checked in fourth as the 3-2 favorite.
Round 12 is scheduled for tomorrow week (Oct. 24) in the $200,000 Mohawk for New York State-breds at Belmont Park, where they will once again vie for favoritism at the betting windows and the lion's share of the purse.
They have finished 1-2-3 on four occasions
King Kreesa and Lubash have met nine times, with Lubash holding a slim 5-4 edge after beating King Kreesa in their last four meetings.
Kharafa and King Kreesa have raced against each other five times, with King Kreesa owning a narrow 3-2 advantage.
All three have been in the same race five times and the results in this friendly rivalry have been as close as anyone could ask. One of them has triumphed in each of the five group meetings, with Lubash and King Kreesa winning twice and Kharafa once. They were so dominant in those five races that the trio finished 1-2-3 in four of them.
"It's like, we're afraid of you, you're afraid of us. There's a lot of respect going around," said Tim Hills, who trains Kharafa for owners Paul Braverman and Timothy Pinch.
Missing from the mix in the Cole – which Kharafa captured for the second time since 2013 – was King Kreesa, though his absence had nothing to do with a desire to wave a white flag and duck his fellow state-breds. Illustrating the quality of the trio, owners Gerald and Susan Kresa and trainer David Donk ran their 6-year-old gelding in the $1 million Shadwell Turf Mile, a G1 race at Keeneland on Oct. 3 which awarded the winner an automatic berth in the Breeders' Cup Mile.
"My clients are willing to step out of the box and reach a little bit," said Donk, who began training King Kreesa in 2014 after the Kresas decided they wanted a NYRA-based trainer to take over for Jeremiah Englehart, who spends much of his time at Finger Lakes.
The day King Kreesa ran close to Wise Dan
The gelding finished sixth in the Shadwell, but Donk said he spiked fever the day after the race, which explains why he wasn't closer at the finish.
"It was nothing ventured, nothing gained for us, so I'm not disappointed," Donk said. "We'll put him away for the rest of the year and bring him next spring for the state-bred stakes."
Though Dayatthespa's victory in last year's Filly and Mare Turf was the first G1 victory by a New York State-bred in a Breeders' Cup race, King Kreesa was hardly out of his element in the Shadwell.
Earlier this year, King Kreesa won the G3 Poker at Belmont for the second time in three runnings and, in the G2 Fourstardave at Saratoga on Aug. 15, he finished fourth as the 5-2 second choice, losing by a length to Grand Arch, who also won the Shadwell Turf Mile, and Ironicus.
Equally impressive, King Kreesa finished a game second by a little more than a length to two-time Horse of the Year Wise Dan in the 2013 Fourstardave.
"We don't know if this will ever happen to my wife and I again, so we're savoring every minute of it," said Gerald Kresa, a 61-year-old Buffalo, Minnesota, resident, who has just two horses in training. "A race like this year's Poker, when he won at 17-1 odds, stands out, but the Fourstardave against Wise Dan was probably one the few times I was happy to finish second. King Kreesa battled him down the stretch and I wasn't disappointed at all with that loss."
'The races are very, very competitive'
Though King Kreesa has earned $1,133,704 in his career and has classy horses like the aforementioned Wise Dan and Ironicus, as well as Lea, Little Mike, Big Blue Kitten and Real Solution, plus a start in 2013 Longines Hong Kong Mile at Sha Tin in his running lines, fellow state-bred Lubash has proven to be a particularly pesky rival. After King Kreesa finished ahead of Lubash in four of their first five meetings, the last four battles have belonged to Lubash.
"We used to have the upper hand with Lubash," said Gerald Kresa, who added the extra "e" to his horse's name because people often mispronounce his name as Kr-eesa, "but it's been changing lately."
Their last clash came on Aug. 28 in the West Point Stakes for state-breds, when the speedy King Kreesa, running on just 13 days rest with the Shadwell in mind, pressed the pace and forged to a short lead at the eight pole but could not repulse a late bid by Lubash, who drew clear in the final furlong to win by a length. King Kreesa settled for second money over Notacatbutallama, a G3 winner with more than $700,000 in earnings.
"It's certainly a rivalry with Lubash and you have to throw Kharafa in the mix, too," Donk said. "The races are very, very competitive. I joked after winning the Poker about not having to run against them. They are state-bred races, but they are extremely competitive, so you don't go into them with very high expectations. The people involved in the three horses don't talk much, but there is a great deal of mutual respect and no animosity at all.
The 8-year-old who has aged like fine wine
"Against Lubash, it's been the trip. He's become tractable with a better turn of foot as he gets older. Last time Lubash was in the cat-bird seat and it set up well for him, but both horses give you a great effort and run great speed figures."
An 8-year-old horse, Lubash has indeed aged like fine wine.
Since owner Leonard Pivnick turned Lubash over to trainer Christophe Clement in 2012, Lubash has remarkably finished fourth or better in 24 of 26 starts and posted graded stakes wins in the 2013 Fort Marcy (G3) and 2014 Tropical Park Turf Handicap (G3).
At the age of 78, Pivnick has owned horses more talented than Lubash under his Aliyu Ben J Stables banner. Pivnick's Meadow Flight, who was second to Holy Bull in the 1994 Haskell, had more pure ability and better speed ratings. Yet, in terms of consistency, none can match his homebred son of Freud out of Pivnick's mare Nasty Cure who has accumulated $1,236,849 in career earnings while finishing worse than fifth only once in his 44 career starts.
"He's a tough horse," said Pivnick, who can usually be spotted in the paddock by the New York Yankees baseball cap he proudly wears for good luck. "You couldn't ask for anything better than him. You have to be at your best when you run against King Kreesa or Kharafa. You have to be top-notch, and he always gives you his best effort. It's rare to see."
Clement's barn also includes 2014 Belmont Stakes and Jockey Club Gold Cup winner Tonalist. His horses have received three Eclipse Awards as a division champion and have earned more than $100 million. Yet, for all that success on the sport's biggest stage, he thoroughly enjoys being a part of the unique rivalry these three classy state-breds have put together.
'A great advertisement for the NY State breeding program'
"It is a lot of fun," he said. "The three of them are a great advertisement for the New York State breeding program. It's nice that people recognize these horses and to see them become so popular among fans is great.
"Lubash fills you with so much pride because he is so competitive. He came to me at four and he has been running at the top level of the New York State-bred program since then. He might be eight, but you see him in the paddock and he looks like a 3-year-old."
Given all he has done in the last few years and the victory over King Kreesa in the West Point in his previous start, the fourth-place finish in the Ashley T. Cole evoked mixed emotions among Lubash's connections
"Watching him [in the Cole], it's happy and sad," said Pivnick's son, Todd. "Sad because when a horse tries so hard every time and gives so much effort, it's so sad to see him run fourth. But you're so proud of him because of all he's done for us. Even though he was fourth, you know he gave his all. It just wasn't his day."
Pivnick's millionaire has been training well since the Cole and will get a chance for revenge in the Mohawk, which promises to add another intriguing chapter to the long-running Empire State rivalry with Kharafa.
"All of [Kharafa's] wins are special. This is a very tough group of horses to beat with Lubash and King Kreesa in these races. Unfortunately we keep coming up against each other and it's too bad because it's a very tough hurdle to overcome," Braverman said in the Belmont Park winner's circle following the Cole. "Today was one of those days when we came out on top, but we have a ton of respect for Lubash and King Kreesa. They're tough cookies.
"I think the rivalry has become interesting to the New York fans and they look forward to it. I know the announcers and analysts look forward to, and so do we. It's been exciting to be a part of it."
How connections' patience has helped extend their careers
For all the joy he has given him, Kharafa entered Braverman's life through an unfortunate set of circumstances. Originally owned by Larry Durocher and trained by Hills, it was Durocher's death that set in motion Braverman's purchase of the gelding in the summer of 2013.
"Larry Durocher bred Kharafa and on his death-bed he told his daughter Kate that he didn't want her burdened with all the bills involved in owning horses," Braverman said. "I don't think she wanted to do it but she followed her father's orders. Tim called me and said, 'I don't think you want to let Kharafa go in a sale. He's a special horse; a classy horse.' That was enough for me, so I worked out a deal with Kate to buy him."
More than two years later, the gelding is running as well as ever. At the age of six, he has raced just 30 times in his career, with 11 wins and earnings of $835,137 and open stakes wins in the Elkwood at Monmouth this past July and Three Coins Up at Aqueduct in 2013.
The Cole marked just his fifth start in 2015, matching Lubash's total and giving him one less than King Kreesa. For everyone involved with each of the horses, it's the spring-to-fall nature of the New York State-bred turf stakes schedule mixed with a highly patient attitude by their connections that has played a vital role in the extended careers of all three runners.
"Fortunately he's a New York State-bred turf horse, so you don't get the urge to push him through the winter. We always put him away for the winter and use that time to get him ready for the next year," Hills said.
Clement also points to Lubash's winter "vacations" when asked about the horse's longevity.
"One of the main reasons for Lubash's success is because [Pivnick] is willing to give him a break every winter," Clement said. "That helps us get the results we've seen and why, if Lubash shows us that he's willing to continue racing, we'll bring him back next year at nine."
With some luck, the possibility is surely there that a grand rivalry will bloom again next spring with all three participants squaring off again. That should be cheery news for anyone who enjoys top quality racing authored by a special group of horses who can be counted on to give their all over and over again in one exciting race after another.
Of course, for someone with a promising, young New York State-bred turf runner that glass is surely half-empty.
The rivalry, which never seems to grow old, between King Kreesa, Lubash and Kharafa has a few more rounds to go before it rides into the sunset.