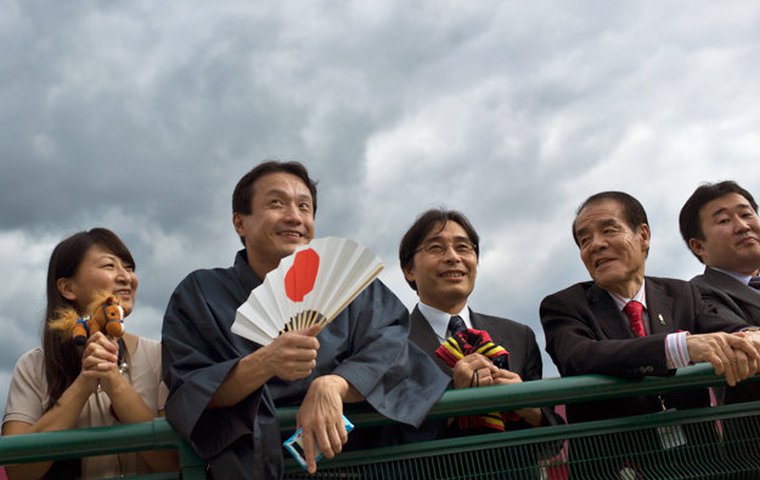 Not only is Sunday's $6.4 million Qatar Prix de l'Arc de Triomphe at Longchamp the world's richest turf race, it is also arguably its most coveted. Certainly that's the case in Japan, which has gone agonisingly close in the past and this weekend sends its three best performers - Just A Way (the world's highest-rated horse), Gold Ship (winner of $13.5 million in prize money already), and the electrifying 3-year-old filly Harp Star. Paul Haigh traces how the Japanese obsession developed.

National sporting obsessions generally develop gradually. However, Japan's obsession with the Prix de l'Arc de Triomphe can be dated almost precisely to the late afternoon of Sunday Oct. 3, 1999 (early morning Monday, Oct. 4 in Japan). To be even more specific, you might say it dates from the time it took for two great horses to slog through the deep mud of the final hundred metres in the last Arc of the 20th century - because it was only in that last half furlong that Montjeu, under maximum pressure from Mick Kinane, managed to grind down the Japanese champion El Condor Pasa, who'd bolted three lengths clear two furlongs out.
How much the mud suited Montjeu is hard to say. It did not suit El Condor Pasa, a son of Kingmambo, at all. All his winning had been done on the almost invariably fast ground of his homeland.
The Japanese hid their disappointment very well. It's a national talent. In fact, there were those who felt such a tremendous performance against one of the best of all European middle-distance horses was considerably more than they'd dared to hope for. Others had their eyes opened to the fact that their country's champions were now ready for what they see as the highest international competition.
Other good ones had come from Japan and made virtually no impression at all on the race that had already acquired almost mythical status in the minds of the Japanese racing fraternity. The first was Speed Symboli in 1969, a very good horse but one who travelled not so much 'in hope rather than expectation,' but just in hope. He finished 11th some way behind that year's winner, Levmoss. Three years later, Mejiro Musashi finished 18th behind San San: a defeat that persuaded Japanese horsemen not to bother with attempts on the seemingly impossible until 1986, when Sirius Symboli finished 14th behind Dancing Brave in what is often cited as the best Arc of all time.
While pessimism about El Condor Pasa's chances was well founded in form, what had changed in the 1980s and '90s was the nature and quality of the Japanese Thoroughbred in an era when the mighty yen could buy almost any stallion it wanted. And what changed after that was the arrival in Japan of Kentucky Derby and Breeders' Cup Classic winner Sunday Silence, whose impact on the class of the Japanese herd was transformative.
El Condor Pasa blazed the trail though – or rather, squelched it - and he will never be forgotten for that. Japanese fans are far more emotionally (as well as numerically) involved in racing than those in almost any other country, and many of them still make pilgrimages to his grave.
Another couple of good Japanese horses competed in the Arc during the early years of this century. Neither Manhattan Cafe (2002, behind Marienbard) nor Tap Dance City (2004, behind Bago) could make it into the first 10.
Then came Deep Impact, certainly the most idolised, and still quite possibly the best racehorse Japan has produced. The story of his failure is well documented. He was never quite himself during his preparation at Chantilly. He was treated for a respiratory problem that resulted in his later disqualification for a medication infraction. He received an indifferent ride from the also idolised Yutaka Take, who has never been the jockey he is in Japan when travelling away from home, and he finished only third to Rail Link. What was astonishing though was the interest his assault on what all Japanese regard as racing's greatest bastion generated at home.
It is an immutable rule of the Japan Racing Association (JRA) that only the chairman (and he only on the occasion of his annual New Year statement) may comment to the media on any racing-related subject. Thus, only the opinion of an unnamed JRA official is available to help better understand the meaning of that second major Japanese attempt on the Arc.
"This is my personal view," the official said, "but I think it is shared by most of us now. We had the highest hope in 2006 when Deep Impact ran in the Arc, and because our expectation was very high, our disappointment after the race was enormous too - and only deepened by the disastrous demotion after the positive result of the dope test."
The effect of Deep Impact's mere participation, though, had been stupendous. Although the number of European-based expats is unquantifiable, when he ran in 2006, there were said to have been between 5,000-9,000 Japanese racing fans at Longchamp. Those of us who were there can confirm that many of those fans came down from the stands weeping after their hero's defeat.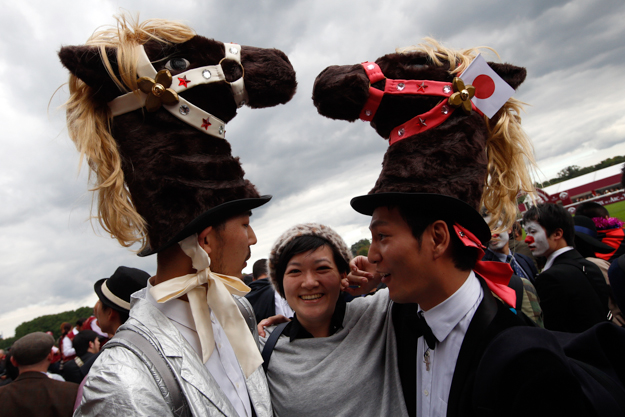 "In 2006, when Deep Impact ran in the Arc, the race was broadcast on the nationwide terrestrial channel NHK," said Naohiro Goda, a leading Japanese racing journalist and TV presenter and TRC contributor. "Even though post time was after midnight on a Monday morning, the TV ratings for the live program showed it was watched in 16.4 percent of the homes in the Tokyo area and by 19.7 percent in the Osaka area - amazing figures for any program going out at that time of night. After Deep Impact, many Japanese who were not particularly interested in horse racing got to know about the Arc, and so the interest grew again."
"In fact," he added, "it has been very strange that Japanese horsemen have been so keen to win the Arc. I cannot give you any logical reason why Japanese people should have became so crazy to win this one race in particular. Perhaps it's because, before El Condor Pasa, most Japanese horsemen had very little knowledge about racing in foreign countries. At that time, they knew about the Arc, the Kentucky Derby, and the Epsom Derby, but they did not know the rest of the world's major races. Well, the Kentucky Derby is dirt race, and Epsom Downs is too tough for horses who are used to flat tracks. So my guess would be that the Arc became the only realistic target for Japanese, and the longing to win it has grown from there. But I can understand the mindset of Japanese horsemen. After three seconds in the last four years, they all now want to become the first Japanese to win the Arc."
Since Deep Impact's defat, Nakayama Festa has been beaten narrowly by Workforce in 2010. Then Orfevre, a horse of comparable stature and popularity to Deep Impact's, really should have won in 2012, but his famously quirky personality got the better of him and was run down by Solemia.
Trying again a year later, he probably ran a little below that form when beaten easily into second by Treve - certainly far below the form of his explosive reappearance on fast ground back in Japan in his final race, the 2013 Arima Kinen. But another Japanese characteristic is persistence, and defeats, however distressing or unfortunate, will not distract them when they have an objective in mind.
Goda isn't sure that Japanese public interest levels in the Arc will break records this year. In fact, he thinks they may be slightly down.
"Orfevre was a star horse with whom many people who do not watch racing regularly were familiar," he said. "He was a kind of people's horse. Harp Star, Just a Way, and Gold Ship are not quite so popular yet. And last year, there was the presence of Yutaka Take, who is a national hero, as the rider of Kizuna (fourth behind Treve and Orfevre). But he will not be riding this year. Hence, I do not think this year's ratings will be higher than ever. But they will be very high."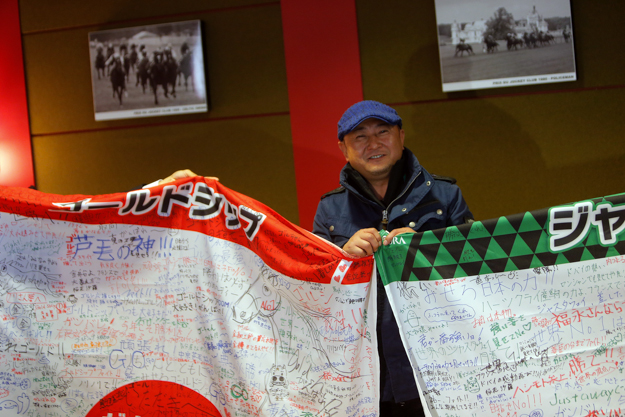 This year then there will be no horses representing Japan who can yet claim the same fanatical following as a Deep Impact or an Orfevre, although Japan's trio are all of the very highest class.
The JRA official, however, has no doubt about the likely impact at home in Japan of a victory for Just A Way, Gold Ship, or Harp Star -- a daughter of Deep Impact and, significantly perhaps, the first 3-year-old filly Japan has sent for what all Japanese regard as the greatest prize.
"Winning the Arc," he said, "has so far been an unreachable dream for us in Japan, but after our recent run of seconds now the dream is about to come true. When El Condor Passa came second in 1999, some of us may have taken the result as a fluke, but now we are confident that it is not a question of 'if' but 'when'.
"If a Japanese horse won the Arc this year it would surely exceed the framework of horse racing. The news would be on the top page of every newspaper in Japan. The winning horse would certainly be nominated Horse of the Year for 2014. 'Obsession' may be a well-put expression for our feelings about the Arc now, and we have been somewhat frustrated with what we got recently, especially in the last couple of years."
"Somewhat frustrated" is delicate Japanese for "tearing our hair out and grinding our teeth". If any of the three, who safely reached their Chantilly quarters on Sept. 20, does what is now almost expected of them on Oct. 5, there will be power surges in the Tokyo and Osaka areas well into the morning of Oct. 6.