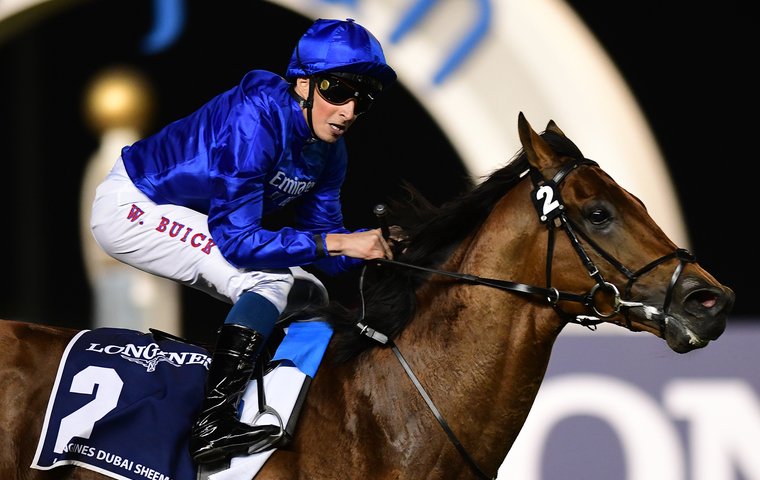 Inevitably, Dubai World Cup night has had a significant impact on the updated TRC Global Rankings, and it will come as no surprise to see which individuals James Willoughby has chosen as his Performers of the Week.

TRC JOCKEY OF THE WEEK
The exultant punch issued by jockey WILLIAM BUICK (+7pts, #5 from #6) immediately after Old Persian had won the G1 Sheema Classic was surely motivated by him clinching another JOTW crown. His brilliant hat-trick was set up by Cross Counter in the G2 Dubai Gold Cup and Blue Point in the G1 Al Quoz Sprint.
Buick stands fourth in our rankings for jockeys based on the results of 2019 races only. The table shows he is an insane 9 out of 17 on 12 different horses in Group/Graded races.

We like to publish these tables from time to time to give the reader the idea of current trends in the rankings. To repeat, the level of points, which is TRC's exclusive performance index, is lower than in the main rankings because the uncertainty surrounding each competitor's relative ranking has to be higher.
Last week, Hugh Bowman led this table on 980 with 7 from 32. That he has now gained 2pts after two losing rides underlines that we score every performance, not just winning ones, and place them all in the same neutral context, no matter where they were achieved in the world.
What counts is the signal of each competitor's sustainable performance level; here, Bowman finishing second (to Buick and Old Persian) on the Japanese-trained Cheval Grand in the Sheema, increases confidence in his standing in this 2019 data set. In the main rankings, Bowman's remains on 1057pts and his second place adds no extra information, given that we have 386 other rides to rank him with.
Incidentally, James McDonald was most unlucky not to win JOTW with a three-bagger of his own this week, including the G1 Vinery Stud Stakes and the G1 Kia Tancred Stakes, both at Rosehill. As noted two weeks ago, he is riding superbly at the moment and is surely one of the true global superstars of riding on talent level. In that article, he was ranked only #4 on 2019 results. Now he leads the world on recent form and will surely climb further from #19 overall.
But Buick will take some holding off. And world #1 Ryan Moore has not even got started, owing to his ranking being more dependent on the European summer season, since he stopped taking top rides in Japan. Will the brilliant Moore retain his status in 2019?
Certainly, Buick is relentlessly progressive. With Charlie Appleby and Godolphin to ride for, he is in the right place to keep firing home top winners. This week he ascended to both a career-best world ranking (#5) and a career-best performance index (1054pts) and he is now 35pts behind the top spot.
The time series plot here contrasts Buick with Qatar Racing's jockey Oisin Murphy (+1, stays #16) who was second in the G1 Dubai World Cup on Gronkowski.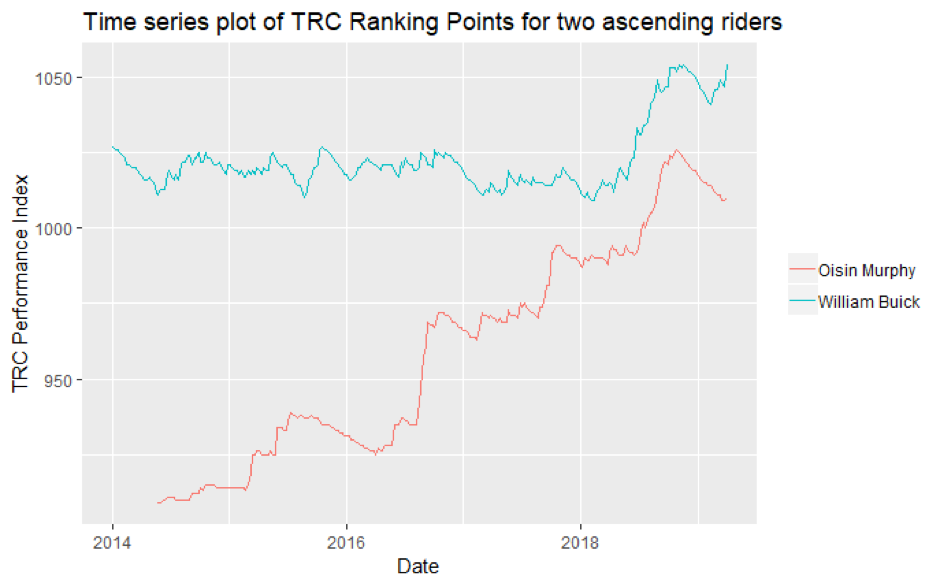 TRC OWNER OF THE WEEK

A total of 37 winners from 168 runners globally in 2019 is an outstanding return for GODOLPHIN (+2pts, stay #1). This success is, of course, heavily influenced by the home front in Dubai (18-68, 26%) but also in Australia (18-84, 21%) with one success from four runners in France. Godolphin have also fielded 13 runners, with no winners, in Japan and the U.S.)
Let's now compare these returns with those for the first three months of the year in the last eight campaigns, which are shown in the table and accompanying graphic.
Godolphin are harvesting the returns of the rise of two outstanding young trainers in Charlie Appleby in Europe and Dubai and James Cummings in Australia, as well as trusty servant Saeed bin Suroor, winner of the G1 Dubai World Cup last week with Thunder Snow.
However, one could also argue from the graph previously referred to that a second, more unwelcome trend is evident from the number of runners Godolphin has fielded: across world racing, the powerful in racing are becoming more powerful and the ranks of their horses more numerous. We have featured this before with reference to Godolphin's chief rival, Coolmore Partners. And it is happening at a worrying rate.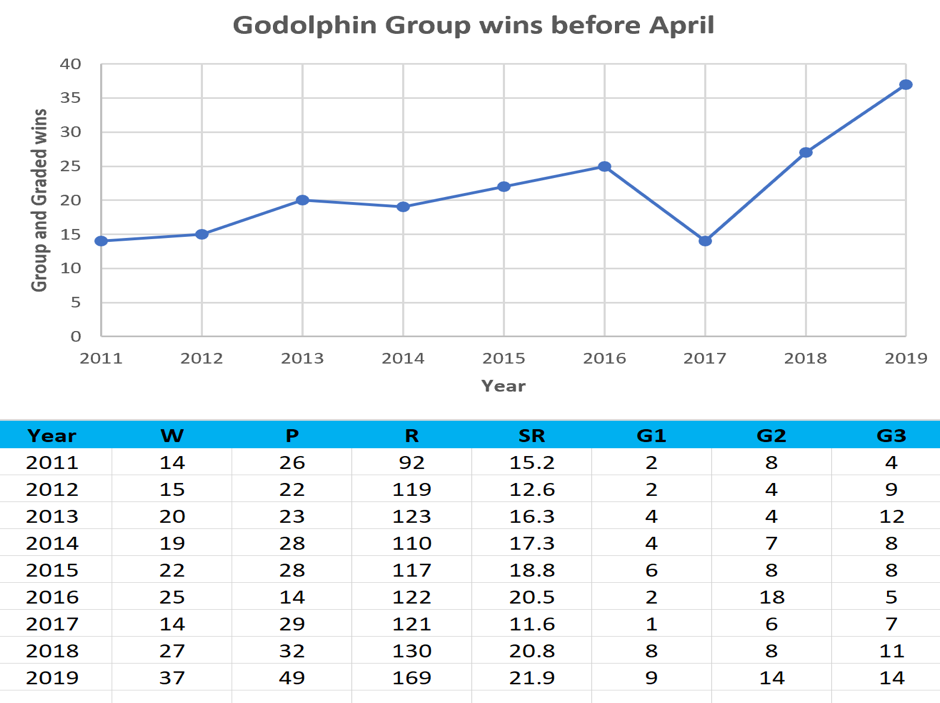 TRC TRAINER OF THE WEEK
In handing out yet another TOTW to CHARLIE APPLEBY (+8pts, stays #1) for a World Cup night hat-trick with Cross Counter in the G1 Dubai Gold Cup (also saddled runner-up Ispolini), Blue Point in the G1 Al Quoz Sprint and Old Persian in the G1 Sheema Classic, there is no need to go over his numbers yet again.

Instead, the table above covers the data for trainers in 2019 alone, showing that Appleby rates second only to his Australian-based Godolphin colleague, James Cummings.
Appleby took over as our world #1 on January 27 with a performance index of 1072. He has increased that number to 1086 with his exploits since. This is serious stuff; it is the second-highest maximum performance index of any trainer in rankings history. Here is the data for all trainers in the world since our classifications started in 2014: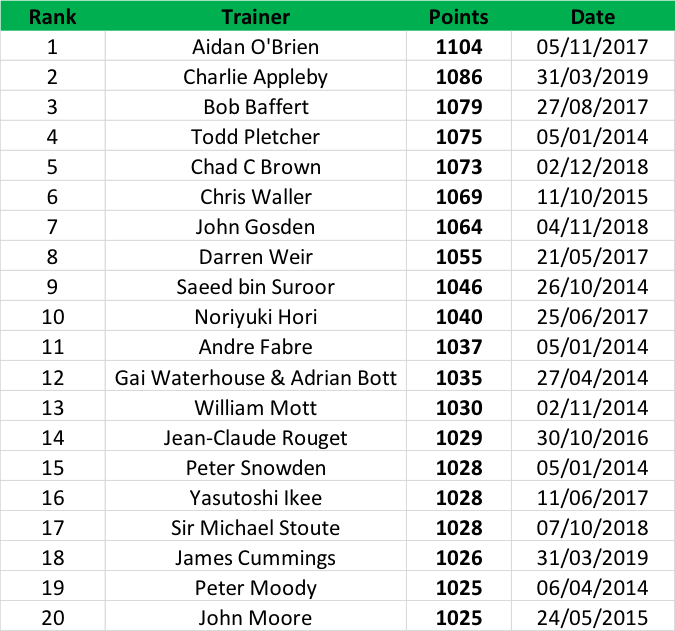 Click here for a list of all last week's biggest TRC Global Rankings points gainers.
Click here for a list of all the week's Group and Graded winners