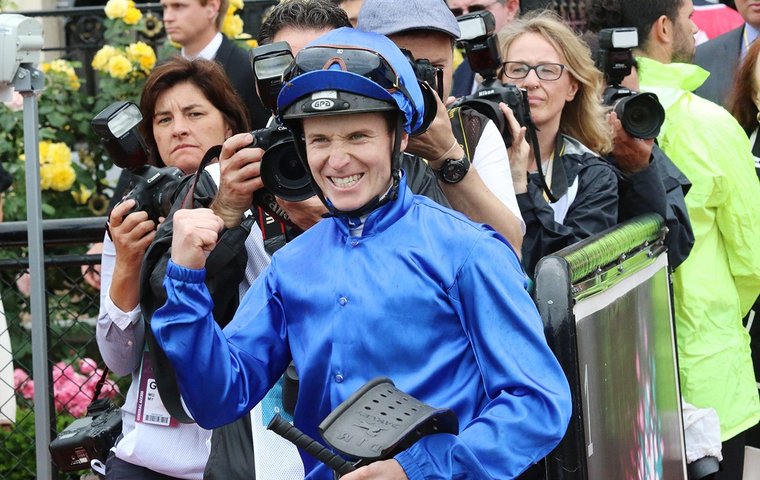 James Willoughby picks out his TRC Global Rankings Performers of the Week from the Group and Graded results in the week that ended on Sunday.

TRC JOCKEY OF THE WEEK
We have said many times with justification that we do not play favourites here at TRC Global Rankings. But there are some jockeys who, for various reasons, we cannot rank as highly as their brilliant skill deserves. One of these is definitely #73 Silvestre De Sousa – clearly one of the best riders on the planet but without a portfolio of mounts that enables him to rack up the numbers commensurate with his talent. Another is Aussie star #34 Blake Shinn who is recovering from a serious injury.
However, one can argue that no jockey in the world is currently as underrated by our rankings as #24 JAMES McDONALD, who is, without doubt, a superstar talent in the saddle. It's poignant to think that, just three years ago, this article highlighted the battle between current world #2 Hugh Bowman and McDonald for the highest-ranked jockey in Australia (McDonald is a Kiwi by nationality).
Of course, McDonald has only himself to blame for his fall from grace. This week, he made the greatest inroads into restoring his former world #5 status with a Group-race treble: the G2 Phar Lap at Rosehill, the G3 Pago Pago Stakes there and the G3 Kembla Grange Classic.
There is a lot more to come on this story. As we have done with the other categories, a look at the TRC Global Rankings based on 2019 data only shows the level McDonald has achieved so far this year:

Once again, ignore the levels of Points as their relativity is the important thing. Bowman leads the world on 2019 form, with U.S.-based Irad Ortiz second and South African racing's Richard Fourie third. McDonald ranks fourth, accounting for his rally this year.
TRC TRAINER OF THE WEEK
In short order, JAMES CUMMINGS has proved himself among the elite of global trainers. Sure, he has the advantage of being Godolphin's principal trainer in Australia, but the aggregate of success must be accompanied by efficiency to score highly on the TRC Global Rankings algorithm.
Let's cast the rankings using 2019 data only to examine the performance of the world's leading trainers. The system automatically adjusts to account for the uncertainty of small samples, but Points totals are lower because each trainer's past history is not known:

On this year's form alone, Cummings is miles clear even of fellow Godolphin trainer Charlie Appleby, the world #1. His runners are facing strong fields of quality horses and sustaining outlying performance. This week, he increased his annual total to 13 Group wins so far with a trio of G3 strikes by distaffers: the Thoroughbred Breeders' Stakes at Flemington with dead-heater Flit, the Magic Night Stakes at Rosehill with Kiamichi and the Kembla Grange Classic with Pohutukawa.
TRC OWNER OF THE WEEK
Four more winners – the same three as James Cummings plus the 1-2 in the first European Group race of the season, the G3 Prix Exbury at Saint Cloud – continued the amazing run of GODOLPHIN. Let's run the TRC Global Rankings algorithm using 2019 data alone to quantify their dominance:

Sheikh Mohammed's operation are 76 points clear! This, of course, will be quickly eradicated when the Coolmore Partners machine cranks into gear as the European season gets going.
As far as Godolphin's performance in the absolute is concerned, we cannot get carried away just yet, however. Our metric Points is a rolling measure of performance, and we have actually had Godolphin higher than their current score of 1080 in our main rankings: as far back as 2014, Godolphin rated 1082.
So, it is game on for the European season, starting now. Watch this space.
TRC SIRE OF THE WEEK
We now make rankings for sires on dirt and turf separately, in addition to the main rankings which we publish. These provide a useful check of the versatility of leading stallions.
Dubawi, for instance, is currently our world #1 sire overall (he leads the world by a long way in total wins over the last 365 days, in addition to being easily the best sire on a runner-to-runner basis) and he also ranks #1 on turf. What would not be so well known is, thanks to the dirt races in Dubai, Dubawi ranks as high as #8 on that surface, also:

Sitting there just above Dubawi is fellow Godolphin stallion MEDAGLIA D'ORO at #7 based on dirt races alone. The 2002 Travers winner is #45 on turf (but has rated much higher) and is truly one of the best and most versatile sires around.
This week, Medaglia d'Oro clinches Sire of the Week honours with two winners in Australia: dead-heater Flit in the G3 Thoroughbred Breeders' Stakes at Flemington and Pohutukawa in the G3 Kembla Grange Classic.
Finally, let's run the rankings algorithm for all races in 2019 alone:

No stallion can match Dubawi's 11-23 this year, but Medaglia d'Oro ranks a solid #5. In the main rankings, he started the year #27 and has risen 10 places.
Click here for a list of all last week's biggest TRC Global Rankings points gainers.
Click here for a list of all the week's Group and Graded winners