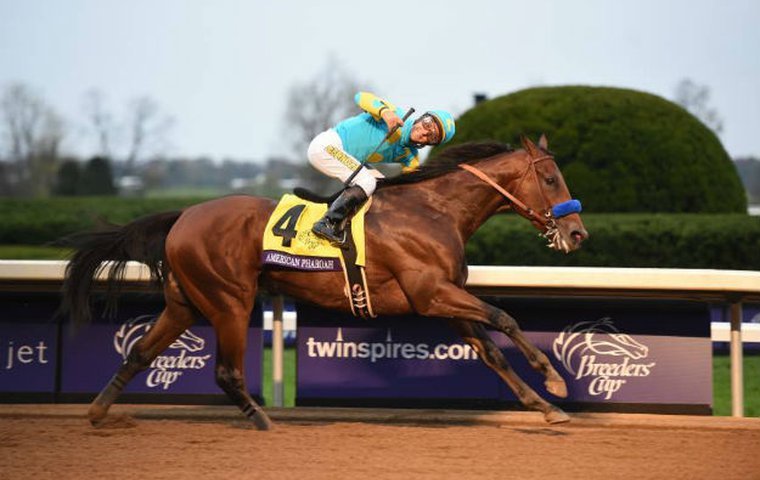 Out of the gate they were neck and neck with Arrogate stretching into a narrow lead going down the back. However, in the home straight, with the crowd roaring him on, it was American Pharoah who surged clear to win the historic match race.

This is what happened in our reader poll asking which is the better - Arrogate or American Pharoah. At first it was close, with the Pegasus and Dubai World Cup winner taking a slight lead. But, in the end, Pharoah ran out the comfortable winner.
While this does not offer any actual insight into how a match race between the two could pan out in real life, it is still an interesting, and possibly surprising reflection of the human attitude to such equine giants.
A lot has been written on this subject over the past couple of weeks, with the general consensus being that there is not much between them. This is supported by the various ratings and speed figures available, which show they are very similar on what has been achieved so far. (It is worth noting that last summer a similar poll comparing Pharoah with California Chrome, who was seemingly unbeatable at the time and also rated about the same, yielded a similar result.)
If they are so close on ratings and the opinions of the experts and California Chrome and Arrogate are so loved, why is Pharoah preferred?
The answer probably lies in the importance of the Triple Crown in the consciousness of the American racing public. Arrogate may be the highest-earning horse ever, and he may go on to add further riches to his haul, his trainer might call him "the greatest since Secretariat", overlooking Pharoah who he himself trained, but, at the end of the day, the average fan does not care about prize money or what the trainer thinks. Winning the Triple Crown transcends the sport itself and captures the imagination of the entire country.
Owner Ahmed Zayat often referred to American Pharoah as the "people's horse". It seems he still is. However, if Arrogate goes on to win a second Breeders' Cup Classic it will be interesting to see if that changes.