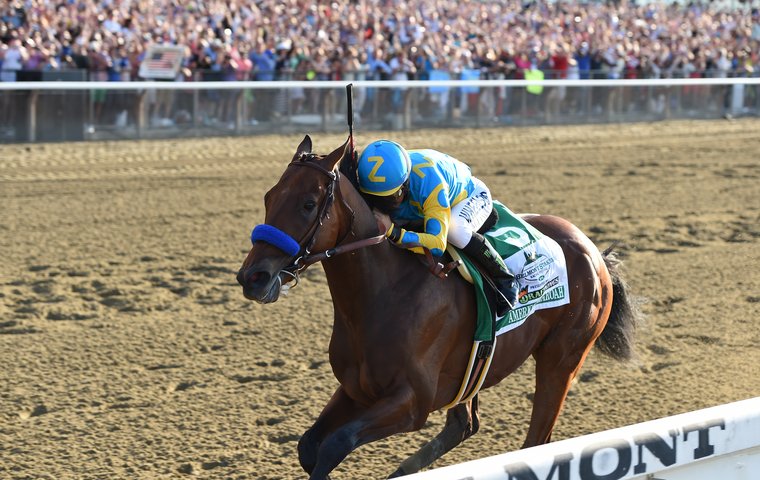 After Arrogate's win in the Dubai World Cup on Saturday a clearly emotional Bob Baffert exclaimed: "That's the greatest horse I've ever seen run. It's unbelievable." But is he really better than Baffert's Triple Crown winner American Pharoah?

Racegoers at Meydan at the weekend witnessed a performance they'll never forget when Arrogate swooped round the entire field to win the Dubai World Cup. Everything had gone wrong for the odds-on favorite. He missed the break, was forced to race wide and needed to make up huge amounts of ground on his main rival, Gun Runner.
The fact that he did all this and still ended up winning comfortably probably had something to do with his trainer's reaction. After the race, Baffert said: "When he missed the break, I gave him no chance at all.
"I was so mad at myself, thinking I shouldn't have brought him. That's the greatest horse I've ever seen run, it's unbelievable. I can't believe he won. That is a great horse. When he turned for home, I said, 'If he wins he's the greatest since Secretariat.'"
Which would seem to indicate he sees Arrogate as superior to American Pharaoh. But is that fair, and is Baffert's reaction being taken out of context?
On the figures, there is very little between the two. Although Arrogate now has earnings of £13,347,744, compared to Pharoah's £5,531,104, most of the difference is because of the Pegasus World Cup, a race that didn't exist when AP was in training. In addition, as pointed out on TRC yesterday, the volatility of currency markets around the world makes comparing horses using earnings extremely difficult.
The two are also very close on ratings. Arrogate's highest Beyer of 122 (Travers) is only slightly higher than AP's 120 (BC Classic). On Racing Post Ratings, Pharoah is higher with an RPR of138 for his Breeders' Cup win, compared to Arrogate's 136, which was also achieved in the Classic (his win of Saturday was only rated 128+).
Many will say you cannot compare the two, and maybe they are right. But we still want you to try.