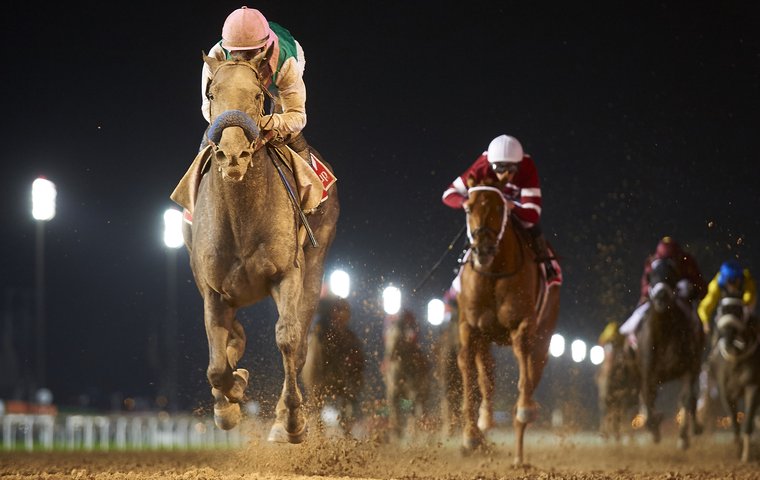 There are no certainties in horse racing - often not even after the race has been run. Take Arrogate, the horse who's just quickened the pulses of everyone even remotely associated with the sport with an illogical, science-defying, almost supernatural performance that must surely have come straight out of the imagination of some maverick Hollywood scriptwriter. Are they going to show us what really happened in the Dubai World Cup on Saturday? And make it a little more believable this time, please.

So what do we actually make of it? What do we know to be true?
1. Arrogate has become the world's all-time highest earner
That $6 million winner's prize makes him the highest earner in the history of Thoroughbred racing anywhere in the world. Right?
Er, well, possibly. It definitely does according to the International Racing Bureau, whose figures we use at TRC, and the Racing Post agrees. We all have Arrogate on £13,347,745, which puts him comfortably clear at the top ahead of the Japanese pair Gentildonna and Orfevre.
Check out the full list here of horses that have earned more than £5 million.
This list, of course, is in sterling. All the conversions have been made from a variety of currencies (dollars, yen, euros, Aussie dollars, Hong Kong dollars and so on) back into British pounds at the relevant exchange rates at the time.
Most Americans don't agree that Arrogate is top, though. They like their stats in U.S. dollars - and Equibase, the ultimate U.S. statistics authority, which naturally does dollars, has Arrogate only third even after Saturday.
The database at Equibase sees it this way:
Orfevre: $19,005,275
Gentildonna: $18,468,392
Arrogate: $17,084,600
(Notice Gentildonna and Orfevre have switched positions - that will be down to their runs abroad and exchange rate inconsistencies. Orfevre raced four times in France, the mare twice in Dubai.)
So who is right, the Brits or the Americans?
Well, in truth, neither. Because this is an equation with no correct answer. Those pesky interest rates! Sometimes it's difficult to know where you are.
Before Britain voted to leave the European Union last June and its currency collapsed, that $17,084,600 (£13,681,361 today) would have been worth considerably less in sterling terms - £11,795,207 at the start of that month - and nowhere near enough to reach Japan's richest two. Go back to November 2014, when sterling was even stronger, and it would have been worth less than £11 million.
Go further back - to the sub-prime crisis days of November 2007, with a reeling U.S. economy and a faltering currency - and Arrogate's $17m wouldn't have been worth much more than £8m.
Arrogate's purse for his Meydan victory was $6m. That equates to £4,878,048 at the current exchange rate. Go back to the days of Orfevre and Gentildonna (they raced between 2010 and 2014), that same $6m would have been worth more than a million pounds less.
And, of course, if somebody did the whole exercise in euros, or yen, or Aussie dollars or whatever, you'd probably get a different order again.
2. Arrogate is the best Baffert has trained
After the race, trainer Bob Baffert told the media: "He's the best I've ever seen in my life. I can't believe he's won. When he walked out of the gate, I gave him no chance at all - I said why did I bring him? This was a mistake. That's the greatest horse I've seen since Secretariat. That was like the movie Seabiscuit."
The greatest horse he's ever seen? So that makes him the best horse he's trained, then? Better than American Pharoah? Yes?
Er, that's what he seemed to say. But let's give him another shot at that one. The 2015 Triple Crown winner is very close to Baffert's heart. That quote may have been heat-of-the-moment stuff. What's the betting Baffert will tone it down a little if pressed on the subject?
3 - Arrogate is the best horse in the world right now
But Arrogate is definitely the best horse in the world at the moment, surely? Nothing comes close, does it?
Well, maybe. Probably even. But, even after Meydan, he's not actually the highest-rated runner in the world in 2017. You must know about Winx by now. That honour goes to her.
The amazing Aussie mare has won her last 16 races and only nine days ago ran to a Racing Post Rating of 130. Arrogate was given 128+ for Saturday's endeavour, although that can hardly reflect the true extent of his achievement.
4. Arrogate is the best his owners have ever had
Well, if Bob Baffert says he's the best he's ever seen, and Mike Smith says he's the best he's ever sat on, surely the owners can't have had a better one.
Er, except that we're talking about Juddmonte here.
Remember these words? "He's the best I've ever had, the best I've ever seen. I'd be very surprised if there's ever been anything better."
That was the late Sir Henry Cecil talking about another horse with barely fathomable ability from that very same racing and breeding operation just five years ago.
Better than Frankel? Blimey! It shows just how awesome Arrogate is that that question is even being asked.