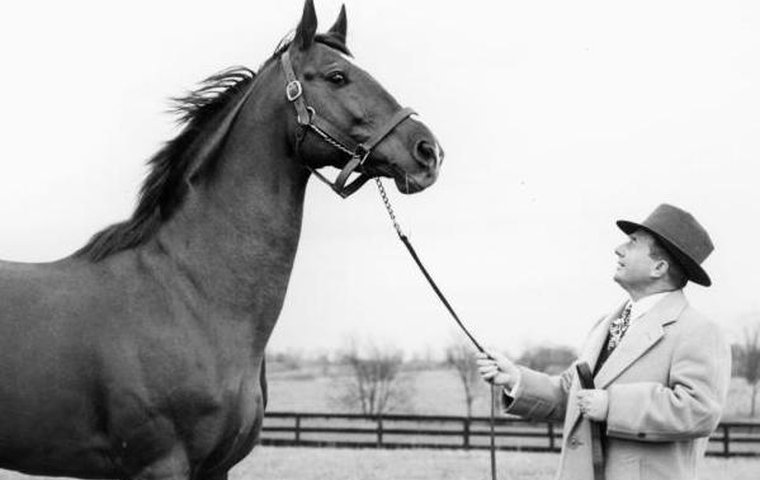 Many racing fans know Linda Carroll and David Rosner's 2014 book 'Duel for the Crown: Affirmed, Alydar, and Racing's Greatest Rivalry'. Now Carroll and Rosner have won the prestigious Dr Tony Ryan Book Award for horse racing books with their second racing book, 'Out of the Clouds: The Unlikely Horseman and the Unwanted Colt Who Conquered the Sport of Kings'.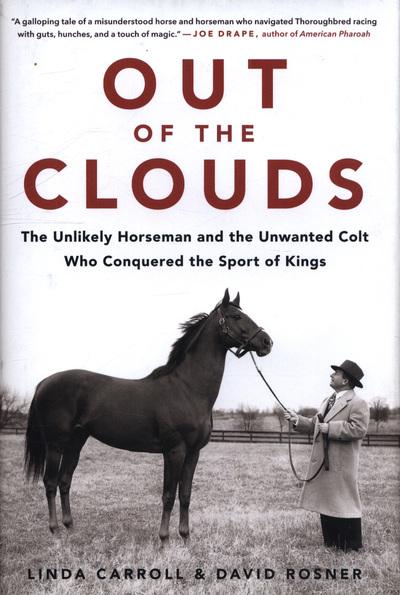 'Out of the Clouds' is the story of Hirsch Jacobs, born in 1904 to Jewish immigrants in New York. Jacobs grew up racing pigeons from tenement rooftops, started claiming and racing Thoroughbreds in the 1920s, and went on to win more races than any other trainer during the Depression and World War Two. He continued to be a leading trainer and breeder by prize money into the 1960s, and two of his family's horses won Triple Crown races in 1970, the year he died.
'Out of the Clouds' is also the story of Stymie, the 'People's Horse', who, after Jacobs claimed him in 1943 for $1,500, went on to win over $918,000 — a record at the time. Paul von Hippel talked to Carroll and Rosner about Jacobs, Stymie, and how racing has changed since the 1940s.
Who was Hirsch Jacobs? Who was Stymie?
Q: How ever did you find this story? Your first book, Duel for the Crown, was about the rivalry between Affirmed and Alydar, which is still well-known 40 years after it happened. But I must admit I had never heard of Stymie before.
A: Coincidentally enough, Out of the Clouds grew directly out of our research for that first horse racing book. While researching Duel for the Crown, we were so taken with the story of Hirsch Jacobs — whose daughter, Patrice, campaigned Affirmed to the 1978 Triple Crown along with her co-owner husband, Lou Wolfson — that we over-wrote the section on him in our first draft and wound up having to leave most of it on the cutting-room floor.
At the time, we were surprised to discover that there existed no book-length dive into this rags-to-riches saga that seemed worthy of a Horatio Alger novel. When casting about for another horse racing narrative to propose for a possible book a few years later, we couldn't resist the chance to pick up those unpublished bits and expand on the untold parallel stories of the winningest trainer the sport had ever known and the Cinderella horse that made him a legend. In that sense, you could call Out of the Clouds something of a prequel to Duel for the Crown.
Q: Hirsch Jacobs spent the bulk of his career training claiming horses, like Stymie. You draw a line between 'claiming stables' like the one that Hirsch ran with his partner, Izzy Bieber, and 'society stables' with wealthy owners. How did the business of a claiming stable differ from that of a society stable?
A: This book gave us a chance to research and chronicle the fascinating history of claiming races, which have long constituted the backbone of the racing industry and account for the majority of all races run in the United States.
For aspiring horsemen with limited resources in a rich man's game that was dubbed 'The Sport of Kings' for a reason, claiming races were the great equalizer. Breaking into the racing game, there was no way Jacobs could have afforded to compete with the society stables, where the wealthiest owners bred, bought, and nurtured the best stock to run in stakes races. But he could afford to pony up, say, $1,000 to claim a horse, confident that he could then step up his new acquisition to win at higher claiming prices and thus turn a small profit.
Unlike the society stables, claiming stables like Jacobs' were always in a state of flux, a revolving door through which horses were constantly being acquired and claimed away. While the society stables thrived on big purses from the big stakes races, Jacobs' methodically built his claiming stable into a successful business, one cheap claimer at a time.
Q: Jacobs was known as a miracle worker who brought out hidden potential in horses after other trainers had given up on them. What were some of his methods?
A: The same discerning eye and uncanny horse sense that prompted Jacobs to claim an unwanted racehorse also enabled him to quickly diagnose the problem holding that horse back for its previous trainer, be it lameness, neglect, emotional distress, or some other affliction. Then he would proceed to work his healing magic with a combination of home remedies and equine psychoanalysis that he would shrug off as simple common sense.
We relied heavily on anecdotes that illustrate the soft-spoken trainer's intuition as an original horse whisperer and that detail his unorthodox training methods. Most engaging were his treatments for the many broken-down nags he claimed. If a horse was lame, he would reach into his bag of home remedies for special mudpacks, compresses, salves, liniment, vinegar, even the white iodine he might have just used to cure a troublesome corn on his own foot. His magic touch spurred racetrackers to saddle him with a backhanded compliment of a nickname: "The voodoo veterinarian."
Whenever the real vets would ask why on earth he was doing something they had never seen before, he'd matter-of-factly reply, "Because it works." No one could argue with that.
Q: Stymie's career got off to a slow start. What did Jacobs see in Stymie? Why did Jacobs believe so strongly in Stymie when the horse did so little to distinguish himself as a 2- and 3-year-old?
A: The book's prologue starts with Jacobs' first sight of Stymie parading around the Belmont Park paddock before the second race of his young career, a maiden sprint for 2-year-olds. Where other observers saw just a small, ordinary-looking chestnut, Jacobs alone saw potential. He saw perfect conformation and a regal, high-headed carriage that reminded him of Man o' War.
He immediately turned to Izzy Bieber and said with a knowing smile, "I got a feeling about that colt. I like the way he walks. He's a proud little thing."
After claiming Stymie out of his next race, Jacobs was baffled at how "any horse that looks as good as that" should be running so far out of the money in all his races. It became a daily challenge to figure out ways to spur this grandson of Equipoise and double great-grandson of Man o' War himself to run to his looks. Jacobs ran Stymie back in ten claiming races without any takers before finally deciding that this was a keeper ready to step up into allowance company and to continue improving slowly but surely.
Q: Although Jacobs was a genius with other horses, it's not clear that he did anything deliberate to turn Stymie's career around. What do you think explains why Stymie suddenly started winning races after World War Two?
A: During the war, Stymie had raced a staggering 28 times as a 2-year-old and 29 times as a 3-year-old without a break in between. Jacobs' training philosophy was to race his charges into condition, entering them in a couple of races a week and resting them with no works between starts. Stout as Stymie was, the back-breaking workload had to take a big toll on a little horse. What he needed was a good, long rest, and the government's wartime racing ban, which shut the sport down across the country for the first five months of 1945, gave it to him.
When the ban was finally lifted in the afterglow of VE Day, it was a different Stymie that hit the track running. The late bloomer had matured physically, muscling up and looking the part of the 4-year-old handicapper he now was. In his third start back, the 60th race of his career, he finally captured his first stakes race. From there, he never looked back, winning seven more major stakes that season and the most prize money ever earned by a 4-year-old to run away with the title of America's Champion Handicap Horse for 1945.
Q: The parallels between Stymie and Seabiscuit are hard to miss. Seabiscuit's career peaked just five or six years before Jacobs claimed Stymie, and in some ways Jacobs was trying to recreate Seabiscuit's story with Stymie. How are the stories of Stymie and Seabiscuit similar, and how are they different?
A: In many ways, Stymie seemed like the second coming of Seabiscuit: both were awkward little colts who started out as claimers and then toiled as workhorses for a couple of years, both bloomed late into unlikely superstars as 4-year-olds dominating the tough handicap division, both broke the all-time record for career earnings, and both enjoyed peerless popularity as true sports heroes inspiring the nation through turbulent times.
But there was one facet of their stories where the similarity breaks down: Contrary to popular myth, Seabiscuit was hardly a 'cheap claimer', running six claiming races without any takers for price tags ranging from $2,000 to $6,000 before being sold for $7,500 as a 3-year-old to automobile magnate Charles Howard's society stable.
By contrast, Stymie was the very definition of a 'cheap claimer'. That's why Jacobs was able to claim him for a paltry $1,500 and run him back in ten more claiming races without any takers. When Stymie finally blossomed into the first horse ever to earn over $900,000 in purses, the 600-fold return on Jacobs' initial investment made this claim history's best bargain.
Q: Stymie was known by the end of his career as the 'People's Horse', a label more recently associated with California Chrome. What was it about Stymie that captured the imagination and affection of common racing fans?
A: On the occasion of Stymie's 1949 retirement at the old Jamaica (New York) race course known as the 'people's track', the storied New York Herald Tribune turf writer Joe Palmer crafted a classic column, titled "Stymie — Common Folks", that says it all better than we ever could:
It is thoroughly appropriate that Stymie should have his final appearance at Jamaica, because he's a Jamaica kind of horse. Man o' War, Equipoise and Whirlaway were all equine royalty from the day they were foaled. Stymie was common folks … [O]f all the world's stories, none has ever been preferred to that which leads to the public and very glorious triumph of the oppressed and the downtrodden. Jamaica's horseplayers are to some extent oppressed and downtrodden, and perhaps in Stymie they find a vicarious success.
Palmer's classic column goes on to tick off all the qualities that allowed Stymie to capture the imagination and affection of the common fan: from his blue-collar work ethic and his crowd-rousing stretch runs to his Algeresque rags-to-riches rise from cheap claimer to richest-ever racehorse and his legacy as the quintessential 'People's Horse'.
Q: Stymie had a rivalry with the 1946 Triple Crown winner, Assault, another horse who came from humble beginnings and overcame hardship. Why wasn't Assault the people's horse?
A: To be sure, both were little chestnut colts bred by the same Texas cattle baron, born in the same King Ranch foaling barn, and faced with the long odds to even make it to the racetrack. But that's where the similarity ends.
Stymie was obscurely bred of such unaccomplished parentage that his sire had managed to win just two very minor races while his dam failed to ever even finish in the money — hardly the cloth from which champion racehorses are cut or the stuff of which Thoroughbred dreams are made.
By contrast, Assault was the royally bred son of Bold Venture, the 1936 Kentucky Derby and Preakness winner, and a painstakingly planned mating between the King Ranch's foundation stallion and an Equipoise daughter. Not only was Assault thus welcomed into the world as equine royalty, but he would grow up to run in the colors of one of racing's richest stables, backed by the resources of America's largest farm sprawling over a million Texas acres. In the riveting rivalry between Stymie and Assault, suffice it to say that there could be only one true 'People's Horse'.
Q: Certainly Assault was better bred, but he also put a stake through his foot in his youth. Sportswriters called him the 'Clubfooted Comet' because he somehow managed to run soundly despite walking with a limp. Was the Stymie-Assault rivalry actually a contest between two horses that had overcome adversity in different ways — and not as clean a contrast as the rivalry between Seabiscuit and War Admiral, a generation before?
A: On the track, Stymie-Assault offered the same elements that would make Affirmed-Alydar the greatest of all rivalries: two stout-hearted champions with contrasting styles; ten compelling head-to-head confrontations; and a climactic Belmont Park showdown even more thrilling than all its considerable hype. But, more than that, what made Stymie-Assault uniquely fierce was the off-track rivalry between the dueling teams of human connections that had put both colts on a collision course ever since Assault's birth in the same King Ranch foaling barn as Stymie's.
King Ranch trainer Max Hirsch was so exasperated by Stymie's early failures that he was about to sell him off for $200 to a little girl when Hirsch Jacobs claimed him for $1,500.
Freed from Max Hirsch's ironfisted training regimen, Stymie thrived under Hirsch Jacobs' kid-gloved handling to reign as America's handicap king at the same time that Max Hirsch was campaigning Assault to the 1946 Triple Crown. It galled the King Ranch trainer that the same newspapermen who hailed Hirsch Jacobs as a genius for that claim also branded Max Hirsch as "the man who let Stymie get away". And the mutual animosity between Max Hirsch and Izzy Bieber poured more gasoline on a heated rivalry that kept intensifying with each Stymie-Assault showdown.
When they squared off at Belmont in 1947 with racing's richest purse and the record for career earnings at stake, there was no escaping the comparison with the celebrated 1938 match race pitting another handicap champion in Seabiscuit against another Triple Crown winner in War Admiral.
Q: Your title Out of the Clouds refers to Stymie's come from behind style. He did that in individual races, and he also did it in his career when he started to win top races at ages four, five, six and seven after flopping at ages two and three. How did you choose your title? Does it apply to Jacobs as well as to Stymie? Does it explain why the pair captured the public's affection?
A: We wish we could take credit for choosing the title, but for that we owe a debt of gratitude to the publisher of Hachette Books, Mauro DiPreta. While editing the manuscript that we had submitted under the working title of The People's Horse, he was so taken by the phrase "out of the clouds" — which appeared in a chapter title and numerous times throughout the narrative — that he suggested it would make a lovely lyrical title. We just looked at each other and said in unison, "Why didn't we think of that?!?"
Out of the Clouds worked so well for the double entendre you cite: the phrase referred directly to Stymie's signature come-from-out-of-the-clouds style, which in turn became the perfect metaphor for his swanlike metamorphosis from cheap claimer into the richest racehorse the world had ever seen.
But, more than that, you're right, it's actually a triple entendre: for the phrase did indeed also apply to Jacobs' own rags-to-riches rise from claiming trainer to the master of a racing and breeding empire who perennially topped America's annual earnings lists for owners, trainers, and breeders. The parallel Algeresque tales of our equine and human protagonists captured the imagination of a postwar nation chasing their own American Dream and searching for the hope and optimism that Stymie and Jacobs personified.
Q: Even before Stymie, Jacobs had opportunities to work with high-class horses from society stables, with rich owners and top riders on contract. But he rejected those opportunities to keep working with cheap claiming horses until he started breeding his own champions. Why? It's like an investment banker continuing to trade penny stocks when he has a chance to work at a white shoe firm.
A: On the last racing day of his breakthrough year, right after saddling his 116th winner to clinch the title of America's winningest trainer for 1933, Jacobs was posed that very question by none other than the storied newspaper columnist Damon Runyon.
Having heard from sources that Jacobs had recently been approached by several rich society stables offering him top dollar for his exclusive services, Runyon ventured, "You ought to make a lot of money now." Jacobs' reply was characteristically matter-of-fact: "That wouldn't interest me. I'm perfectly content to go along with the way I am now. To be with the horses, and to be more or less my own master, and to win a race now and then. I envy no man, and I ask nothing better than I've got now. I get lots of pleasure out of life. I've got many friends. The world is very pleasant. Why should I give up contentment for a lot of money?"
Jacobs would maintain that philosophy even after he struck gold with his Stymie claim and parlayed it into a racing and breeding empire of his own to beat the society stables at their own game.
Why we'll never see Stymie's like again
Q: One of things that struck me about Hirsch's stable is how frequently he raced his horses, sometimes twice in the same week. Stymie started 131 races, averaging more than a mile each, and Jacobs was disparaged for running his horses "like a fleet of taxicabs". Although Jacobs and Stymie were outliers, it does seem that horses had longer careers and raced more frequently then than now. It was the age of the 'iron horse'. By contrast, Justify, the 2018 Horse of the Year, retired after just six races. What has changed?
A: Back in the day, owners got into horse racing not as businessmen looking to fatten their bank balances but rather as sportsmen looking to line their trophy cases. This was true for everyone from the racing aristocracy with blue-blooded names like Vanderbilt and Whitney to the business tycoons behind dynasties like Calumet to independent horsemen like Hirsch Jacobs. Today's preoccupation with the big business of racing and breeding has changed all that.
Thoroughbreds are now bred and trained to peak for the Triple Crown races and then instantly parlay those successes into even bigger bucks in the breeding shed. The economics of the racing and breeding industry dictates that Triple Crown stars like Justify and American Pharoah retire from the track as 3-year-olds to the far more lucrative confines of the breeding shed.
With his 111-day career from gate to finish, Justify has taken that trend to a new level. And it isn't just horse racing's stars. Since the 40s, horse racing's golden age when 'The Sport of Kings' reigned as the king of sports, the average number of races per Thoroughbred runner has plummeted by 70 percent from 45 career starts to just 12 today.
In his classic column, Joe Palmer famously calculated that Stymie had raced a staggering total of "142 miles, plus half a furlong and sixty yards" — or 135 miles more than Justify.
Obviously, horse racing has changed dramatically in the intervening seven decades. Today's Thoroughbred racehorses are decidedly less sound, less rugged, and less durable than their ancestors from the sport's golden age — a result, in part, of breeding trends and training practices that have had a deleterious effect on racing's popularity.
Q: Stymie was a plodder who was at his best outlasting horses in longer races. That was a particular asset in Stymie's era, when there were more long races — not just a mile and a half, but two miles, two and a half miles. We don't race those distances any more. What happened?
A: Unlike their predecessors, today's breeders have a need for speed. Thoroughbreds today are increasingly bred and built for speed at the expense of strength, soundness, and endurance.
They're bred to be sprinters and milers and, if they have the right bloodlines in their pedigree, to then get the classic distance of a mile and a quarter and fulfill the dream of every breeder, owner, and trainer to win the Kentucky Derby and maybe get a shot at the Triple Crown. These days, the Belmont Stakes — the aptly dubbed 'Test of the Champion' that makes contenders earn their Triple Crown coronation over a grueling mile and a half — constitutes a marathon.
Stymie, the classic slow starter and fast finisher who was just getting warmed up a mile and a quarter into a race, would no doubt get a kick out of that.
Q: That's an interesting observation. You know, a couple of years ago I looked at the history of pace in the Belmont Stakes. In the 1940s, 50s, and 60s, horses didn't slow down much at the end of the Belmont; they ran the last quarter-mile only 0.2 seconds slower than the quarter-mile before, and 1.5 seconds slower than they ran the the first quarter-mile, out of the gate. Today horses start faster but finish slower. They run the last quarter-mile a full second slower than the quarter before, and two full seconds slower than the first quarter-mile of the race.​
When I wrote that article, I emphasized the finding that horses don't seem to have lost much stamina since the 1970s. But I should have looked back further, to the iron horses of the 1940s, 50s, and 60s.
Today we hold Triple Crown winners in awe, but when Assault won the Triple Crown in 1946, many fans thought he was just another horse, the best of a bad crop, and still had to prove himself against older horses on the handicap circuit. Why wasn't the Triple Crown more important? Why isn't the handicap circuit as important now?
A: The post-war racing boom signaled the climax of a bygone era when the Triple Crown series — then in its adolescence as an achievement and hardly the transcendent attention-grabbing spectacle it is now — was still viewed as spring training that prepped 3-year-olds for a long career in the major leagues of the handicaps.
Whirlaway and Count Fleet may have captured America's imagination with their Triple Crown glories of the early 40s, but injury turned them into shooting stars gone too soon. Left in their wake were the durable handicap horses like Stymie and Armed and Assault, forging careers long enough to become part of the permanent firmament.
Previous decades saw the likes of Exterminator (20s) and Seabiscuit (30s), beloved iron horses whose stars burned brighter with each passing year. But later decades would see the diminishment of the handicap division, making exceptions of such perennial Horse of the Year winners as Kelso (60s), Forego (70s), John Henry (80s), and Cigar (90s).
In the runaway landslide voting for 2018 Horse of the Year, is it any wonder that the 5-year-old Accelerate's dominance of the handicap division and the Breeders' Cup Classic was no match for the supernova Justify's Triple Crown burst?
The cast of characters
Q: A character I was surprised to meet in your book was Damon Runyon, whom I knew only as the author whose stories inspired the musical Guys and Dolls. What is Runyon doing in your book? How was he connected to Jacobs and Stymie?
A: Long before emerging as America's most popular short story writer, Damon Runyon was its preeminent newspaper columnist and sportswriter. As horse racing became his favorite sport to cover, to watch, and to bet, he found kindred spirits in Hirsch Jacobs and Izzy Bieber.
Bieber was, quite literally, a character straight out of a Damon Runyon short story. Having long known Bieber as a pugnacious Broadway ticket scalper and fellow inveterate gambler, Runyon used him as both source and model for some of the colorful characters immortalized on the stage as Guys and Dolls and in the dictionary as 'Runyonesque'. In fact, of all the real-life hustlers and gangsters populating Runyon's Broadway, the storied writer himself acknowledged that none was more Runyonesque than the man he called 'Beeb'.
So, when Runyon decided to try his hand campaigning a few Thoroughbred racehorses of his own, Beeb introduced him to his partner, Jacobs, then an up-and-comer on the cusp of becoming America's winningest trainer. "I have finally found a man who seems to have the ideal philosophy of life," Runyon led off the first syndicated column introducing Jacobs to the American public.
Both kindred spirits at the top of their respective professions, Runyon and Jacobs became fast friends. When they weren't whiling away countless hours at the Jamaica and Saratoga tracks where the trainer based his stable and conditioned the writer's horses, they and their families were spending Sunday afternoons together at the Runyons'. It's no coincidence that Jacobs and his wife named their only daughter Patrice after Runyon's wife.
Q: Looking through the photographs in your book, I noticed that Stymie's groom, Joe Jones, was black. You see this a lot in the stories of great race horses, including Secretariat, Ruffian and California Chrome. The jockeys, trainers, and owners are white and Hispanic, but the grooms and exercise riders are often black. It's an uncomfortable history, especially since black jockeys dominated the sport before they were driven out in the 1910s and 1920s. What do we know about Joe Jones' aspirations and his relationship with Jacobs and Stymie? To his credit, Jacobs named Stymie's first foal after Jones.
A: The parting shot in the book's photo insert — a compelling image of Joe Jones holding the reins and staring into Stymie's eyes on the Jamaica track as the 'People's Horse' regally basks in the cheers one last time during his farewell appearance — captures the close relationship and special bond they had shared for years.
Though we were never able to glean enough about Jones' aspirations to paint a portrait of him in the book, John Jacobs, then just a young boy destined to become his father's assistant trainer, did provide some brushstrokes about Jones' techniques. John Jacobs remembers Jones as "a very, very nice man who could get along with a horse unbelievably … a calming influence, talking and singing to them … very easy on a horse…. They were relaxed around him".
Which is why Hirsch Jacobs entrusted Stymie to his favorite groom once the late bloomer finally started showing some potential. Jones' knack for dealing with each horse's unique temperament enabled him especially to handle the high-strung and headstrong Stymie, who would get so amped and unmanageable prepping for big races that Jacobs sometimes confined him to his stall.
It's a measure of the groom's relationship with both his boss and his horse that, as you noted, Jacobs named Stymie's firstborn Joe Jones.
Q: Your book is tremendously engaging, with lifelike detail about events that took place 70-80 years ago — not just races, but conversations that took place in boarding houses, at Lindy's New York delicatessen, and in the streets of Havana. How did you do your research? What were your sources and how did you find them?
A: Starting with the proverbial "first draft of history", we were fortunate that the intertwined stories of Hirsch Jacobs and Stymie were chronicled in real time by some of the most lyrical and literary newspapermen ever to grace a press box — from Damon Runyon to Joe Palmer and his pal Red Smith, the revered columnist who eloquently eulogized both the equine and the human protagonists of our book.
If the written testimony of such eyewitnesses and of racing historians gave the narrative its skeleton and flesh, then its heart and soul derived directly from the reminiscences of Jacobs's three children, who generously shared their time and thoughts in numerous in-depth interviews along with a treasure trove of mementos, family photos, and personal correspondence. In addition to their insights into Hirsch's personality and philosophy, they shared priceless anecdotes that our research never could have uncovered. Without all of those written and spoken sources, there could have been no Out of the Clouds.