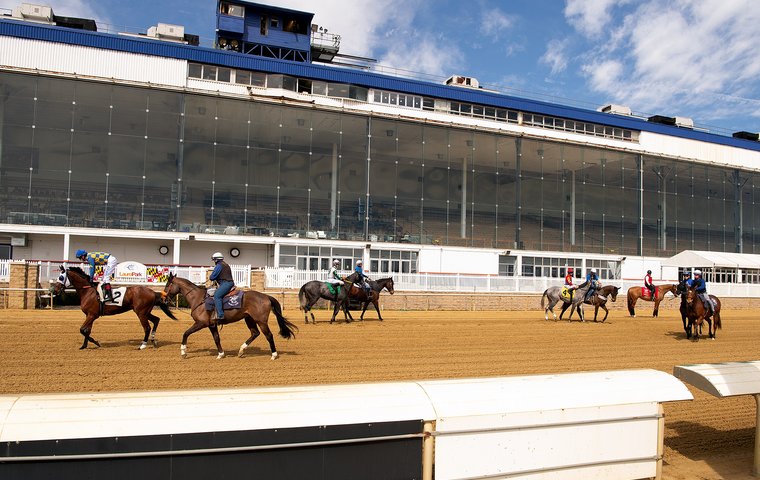 In my previous column, I reviewed the impact of Covid-19 on major jurisdictions. Since then, Japan, Australia and Hong Kong continue to conduct their Thoroughbred racing programs on their regular racing schedules, albeit without any spectators in the stands.

Next I will look at the latest developments in France, Germany, the UK and Ireland before reviewing the situation in North America - where it is becoming clear that strategic opportunities have emerged that racing can benefit from if appropriate action is taken.
Currently in the U.S. and Canada, Thoroughbred racing is the only sport being broadcast on national television networks such as Fox 1 and NBC Sports. While there are no spectators to wager on track, there is a very robust network of Advanced Deposit Wagering (ADW) companies and the wagering handle on the five tracks that are racing currently is up substantially in total handle. More on that - and how we may be able to turn it to racing's advantage - later.
France
On April 21, France Galop announced that racing will resume on May 11 behind closed doors and that both horses and jockeys based outside the country would not be able to participate until the end of May at the earliest.
On opening day, races will be run exclusively at Compiegne, Toulouse and ParisLongchamp. The Longchamp program is expected to see a number of Classic trials, as well the G2 Prix d'Harcourt for older horses. The French 2000 and 1000 Guineas will be held on Monday, June 1, at Longchamp.
Germany
Deutscher Galopp president Michael Vesper is confident racing will resume on the new planned date of May 4 at Dortmund. "We have worked a lot in the past few days and have been in constant contact with governments, local authorities and the racecourses since then," he said.
Ireland
The body representing trainers is looking at June 1 as a potential date for racing to return behind closed doors. Horse Racing Ireland continues to be 'racing ready' for any potential resumption after the government's current May 5 deadline on coronavirus restrictions.
The first Classics of the Irish flat season, the 2000 and 1000 Guineas, are due to be run on May 23 and 24 at the Curragh. Those dates remain unchanged at present.
Britain
There is also some serious movement in the U.K., as the government's next review of its measures for tackling the coronavirus should occur on May 7. It has been widely reported that racing is considered to be among a handful of sports in line for an early return when restrictions are lifted.
This week the British Horseracing Authority (BHA) outlined guidelines for the resumption, with field sizes limited to a maximum of 12 and only senior jockeys permitted to take part to reduce the risk of injuries. The BHA has stressed that its detailed planning means that racing would be able to resume as soon as possible after it is given the go-ahead by the government. Bookmakers have shortened the odds of a return before June 1 to around 2/5.
North America
As we reported earlier, the tracks that are running in America in April are Will Rogers Downs, Fonner Park, Oaklawn Park, Gulfstream Park and Tampa Bay Downs. Tampa and Oaklawn were each scheduled to stop racing this coming weekend, but Tampa will now run through the end of May.
It is important to note that all the tracks listed above are running without spectators. Since racing is not a contact sport, all participants and officials can conform to social distancing, with the notable exception of jockeys during the course of the race. However, through daily testing and medical exams, any risk from the Covid-19 virus can be mitigated for the jockeys.
Since a number of jurisdictions in the U.S. have conducted racing continuously for over a month 'behind closed doors' without any positive tests, it is a reasonable assumption that a number of the tracks that are awaiting approval by the individual associations will be approved in the next 30-60 days for racing with no spectators. However, the fact that less than two percent of the U.S. population has been tested for the virus, and that testing is at less than one million people a week currently, I believe that no racetrack in the U.S. will be allowed to race in front of spectators for the remainder of 2020.
If you disagree with this, I certainly understand, but let's review the current status of most major U.S. tracks that are in shutdown mode.
NYRA
Belmont Park and Saratoga
Belmont Park was scheduled to open its spring-summer meet on April 24, but the state and local health and regulatory authorities have not cleared it to conduct races. The Belmont Stakes, scheduled for June 6, has been postponed, and I estimate that NYRA would like to convince New York State it is safe to undertake racing by the end of May and would like to schedule the Belmont Stakes before racing is due to move to Saratoga on Thursday, July 16.
Churchill Downs
Churchill had originally been scheduled to open the track for training in late March but that has now been rescheduled for May 5. The spring meet was scheduled to open on April 25 and the announcement of the postponed opening date is projected to be made near the track training opening date of May 5.
The Kentucky Derby has been rescheduled for Saturday, September 5. I presume Churchill Downs did not consult its Triple Crown partners at the Stronach Group and NYRA as the Preakness and the Belmont have not been rescheduled. September 5 is one week after the current schedule for the Travers Stakes at Saratoga, so the date of the Travers will need to be brought forward.
I assume that Churchill would like to get its meet underway shortly as Ellis Park is scheduled to open on June 28 and Indiana Grand, where a number of Kentucky trainers race, has had its April meet opening delayed.
Keeneland
Keeneland had to cancel its spring meet. It recently announced it might run some unspecified dates this summer, but it also awaits the permission of the Kentucky Racing Commission and Governor Andy Beshear. Keeneland is planning to run its fall meeting October 2-24 and is scheduled to host the 2020 Breeders' Cup on November-7.
Stronach tracks
Santa Anita, Golden Gate Fields, Laurel and Pimlico
Santa Anita had its spring meet shut down on March 27 by the LA County Health Department. It submitted a proposal to re-open the track to the County Board Supervisor on April 16. The current spring meet runs through June 23.
Golden Gates Fields was closed on March 27 and, if it re-opens, the track is scheduled to run into mid-June.
Laurel Park was closed on March 20. It is scheduled to open again on June 5. Pimlico is scheduled to race for 12 days in May. However, with the postment of the Preakness, the track may not operate during this brief spring meet.
Monmouth Park
The track was scheduled to open in early May and is now planning to open on the July 4 weekend. Monmouth will run 36 days in 2020 instead of the planned 56.
Woodbine
It was scheduled to open on April 18 and currently does not plan to open until June or July. The Queen's Plate, scheduled to be run on June 27, has been postponed.
Big growth in betting on horseracing
While total wagering in North America has declined over the last six weeks due to cancellations, the tracks that did run had significant increases in wagering activity over the period. Although none of them raced with any track customers, their all-source handle increased significantly due to the complete lack of competition from any other sports.
The advent of sports betting in the U.S. less than two years ago has meant some customers who were betting multiple sports in casinos and simulcast facilities have become horseracing betting customers.
Currently, there is an unprecedented number of Thoroughbred races on television broadcast by Fox Sports and NBC Sports/TVG. In addition, the new racing fan has a wide array of ADWs broadcasting races and taking bets over the internet.
Please take a few minutes and read this article from the Associated Press in which major television network executives explain the huge competitive advantage racing has in the sports market currently.
As Tony Alevatto, NYRA Chief Revenue Officer, is quoted as saying, "More casual bettors are signing up for NYRA's program, as well as FanDuel Racing. NYRA has signed up seven times the amount of people over the past three weeks than the rest of the year combined and has offered things like $20 free bets to get beginners familiar with the sport."
The major force in recently legalized sports betting is NFL and college football. These games don't come online until September and it is not clear if they will qualify for social distancing. If they do, it is highly unlikely that college or NFL football in 2020 will be played in front of a live audience, which could have a negative impact on the finances of the sport.
Baseball, if it gets organized for this summer, will almost certainly not play in front of a live audience. It does not generate a great deal of wagering activity anyway. And neither NHL nor college hockey are strong betting sports. NBA and college basketball (especially March Madness) are second in sports betting to football and have the same social-distancing issue. Also, basketball does not start until very late October.
The racing industry over the next 60 days has the opportunity to work together to develop and consolidate existing racing content for people craving live sports. The PGA tour is the only major sport that will be broadcast on network TV - when it returns on June 11 - but betting on golf does not offer the frequency and excitement that Thoroughbred racing offers.
Could this be a way to attract new customers?
Important Disclaimer: Based on my racing management experience and conversations with a few industry experts, I have developed a concept to attract new wagering customers and increase wagering that may be workable. However, I have not discussed participation with any of the companies listed here and the inclusion of any companies is not an indication of their interest or support.

The first thing we need to have is a home on the internet for this concept. I welcome any suggestions on how best to structure this. However, since the majority of the content/data providers who will be accessed from this site will presumably have robust internet presences themselves, relevant links to content should be readily available.
The site will need content that will inform and appeal to a racing wagering customer. Sources of existing content could include:
America's Best Racing. ABR has tremendous columns on all aspects of Thoroughbred racing. I would propose focusing on wagering/gambling articles such as:
Picking winners: How Andy Beyer revolutionized horseracing
How to bet an exacta
Horseracing speed figures explained
How to find value horses
Human-interest features of industry leaders, such as:
Donna Brothers: Excellence on horseback and on camera
Jack Knowlton diary: unusual Derby circumstances, ddjusting on the fly
Other websites for racing and gaming content could include: the Paulick Report, Blood-Horse, Daily Racing Form, Thoroughbred Daily News, Horse Racing Nation, and many more. I leave this to the experts to design and execute, but I would envision creating specific content links for each article by a certain publication with a link to the article on their site.
I would create a separate category for the Breeders' Cup. The BC Championship is Thoroughbred racing's World Series and there could be numerous lead-in articles up to two months before the event. In addition, Breeders' Cup runs an international challenge 'Win and You're In' series that profiles horses and participants throughout the season. Again, articles would be selected by the BC with appropriate links.
The next category would be for racetracks that chose to take part in the program. The track would agree to develop top ten jockey and trainer statistics to be updated after each day of racing. The track could also link to additional articles generated in the run-up to a Graded stake. There could be a brief profile of the track and links back to the relevant content.
The next two important categories, which are related, would be the ADWs and racing data providers. I think of this as being a wagering portal and a separate racing data portal.
ADWs would hopefully include all the major national ADW firms and possibly regional ADW firms that would agree to make content contributions to the site. The same would apply to the major handicapping data providers: Daily Racing Form, BRIS, Equibase and perhaps some specialized vendors such as Thoroughbred Analytics, Handicapper's Data Warehouse.
There are other content areas that can be developed, which can be pursued at the appropriate time by an industry team. I welcome any thoughts/suggestions, and I plan to be discussing this further with other industry participants. If you would like to speak with me, you can email me at chayward@thoroughbredracing.com with your phone number and I will call you at your convenience.
Finally, there are two logistical issues that affect the financial performance of the U.S. Thoroughbred racing industry that should be addressed.
In August 2017 at the Jockey Club Roundtable, McKinsey and Co. executives proposed a disciplined approach to coordinating post times that could generate an additional $400 million in U.S. industry handle.
Equibase has set up an organization utilizing McKinsey's models and has demonstrated that there is incremental handle to be generated when tracks do not run on top of each other.
There is a straightforward process that Equibase conducts with every live racetrack each racing day. Equibase managers generate an optimized racing schedule for the day and send it off to all tracks for their suggestions and input. Based on that input, the schedule is adjusted and resent to all tracks. Throughout the day, Equibase managers and the track team communicate via GroupMe to address and hopefully resolve problems.
I generally bet on two-to-three tracks in a raceday and it is frustrating to be betting on two tracks that end up running against each other. Since we have a number of tracks that are sidelined this spring, I implore each track manager to work with their team to keep tracks from running on top of each other.
Finally, one task at the racetrack that really needs to be done more diligently is the filing of the scratches and changes for the day's races.
I bet on three tracks on the east coast that have winter post times between 12:25 and 12:50. One track always is posted on the Jockey Club website before 10 am. The second is usually around 10:45 am and the third is almost always after 11 am. Getting scratches for the race card with less than two hours to post is simply not acceptable and is potentially affecting my wagering and costing your track racing handle. Thanks for your consideration.
This is a challenging time for racing and life in general. I do think that we have a one-time opportunity to take advantage of our new-found position in the market.
We truly have the chance to show some sports betting customers that betting on horses is a much better wagering proposition than betting the over/under on a football game when you have no control over it.