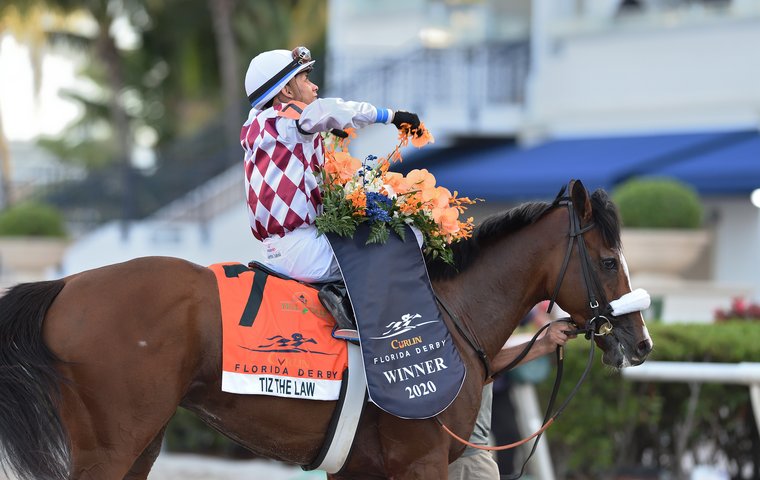 The coronavirus has had a profound impact on everyone around the world. Living in New York on September 11, 2001, I thought I had experienced the most tragic event possible. I am afraid I was wrong. The September attacks killed 2,753 people. On this Easter Sunday, the deaths in New York had reached 10,056. And, sadly, many more are to come.

I thought it would be helpful to look at important racing jurisdictions around the world, review how some of them have responded and what the implications are for the U.S. market, which is the area I am best qualified to write about.
The chart below shows the total number of Covid-19 cases and deaths recorded by the end of Sunday (April 12). The U.S. states (highlighted) are listed in descending order of cases, interspersed with the major racing nations, which are numbered in accordance with where they stand among all countries.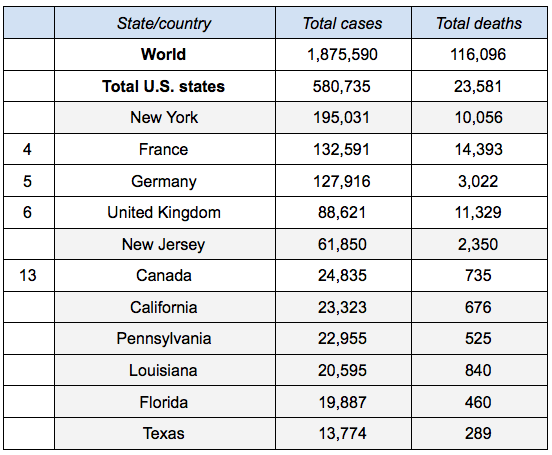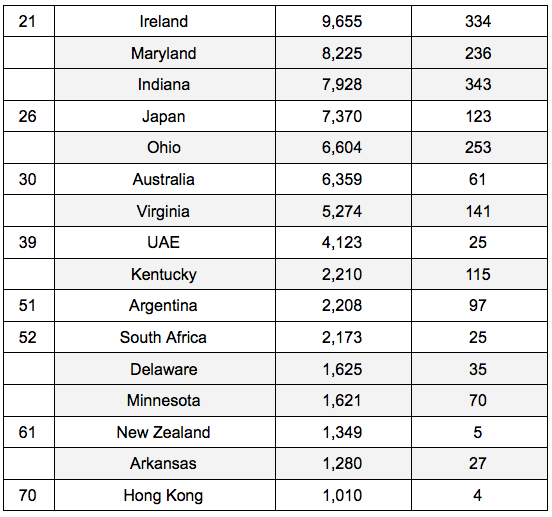 Using this information, I would like to review a number of the racing jurisdictions and see what impact Covid-19 has had on their programs. I will then return to the U.S. and see what challenges major American tracks are facing.
The most interesting geographic area to review includes Japan, Hong Kong, Australia and New Zealand.
JAPAN
Japan has a population of 126.5 million people and has strong Thoroughbred racing and breeding programs, offering the best purse structure in the world. When you look at the population and density of the cities, it is remarkable that Japan has limited the number of coronavirus cases at 7,370 with a death count of 123. The country and the Japan Racing Association have taken this pandemic seriously. While the JRA continues to run its major Graded stakes, all races throughout the country are run without spectators.
AUSTRALIA
Australia has been equally successful in combating Covid-19 with only 6,359 cases and a death count of 61. Australia has the largest number of racecourses in the world. The two largest state racing clubs are Victoria and New South Wales, and they, along with the six other state clubs, are governed by the Australian Racing Board.
Australia continues to run a robust schedule in all eight clubs, but there are no spectators in the stands. In fact, I do not believe that any sanctioned Thoroughbred racecourses around the world are running in front of a live audience at this time. We need to work very hard to change this for the future of the industry.
HONG KONG
Hong Kong, a city with a population of 6.8 million, has reported only 1,010 cases of Covid-19, which have resulted in four deaths. Hong Kong, known for the largest pari-mutuel pools in the world, continues to run its two racedays a week schedule with no spectators.
NEW ZEALAND
New Zealand, with a population of 3.78 million, and led by Prime Minister Jacinda Ardern, is a world leader in combating the virus. It has had 1,349 cases, which have resulted in only five deaths.
The country's results are reflected in the restrictions that have been placed on Thoroughbred racing. In late March, the government halted all racing activity, including training. The plan called for training to stop for over a month. During the month of May, training will start up and live racing will resume in July.
This is the only racing jurisdiction I am aware of that eliminated training as part of its Covid-19 strategy.
EUROPE
Germany, France, the UK and Ireland are in a very different situation. First and foremost, the first three were #4, #5 and #6 in the world for total Covid-19 cases.
While Ireland was only #21 in the world, it has a population 30 percent higher than New Zealand, and yet it had six times as many cases.
In the UK, a review by the government is underway regarding the current lockdown measures, and there will almost certainly be an extension of the lockdown for some further period. A number of major British events have been postponed, including the Guineas festival, which was scheduled to be run at Newmarket on May 2-3, and the Derby meeting at Epsom on June 5-6. Royal Ascot (June 16-20) will not be open to the public if it can be held at all.
The British Horseracing Authority (BHA) has been working on a plan that would bring racing back with a goal to race at a limited number of racecourses under strict quarantine conditions once it is deemed safe by the government. This would involve returning to action at quarantined tracks, with Hamilton, Lingfield, Newcastle and Newmarket listed as potential candidates.
Ireland is facing some of these same challenges, and racing is not expected back there until well into May.
Horse Racing Ireland Chief Executive Brian Kavanagh was asked if he was optimistic that the Irish 1000 and 2000 Guineas would be run on their May 23 and 24 dates. "Yes, I think that is a fair suggestion," he replied. "At the moment, the dates are holding firm and we'll see as things evolve with the national situation."
Olivier Delloye, France Galop's Chief Executive, finds himself in a similar situation. I suspect he would be pleased to be racing in time for the French Derby and French Oaks at Chantilly on May 31 and June 14.
However, even these countries with strong management, excellent racing programs and the support of owners, breeders, trainers and customers, are no match for this powerful unprecedented pandemic.
UNITED STATES
The U.S., of course, has over 30 state regulatory bodies each with its own set of rules. Often these regulators have no obligation or interest to improve or even try to fix a problem in the sport. Here is a very sad example of how state regulatory entities demonstrate a complete lack of professional effort:
In Los Angeles, on March 27, shortly before the first post at Santa Anita, the Los Angeles County Health Department closed the track because "live racing of the horse has been deemed to be a non-essential operation" and therefore they could not race even having removed all live spectators from the stands.
At the same time in Orange County, which is next to LA County, a Health Department official authorized track management to run a quarter horse meet at Los Alamitos that week.
Santa Anita, one of the finest racetracks in the country, was turned down by one health department and Los Alamitos was granted a racing license by a neighboring agency.
Regulators aside, Covid-19 virus has decimated the entry box at U.S. Thoroughbred tracks.
The tracks that are running in April are Will Rogers Downs, Fonner Park, Oaklawn Park, Gulfstream Park and Tampa Bay Downs. Tampa and Oaklawn will end their season the weekend of May 2. The three major tracks that are the annual backbone of April racing, Aqueduct, Keeneland and Santa Anita Park, are not racing for various reasons related to the coronavirus.
There are some major changes in the racing schedule led by Churchill Downs' decision to move the Kentucky Derby from May 2 to Saturday, September 5.
That certainly changes things. The Preakness needs to move off the current date of May 16. This also affects NYRA's plans for the Belmont Stakes, which was to be run on Saturday, June 6. NYRA has not announced any changes for Belmont Park's opening day of April 24, nor for the Belmont Stakes. However, it certainly is going to have to move the Belmont, and presumably also some of the nine Graded stakes that were scheduled for the weekends of May 2 and 9 to tie in with the running of the Kentucky Derby.
Certainly, NYRA will have to move the Travers Stakes, currently scheduled for August 29, one week before the re-scheduled Kentucky Derby.
Here are other important scheduling issues:
Monmouth has moved its opening day from Saturday May 2 to Saturday July 4.
Saratoga Race Course is scheduled to open on Thursday, July 16, and run through Labor Day (Monday, September 7).
Del Mar is currently scheduled to open on Saturday, July 18, and close on Labor Day.
Two important events at Keeneland are their fall meet (October 2 through October 24) and the Breeders' Cup (November 6-7).
There are other important meets during this time, but nothing could be more important than how the Covid-19 situation gets resolved.
Having no live attendance at these major events would be devastating for the racing industry.
Racing is not baseball
There are two very divergent views emerging in the U.S. government as to how to manage the successful wind down of the coronavirus restrictions. It is essential that the decision-makers can successfully balance the goals of public health and economic prosperity. It is also essential that new cases start to dramatically decline.
There is no current option of a vaccine to protect the American public. This vaccine would have to be developed from scratch, and scientists project this to be a 12-18 month project. Research also dictates that, in order to get control of the virus, there need to be many, many more tests. Currently the U.S. has tested about two million people, which is less than one percent of the population. Based on a number of experts, a minimum of 40-50 million need to be tested. The tests are in two categories:
Test to isolate the sick and then quarantine people that they have been with.
Test for people that have had the virus and now have antibodies that may make them immune for getting it again. These are the first people that can go back to work
It is critical that we as a country continue to maintain social distancing and dramatically improve testing to conquer this evil pandemic. It is essential that our industry gets customers back for our major events, such as Saratoga, Del Mar and the Breeders' Cup.
Major League Baseball seems to believe it can survive a season with baseball exclusively presented on television. It may work for the future of that sport, but it will not work for Thoroughbred racing.