The year 2020 is an important one for Secretariat fans. It was 50 years ago that the striking chestnut colt was born (on March 30, 1970), one who would become for many the best racehorse that ever lived. And it was 30 years ago that the champion's last crop of foals were born.

The first of those was a filly named Doug Secret, born January 25, 1990; the last was the filly Risen Starlet, born May 30, 1990.
Secretariat's last-born son was multiple G1 winner Tinners Way, on May 25 that year, but the only known surviving member of that final crop was born on May 1. Bred by Darley, his official name is Secret Of The Sea, although he's now called Strider.
He is one of just four known living sons and daughters of Secretariat. The others are 31-year-old Trusted Company and 32-year-olds Ball Chairman and Border Run. All four elderly chestnuts are living reminders of their illustrious sire.
The oldest of the group, just barely, is Ball Chairman. Born March 18, 1988, she's only five days older than Border Run. The mare is one of 22 daughters of Secretariat who produced at least one G1 stakes winner, as her son Perfect Soul counted the 2003 G1 Shadwell Turf Mile among his three stakes wins.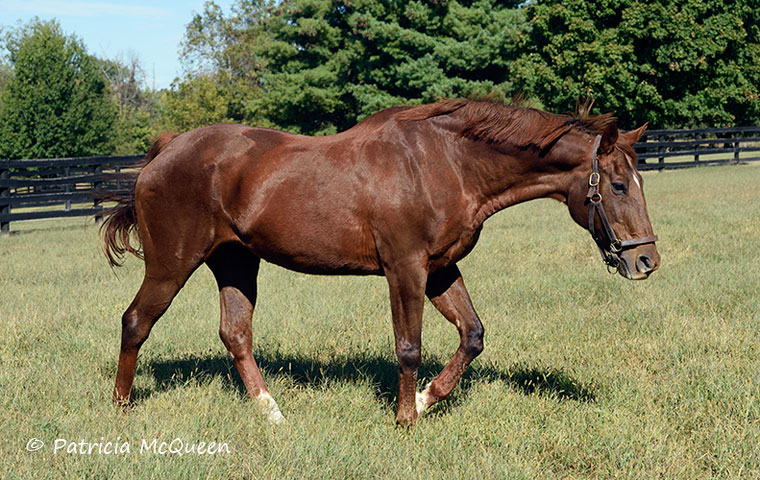 That Canadian champion was a useful stallion for owner Charles Fipke, siring Breeders' Cup Filly and Mare Turf winner Perfect Shirl and G1 winner Seeking The Soul. Perfect Soul was recently pensioned and now lives on Fipke's Kentucky farm, along with Ball Chairman.
Among the mare's other progeny were the unraced Not Impossible and the stakes-placed fillies Dimontina and Dance Secretary. Not Impossible sired only 45 foals, but two are stallions currently highly ranked in Canada – Not Bourbon (8th in 2019) and Society's Chairman (12th). Dimontina, who recently passed away, was significant as the mare who "played" Somethingroyal during the Secretariat foaling scene in the Disney feature film.
According to farm manager Elke Krohn, Ball Chairman continues to do well with her paddock-mate, the 26-year-old Wild Again mare Recoleta. They still live outside 24/7, except in periods of extreme weather. The mares have access to a run-in shed if they so choose, but, based on personal experience, they seem to enjoy being outside in all types of weather, even in a nice steady rain.
Full of energy
Trusted Company is the most recently "discovered" Secretariat daughter. She had a good life with a family for many years, but circumstances dictated she find a new home in late 2018. She was acquired by Bev Dee, who runs Bright Futures Farm, a rescue and sanctuary accredited by the Thoroughbred Aftercare Alliance. Dee is no stranger to Secretariat's offspring, having cared for stakes winner Fast Market, who lived to the ripe old age of 33 before his death a year ago.
Since arriving at Dee's Western Pennsylvania farm after a short stay with foster mom Denise Gonsiewski, Trusted Company has bonded strongly with Catch This T, a now 27-year-old Thoroughbred gelding who descends from Secretariat's half-brother Sir Gaylord. They will throw a fit if they aren't within sight of each other, and Dee is happy to accommodate them and makes sure they stay together.
When turned out, they race each other up the hill in their field. "If it's an especially cool or windy day, Company will prance in large circles, or back and forth, with her tail in the air," said Dee. "She's very light on her feet for a 1,200-pound mare."
------------------------------
Two wonderful old geldings
Click here to read more on Secret Of The Sea and Border Run
-----------------------------
When it comes to diet, at her age she's entitled to be picky, and what Company wants, Company gets. She loves grass and will eat hay that smells good, but, when it comes to formal meals, initially the mare had to have her sustenance in the form of a Smorgasbord. "I had six pans of different feeds set up for her – senior feed, alfalfa cubes, alfalfa pellets, warm beet pulp, mash and a pan of Mrs Pastures cookies," explained Dee, adding that eventually the mare would eat everything. But as months went by, she lost interest in both alfalfa forms and the senior feed. "I had to start searching for new feeds and be more creative in their presentation."
So next came Legends pellets and sweet feed, but they had to be in separate bowls – she wouldn't touch the food if it was mixed together. And now Company is down to just one bowl of food – she likes Southern States Carb Care Performance – plus a bucket of soaked beet pulp at night (from which she laps the juice off the top like a dog lapping water).
"She's a challenge to feed, but I just roll with the changes," said Dee. "When you're a senior horse, you get what you will eat, not what is easiest to give you."
Of course, she's very pleased that Company is eating one bowl of food now, and hopes that will continue.
Not surprisingly, Secretariat's daughter was the star of Bright Futures' annual open house last September. "She was very tolerant of all of her visitors and stood quietly for photos with them. Standing quietly is not one of her strong suits, so I was very proud of her that day."
Dee knows Company is happy – certainly she loves her paddock-mate T. She's generally very kind and a pleasure to be around, although she is independent and doesn't like being fussed with too much by humans. "Unless you're rubbing the middle of her forehead or behind her ears – then she just melts," said Dee.
Hanging out with the boys
On the other side of the country, Border Run is still rolling along at the home of Curtis and Margo Wright near Seattle. The full brother to Storm Cat's dam Terlingua "still cleans his feed and delivers a rolling head-butt to the solar plexus – he has amazing aim – when he thinks I'm not giving him the proper amount of attention," said Curtis, laughing.
Wright calls Border Run and his pal Anniversary Year the equine Odd Couple, noting that Border "still plays Oscar to AY's Felix, being the epitome of the lovable slob."
The two geldings are getting used to temporarily changed arrangements with new kittens getting settled in the barn; they've been eyeing a closed tack room door with suspicion and have refused to eat in their regular spot as long as that door is closed (it was always open). "I know all Thoroughbreds trace back to those three foundation stallions, but it wouldn't surprise me a bit to find out these two knuckleheads have a mule in their pedigrees somewhere," marveled Curtis.
In Colorado, Strider has been doing well, eating regularly and holding good weight for a 30-year-old. But, at the end of 2019, he had something of a trip and fall, badly cutting his left front leg.
Prompt attention and regular doctoring seems to have him well on the way to recovery for owners Linda and Scott Riba. A few days later, he took off galloping across the hay field, but Linda keeps her fingers crossed that he'll remember to pick up his feet! Meanwhile, if someone comes up with horse-shaped bubble wrap, she'd probably appreciate the opportunity to further safeguard her hero.
After all, Linda and the other three owners – who know every inch of their horses and every nuance of their behaviors as they guide them through their senior years – know that every day is a gift, and they want to protect their precious charges as long as they can.