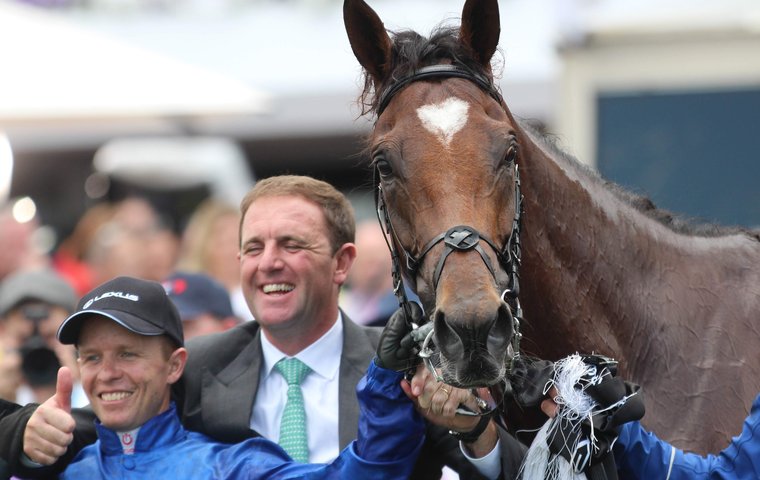 Symmetry is everywhere – especially if you look hard enough. And symmetry has long been taken as propitious, either by primitive societies intent on interpreting coincidental natural phenomena as manifestation of their deities, or by modern ones who insist that pure randomness in sport actually has some ethereal cause called 'momentum'.

So, retaining a natural suspicion of symbolism, we can look back at Quorto's win in the G1 National Stakes at the Curragh last September as at least a watershed moment in the training career of Charlie Appleby. After all, Quorto winning Ireland's most important juvenile race 14 years after his own sire, Dubawi – and clocking almost exactly the same time, could be significant.
Here was a Godolphin colt turning away Aidan O'Brien's number one son of Galileo with the kind of impunity reserved only by special horses. Appleby had parked his tank on the turf staked out as the Ballydoyle lawn by the brilliant O'Brien's 11 previous victories. And, in a similar spot to where so many Godolphin upstarts had foundered in the past, this one delivered – all guns blazing.
As you have read in this space for a long time now, Appleby is very, very good at training racehorses. His results speak for themselves, but their aggregation – and, more importantly, the terrific efficiency with which they have been garnered – prove this beyond all doubt. There is no need to trot out the tables again: Appleby's horses have won Group and Graded races at a rate like no other trainer for over a year now. He leads the world in strike rate, head-to-head winning percentage and several other metrics that have powered the TRC Global Rankings algorithm to promote him to #1.
We have had no choice. If your business is the mathematics of ranking performers by time-ordered results, there is no other answer, in our opinion. If you put anyone else at #1 for now, you do not reflect both what has happened in the recent past and how it tends to project to the future. Sure, you can point to O'Brien having had more winners than Appleby, but it is only 25-24 in the last six months – and O'Brien has had three times more runners and fewer G1 winners!
But this is no dispute about legacy. If racing ended today, Appleby would not rank in the top 500 global trainers in history, whereas O'Brien would have to be in the top ten. O'Brien is a phenomenon, and the horse power he can call on is more numerous and more powerful in the aggregate than it has ever been. He will be back. We are depending on it.
O'Brien needs to develop another generation of champions, however. His ranks are populous but not dominant like they were. Doubtless, he probably has at least half a dozen or so Group 1 runners from last year's 2-year-olds who were not able to announce themselves because there was illness in the ranks. But you cannot rank trainers on what might have been.
After Quoto's victory, Appleby went on a torrid run. He won the G1 Sir Rupert Clarke in Australia, the G1 Prix de l'Opera in France, the Breeders' Cup Juvenile Turf in the U.S. and the G1 Melbourne Cup in Australia, in the latter becoming the first British trainer to land Australia's most famous race.
Amazing concentration of quality
Cross Counter, the hero of that last piece, is a mighty good horse who will make a lot of noise in the staying division this year in Europe, but he won't be a lonely standard-bearer among Appleby's older middle-distance horses. The trainer returns last year's Derby winner Masar, the Opera winner Wild Illusion, progressive Group winners Old Persian, Brundtland, Loxley and Ghaiyyath – the latter carrying this writer's strongest recommendation for top honours.
The thing that grabs you about Appleby's horses-in-training – which you can view on the Godolphin website here – is the amazing concentration of quality. Look down the names of his horses aged three and above and you will find yourself saying: "That's good", "He's much improved", "She's getting better", "He is thriving" etc. In an era where top trainers around the world have strings of multiple hundred well-bred horses, which affords a degree of profligacy, it seems that Appleby is wasting a lot fewer shots than many others.
This week at Meydan, Appleby won all three Group races. Last week, he won two of the three. Racing in Dubai is a 'home' fixture for Godolphin like no other, of course, but racing in Ireland is hardly an uphill struggle for O'Brien. All trainers have their advantages.
Racing in Dubai is not a mirage, however. Appleby's horses really are running huge figures nearly all the time to win. The clock proves it. And, given his pan-global success last year, it seems a bit ridiculous for some to claim that Meydan victories are flattering to Appleby's numbers. Even the most ardent O'Brien admirer – of which this author counts himself as one – knows that Group races in Europe are now harder to win than they have ever been – and that counts without John Gosden, Andre Fabre, Sir Michael Stoute or other all-time greats currently in possession of a trainer's license.
International racing right now is an absolute treat. The quality has surely never been higher. There are trainers and jockeys of both sexes to watch and marvel at, week in and week out. Many of those names are listen here in the features written by our great team of contributors at Thoroughbred Racing Commentary.
The forthcoming season in Europe is poised to be one of the most exciting we have seen for years. When O'Brien hits the straps on his comeback, it will be rousing for many of his long-term fans. There has been nobody like him, and there probably never will be. From a statistical standpoint right now, however, it is Appleby who has wowed. It is Appleby who has proved himself among the elite – where he arguably did not reside two years ago.
We captured his rise to prominence with no prior and no bias, which followers of TRC Global Rankings depend on. There is no need for convoluted arguments when it comes to ranking trainers. We offer no comment about 'how good' they are. The order reflects who is more likely to win a head-to-head match-up today, suitably abstracted from every other factor, such as geography or prize money.
If you are making an inference about stallions, for example, using results just in Europe and the U.S., you are excluding a lot of data from Australia, Japan, South America and elsewhere. We include all the best races – no matter where they are run and how much is at stake – simply because more meaningful data leads to more robust predictive accuracy.
TRC Global Rankings continue to tell the story of global racing like no other resource. And that story is an absolute blockbuster.