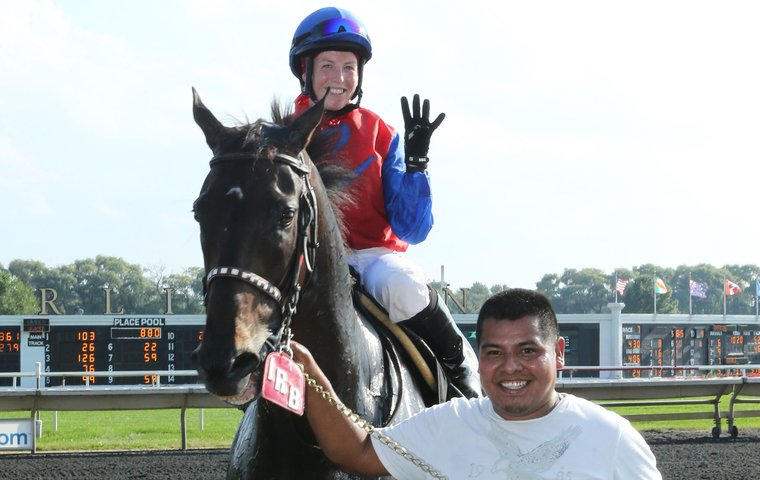 U.S.-based British jockey Sophie Doyle equaled her North American best yesterday (Thursday) with four wins on a single card at Arlington International Racecourse. It was the second time the 31-year-old, sister of Godolphin rider James Doyle, who is the world's 13th ranked jockey, has ridden four winners on one day.

After taking the opener by almost ten lengths aboard Gary Broad's Student Body ($8.60) for trainer Chris Davis, Doyle went on to capture race three for trainer Brian Williamson with Nancy Vanier, Brady Tauber, Steve Gordon and Bryan Ward's Big Al ($7.20). She scored in the fourth aboard Moon Snow Farm's wagering-favorite Ginger Snap Dance ($6.60) for trainer Wayne Catalano and again in the sixth with Williamson trainee Romeo O Romeo ($10.20) for Nancy Vanier, et al.
"It's been fantastic," said Doyle. "Just to win with my first three mounts on the day was amazing. When it happens it just comes so easily – it all works out."
"Sophie is riding so well right now," said trainer Brian Williamson. "She has great hands and a good sense of pace. It's always nice to see that."
This is Doyle's first season riding full time at Arlington since she moved her tack to the United States in 2013.
She finished second overall in the jockey standings this spring at Hawthorne Race Course, where she first won four races in a single day on their April 26 card. Doyle currently ranks third at Arlington with 51 total wins this season behind Jose Valdivia Jr (105) and Mitchell Murill (79).
The 2018 live racing season at Arlington concludes tomorrow (Saturday, September 22).