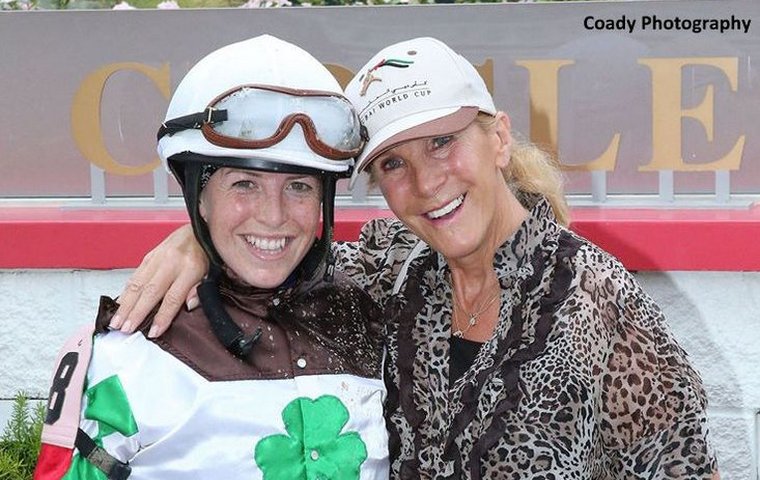 It's been quite an adventure for jockey Sophie Doyle since coming to ride full time in the United States in 2013. This summer, another chapter will be written in her story as she is riding at Arlington International Racecourse in Chicago during the 2018 meet (May to September).

Doyle, 31, has been surrounded by racing her whole life, which is no surprise considering she grew up in Lambourn - the 'Valley of the Racehorse' in Southern England.
From a young age Sophie, along with her younger brother James – the British-based Godolphin rider, who is currently 23rd in the world jockeys' rankings – were surrounded by horses and learned riding and horsemanship even before starting school. Much of this is thanks to their mother, former trainer and jump rider Jacqui Doyle, who lives in England but makes occasional trips to the United States to watch her daughter in action.
"She's been a big supporter. She's great," Sophie Doyle said. "She's supportive, but she's also one of my biggest critics. She watches every race that I ride in without fail. It doesn't matter what country she is in. She watches the races everywhere she goes. She'll message me and call me after the races. She's me and my brother's biggest supporter."
From the beginning, Jacqui Doyle has instilled in Sophie as well as her brother a great deal of knowledge when it comes to riding and racing.
"She taught us a lot," Doyle said. "She rode races herself as an amateur and she actually never rode on the flat. She only rode over the fences. So she was even braver than my brother and I. When she is talking to us about races, we give her 100 percent because she's been there and done it all herself. She taught us everything we know."
One of the first horses Doyle recalls being around was Meditator, a jumper trained by her mother, who was responsible for helping plant the seed that would grow into the rider that Doyle has become today.
"Meditator was a big, 17-hand chestnut old National Hunt jumper," Doyle recalled. "He was so kind. My mom bought him as a 2-year-old. I used to go and get him from the field and play around with him. I was 18 months when I first got on him, with the help of my mother. He was actually the first racehorse that I galloped when I was 11."
Doyle's hard work and learning from a young age have certainly paid off. In 2010, she became the leading female apprentice in England with 28 victories. Not long after, she decided to move across the Pond and begin riding in the United States, despite having no connections in American racing.
Nevertheless, Doyle established herself as a successful rider in the U.S. and made all her current connections on her own, which even her mother admits is quite impressive.
"I find it hard to put into words what she has achieved," Jacqui Doyle said. "We knew neither my son James, nor myself, nor my parents have contacts in America. We couldn't open one single door, but she's done it entirely on her own."
So how do you go about making such an extreme transition?
"I think it's down to having thick skin in this game," Doyle said. "My brother said to me one day, 'Soph, I don't know how you do it, I could never do it.'
"It's tough whatever country you're in. Everywhere is tough and has its up times and its downs times. You just have to be mentally tough.
"I remember having a jockey tell me one day, 'Sophie, this game isn't for the weak-minded.' You have to be able to think for yourself and care for yourself and have a strong mind. Everything happens for a reason, and I believe that there's a reason why I pushed to come to America.
"I enjoy meeting people from around the world because it's so different everywhere you go. So I think that just generally meeting new people everywhere that I have gone has just been a stepping stone to where I've ended up."
Jacqui Doyle admits to having the occasional sense of nervousness when watching both Sophie and James ride.
"There are some nervous moments," she said. "Obviously they've been riding for a good while, I think with James it's a different type of nervousness. It's more the nerves of whether or not things go wrong in a big race, or whether or not he gets on the right horse. It's different racing in Europe, so it's a whole different ball game.
"I think racing in America is more dangerous. I've been there when she's had falls, and being so far away, if anything goes wrong it takes you a day to get there. The last time she needed an operation she said, 'Come when I'm ready to get back riding and you can drive me,' so I went to the States and spent three months driving. I came over in the middle of July. Thank God she's been grand since."