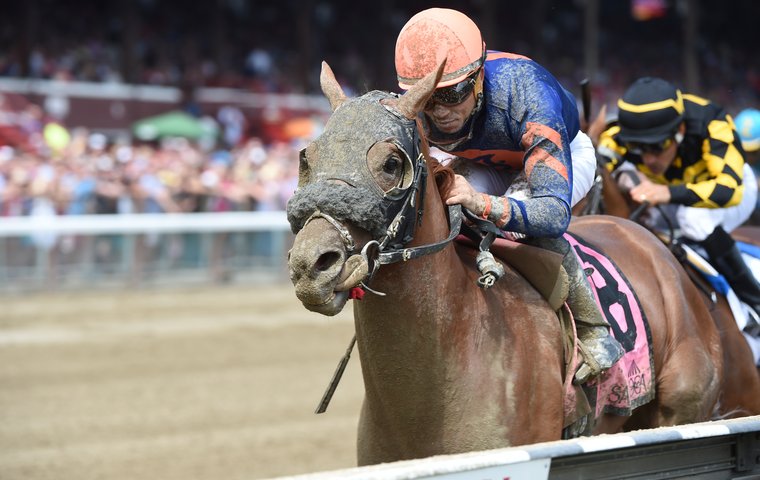 For a horse who wasn't very popular to begin with — twice his $47,000 reserve was not attained at sales at which he was offered — Mind Your Biscuits' star has certainly ascended. Currently the most accomplished New York-bred in training in North America, the 4-year-old is the perfect poster horse to illustrate the plentiful awards available to breeders, owners, and stallion owners of Empire State-bred horses.

A son of former New York-based sire Posse, Mind Your Biscuits has thus far earned $795,366 during two seasons on the track.
His résumé is highlighted by victories in a pair of open stakes in 2016, the G1 Malibu at Santa Anita and the G2 Amsterdam at Saratoga Race Course.
In recognition of those achievements, Mind Your Biscuits is a finalist in two divisions — 3-year-old male and male sprinter — in the voting for 2016 New York-bred champions. The winners will be announced at an awards ceremony in Saratoga Springs in early April. Mind Your Biscuits' outstanding season also places him in the running for New York-bred Horse of the Year honors.
Mind Your Biscuits was consigned as a newly-turned yearling to Keeneland's January 2014 sale, when he was purchased for $47,000 by Carrie and Craig Brogden's Machmer Hall Farm, which acquired the colt with the plan to pinhook him.
Different business plan
Mind Your Biscuits was bred by Samantha Will Baccari, of Jumping Jack Racing. The Kentucky-based Baccari and her husband, Chris, usually buy horses at sales and pinhook them. So for her name to pop up as the breeder of a New York-bred was a bit surprising, she said, for people who know her for a different business plan.
She has only a handful of mares and typically breeds them to sires in Kentucky and foals them at her Kentucky farm. But, when the revenue stream from the video lottery terminals at Resorts World Casino at Aqueduct Racetrack in New York began bolstering both purses and the incentive program for New York-breds in 2011, Baccari jumped in.
She sent her broodmare Jazzmane to Posse, who was based at the time at Vinery New York. The resulting foal was born at Gary and Sue Lundy's Cedar Ridge Farm in Pine Plains, New York.
With Baccari's first foray in the New York-bred marketplace a success — she has thus far collected $72,235 in breeder awards in connection to Mind Your Biscuits — she plans on sending a couple of mares to New York to foal in 2018.
Click here for full details of the New York awards.
"If I don't sell them, I raise and run them, so for me the purses in New York are monumental, and then there is the award money from New York's breeding program," Baccari said. "In the case of Mind Your Biscuits, he sold, but those checks I get as the breeder keep coming."
Mind Your Biscuits is owned in a partnership that was organized by Chad Summers, the bloodstock agent, who always had faith in the colt, dating back to when he was offered for sale at Fasig-Tipton's Preferred Sale of New York-breds in August of 2014.
Summers' father, M. Scott, and brother Danny, plus J Stables, plus Sol Kumin's Head of Plains Partners, and plus Michael Kisber are the current partners in the horse. When the horse makes his seasonal debut in the $100,000 Gulfstream Park Sprint (G3) on Saturday, Chad Summers, who recently took out his trainer's license, will be his new trainer.
When Mind Your Biscuits didn't meet his reserve price in Saratoga and was bought back for $47,000, the Summers family bought into the horse and were joined by Susan Montayne, of SBM Training & Sales. They bought out Imagine Thoroughbreds, the partners Machmer Hall had in the yearling when he was consigned to that sale.
After Mind Your Biscuits failed to sell for a second time, again a $47,000 RNA (reserve not attained), this time at the 2015 Ocala Breeders' Sale of 2-year-olds in training, Summers bought out Machmer and Montayne. Summers then brought Joaquin Guerrero, of J Stables, for whom Summers serves as a bloodstock advisor, on board as a partner.
During Mind Your Biscuits' 3-year-old campaign in the fall, before he finished third in the G1 Breeders' Cup Sprint, Kumin and Kisber joined the partnership..
Summers said the fact that Mind Your Biscuits was a New York-bred did factor into the equation when he was scouting a horse to buy for his family.
Dubai on the radar
"The way the New York-bred program is set up and played, if you have a good New York-bred you can make money, you can be successful," Summers said. "I'm of the belief that a good New York-bred can make $150,00 before the end of his 3-year-old year. You have the New York-bred maiden, the a-other-than, the two-other-than, and then you have the open company races after that."
Posse, Mind Your Biscuits' sire, no longer stands in New York and is currently located in Uruguay. Yet the syndicate that previously owned Posse is still eligible to collect stallion awards on Mind Your Biscuits when he finishes in the top three in races run at New York tracks.
To date, Mind Your Biscuits has generated $26,236 in stallion awards.
Following Mind Your Biscuits' seasonal debut in the Gulfstream Park Sprint, he could be bound for Dubai and a crack at the $2 million G1 Golden Shaheen over 1200 metres on the dirt at Meydan on March 25. After that, he likely will be campaigned in New York, before heading to Del Mar for a second run in the Breeders' Cup Sprint in November.
Summers mentioned prestigious New York races, such as the Metropolitan Mile, Belmont Park Sprint Invitational, Forego and Vosburgh, as possible targets this season for Mind Your Biscuits.
"Once you get into those open ranks in New York, you have the New York-bred owner awards' program," he said. "When we won the Amsterdam, we got a $20,000 bonus check for being the owners, just for him being a New York-bred and winning an open race in New York. That's unheard of. You don't get that in any other state-bred program. It's really a great program."