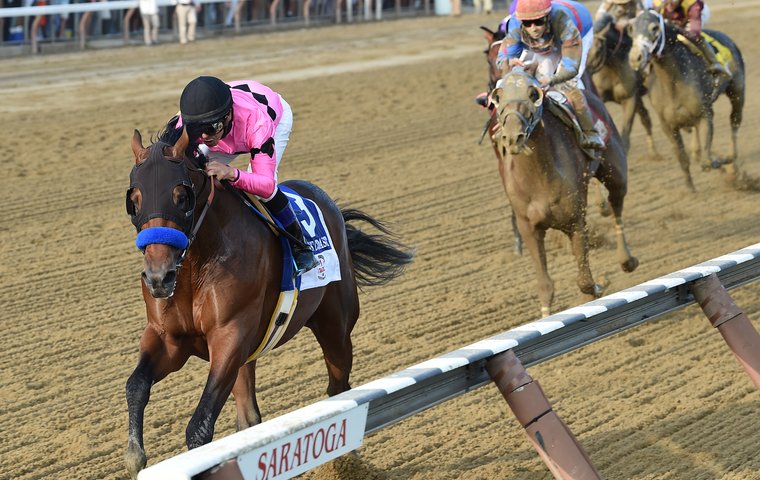 A major horse sale is a time when magnificent dreams are born. Hundreds of thousands of dollars are bid on young, unraced horses in hopes of finding a needle in a haystack - that special horse who runs like the wind and provides an overwhelming emotional and financial reward. Success can be elusive at these venues, though sometimes it happens in rather roundabout ways.

Just ask Bob Baffert.
The Triple Crown-winning trainer was at the 2015 Keeneland September Yearling Sale with the Three Amigos partnership of Karl Watson, Mike Pegram and Paul Weitman when a Flatter colt, out of the Cherokee Run mare Stormy B, caught his eye and sparked the typical grand thoughts of Grade 1 glory in the years to come.
After some lively budding, Baffert and Co. acquired the colt for $550,000 and the Hall of Fame trainer was immensely pleased with the purchase.
A short while later, Baffert saw bloodstock agent Ben Glass, who told him he was the underbidder on the Flatter colt.
"I joked with Ben that he could have the next Flatter colt," Baffert recently recalled.
Baffert's regret
Not long after that, Baffert regretted his words when he spotted another Flatter colt, this one a big, impressive-looking son of the Honour And Glory mare Caressing.
"I saw that other Flatter colt and liked him more than the one we bought," Baffert said. "I couldn't buy two Flatter colts for those guys, so I didn't bid on him."
As it turned out, with Baffert out of the mix, Glass bought the "other" Flatter colt for $425,000 on behalf of Gary and Mary West, who, in turn, named the colt West Coast and, when he was ready to head to the racetrack, sent the 2-year-old to join Baffert's California stable.
From there, this tale takes the kind of turn that any storyteller would love.
Bob Ehalt's Eclipse Awards choices
The first Flatter colt was named Hot Sean and has enjoyed a solid career for Baffert and the Three Amigos. He was second in the 2016 $1 million Delta Downs Jackpot as a 2-year-old and recently won a Santa Anita allowance race on Jan. 15 to raise his record to three wins in seven starts with earnings of $305,760.
Yet that pales in comparison to what West Coast has accomplished for the Wests and Baffert. He posted consecutive Grade 1 wins in the Travers and Pennsylvania Derby by a combined 10½ lengths, finished third in the $6 million Breeders' Cup Classic, has earned $2,083,800, became a finalist for the Eclipse Award as the champion 3-year-old male, and rates as one of the main threats in the world's richest race, the $16 million Pegasus World Cup at Gulfstream Park on Saturday.
"Things worked out pretty well," Baffert dead-panned.
Indeed they have.
And in a few days' time, they could take an even more spectacular turn.
In the space of 48 hours at Gulfstream Park, West Coast will bid for two of U.S. horse racing's biggest prizes in an Eclipse Award and the Pegasus, and will attempt to give Baffert a third straight 3-year-old champion and winners in both editions of the Pegasus after Arrogate's win a year ago in the inaugural running.
The Eclipse Awards come up first on Thursday night, when the prize will go to either to West Coast, Kentucky Derby winner Always Dreaming or Breeders' Cup Dirt Mile winner Battle Of Midway. Both Always Dreaming and West Coast have pair of G1 wins to their credit, but, while Always Dreaming lost by a combined 37¼ lengths in his next three races after the Derby, West Coast won five of his last six races with the lone blemish coming when he finished 3½ lengths behind older rival and probable Horse of the Year Gun Runner in the BC Classic.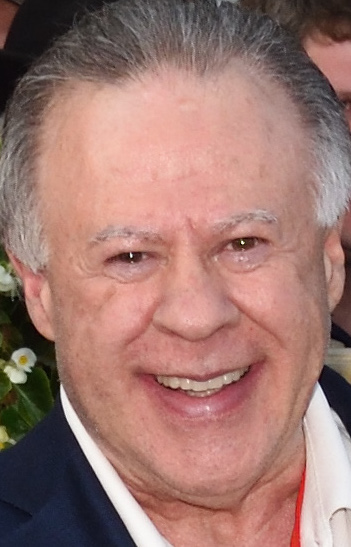 "I've learned if it's a jury or people picking a champion, it's hard to predict what a group of people will do," said Gary West (photo: NYRA.com). "If I look at it objectively, and look at everyone's overall accomplishments, West Coast was only beaten 5 lengths the entire season and 3½ of those lengths came in the Breeders' Cup. Take that out and in eight other races he was beaten 1½ lengths. He was never off the board and won six of nine starts. No other horse has a remotely similar won-loss record.
"I will admit to be prejudiced, but to me he's a deserving Eclipse Award winner."
Baffert added that West Coast's owners are also worthy of a championship trophy.
Easier race
"If West Coast were to become a champion, I don't know more [appreciative] people than Gary and Mary West," Baffert said. "Gary has a nice passion for the game and he does it his own way."
In all likelihood, the Eclipse Awards should prove to be an easier race for West Coast than the one awaiting him and jockey Javier Castellano at 5:40 p.m. EST on Saturday (televised live on NBC in the U.S. and At The Races in Britain and Ireland) when they face 11 rivals in the Pegasus, including favored Gun Runner and G1 winners Collected, Sharp Azteca, Seeking The Soul and Stellar Wind.
Over the course of a mile-and-an-eighth trip around Gulfstream, where a short run to the first turn makes the outside posts abysmal, West Coast will get his chance to rebound from his loss to Gun Runner and runner-up Collected at Del Mar with a payday of $7 million on the line. A winner of five straight races before the third-place finish in the Breeders' Cup Classic, West Coast hasn't raced since the Nov. 4 World Championships but has been training sharply and giving off every indication of making a smooth transition from a late-blooming 3-year-old into a mature and developed 4-year-old.
"We gave him a little bit of time off after the Breeders' Cup. He ran nine times in about nine months so he deserved time off. He's been in steady training every week since then, and Bob says every one of his works is getting better and better. He's bigger, older and stronger than he was. I couldn't be happier and Bob couldn't be happier with the way he's training right now," said Gary West, who secured one of the 12 $1 million spots in the Pegasus for his colt.
Enthusiastic reports
Castellano has not been aboard West Coast since his initial ride on him in the Breeders' Cup, but he has been hearing nothing but enthusiastic reports from California about the son of Flatter's preparations.
"I've been in contact with Bob and he says the horse is training very well," Castellano said. "I've been watching the videos of his works. I have no doubts about Bob getting him ready. Bob's horses are always sharp. He is one of the best trainers in the country and I feel very comfortable about where we are with West Coast."
Castellano, who is a finalist for a fifth straight Eclipse Award as the champion jockey, will play a highly important role in the Pegasus, where the post position draw figures to have a major impact on the outcome. Outside posts at the Pegasus distance can be kryptonite to a superhorse as evidenced by last year's Pegasus, when 6-5 second choice and two-time Horse of the Year California Chrome was mired with post 12 and wound up ninth.
"I would prefer a mile-and-a-quarter with West Coast, but I think a lot will have to do with post positions and racing luck and the run to the first turn. The first turn comes up really quick there in such a large field with 12 horses trying to get the same spot. What is it, a hundred-yard run to the first turn?" Baffert said. "I'd like to see a ten-horse field. That would be more ideal, but there's no perfect concept with any race. There's going to be a flaw somewhere. They easily could have cancelled the race, but I'm glad they didn't because it's good for the sport."
Given the inherent problems with a nine-furlong race at Gulfstream, Castellano believes the Pegasus clearly fits under the billing of a 'jockey's race'.
Advantage of a good post position
"It's a jockeys' race. It's the best horses, best trainers, best owners. The best of the best. But, as a jockey, you have the ride your horse and you have to ride a great race. You have to be aware of every little thing happening in a race like this," said Castellano, a five-time riding champ at Gulfstream.
"One of the keys to winning this race will be the post positions. You need to break out of the gate cleanly and get a good position. The way they designed the track, it's a short run to the first turn. When you get a field of the best horses in the country, they all usually break well, so having a good post is a big advantage in this race.
"I've been fortunate to have a lot of success on this track and, in this race, if you are given an advantage at the post position draw, you have to use it. Since the track is speed favoring, you can't race wide and lose ground to the best horses in the country."
With speed such an asset at Gulfstream, West Coast figures to show more early speed in the Pegasus than he did in the BC Classic, when he was third for virtually the entire trip behind Gun Runner and Collected.
"He didn't have exactly a perfect trip in the Breeders' Cup. If we could do things differently, we would. But hindsight is always 20-20. Most of the day at the Breeders' Cup it appeared to me and Bob that horses coming off the pace were doing a little bit better. We probably should have let the horse run out of there more than we did. That was not Javier's fault. That was by design, though I don't know if we would have done better than third place no matter what we did," Gary West said.
"He was running well enough to run him but, with it being his ninth race in about months, I don't know if he was at his best in that race. But this time he's training well and there will be no excuses. If he gets outrun, it will be because he gets beat by a better horse."
Gun Runner, who is also unraced since posting a fourth straight G1 win in the BC Classic, was clearly the better horse at Del Mar in early November, but, if there's an upset in the making, there could be no better architect for it than Castellano, who defeated Triple Crown winner American Pharoah with Keen Ice in the 2015 Travers.
"I think it will be a different ball game than the Breeders' Cup," Castellano said. "There will be more speed. I'm not taking anything away from Gun Runner and how good he looked in the Breeders' Cup, but I've seen a lot of big horses get beat, like American Pharoah in the Travers.
"All the time I see in the papers, how are you going to beat Gun Runner? They say you can't beat that horse. But it's a horse race and anything can happen. He can stumble coming out of the gate. Maybe he doesn't like the track, he has never raced there before."
'A big believer in patience'
West Coast will also be racing at Gulfstream Park for the first time, and it marks the eighth different track for him in ten starts during a career that underscores West's patient philosophy and willingness to give his horses plenty of time to develop. West Coast did not make his first start until Feb. 18 last year and, much like Baffert's 2016 3-year-old champ and Pegasus winner Arrogate, he did not appear in any of the Triple Crown races.
"My instructions to trainers are if it's your horse and you would run him, then run him. Act like you own the horse. I've found that's better than owners who tell trainers what to do. I try to hire really good trainers," said West, who also gives horses to Steve Asmussen, who trains Gun Runner, and Jason Servis.
"I'm a big believer in patience. I feel sorry for people with one or two horses and [who] want action. I have enough horses that I can be of the mindset that I can be patient economically and also be philosophically patient. I've been in the game 40 years and I've learned that, if you weren't patient, you'll wish you were.
"If you want a horse to peak on the day of a race, that's not a science, it's an art."
The first test of West's patience came after West Coast followed up a maiden win in his second start with a second-place finish in the Lexington Stakes on April 15 at Keeneland. Instead of targeting the Preakness, like Lexington winner Senior Investment, who beat West Coast by a head, the May 15 foal ran in an allowance race a month later at Santa Anita and won by only three-quarters of a length.
Mike Smith's role
For a short while, Baffert and West toyed with the idea of running West Coast in the Belmont Stakes, the grueling mile-and-a-half final leg of the Triple Crown.
How short?
"About 30 seconds," Gary West said.
And with that, West Coast was entered in the ungraded Easy Goer on the Belmont Stakes undercard.
"Gary is always telling me to treat them like you own them. When you have that, you don't feel that added pressure," Baffert said. "I sort of wanted to run in the Belmont but in the race before it we were disappointed with the way he ran. He won, but we didn't leave there looking like we had a Belmont horse.
"I remember talking with Gary, and he said, 'If you think that's a Belmont horse, you need to get your head examined.' I told him he was right and we put him in the Easy Goer with Mike Smith on him. Mike played a big part in the horse's development."
With Smith aboard for the first time, West Coast registered a 3¾-length victory – one of four stakes wins for Baffert on the card – in a career-best effort.
"We had horses go through the Triple Crown grind and, from our experience and the other people who have been through it, it's hard on a horse. Running a mile-and-a-quarter as fast as you can, and then two weeks later running a mile-and-three-sixteenths as fast as you can and then three weeks later running a mile-and-a-half as fast as you can run, all against the best company you can find, that has to take a toll on any horse," Gary West said.
Cherished victory
"It's not uncommon that the horses who run in the Triple Crown are not doing well at Breeders' Cup time. There are exceptions to that, but we have found that patience is the right way to go. You can't pick out a date on the calendar three months from now and say I'm going to run come hell or high water. To draw a line in the sand and say this is when we are going to run, that's a silly thing to do."
Following a 2¾-length score in the G3 Los Alamitos Derby, the Travers at Saratoga became the next target. After cruising along on the lead from the start of the Mid-Summer Derby, West Coast and 'Big Money Mike' drew clear in the stretch and prevailed by 3¼ lengths over a field that included Always Dreaming and the winners of the other two Triple Crown races.
"I think from the standpoint of the breeding shed and being a prestigious race, after the Kentucky Derby, the Travers might be the next-best race for a 3-year-old," said Gary West, who ranked the Travers alongside the 2013 Breeders' Cup Juvenile victory by his 2-year-old New Year's Day as his most cherished victory in four decades as an owner.
"I know it's not a Triple Crown race, but look at the quality of last year's race. It had all three winners of the Triple Crown races, the Haskell winner and the Derby runner-up. It was probably the toughest Travers in decades. We were rewarded for our patience, and more times than not you will be."
The patient approach brought Castellano, who stepped in for Smith when his fellow Hall of Famer opted to ride Arrogate in the BC Classic, and West Coast to the Pegasus and is certain to dictate plans for the colt throughout the rest of his 4-year-old campaign.
The Dubai question
While Baffert said he is not looking past the Pegasus, Gary West is well aware that the $10 million Dubai World Cup is on the horizon during a 2018 season that will unfold with Gun Runner in the breeding shed at Three Chimneys Farm. Should West Coast turn in a powerful effort in the Pegasus, there will surely be plenty of incentive to head to Dubai, but West is non-committal about shipping his horse across the globe.
"We're looking forward to racing our horse as a 4-year-old. What we do depends on how he comes out of the Pegasus. He'll run hard and I don't know how much it will take out of him. I don't know if he'll need five or six or seven weeks to get his batteries charged again," Gary West said.
"I don't know about Dubai. I've seen so many horses who have gone to Dubai and have never been the same. Gun Runner is an exception to that, but I'd have to give that an awful amount of thought. If I needed the money it would be one thing, but I'm at a point in my life where money doesn't drive my decisions. In racing, it's driven by my love of the animals. I try to do the right thing for the horses.
"I'm not saying I wouldn't go, but I've thought about it a lot over the years. I thought if I had a good horse would I go or wouldn't I go, and most time I came down on the side of not going. I'll visit with Bob and see what he thinks. We'll see who else will be there. If I'm 1/5 in a $10 million race, that's a different thing. We'll see what happens, but right now we are happy with where we are. I can't name two or three horses I would trade for West Coast."
Regardless of future plans, West Coast has already fulfilled the promise that was on display in a sales ring three years ago by giving his connections the thrill of wins in the Travers and Pennsylvania Derby, the excitement of the Breeders' Cup Classic and the anticipation of the Pegasus.
Amazing, isn't it, what can happen when you choose the right Flatter colt.