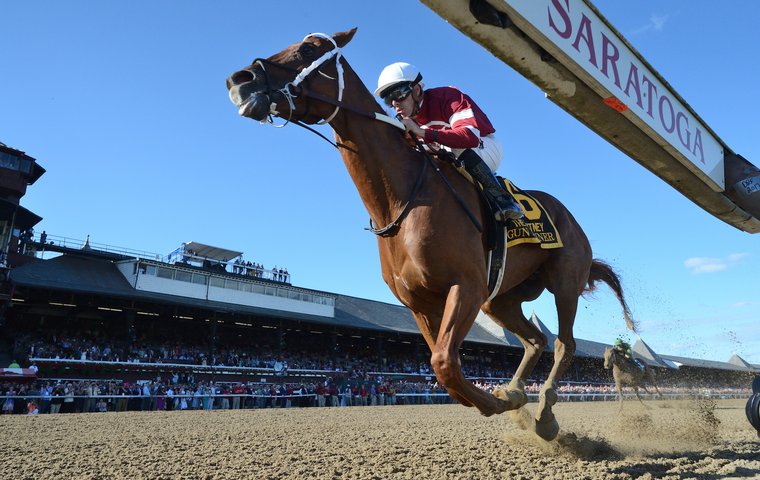 Senior TRC writer Bob Ehalt, who has been covering American racing for more than 30 years, explains who he voted for and why in each of the 16 main divisions for the 2017 U.S. Eclipse Awards, which will be presented at Gulfstream Park, Miami, next Thursday. Ehalt himself has received Eclipse Awards acclaim this year, with one of his TRC articles getting an honorable mention in the News Enterprise journalism category.

Go back to the start of July and there was little doubt over the horses likely to be named Horse of the Year and the leading older dirt male and female.
By year's end, the choices in those categories were still absolutely obvious.
Only the horses were different.
Few racing seasons in recent years were as tumultuous as 2017, when the balance of power in a few of the premier divisions took a decisive shift after July arrived.
Back then, at the halfway point of the year, saying Juddmonte Farms' Arrogate would be named Horse of the Year and the champion older male was akin to predicting that the next Star Wars movie would generate hundreds of millions of dollars at the box office. It was a sure thing.
The same could be said of Songbird being named the champion older filly. It seemed a no-brainer.
Yet the widely expected coronation for both horses at Del Mar in the Breeders' Cup never materialized.
Mortal once again
Arrogate, after closing 2016 with dazzling wins in the Travers and Breeders' Cup Classic, sparked comparisons with Secretariat through spectacular wins in 2017's inaugural $12 million Pegasus World Cup and $10 million Dubai World Cup.
Yet, in the second half of 2017, Arrogate became mortal once again. In three starts, all of them at Del Mar, the 4-year-old finished fourth in the G2 San Diego, second in the G1 Pacific Classic and then ended his career on an utterly disappointing note by finishing in a dead-heat for fifth in the Breeders' Cup Classic.
Similarly, Songbird entered 2017 as the queen of the distaff division. She came into her 4-year-old season after losing by a nose to four-time Eclipse Award winner Beholder in the 2016 Breeders' Cup Distaff, suffering her first defeat after opening her career with 11 straight wins.
When she took the G1 Ogden Phipps on the Belmont Stakes undercard, she seemed destined to resume her winning ways through the end of the year.
But, after a lackluster one-length win in the G1 Delaware Handicap, there was talk of physical problems and, when Songbird lost by a neck to Forever Unbridled in the Personal Ensign at Saratoga on Aug. 26, it led to a physical inspection at Rood and Riddle Equine Hospital in Kentucky, which revealed physical problems that proved to be career-ending.
All of that created a void that was filled by horses that could not beat either Arrogate or Songbird in 2016 or the first half of 2017.
Gun Runner was third behind Arrogate in the 2016 Travers, beaten by 15 lengths. At four, after quarantine issues kept him out of the Pegasus, he tackled Arrogate in the Dubai World Cup and finished second behind Arrogate's astonishing last-to-first charge.
But when both horses returned home to the United States, it was Gun Runner who thrived and improved with each race and ended the year in the dominating fashion that was expected of Arrogate.
In his first race back from Dubai, Gun Runner romped by seven lengths in the G1 Stephen Foster at Churchill Downs. He then breezed to a 5¼-length triumph in the G1 Whitney at Saratoga and, on the final weekend of that meeting, he toyed with four overmatched rivals in the G1 Woodward before pulling away to a 10¼-length romp.
Rematch a mismatch
That set the stage for a rematch with Arrogate in the BC Classic with all the marbles on the line. This time, it was a mismatch as Arrogate never fired and the son of Candy Ride set swift fractions before drawing clear in the stretch to post a 2¼-length victory for trainer Steve Asmussen and owners Winchell Thoroughbreds and Three Chimneys Farm.
And with that, Horse of the Year and the older dirt male title once again became layups, only this time in favor of Gun Runner. Should anyone else win either award, someone needs to drop a dime and call Robert Mueller. The Russians had to hack the election.
Forever Unbridled also came up short in 2016 when matched against her main rival for last year's crown. She was third in the BC Distaff, 1¼ lengths behind the dueling Beholder and Songbird.
As it turned out, that was the daughter of Unbridled's Song's last defeat.
Forever Unbridled only raced three times in 2017, but she made the very most of every opportunity. She started the year with a victory in the G2 Fleur de Lis at Churchill Downs and then posted her most stunning win of the year when she rallied and edged Songbird by a neck.
After that, trainer Dallas Stewart gave owner Charles Fipke's homebred mare ten weeks off and kept her in peak form as she took all the suspense out of the race for the champion older dirt female. Forever Unbridled registered a half-length victory over Abel Tasman in the Breeders' Cup Distaff to cap a short but very sweet 3-for-3 season.
Yes, go back to June and it seemed all together proper that a colt and a filly were destined to close out the year with nothing but wins that would make Eclipse Award voting academic.
Knowing that it would be Gun Runner and Forever Unbridled was the much more difficult task – and the one that added so much spice to a year that was actually two years rolled into one.
As for the rest of the champions, here's how my Eclipse ballot looked.
Horse of the Year
Finalists: Arrogate, Gun Runner, World Approval.
Selection: Gun Runner
Older Dirt Male
Finalists: Arrogate, Collected, Gun Runner
Selection: Gun Runner
Older Dirt Female
Finalists: Forever Unbridled, Songbird, Stellar Wind
Selection: Forever Unbridled
2-year-old male
Finalists: Bolt D'Oro, Good Magic, Solomini
Selection: Good Magic
The knock against Good Magic is that he won the Breeders' Cup Juvenile as a maiden, but that tells a misleading tale. He was second in the G1 Champagne before heading west to Del Mar, so he had plenty of talent.
Beyond that, he shipped cross-country for trainer Chad Brown and owners e Five Racing Thoroughbreds and Stonestreet Stables and beat favored Bolt D'Oro at a track where the Californian had posted two wins. In terms of semantics, yes, Good Magic was a maiden. Yet when a horse ships from one coast to the other and claims a win at the World Championships, you can call him something else: Champion.
2-year-old filly
Finalists: Caledonia Road, Moonshine Memories, Rushing Fall
Selection: Rushing Fall
Traditionalists might faint at the thought of a turf horse winning this award, but Rushing Fall seems a highly worthy choice to be the first exception to the rule.
In a year when the dirt fillies seem average, Rushing Fall was extraordinary. The e 5 Racing Thoroughbreds filly was perfect in three starts, winning in impressive fashion each time, and beating international competition in the Breeders' Cup Juvenile Fillies Turf to boot, which is no small feat.
Much like Bolt d'Oro, the Eclipse Award was Moonshine Memories to lose on her home track, and she did just that by finishing seventh to 17-1 shot Caledonia Road in the Breeders' Cup Juvenile Fillies at Del Mar, the place where she had been 2-for-2.
Moonshine Memories may have had two Grade 1 wins to Rushing Fall's one, but when you consider that Brown brought Rushing Fall cross-country and coaxed a peak effort out of her while Moonshine Memories flopped in a home game, one turned out to be greater than two at the ballot box.
3-year-old male
Finalists: Always Dreaming, Battle Of Midway, West Coast
Selection: West Coast
Like Arrogate and Songbird, Always Dreaming was the division leader during the early part of the year. But, after his 2¾-length victory in the Kentucky Derby on the first Saturday in May, the rest of 2017 was a nightmare for Always Dreaming. He was eighth in the Preakness, third in the Jim Dandy and then ninth in his 2017 finale, the Travers. In those three defeats, he lost by a combined margin of more than 37 lengths.
That opened the door for an encore of 2016 with Arrogate when trainer Bob Baffert seized control of the division with a colt who skipped the Triple Crown and then registered a decisive win in the Travers. His 2017 star, West Coast, sat out the Triple Crown, won the Travers by 3¼ lengths, then won the Pennsylvania Derby by a lopsided 7¼ lengths for owners Gary and Mary West.
Unlike Arrogate, West Coast did not win the Breeders' Cup Classic, but he finished a respectable third behind older rivals Gun Runner and Collected to seal the deal as the Triple Crown set's champion.
3-year-old filly
Finalists: Abel Tasman, Elate, Unique Bella
Selection: Abel Tasman
This division's title came down to the Breeders' Cup Distaff and the race within the race between Elate and China Horse Club International and Clearsky Farms' Abel Tasman. Abel Tasman had reeled off three straight Grade 1 wins in the Kentucky Oaks, Acorn and Coaching Club American Oaks for Baffert but then finished second in the G1 Cotillion at Parx.
Meanwhile, after losing by a head to Abel Tasman in the CCA Oaks, Elate won the Grade 1 Alabama at Saratoga by 5½ lengths and whipped older foes in the G1 Beldame by a larger margin, 8¼ lengths.
In the Breeders' Cup Distaff, Elate was the 2-1 favorite, but it was Abel Tasman who turned in a superior effort. She finished a game second to Forever Unbridled while Elate never fired and wound up fourth.
Game, set and match, Abel Tasman.
Male Sprinter
Finalists: Imperial Hint, Mind Your Biscuits, Roy H
Another simple choice. Roy H won the Breeders' Cup Sprint and four of his other five starts, two of them in Grade 1 and Grade 2 stakes. In his lone loss, he finished second in the G1 Bing Crosby when a loose horse, 2016 sprint champion Drefong, carried him six wide on the turn.
In this case, 'H' marked the spot for an Eclipse Award winner.
Female Sprinter
Finalists: Bar Of Gold, Paulassilverlining, Unique Bella
As obvious as the star of the male sprint division was, the females were equally muddled.
The Breeders' Cup Filly and Mare Sprint usually decides the division title, but not in 2017. Bar Of Gold proved best at the World Championships, but an improbable nose victory at 66-1 odds in just her second win in nine 2017 starts was not enough to earn her a gold medal in the Eclipse Awards.
Paulassilverlining flopped in the Breeders' Cup, finishing sixth. But at least she had the excuse of traveling across the country to a new track. Prior to the Breeders' Cup and a fifth in the G1 Ballerina, she posted two Grade 1 wins and a Grade 2 triumph for Juddmonte Farms and Brown and that topped everyone else in a mediocre division.
Male Turf
Finalists: Beach Patrol, Talismanic, World Approval
It might have been an interesting vote had Beach Patrol held off Talismanic in the Breeders' Cup Turf, but his half-length loss swung the contest in World Approval's favor.
The Live Oak Plantation 5-year-old went down to defeat just once in six 2017 starts and that defeat came in the mile-and-a-quarter G1 Manhattan. After that trainer Mark Casse limited World Approval to mile races, he was rewarded with three straight Grade 1 wins, topped by the Breeders' Cup Mile – and an Eclipse Award.
Female Turf
Finalists: Lady Eli, Off Limits, Wuheida
Selection: Lady Eli
Lady Eli was seventh behind Wuheida in the Breeders' Cup Filly and Mare Turf but had a major excuse when she was bumped and gashed in the early stages in the race.
Cross out that race, and Lady Eli won three of four starts, two of them in Grade 1s, and that was good enough to earn her an Eclipse Award for Brown and owners Sol Kumin and Jay Hanley of Sheep Pond Partners in the final chapter of a heartwarming career that saw her overcome laminitis to return to the racetrack.
Steeplechase
Finalists: All The Way Jose, Mr. Hot Stuff, Scorpiancer
Selection: All The Way Jose
The most consistent steeplechaser was unquestionably Modem. He ran in four Grade 1s and finished second each time. Unfortunately for him, you can't call a horse who failed to win a race a champion, so my vote went to All The Way Jose, who also raced in four Grade 1s and had a win and two thirds.
Owner
Finalists: Godolphin, Juddmonte, Winchell Thoroughbreds and Three Chimneys
Selection: Juddmonte
Another tough choice, but Juddmonte had four Grade 1 wins, earnings of more than $10 million (thanks, Arrogate). At time when owners are quick to retire great horses, they not only raced Arrogate at four, they kept him in training throughout the entire year despite some highly disappointing losses.
In this day and era, that was the deciding factor in a vote that easily could have gone two or three other ways.
For the record, they also owned and bred the 2017 Cartier European Horse of the Year, Enable.
Breeder
Finalists: Besilu, Clearsky Farms, Winstar Farms
Selection: Winstar Farms
Winstar had 216 wins, won nine Graded stakes, and would have led in earnings if not for the boost Clearsky Farms received from Arrogate. That was enough for my vote.
Trainer
Finalists: Steve Asmussen, Bob Baffert, Chad Brown
Selection: Chad Brown
All three had sensational years, but the edge went to Brown. Aside from his breakthrough Triple Crown win in the Preakness with Cloud Computing, he led all trainers with earnings of $26.2 million and topped the nation with 47 Graded wins.
Also, on my scorecard, he trained four champions and that's impossible to ignore.
Jockey
Finalists: Javier Castellano, Jose Ortiz, Mike Smith
Selection: Jose Ortiz
Mike Smith had an amazing year with earnings of $20.5 million from just 275 starts.
Yet, in the final analysis, it came down to a part-timer against a full-time worker. Jose Ortiz had 1,408 mounts, won 270 races, including the Belmont Stakes and 12 other Grade 1s, and led all riders in earnings with $27.3 million. He even spent some of his days off in New York riding at Parx.
That superior workload earned Ortiz my vote.
Apprentice jockey
Finalists: Katie Clawson, Hector Diaz Jr, Evin Roman
Evin Roman won by the length of the stretch in this race. Not only did he nearly double the wins and earnings of his closest pursuer, he also shared the prestigious riding title at the Santa Anita spring/summer meet.
Case closed.