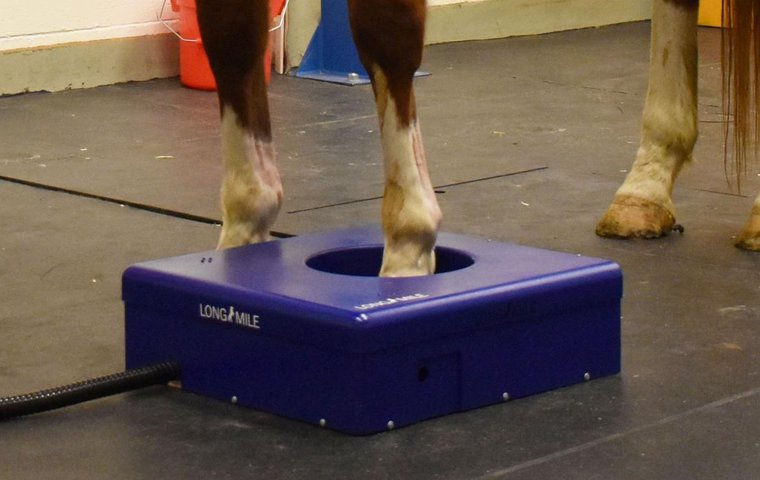 In my most recent View From The Rail, I reviewed in some detail the March 14 letter from Belinda Stronach, President and Chair of the Stronach Group (TSG), outlining an unprecedented number of proposed reforms for racing safety and integrity.

The headliners that got the most attention with racetracks and horsemen's groups were the proposed elimination of Lasix and the use of the whip. Both of those initiatives have been modified and their implementation delayed. However, the initiative I found the most interesting was A substantial investment by TSG in diagnostic equipment to aid in the detection of pre-existing conditions.
In the eight years I was at the New York Racing Association and the seven years since, I have never heard of the existence of this type of diagnostic equipment. In fact, I wrote then, "[This diagnostic equipment] would be a huge asset for any Thoroughbred racing program. However, I am unaware what sort of equipment this refers to. In fact, the NTRA Safety and Integrity Alliance track standards do not reference such diagnostic equipment."
Last Wednesday (May 1), I learned what this initiative is - from this TSG press release announcing the group had joined an agreement with the Dolly Green Research Foundation and University of California-Davis.
TSG has committed $500,000 to support the purchase of the cutting-edge Longmile Positron Emission Tomography (MILE-PET) Scan machine, which provides imaging of the fetlock (ankle) joint while a Thoroughbred is standing.
This newly donated system will first go to the Center of Equine Health at the University of California Davis School of Veterinary Medicine for validation, research and continued analysis. It is important to note that in January 2019 the first MILE-PET scan on a standing horse was successfully performed at UC Davis through a project led by Dr Mathieu Spriet.
"The Stronach Group's funding of this ground-breaking technology represents an important investment that will aid in the detection of equine injuries on a microscopic level to flag existing conditions that can contribute to breakdowns," said Dionne Benson, recently appointed Chief Veterinary Officer for TSG. "This technology will help to identify the injuries that tend to be the most dangerous and are not detectable using the current technology."
Transformative technology
I am not a veterinarian or a doctor, but this machine and the information it will provide should be transformative.
In most racing jurisdictions, it took a long time to get states to pass necropsy laws to get some understanding how the horse died. Even that is not uniform in all jurisdictions and is of marginal value protecting horses going forward. This machine and related practice will save horses' lives.
Dr Rick Arthur, Equine Medical Director for the California Horse Racing Board, said, "You cannot overstate how significant an advancement this is in equine diagnostic imaging and it is a natural fit here in California. PET is an advanced nuclear imaging technique and Santa Anita is already the home of the Dolly Green Nuclear Scintigraphy facility, which was the first of its kind when it was installed."
Craig Fravel, President of the Dolly Green Research Foundation and President and CEO of the Breeders' Cup, said, "PET devices promise the sort of breakthrough we have been looking for in detecting and understanding pre-existing bone injury. We are most grateful to TSG in making this work possible."
I had the opportunity to ask Dr Arthur a few additional relevant questions.
CH: Does this technique have any application for work on yearlings?
RA: PET is a nuclear imaging technique, as such it is a physiological image, i.e. it shows where the bone is responding to injury. It would not be useful in yearlings.
CH: Could you give a description of the types of pre-existing conditions of a horse's fetlock that this machine would see that could potentially help avoid a catastrophic injury?
RA: We are excited we will be able to identify lesions in the sesamoid bone (PSB) that are not currently amenable to other diagnostic imaging. Nineteen of the 22 fatalities at Santa Anita this winter involved the PSB. All told, PSB or fetlock joints are involved in over half of all racing fatalities.
CH: Would you have some further thoughts on the potential benefits of this machine?
RA: 85-90 percent of all racing and training fatalities have pre-existing pathology at the site of the fatal injury. Critics want to use that as a bludgeon; I look at it as a missed opportunity to better use diagnostic capabilities such as PET.
CH: On the pricing of the machine, if the industry got together and committed to buying one of these machines for use in their jurisdictions, could we achieve some scale and a lower price?
RA: The cost includes R&D for a standing unit. Hopefully that will translate into less expensive units.
CH: Congratulations and thanks. I think that this is a very big deal!
RA: It is a big deal. We just need to make sure people use it. We have started even before the Santa Anita issues this winter being more aggressive on requiring diagnostic imaging before we take horses off the vet's list and even let them run in some cases.
Committed initiative
Now to the headline at the top of this article. This new diagnostic tool needs to be announced as a committed initiative by the racing industry, and that certainly didn't happen last week.
TSG is demonstrating strong leadership here, but the announcement of this important initiative was restricted merely to a press release. That ran in the TDN and the Paulick Report and was featured in a brief LA Times article as well as in local papers in Pasadena and Arcadia.
For all the criticism that TSG took regarding Santa Anita, this deserved much more recognition in the media. I believe that an opportunity to promote this important development was missed.
Times have changed dramatically in recent years. In 2012, Aqueduct had a similar situation to Santa Anita's this winter. Twenty three horses died on the track in the same late December-March timeframe at both tracks. It was a serious situation at Aqueduct and the Governor convened a special task force that delivered a report six months later, in September 2012. However the extreme difference in the media and public awareness is remarkable. There was virtually no national news coverage back then - even in New York, Aqueduct was a minor news event.
Social media, animal rights groups and a highly sensitized print and broadcast media have completely changed the sensibilities and coverage of breakdowns at the racetrack. Santa Anita was a national news story that was also covered in the important regional markets.
By the time Belinda Stronach issued her comprehensive safety and integrity in mid-March, every major media market in the country was drawing parallels between horse racing, the circus and dog tracks. There were even some serious discussions of a state-wide referendum regarding the possible closure of horse racing in California.
And imagine how the executives at Churchill Downs felt when they read this headline in Louisville's Courier Journal on March 27: Churchill Downs is one of the deadliest racetracks in America.
This was five weeks out from the Derby, citing that, of the 25 racetracks that share casualty counts with the public, only one was more deadly last year than Churchill Downs. The article stated, "Still, the fallout from Santa Anita's recent fatalities, which included an abrupt shutdown and some rapid-fire reforms, speaks to the sport's acute sense of crisis. Though Churchill Downs has rarely been the loudest voice on industry issues, befitting its corporate culture and shareholder sensitivities, it is poorly positioned to abdicate responsibility."
The good news is that Churchill announced a new racing and safety program within the month and before its spring meet opened.
All racetracks in different states have different rules and laws and their own distinct regulatory bodies. However, when TSG announced the major purchase of this new high-tech initiative on May 1, the Wednesday before the Derby, an opportunity was missed.
All on the same team
It would have been much more effective to coordinate a press event in Louisville with the other Triple Crown tracks, Churchill Downs and Belmont Park, as well as important representatives from the NTRA (National Thoroughbred Racing Association), the Breeders' Cup and the Jockey Club to tell the media about this major expensive technology initiative that will directly reduce breakdowns. This is what the leaders of our industry are going to do to invest in technology that will save the lives of many horses into the future.
Also all three Triple Crown tracks have already announced major safety and integrity initiatives and those materials could have been distributed to the national and regional media.
It is still not too late. The industry has four-plus weeks to organize something to present during Belmont week. Yes, I understand that you are all competitors. However, at least in this one very important initiative, you are all on the same team, rooting like crazy for each other - or at least you should be.
And who knows, the next project for the group might be to work together on passing the Horseracing Integrity Act of 2019.
Each racing organization going its separate way on regulatory, safety and racing issues has not and will not serve the individual racing organizations well. That is debilitating and ineffectual for the industry.
Congratulations to TSG, UC Davis and the Dolly Green Research Foundation for this important diagnostic initiative. Let's hope it is the first of many.