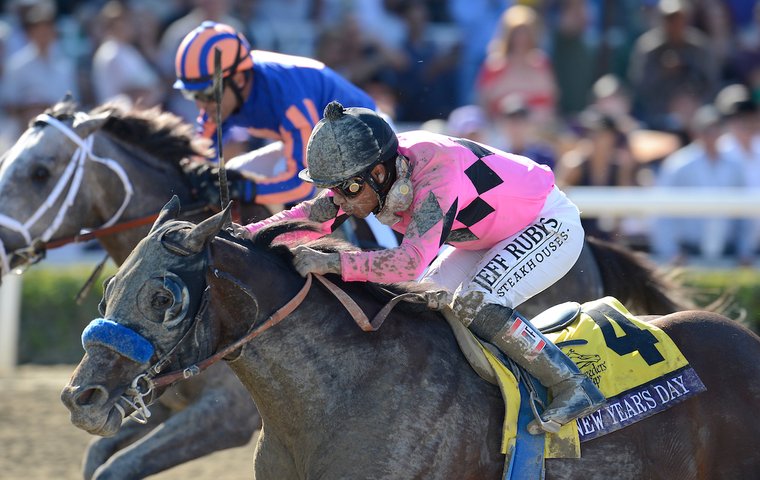 The reverberations of the tragedy of 23 horses breaking down at Santa Anita over the first three months of 2019 are being felt throughout the Thoroughbred racing industry.

As I discussed in an earlier column, the Stronach Group (TSG) Chair and President, Belinda Stronach, announced a sweeping number of reforms on March 14. These included:
Banning the use of Lasix
Increasing the ban on legal therapeutic non-steroidal anti-inflammatory drugs (NAIDS), joint injections, shockwave therapy and anabolic steroids.
Complete transparency of all veterinary records
Significantly increasing out-of-competition testing
Increasing the time required for horses to be on-site prior to a race
A substantial investment by TSG in diagnostic equipment to aid in the early detection of pre-existing conditions
Horses in training are only allowed therapeutic medication with a qualified veterinary diagnosis
The jockey's riding crop will be a cushion crop and only authorized for use as a corrective measure.
These collective measures are the largest group of policy changes that have been proposed at any one time by a major racing organization, and there will be issues to work through. All these initiatives will have to navigate the California Horse Racing Board (CHRB) regulatory approval process.
Horsemen's groups and some state regulators will be aggressively fighting the potential loss of Lasix
The banning of Lasix is probably the most controversial element. The Thoroughbred Owners of California (TOC) has the right of approval for this measure, and TSG and the TOC quickly negotiated a compromise whereby, the 2-year-olds of 2020 would all run without Lasix throughout their racing careers, as would each subsequent crop of juveniles.
I would guess that we have not heard the end of this Lasix issue in California as other racetracks have come forward and announced similar restrictions that will require individual state regulatory approval. Horsemen's groups and some state regulators will be aggressively fighting the potential loss of Lasix.
The second point, which bans certain drugs that relate to pain management, could perhaps to be most important initiative as painkillers used inappropriately can result in a horse injuring itself because these drugs could mask an underlying injury.
California has had the most comprehensive out-of-competition testing program in U.S. racing - but it was toothless
The transparency of vet records would seem to be a logical practice, particularly after a claim, where the new trainer should have the benefit of knowing the complete medication and vet practices for the claimed horse. However, in many state jurisdictions, trainers can invoke privacy laws that protect the horse's information from being transferred to a new trainer. Clearly, the transparency of the vet records of the horse should take precedence over trainer privacy concerns.
Ironically, California has had the most comprehensive out-of-competition testing program in U.S. racing - but it was a toothless program because there were no penalties for medication violations.
That California racing law is currently being re-written to be more effective with real penalties for these violations.
The U.S. racing industry is severely compromised in its out-of-competition testing. Most performance-enhancing drugs used across the country cannot be detected by traditional post-race tests because most of them can continue to enhance a horse's performance long after the drug has left the body.
Cheaters are using performance-enhancing drugs in most racing jurisdictions in the U.S.
U.S. racing currently only conducts one to two percent of its drug tests in the out-of-competition environment as compared to a minimum of ten percent in all other major jurisdictions around the world. This is a serious issue that is not being addressed in any substantial manner by the patchwork group of state racing regulatory agencies. Make no mistake, cheaters are using performance-enhancing drugs in most racing jurisdictions in the U.S.
A substantial investment in diagnostic equipment to aid in the early detection of pre-existing conditions (one of the Stronach initiatives announced on March 14) would be a huge asset for any Thoroughbred racing program. However, I am unaware what sort of equipment this refers to. In fact, the NTRA (National Thoroughbred Racing Association) Safety and Integrity Alliance track certification standards do not reference such diagnostic equipment. I presume that this equipment could involve ultrasonography, mobile radiography and endoscopy. Portable diagnostic equipment would be very useful for any racing operation.
Finally, I take serious issue over TSG settling on the make-up and use of the riding crop (otherwise known as the whip).
There is no question that the image of a jockey whipping a horse for the entire length of the stretch is a bad practice that has to be significantly modified - and California has made that modification already.
New customers to the sport do not understand why the whip is used aggressively, and this is an image that does not play well on social media. There is good work being done on alternative crops that needs to be adopted. Most importantly, the proper crop with the appropriate policies in place is essential for the safety of the jockey and, used judiciously, is important in a race to protect the interests of the wagering customer, who is the main economic driver of our sport.
The good news is that there hasn't been a breakdown since Sunday, March 4. There have been ten days of racing and over a month of training with no injuries.
However, while things have been relatively calm at Santa Anita, a number of racetracks and racing organizations have been busy responding to the ramifications of the safety and integrity concerns facing the Thoroughbred industry.
This is a powerful group not necessarily motivated by the best interests of all participants in the sport
Last Thursday (April 18), 20 of the leading U.S. tracks announced that they will begin the phase out of the use of race-day medications. Starting next year, Lasix will not be allowed for the horses in 2yo races in 2020. This will be extended to listed and Graded stakes in 2021.
Racetracks that signed on to the initiative include all tracks owned or operated by Churchill Downs, the New York Racing Association (NYRA), the Stronach Group and Del Mar, Keeneland, Lone Star Park, Remington Park, Los Alamitos, Oaklawn Park and Tampa Bay Downs.
These organizations represent all three legs of the Triple Crown and stage 86 percent of current Graded and listed stakes in America.
David O'Rourke, the new NYRA President and CEO, said, "This is a progressive and unified approach to the subject of race-day medication, achieving consistency with international standards for young horses and those that form the foundations of our breeding stock."
However, as Jim Gagliano, President and Chief Operating Officer of the Jockey Club, pointed out, "This ban will ultimately affect only about 13 percent of the races run in the U.S., but it is a good first step, and we applaud the intent of the coalition members."
An important goal would be to get all racetracks on the same page regarding the industry's policy on Lasix and race-day medications
Make no mistake, however, this is far from a done deal.
From the quotes in the media, it is clear that this initiative will get strong push back from Ed Martin, president of the Association of Racing Commissioners International (RCI), Alan Foreman, President and CEO of the national Thoroughbred Horsemen's Association (THA), and Eric Hamelback, Chief Executive Officer, National Horsemen's Benevolent and Protective Association(HBPA). These gentlemen, their organizations and the state regulators and horsemen's groups are a powerful group who are not necessarily motivated by the best interests of all participants in the sport.
To demonstrate the power of the pro-Lasix advocates, there have been a number of high-profile anti-Lasix industry initiatives that were beaten down by the powerful pro-Lasix lobby. For example, the U.S. Graded Stakes Committee voted in 2011 to ban the use of Lasix in all 2yo Graded stakes in 2012. Unfortunately, the committee was unable to overcome the objections of the relevant state regulators and horsemen's groups and the policy never went into effect.
In August 2014, 25 prominent trainers stated they would favor a plan to gradually eliminate race-day medication in the U.S. Most important, top of the list of race-day medications was Lasix. The trainers were:
Tom Albertrani
Roger Attfield
Christophe Clement
Jose Corrales
David Donk
Neil Drysdale
Jeremiah Englehart
Eoin Harty
Neil Howard
Michael Hushion
D Wayne Lukas
Richard Mandella
Shug McGaughey
Kiaran McLaughlin
Kenneth McPeek
Graham Motion
Bill Mott
Todd Pletcher
Kathy Ritvo
Jonathan Sheppard
Albert Stall Jr
Dallas Stewart
Barclay Tagg
William Van Meter
George Weaver
Similarly, the Breeders' Cup was able to get the support of the California horsemen and the CHRB to run the Breeders' Cup 2yo stakes at Santa Anita without Lasix in both 2012 and 2013. In fact, in one of those years they conducted a small test and ran the non-Breeders' Cup 2yo undercard races with Lasix while there was no Lasix for the Breeders' Cup 2yos. Remarkably, the 2yos that ran on Lasix bled proportionally twice as much as the non-Lasix BC 2yos.
Unfortunately, Breeders' Cup could not sustain the battles with the pro-Lasix forces, and 2013 was the last year with no Lasix.
Finally, in 2012, the Kentucky Racing Commission passed a Lasix ban for the 2yo Graded and listed stakes for a three-year period starting in 2014. This decision was subsequently overturned by the State Attorney General that same year.
Field size has steadily declined since the introduction of Lasix
The truth is that there have been very few studies and controlled analyses on the efficacy and the health effects on horses running on Lasix. The number of controlled experiments testing Lasix on a population of Thoroughbred horses is very limited. In fact, the main studies that are cited on the subject are from South Africa and Australia.
Despite the large Thoroughbred population in the United States, I could not find one substantive study of the efficacy and impact of Lasix on Thoroughbreds conducted in the U.S. before or after 1995, when horses begin running on Lasix in New York.
One of the major rationales behind Lasix was that it would help horses withstand the physical stress of the sport and, as a result, race more frequently. This has not happened, and field size has steadily declined since the introduction of Lasix.
The most informative and engaging report on the topic of Lasix that I have read was this TDN article by T.D. Thornton in August 2015. The report was from a one-day New York Gaming Commission seminar called the New York Lasix Forum. One of the most revelatory comments of the day was attributed to Dr Gregory Ferraro, of the University of California-Davis Veterinary School: "I think that the number that are treated on a daily basis at the track with Lasix just seems to be quite excessive when the side effects of that treatment seem to me to be detrimental to the horse's overall health."
'Whether we believe in Lasix or we don't believe in Lasix, the public doesn't want it'
Ferraro later went on to say, "The rest of the horse world is extremely healthy. It's growing very rapidly; it's doing quite well. It's only Thoroughbred racing that is declining. And from the public's perception, whether we believe in Lasix or we don't believe in Lasix, the public doesn't want it. It's hurting our industry and its hurting our game. Regardless of our opinion, if we continue down the path that we have chosen, I believe that we'll eventually erode our fan base and have some serious problems in that regard."
That is a powerful indictment of Lasix from a highly regarded veterinary practitioner.
It is important to note that no racing executive is advocating banning Lasix due to the number of breakdowns at Santa Anita. There, the decision to ban Lasix was a larger safety and integrity issue.
I am certain that most racing enthusiasts have brought people to the track and, in the process of reading the program, the newbie asks, "What is the letter L that appears beside the name of every horse in the race."
There are numerous techniques to try to explain this without telling the newbie that every horse in the race is running on medication. The dreaded response often comes back: "Why are all the horses running on drugs?"
Banning Lasix is an integrity issue for a number of reasons.
The real fact is that over 95 percent of the horses in the U.S. run on Lasix. There are technically five classes of exercise-induced pulmonary hemorrhage (EPIH):
0=no bleeding at all; most are classified grade 1 or 2, which is minor bleeding that can only be detected through an endoscope; grade 3 is more serious and grade 4 is epistaxis, which is bleeding through the nostrils.
Lasix is a performance-enhancing drug. That can be seen in speed figures for horses running first or second time on it
Over 50 percent of Thoroughbreds do not bleed at all and an overwhelming majority are grade 0-2. None of these bleed enough to impact the performance of the horse or the horse's health. Just two percent of horses experience epistaxis.
So why do 95 percent of our Thoroughbreds run on Lasix?
Because Lasix is a performance-enhancing drug. That can be seen in speed figures for horses running first or second time on Lasix. More importantly, we see some of the best turf horses in the world coming to the U.S. to run in the Breeders' Cup or in our Grade 1 and 2 stakes. These horses cannot run on Lasix in any other jurisdiction, but when they come to the U.S. with excellent form and no history of bleeding, the overwhelming majority of these horses run on Lasix for the first time to enhance their performance.
For the first time, we have the opportunity to conduct some real controlled studies to truly measure the impact of Thoroughbreds not running on Lasix. Hopefully, we will have a large population of 2yo runners to track in a systematic manner and engage sophisticated veterinary talent to run the studies.
Let's embrace this opportunity to utilize the 2020 juvenile races to conduct extensive controlled experiments. Let's study how many horses actually bleed in these conditions and develop a training protocol as they have in Europe, Hong Kong, Australia etc. These studies will help protect the health of the horse and allow the owners to know that their horses are being cared for with the highest level of veterinary care possible.
Remarkably, these will be the first comprehensive studies of multiple jurisdictions in the U.S. on EPIH, and they should lead to new and better EPIH protocols.
Barbara Banke: 'We need ... a single comprehensive scheme that will enhance public trust of racing'
In that Gaming Commission Lasix Forum, both Dr Paul Morley, of Colorado State University, and Dr Corinne Sweeney, of the School of Veterinary Medicine, cited the need for better "high-quality" evidence to establish baselines and to find out if other treatments might work better than Lasix. Morley went on to say, "Despite the numbers of studies that are in the public literature regarding EPIH and regarding different interventions or evaluations of Lasix, the veterinarians who have studied this topic were left with the strong impression that most of the available literature in scientific studies did not provide strong evidence about this condition."
Lasix is clearly a flawed medication for EPIH.
Okay, so who are we going to trust in solving this opportunity to truly test how to solve EPIH? The horsemen that run all their horses on Lasix or the regulators that are just trying to keep their job? For all the assets that owners, breeders, racetracks, jockeys and bettors have tied up in the racing and breeding business, the industry needs to use the best 21st century technology, the best scientific experts and the proper level of investment to resolve this issue once and for all.
Thanks to an op-ed from the April 16 TDN, I will leave you with the insightful words of Barbara Banke, President of Stonestreet Farm:
"Some may say that the horse industry does not need more regulation. I say that we need to replace the patchwork of conflicting medications and standards with a single comprehensive scheme that will enhance public trust of racing.
"A centralized and undeviating program with shared standards will afford us economies of scale, efficiencies, promotional opportunities and strength when facing common obstacles … We have great deal to celebrate about the sport of racing, but we must build a strong unified voice. We must craft our narrative and rebuild the foundation of integrity to establish trust with audiences old and new."