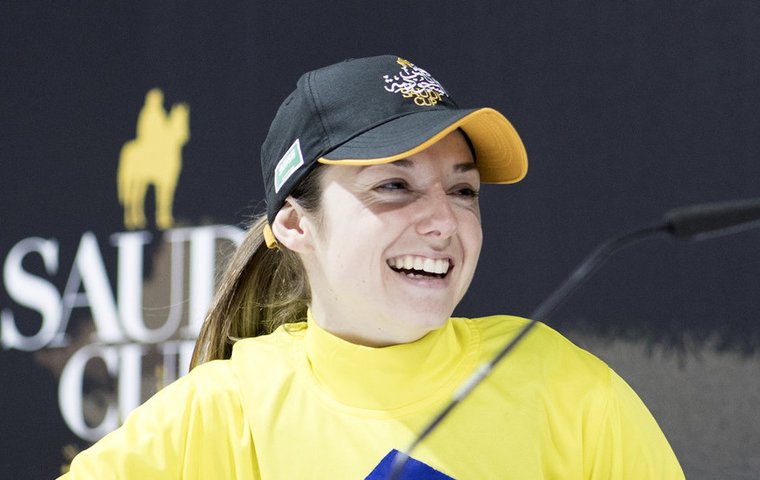 She's been a shooting star in two countries, as well as one of the stars of the historic men-v-women jockey challenge at the Saudi Cup weekend in Riyadh at the end of February, and now she's a dual record breaker as well.

France's Mickaelle Michel on Tuesday ended her prolific spell on Japan's NAR circuit by setting a new mark for the most wins recorded by a foreign jockey on a short-term licence, horseracingplanet.com is reporting today.
On the final day of a two-month stint during which she has become a hugely popular figure with the Japanese racing public, 24-year-old Michel's victory on Emmys Romance at Funabashi racecourse became her 30th winner from 267 rides. The success took her past the previous best by a jockey on a three-month licence on Japan's second-tier circuit, the local authority-run National Association of Racing [NAR].
Going into the meeting, where Michel had seven rides, she was in a joint-share of the record with Epsom Derby-winning Brit Alan Munro, who rode 29 winners in 2011, and Frenchman and former U.S. apprentice Ryan Curatolo (2017). She had already beaten the record by a two-month licence-holder of 25 set by Italian Cristian Demuro.
It is not the first time Michel, from Hyeres in south-eastern France, has set a record. In 2018, she rode the most wins in a year by a woman when her 72 victories helped her secure France's apprentice title.
Due to the coronavirus epidemic, Michel, who is learning to speak Japanese, is now expected to remain in Japan for the time being and sit the demanding JRA licence test in the autumn before resuming on the NAR circuit in November. Her long-term aim is to get a licence for the lucrative JRA circuit.
In Riyadh on February 28, Michel finished joint third with Kiwi Lisa Allpress in the 14-jockey challenge behind winner Mike Smith of the U.S. and Germany-based Swiss rider Sibylle Vogt.