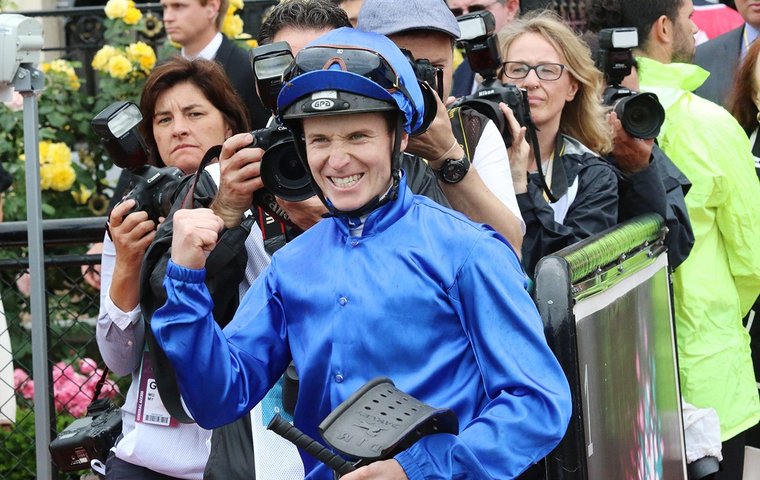 A return to riding trackwork and trials has a reinvigorated James McDonald fizzing about his raceday comeback next month.

The 26-year-old New Zealander, a former top ten jockey in the TRC Global Rankings, was back in the saddle at Randwick in Sydney yesterday ahead of his return to race-riding on May 15 after an 18-month ban. "It was a big step going to trackwork, and it will all lead to my first ride somewhere on a Wednesday in six weeks' time," said the former Godolphin #1 rider in Australia.
"I rode 12 and there weren't any slow ones to just get my eye in. My body is in really good condition and I couldn't have asked for a better start.
"I've got trials rides on Friday for five different trainers - mainly for Chris Waller, but also for John O'Shea, Godolphin, the Snowdens and Gai Waterhouse and I'm really looking forward to that."
Fitness regime
McDonald was disqualified from riding for 18 months in 2016 after he was found to have bet $1,000 on a horse he was riding in December 2015, breaching Australian racing's strict rules on jockeys betting. He lost an appeal on the severity of the ban.
While he has kept himself in excellent physical condition over the past year and a-half through a combination of golf, squash and a daily 10km walk with his girlfriend, TRC Emerging Talent Katelyn Mallyon, McDonald intends ramping up his fitness regime in readiness for his raceday return.
"The last month or six weeks I've been working really hard. It's been like a 15-month holiday and, while I've been keeping fit, this is another level altogether, though the hard work won't hurt me," he said.
"I've been working with a conditioning coach, working on my core and my fitness as well as working on strengthening for the position I'll be in when I'm riding."
McDonald said the enforced break has him refreshed ahead of his return and given him a chance to reflect on what was most important to him.
"It's something I will always regret but I have to take the positives from the negative.
"It's been a great freshen up. I've had two Christmases not wasting for racing on Boxing Day. I've travelled and had a good amount of time to think about things and realise that there's more to life than just racing.
"As a jockey, you are in that bubble 24-7 and you don't get a let-up, especially around carnival time and, before I was disqualified, I was going from carnival to carnival around the world.
"This break has opened my eyes and shown me that riding isn't the only thing in the world and I think that's going to be better for me in the long run."
Still world-ranked 25 in the TRC standings despite his lengthy absence, McDonald was a three-time champion apprentice, setting a New Zealand record of 207 wins for a season in 2010-11, one of three seasons he was named champion jockey at the New Zealand Racing Awards.
Marquee wins
He shifted to Sydney in 2012 and, by the end of the 2013-14 season, McDonald had sealed his first metropolitan jockeys' title and claimed the G1 Golden Slipper aboard Mossfun, to go with his other marquee G1 wins on Dundeel in the Queen Elizabeth Stakes, Rising Romance in the Australian Oaks and Shooting To Win in the Caulfield Guineas.
At 22, he had already ridden 1,000 winners and ridden in a G1 at Royal Ascot, all leading to sealing a contract as #1 rider for Godolphin, for whom he won the Northumberland Plate aboard Antiquarium during a short stint in Britain in 2016.
For his return to racing, he is looking at playing the long game.
"My goal is to have a really big spring. The next four or five months for me is about rebuilding contacts so I can really make hay in the spring," said McDonald, who has 30 G1 wins to his name so far.
"I did think about heading overseas for my return, but then thought better of it. I have unfinished business here and it starts with me getting my name back up in lights."