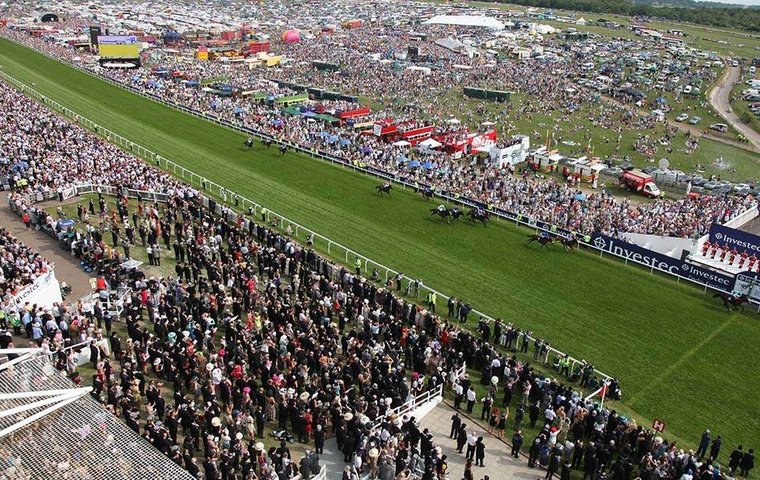 From the very first running in 1780 right through to current times, the Epsom Derby has been linked inextricably with the sport across the Pond. Derby winners have been owned by North Americans, bred by them and many have gone on to have stallion careers there. Indeed, every Derby winner this century except one has had Northern Dancer in his pedigree - and even that one was descended from a U.S.-bred Epsom Derby winner.

Here, in the first part of a special two-part feature ahead of the rescheduled 2020 version on July 4, Kent Barnes looks at this rich history, focusing on some of the outstanding horses that have been central to the development of the Thoroughbred over the years.

A week on Saturday (July 4), the top middle-distance 3-year-olds of Europe will line up to take their shot at fame in the 241st Epsom Derby. The masterful breeder Frederico Tesio is credited with saying, "The Thoroughbred exists because its selection had depended not on experts, technicians, or zoologists, but on a piece of wood: the winning post of the Epsom Derby. If you base your criteria on anything else, you will get something else, not the Thoroughbred."
Breeding programs from around the world have taken this quote to heart and for many years sought after those Derby winners the British isle was willing to give up.
North American has a long, storied history of importing Derby winners, dating back to the very first Derby, run in 1780.
Virginia breeders Colonel John Hoomes and John Taylor III purchased Diomed for $250 in 1798 after the 21-year-old stallion was written off as a "tried and true bad foal-getter".
Diomed spent the next ten years covering mares at various farms around Virginia and became a leading sire in America, establishing the sire line that led to the 16-time leading North American sire Lexington. His blood today flowed through such notable runners as Triple Crown winners Secretariat and American Pharoah.
Two more 18th century winners were brought to Virginia: 1795 scorer Spread Eagle, whose daughter appears in the tail female line of the 19th century multiple champion Commando, and the 1798 winner Sir Harry, who was imported in 1804.
Derby winners continued to be exported around the world during the next 100 years, but let us focus on the more recent lot sent to North America post World War II.
The 1951 winner, Arctic Prince, stood five seasons in England before being sold for the high sum of $900,000 in 1956 to Leslie Combs and partners for stud duty at his Spendthrift Farm in Lexington.
His best runner in North America was champion turf horse Parka, winner of the United Nations Handicap. Other than that, he left little legacy there, although he became a leading broodmare sire in England with one of his daughters producing three-time Classic winner Santa Claus.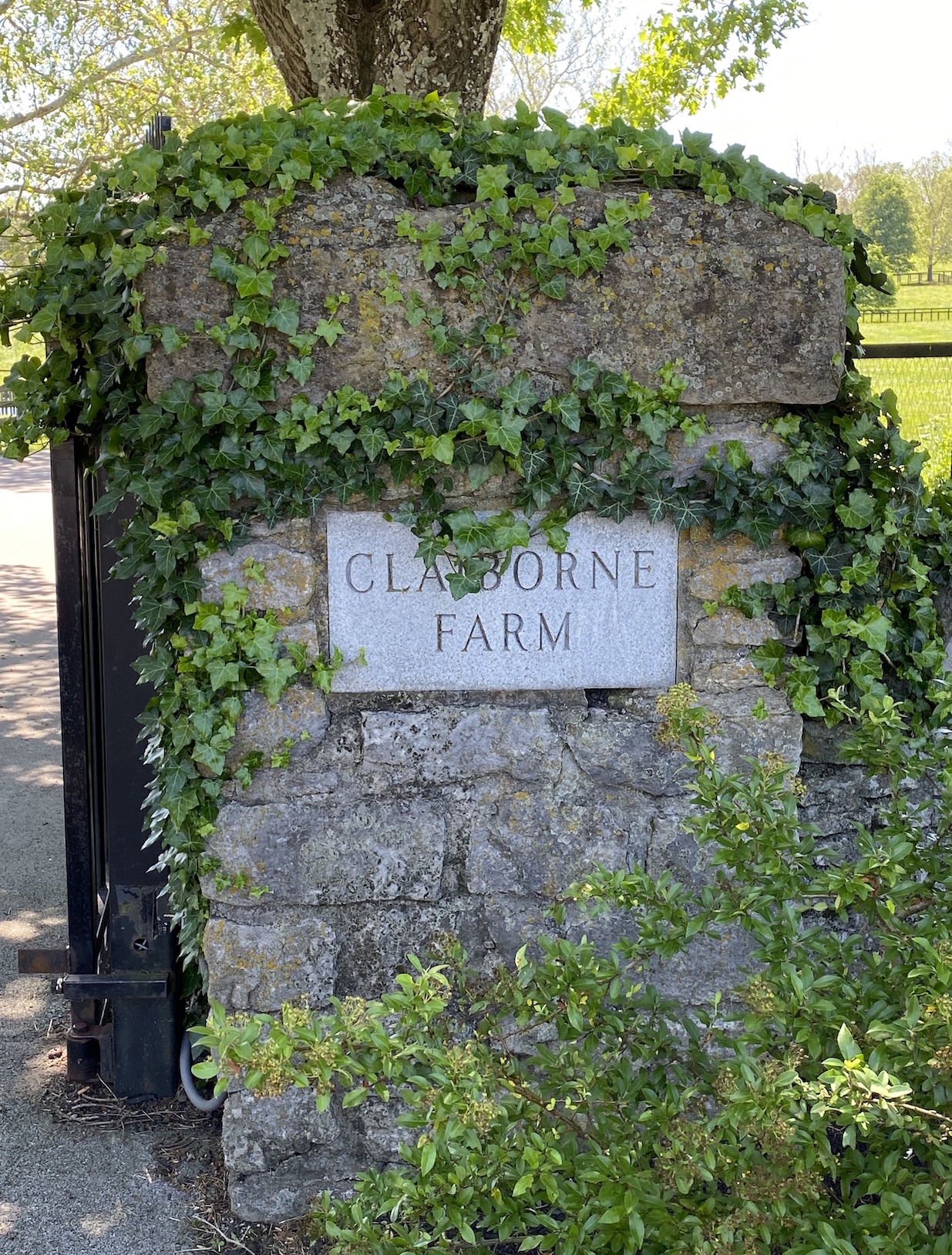 The following year, the Aga Khan's Tulyar won the Derby, along with the St Leger, the King George and Queen Elizabeth Stakes and the Eclipse. After standing three seasons at the Irish National Stud, he was sold to a syndicate led by A.B. Hancock, whose Claiborne Farm in Paris, Kentucky, had previous success with another Derby winner owned by the Aga Khan, 1930 hero Blenheim.
Unlike the success of Blenheim, though, Tulyar was a moderate sire in the U.S. with his top runner the co-champion 2-year-old filly Castle Forbes. He later became the broodmare sire of champion 2-year-old and Travers winner Honest Pleasure, whose own daughter, Narrate, became a significant producer for Claiborne.
Today Narrate can be found in the pedigree of several top stallions, including Tapit, and doubled in the pedigree of Triple Crown champion Justify.
The 1965 Derby winner was the French trained Sea-Bird. Prior to winning that year's Prix de l'Arc de Triomphe, a deal was struck between owner Jean Ternynck and American John Galbreath to lease Sea-Bird on retirement to his Kentucky-based Darby Dan Farm.
He was quite successful at stud in Kentucky but, at the end of the lease, he was returned to France, where he died the following year. His best runner was the French supermare Allez France, a winner of the Arc herself. On the other side of the Atlantic, Sea-Bird sired dual Classic winner Little Current.
In 1968, history was made when the first American-bred sold at auction won the English Classic.
Alice Headley Bell, the daughter of Keeneland founder Hal Price Headley, bred Sir Ivor on her newly established Mill Ridge Farm. Racing for the American ambassador to Ireland, Raymond Guest, and trained by the brilliant Vincent O'Brien, Sir Ivor had a solid racing career, winning not only the Derby but also the 2000 Guineas, and the Champion Stakes at Newmarket. In his final race, he was shipped to his homeland to win the prestigious Washington International at Laurel Park.
Sir Ivor was initially retired to his owner's stud in Ireland but was relocated to Claiborne Farm for the 1971 breeding season. There he proved himself as capable a sire as he was a runner, getting Classic winners both in the United States and abroad.
Some of his best runners included Arc winner Ivanjica, Kentucky Oaks winner Optimistic Gal, and Irish 1000 Guineas winner Lady Capulet. As would be expected from a horse that sired several top-class fillies, he became a top broodmare sire and is best represented today as the broodmare sire of El Prado, who has himself established a sire-line dynasty with top sons such as Kitten's Joy and Medaglia D'Oro. The direct male line of Sir Ivor lives on strongest, however, down under, where his son Sir Tristram reigned supreme in New Zealand. Sir Ivor lived to the ripe old age of 30 and is buried in Claiborne's Marchmont division cemetery.
Only two years later, another North American-bred trained by O'Brien at Ballydoyle would win not only the Derby, but also the 2000 Guineas and the St Leger to become the first English Triple Crown winner since Bahram in 1935, and to this day the last English Triple Crown winner.
Nijinsky was bred in Canada by E.P. Taylor's Windfields Farm and hailed from the second crop of his 1964 Kentucky Derby winner, Northern Dancer. He was purchased by American businessman Charles Engelhard Jr from the annual Windfields sale on the advice of Vincent O'Brien.
On the completion of his racing career, Nijinsky was syndicated by A.B. Hancock Jr's Claiborne Farm for $5.44 million.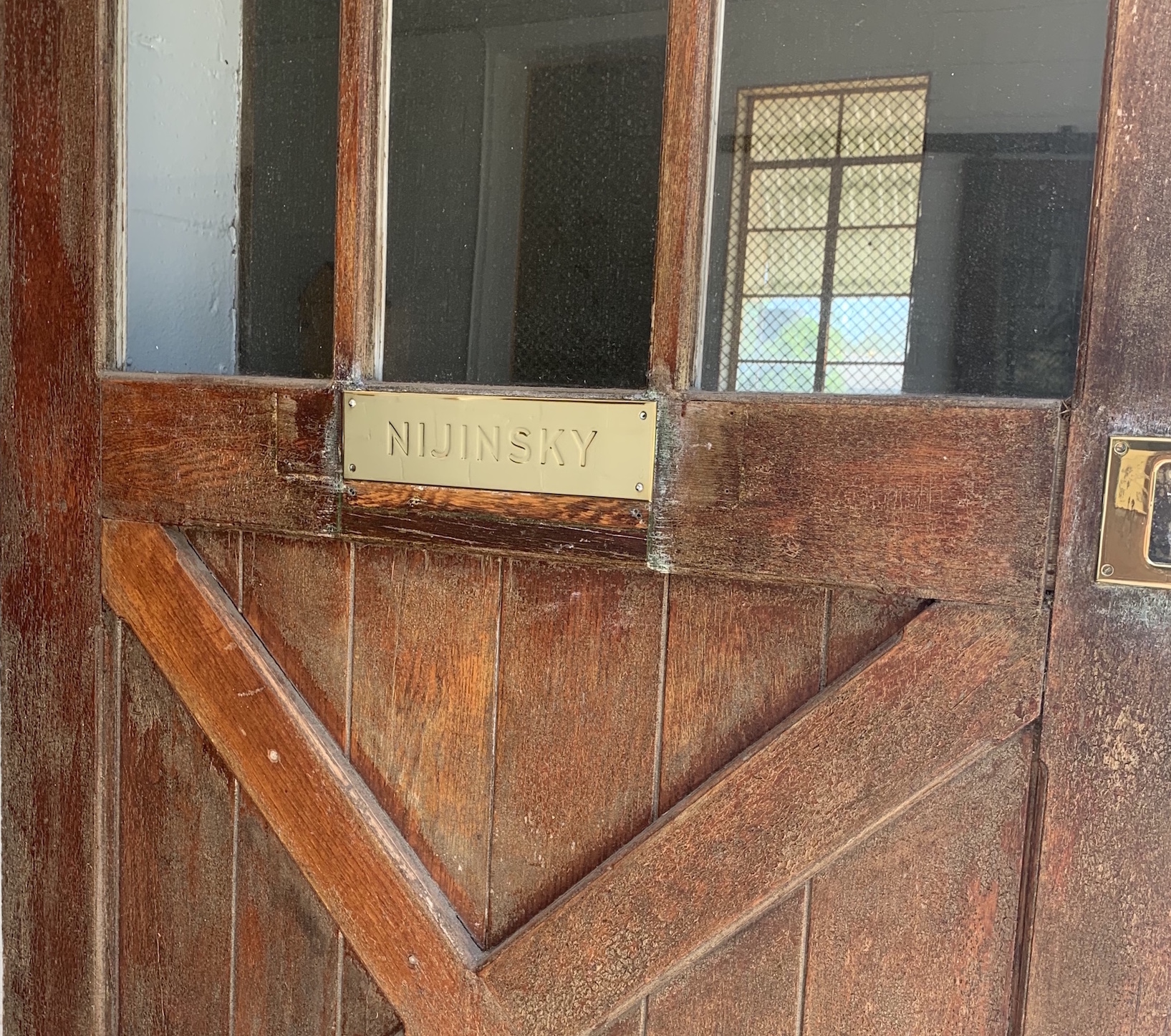 A big course horse, standing 16.1½ hands, Nijinsky was not typical of Northern Dancer's sons, who were usually a bit smaller and more refined. He was, however, a very good sire of top turf runners, including a trio of fellow Epsom Derby winners - Shahrastani, Golden Fleece and Lammtarra, French Derby winner Caerleon and turf champions Cherry Hinton, Kings Lake, Shadeed and American female De La Rose.
Not all Nijinsky offspring shined on the turf, however, as he was also responsible for Kentucky Derby winner Ferdinand and top dirt sprinter Dancing Spree.
Nijinsky lived a long life in the paddock directly behind the office at Claiborne, covering mares right up until the year of his death in 1992. He is buried in the cemetery a short walk from his old paddock, along with a hall of fame roster of sires.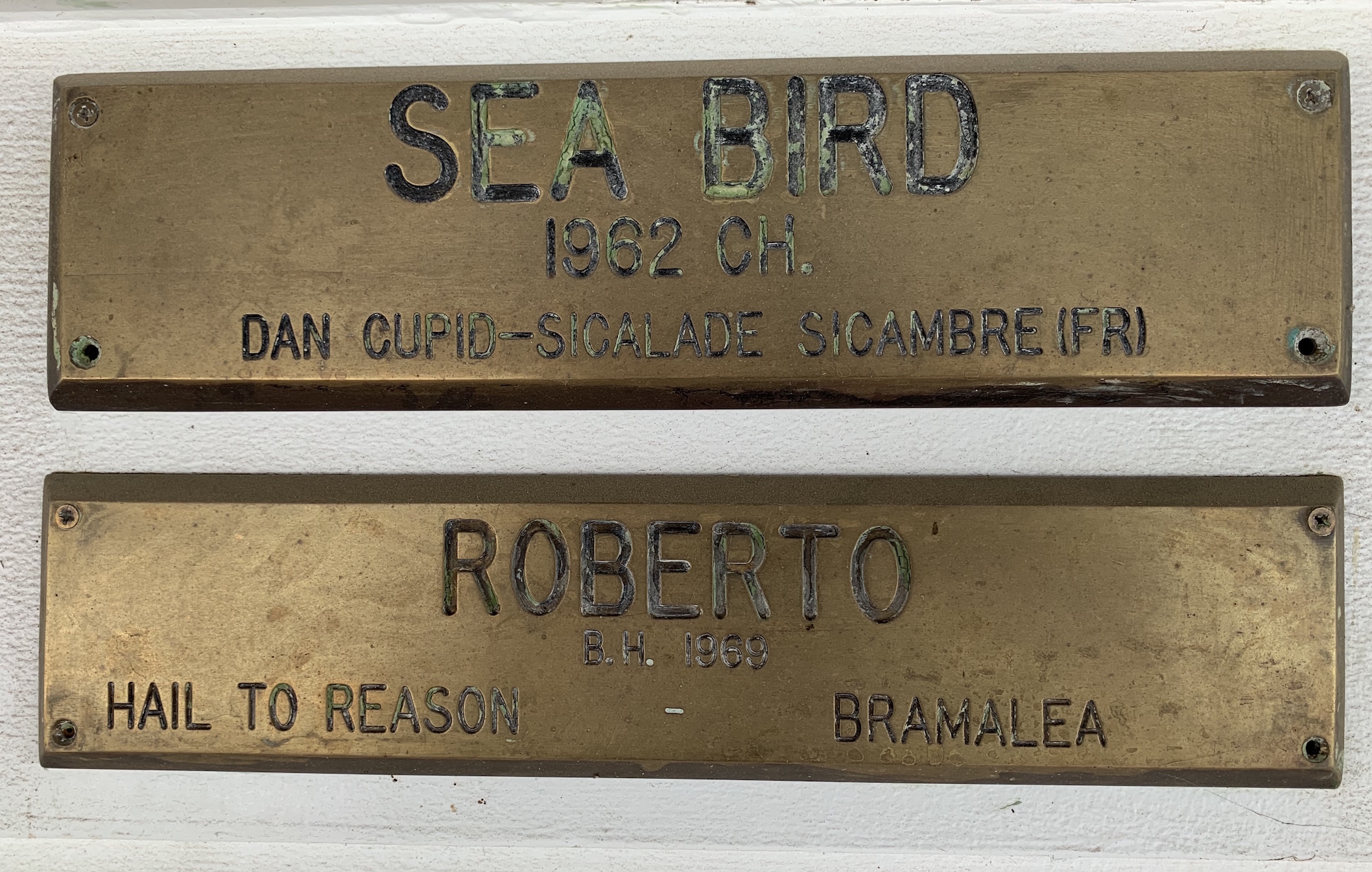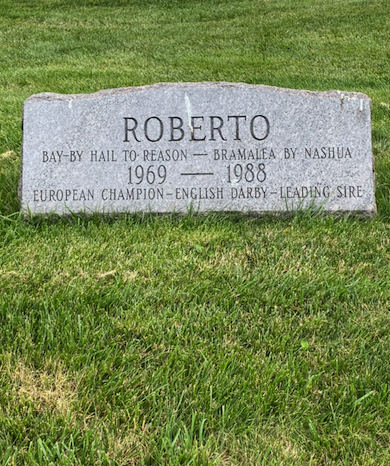 In 1972, it was John Galbreath's Darby Dan Farm that brought the trophy back to Kentucky after winning with homebred Roberto, thus providing the third American-bred to win in three years, following Rokeby Stud's Mill Reef in 1971.
Galbreath was a sporting man with a large stable and breeding operation in the United States, as well as the owner of the American professional baseball team the Pittsburgh Pirates. He named the 1969 son of Hail To Reason after his All-Star right fielder Roberto Clemente.
Roberto gave O'Brien his third Derby triumph in six years and John Galbreath became the first owner of both a Kentucky Derby winner (two in fact - Chateaugay and Proud Clarion) and a winner of the English equivalent.
Roberto was retired to Darby Dan after his 4-year-old season and held court there until his death in 1988. He was known by all that were around him for his fiery temperament. You did not venture into his paddock without paying close attention to him.
Like Nijinsky before him, he became a top sire of worldwide turf runners, such as Sunshine Forever, Lear Fan, At Talaq and Real Shadai. He sired several top sons to carry on the line, most notably Dynaformer, and Kris S in North America and Brian's Time and Real Shadai in Japan.
Snow Knight, the 1974 winner, was born in England but soon became affiliated with Canadian connections.
Racing initially under the silks of Sharon Phillips, he was sold in the fall of his 3-year-old year to E.P. Taylor for a North American campaign. Under the tutelage of Hall of Fame trainer Mack Miller, Snow Knight won three top turf events at four, including the Canadian International at Woodbine, and in the process earned himself an Eclipse award for Champion Male Turf horse.
He was initially retired to the owner's Windfields Farm in Canada but, with only minor success at stud, he was later sent to Australia. He did manage to sire the top turf filly Awaasif, who in turn became the second dam of 1995 Derby winner Lammtarra.
While America celebrated its bicentennial in 1976, the U.S.-bred and owned Empery scored another win for the Americans over the British, this time on their own turf. Nelson Bunker Hunt made his riches from the oil fields of Texas and spent that money purchasing several thousand acres of farmland in Kentucky to breed horses for one of the largest stables of its time.
He was adept at raising and racing several top turf horses, including Vaguely Noble, the sire of Empery. While Vaguely Noble had a long and distinguished stud career, the same could not be said for his Derby-winning son. Empery was retired to stand at Hunt's Bluegrass farm in Lexington but, by the time he was 11, his bags were packed and he left the bluegrass for Japan, a trend that would be common among future Derby winners.
In part two tomorrow: From roaring demand to victim of fashion

Kent Barnes is Stallion Manager at Shadwell Farm in Lexington, Kentucky