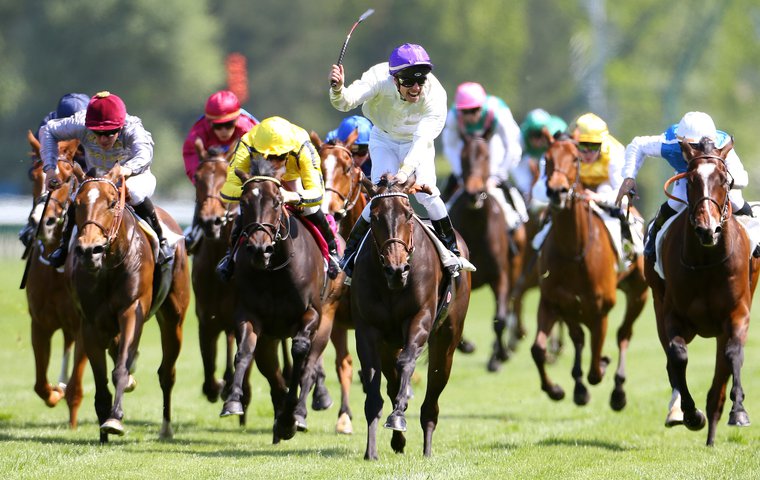 Earlier this year, a talented young Italian jockey featured in an article on this site as one of 10 reasons 2016 was going to be a great year for French racing. Since then, Cristian Demuro, now aged just 24, has added three of the most prestigious French G1 races to his already impressive CV and has firmly cemented his position as one of the outstanding riders in the French weighing room.

For many years, Cristian sat in the shadow of his older brother, Mirco, now a leading jockey in Japan, as he patiently carved out his own international career.
Born into a family of jockeys in Rome, Cristian started his career as an apprentice to trainer Bruno Grizzetti in Milan before returning to the capital to ride for Luigi Ricardi. He marked his arrival on the Italian racing scene in 2009 with 45 winners in his first year, before taking the champion jockey title the following year, aged just 18, with an impressive 145 winners.
Then in 2011 he rode an Italian record 264 winners, just 10 under the European record.
Demuro was champion jockey three times in Italy - in 2010, 2011 and 2013. During that time, he also spent three winters honing his craft in Japan, where he won his first G1 in April 2013 in the Oka Sho (Japanese 1,000 Guineas) on board Ayusan.
Later that same year he took his first European G1 on Biz The Nurse for Stefano Botti in the Gran Premio Di Milano.
No option but to leave Italy
Soon after, Demuro made the big decision - to leave Italy. After two months trying his hand in Germany, he settled on France. "There was no longer any future for racing in Italy, no more prize money for races, so there was no other option for me and other top Italian jockeys than to leave and continue our careers elsewhere," he says.
"It was a disaster for the first year as I didn't speak any French. Riding here [in France] is totally different from racing in Italy and it took me a month or two to understand the French style of racing. They go so slow early on and then fast in the finish, but I gradually started to understand the style of racing.
"None of the jockeys spoke to me in the beginning and I didn't know anybody here. It wasn't easy to have to start again from scratch after having been champion jockey in Italy. The first year was very tough for me as not many trainers gave me a chance and most jockeys in France have a retainer.
"The second year here was better. I won a group race for a German trainer and rode a total of 66 winners. I started riding for Alessandro Botti after Umberto Rispoli left him, and that was a big help to kick-start my career in France."
Vital part of the team
Then last winter he was approached by jockeys' agent Bruno Barbereau, offering to act for him alone. "His help and insight has been invaluable to me," says Demuro, "and he was very instrumental in me signing as first jockey to [leading owner-breeder] Gerard Augustin-Normand.
"Joining the Augustin-Normand team has turned my career around. Everything has changed for me professionally since then.
"His racing manager, Sylvain Vidal, and Mathieu Alex, who manages Sylvain's stud, Haras de la Cauviniere, have been so good to me and they have really supported me. I am very happy and lucky to work with this team. They have horses with so many different top trainers that I had never ridden for before, such as Jean-Claude Rouget, Christophe Ferland, Philippe Sogorb and Pia Brandt, and it has really opened doors for me."
Vidal says of Demuro: "He is a vital part of our team and we are delighted with how well the partnership has worked so far. Our success this year is in large part thanks to him. He is a very talented jockey, with a great affinity with horses, and a lovely person too."
La Cressonniere, a daughter of Augustin-Normand's star stallion Le Havre, has also been a major factor in the upturn of Cristian Demuro's career in France.
Perfect start for the new contract
The tough, talented filly, who is one of the favourites for the Prix de l'Arc de Triomphe on October 2, won both the French 1,000 Guineas at Deauville and Prix de Diane at Chantilly with Demuro on board.
"La Cressonniere has been for me what Frankel was for Tom Queally," he says. "The first time I ever sat on her was in a listed race at Chantilly on heavy ground. She won easily and, straight after the race, I asked the team, could she run in the Diane? She ran next at Saint-Cloud and won so easily despite pulling hard in the race. That's when I started to say to myself that I was going to win the Poules [French 1,000 Guineas].
"She was so relaxed in the Poules and then when I asked her for an effort … she flew! It was amazing for me; my first Group 1 win in France after so much hard work. It was like a dream, and I could not have asked for more at the start of my new contract.
"The first time I ever met my new boss, Gerard Augustin-Normand, was that night at the celebratory party in Deauville."
Then the pressure was on for the Diane in June. "There was a question over whether the filly would stay, but I have complete faith in her," says Demuro. "I know how much quality and what a great mentality she has. After a race it is like she hasn't even run."
Amazing turn of foot
But the Diane victory looked in doubt at one point during the race. "There was a lot of bumping early on so I brought her back behind Volta [who eventually finished third]. We were so far behind the leaders at one point that I thought to myself, 'the dream is over; it is impossible to make up that much ground.'
"There was more bumping in the pack, and I decided to make my move earlier than planned ... Her turn of foot is so amazing that, within 50 metres, I was upsides Maxime Guyon [on eventual runner-up Left Hand, who went on to win the G1 Prix Vermeille at Chantilly on Sunday]. When I felt her accelerate like that, then I thought I could still win it. It was quite simply a beautiful moment. It mattered so much to so many people that were expecting her to win. My agent, Bruno, hadn't slept for three or four days beforehand.
"Prix de Diane day is such a huge event in Chantilly. There are so many people on the inside of the track that the noise is like a stadium. I was so emotional afterwards. I kept crying afterwards and couldn't even do an interview for the television."
Demuro made the most of his run of good form, going on to win the Grand Prix de Paris, run at Saint-Cloud this year, on Mont Ormel for the same white and purple colours but this time trained by Chantilly-based Swedish trainer Pia Brandt.
Riding with confidence
So has this new-found success in France had an effect on his career?
"I have definitely been getting more rides, but my life hasn't changed that much," he says. "It is not my style to show off, so I am staying quiet and working hard. Now is the important moment for me to push harder than ever.
"It is true that I am riding with a lot of confidence and that is a big help. I won a Group 3 recently for Henri-Alex Pantall on an outsider so I must be doing something right.
"My dream is to reach the top level in both France and internationally. I would love the opportunity to go back to Japan in the future. I am only 24 years of age, so I still have time to fulfil all my dreams."
With the dedication and talent that Cristian Demuro has become renowned for during his career so far, there is little doubt he will be crossing more of those dreams off his to-do list fairly soon.