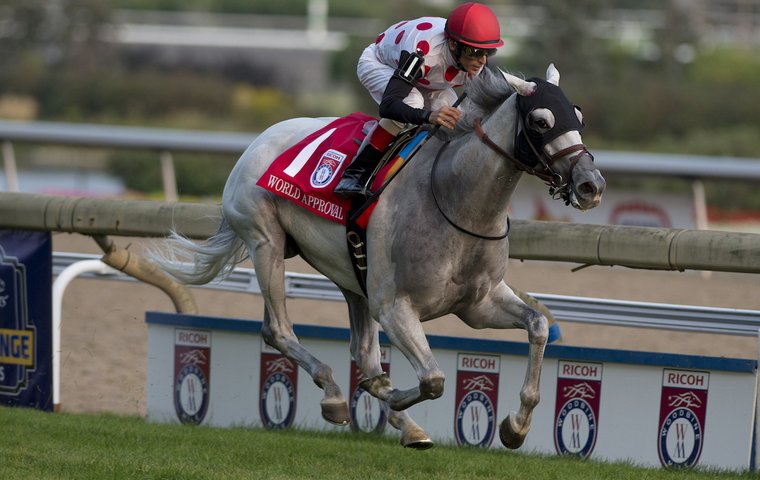 At TRC we've had occasion more than once to note how Britain's bookmakers tend to undervalue the chances of American challengers for some of the big races in the UK. A bit short-sighted, we think - sometimes punitively so - but now here's a strange extension of this phenomenon. It appears the bookies are not even convinced by the prospects of some of the best U.S. runners when they're running in America.

You don't have to look far to see the dismissive assessment of U.S. hopefuls sent across the Atlantic. Some of them turn out to be reasonably justified, as in the case of American Patriot, a G1 winner on turf in the States, who was a 20/1 outsider for the Queen Anne at Royal Ascot in June. Based on his achievements to that point, the odds did seem a trifle generous, but American Patriot was never in contention and finished 11th of 16.
Earlier that month, the battle-hardened Daddys Lil Darling, runner-up to the superb Abel Tasman in the Kentucky Oaks, was rated no better than a 33/1 chance for the Epsom Oaks despite glowing reports from trainer Ken McPeek. In the event, she bolted before the start, spooked by a thunderstorm, and was withdrawn, so we'll never know if she could have run into a place behind wonder filly Enable (we didn't know Enable was a wonder filly until that race).
Flabbergasted
It's worth pointing out, though, that both Daddys Lil Darling and Alluringly, who was third at Epsom, have peak Racing Post Ratings (RPRs) of 109, and Alluringly's effort in the Oaks was rated at only 105.
Then there's the case of Miss Temple City, who ran a close fourth in Royal Ascot's Coronation Stakes in 2015. She started at 50/1 that afternoon.
"I was flabbergasted, actually," said trainer Graham Motion. "I never imagined her not being a little bit respected because obviously I wouldn't have been doing it if I thought it was a crazy thing to do. It's not something you want to do just for the hell of it."
Of course, the British bookies have got used to taking 2-year-olds trained by America's Wesley Ward seriously, particularly at Royal Ascot, but even Ward has been victim of some of that lack of respect when it comes to his older horses.
Why else would his Undrafted have been allowed to go off at 25/1 for the 2014 July Cup at Newmarket (he finished a close fourth), or at 14/1 less than a year later for the Diamond Jubilee Stakes at Royal Ascot - which he won? And why was his top sprinter Cannonball shrugged off as a 33/1 no-hoper ahead of the 2009 King's Stand at Royal Ascot? He finished a closing fifth, just over half a length outside the places, and reappeared in what was then the Golden Jubilee four days later. He wasn't entirely embraced by the betting community even then, but he nearly won, finishing second, beaten just a neck at 11/1.
Even perhaps America's most celebrated recent winner in Britain, Tepin, wasn't given a lot of consideration initially when it was apparent she was on her way to Royal Ascot for last year's Queen Anne. This was an ultra-consistent filly, an easy Breeders' Cup Mile winner, taking on what was an unspectacular division in Europe. Yet she was available to back at 10/1 or more ante-post and started at 11/2 joint third favourite in a race she was fully entitled to win on RPRs.
Of course, she was also trained by Mark Casse, who is currently #17 in the world trainers' rankings - and #4 in the U.S. list - and, conveniently here, the man who on Saturday trained his second consecutive winner of the $800,000 G1 Ricoh Woodbine Mile, the awesomely impressive World Approval. (Casse's winner in 2016 was Tepin, by the way.)
This was World Approval's third G1 win on turf, and the 5-year-old is clearly improving with age. He appears to be much the best turf miler in North America, and the Breeders' Cup Mile is definitely on the agenda (the Woodbine Mile guaranteed him an automatic place as it was a 'Win and You're In' qualifier.).
Casse's confidence
"As long as he's healthy, we are going to the Breeders' Cup," Casse said at Woodbine. "Am I confident we can win? I don't think I would change places with anybody."
Remember that the Mile hasn't been a particularly happy hunting ground for Europe of late - just one win in the last six runnings (Karakontie in 2014) and just four in the last 13 (three of them from Goldikova). The last Irish-trained winner was Ridgewood Pearl for John Oxx back in 1995, and the last British-trained winner was Luca Cumani's Barathea the year before that. Aidan O'Brien has never won it (and he's had 16 horses run in it)!
Remember also that the shape of any European challenge for this particular race at Del Mar on November 4 is unclear, particularly with British Champions Day at Ascot taking place only two weeks before the Breeders' Cup this time and most of the highest-achieving European milers - like Ribchester, Barney Roy, Churchill and Winter - earmarked for targets there.
Now look at the YouTube video below. Surely you can't fail to be impressed with the way World Approval stretches clear of a field headed by Ballydoyle's Lancaster Bomber.
This is the same Lancaster Bomber, incidentally, who was a close second to Barney Roy in the St James's Palace at Royal Ascot in June, ahead of Thunder Snow and ahead of Churchill, the same Lancaster Bomber who was beaten just a length and a half when fourth to Churchill in the Newmarket 2000 Guineas. That's pretty close to the top rung of European milers in 2017.
So what odds do you think are fair for World Approval in the Breeders' Cup Mile (his RPR - 123 - is better than any achieved in the race since Wise Dan's first victory in 2012)? Perhaps 3/1? Should he be shorter?
As you've probably guessed, that's not even close. The shortest odds about him are 6/1, and he is available at 8s with some bookmakers. He is disputing second favouritism with unlikely runners Winter and Churchill and the lower-rated pair Decorated Knight and narrow Prix Jacques le Marois winner Al Wukair (who is at least guaranteed a place in the race for that victory).
The favourite (around 7/2) is Ribchester, who would only go to Del Mar as an afterthought depending on what happens at Ascot and who may not be totally at peace around a tight oval on fast ground.
The Europeans' record in the Longines Breeders' Cup Turf is a lot stronger (they've taken eight of the last ten) and they're sure to be a force again at Del Mar. But America has a candidate it can be proud of in Oscar Performance, the Kitten's Joy ridgling who has collected some notable scalps in six career victories, which include comfortable successes in his last three races, a G3 (beating Good Samaritan) and two G1s, and an impressive win in last season's Breeders' Cup Juvenile Turf - ahead of none other than Lancaster Bomber.
Europe's main prospects, the bookmakers believe, are Ulysses and Highland Reel, although both will have to negotiate the Arc a week on Sunday first. They dispute things at the head of the market at around 7/2, yet Oscar Performance, a ready-made, purpose-built contender, is generally 8/1 and as big as 9/1.
This is a mistake. They don't get it wrong very often, but with both these Breeders' Cup races, Britain's bookmakers have failed to appreciate quality across the Atlantic.