The British seem to have developed a habit of not taking U.S. challengers for their big races very seriously. The Americans don't send horses over very often, but when they do, the local bookmakers tend to assume they have little chance. Daddys Lil Darling, the Kentucky Oaks runner-up who takes her chance in Friday's Epsom Oaks, is a case in point.

Against a field of immature, largely unproven fillies headed into the unknown for the famous mile-and-a-half classic, trainer Kenny McPeek's battle-hardened, G2-winning, three times G1-placed daughter of Scat Daddy is generally a 33-1 shot with the oddsmakers - just the eighth choice in the betting market.
Yet the Kentucky-based McPeek, who has made telling raids on British races in the past, has a warning for those who dismiss Daddys Lil Darling from their calculations. "They should be worried," he said. "We are not coming for the free pens and lunch."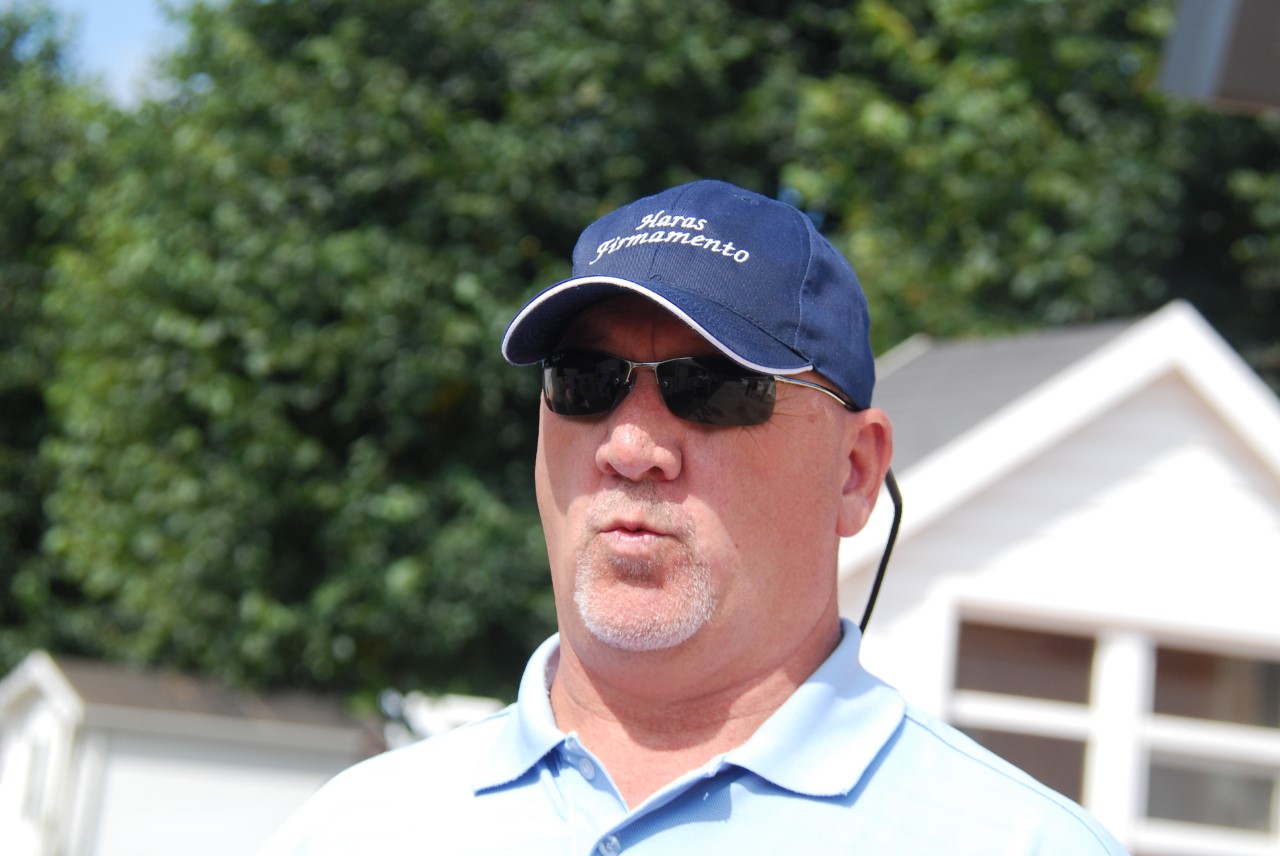 Those same bookies have nearly had their fingers burned by McPeek before. His Hard Buck wasn't given a prayer (he was sent off a 33-1 no-hoper) before he finished second (to Doyen) in the 2004 King George VI and Queen Elizabeth Stakes at Ascot. Casper's Touch wasn't written off quite so readily in 2010, but he was still no better than 9-1 fifth favourite before running third after staying competitive most of the way in the Chesham Stakes at the Royal meeting.
Royal Ascot of 2015 was another fine example of how the British bookmakers and media are largely dismissive of the prospects of American challengers (unless, of course, they are 2-year-olds trained by Wesley Ward). Top-class U.S. sprinter Undrafted was allowed to start at 14-1 when he won the G1 Diamond Jubilee Stakes, a day after that redoubtable battler Miss Temple City finished a close-up fourth in the G1 Coronation Stakes - as the 50-1 complete outsider in a field of nine.
Green light for Epsom
And surely Breeders' Cup Mile heroine Tepin's already magnificent record entitled her to start a lot shorter than 11-2 joint third favourite before her historic victory in the G1 Queen Anne at Royal Ascot last year.
Daddys Lil Darling, who will have the not inconsiderable bonus of assistance in the saddle from Derby-winning Olivier Peslier, booked her place for Epsom with her strong-finishing second to Abel Tasman in the Kentucky Oaks at Churchill Downs at the start of May (see YouTube video below). That finally convinced McPeek and owner-breeder Nancy Polk she was good enough to take her chance in England.
"I had been discussing running at Epsom for several months with the owner, who paid the first stage nomination of $1,800 in February. Then we had to make a decision, and Churchill Downs, where the filly didn't get the best of runs but finished well, finally set the green light for us to go for it," said McPeek.
"The owner also breeds horses at Normandy Farm in Kentucky, which is in close proximity to my training yard, and fully understands the added breeding value for having a possible Grade 1 winner, especially in the [Group 1] Epsom Oaks."
Daddys Lil Darling's form stands close inspection. She has raced nine times, winning twice, including the G2 Pocohontas Stakes at Churchill Downs last September, finishing second in three G1s and fourth in the Breeders' Cup Juvenile at Santa Anita last November.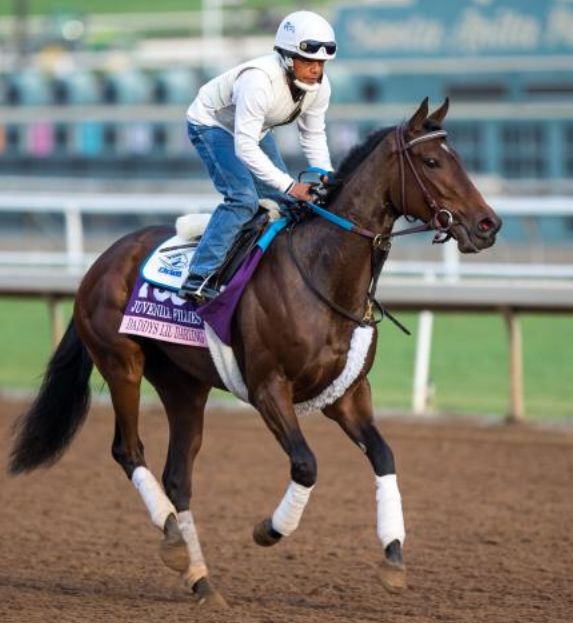 "The filly has been unlucky with the draw or had traffic problems in running several times, but she has always finished well in her races," said McPeek. "The furthest she has been so far is nine furlongs, though I don't see the extra distance being a problem. Not only will she get it, but it will suit her better. They should be be worried. We are not coming for the free pens and lunch. It has meant a lot of hard work in planning, logistics and expense. There are no real opportunities here in the States at Grade 1 level until August."
Of course all Daddys Lil Darling's best form is on dirt. She has run just once on turf, but she is a half sister to a Breeders' Cup winner on turf, and her sire has several notable turf performers to his credit. McPeek certainly doesn't think the turf will be a problem. And he is not intimidated by the famous descent around Tattenham Corner at Epsom either.
"Daddys Lil Darling has been used to training on grass. There is an up-and-down decline at my training centre," said McPeek. "She has turf breeding on her female side and didn't run too badly for a first run of the season on her only turf start in March, when sixth, beaten 2½ lengths in the [G3] Florida Oaks.
"The horse is a strong galloper, covers a lot of ground, and I would rather see soft than firm conditions for the race, but anyway I have my own grass gallops and the filly has the habit of firm ground through regular grass training.
"She has thrived since her last race and did a strong piece of work on May 19, where she went 1,000 yards uphill and downhill [see Vimeo video below of the work at McPeek's Magdalena Farm]. She looks as good as I have ever seen her and will definitely be held up in the race for a late run."
McPeek considers the two at the head of the betting as the main dangers in the race.
"I watched [Aidan] O'Brien's filly Rhododendron get beaten in the 1,000 Guineas by Winter [who went on to win the Irish 1,000 Guineas easily on Sunday] and she is probably a good filly, which will be suited by a longer distance. And [John] Gosden's horse, Enable, was impressive at Chester over a mile and 3½ furlongs and clearly gets the trip."
Daddy's Lil Darling has been stabled at James Boyle's Epsom yard since last Tuesday. By all accounts, she has adapted well to the new environment.
Thumbs up from Peslier
Frenchman Peslier flew over to Epsom to get to know the horse. He said: "I took Daddys Lil Darling for a steady gallop from the mile post on the outside of the track and she jumped the first passage and looked around for a bit, but afterwards was just fine, showing a good temperament, handling both the descent to Tattenham Corner and the finishing-straight rise well.
"I didn't push it, the objective being for the filly to get to know the track. It's a great sporting challenge to bring an American horse over for the race, and the filly looked very impressive on the video of her last strong workout in the States. I am looking forward to riding her on Friday."
Owner Nancy Polk's involvement in horseracing is a story in itself. Polk lived in Michigan and was initially introduced to horse racing by her husband. After he passed away, she sold their travel business and made a complete change of direction, buying Normandy Farm in 1997 to breed racehorses.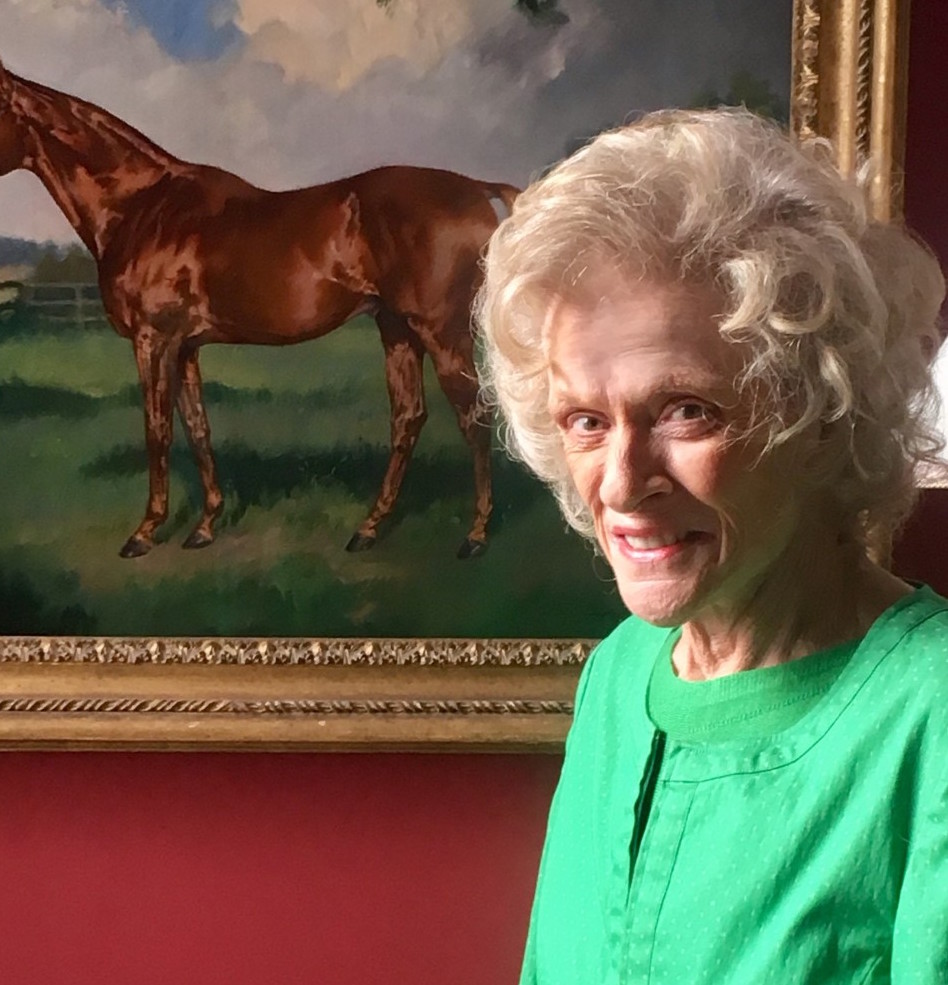 Nancy Polk bred Daddys Lil Darling at the 250-acre Lexington stud, where she mostly breeds to sell.
The dam, Miss Hot Salsa, died while giving birth to Daddys Lil Darling. "I sell almost everything, but kept Daddys Lil Darling, wanting to maintain the good breeding line as the mare has also produced Mongolian Saturday [the son of Any Given Saturday who won the 2015 Breeders' Cup Turf Sprint]," said Polk.
Broodmare Miss Hot Salsa was a shrewd purchase by Polk for $100,000 at the 2003 Keeneland November Breeding sales.
'Bred for turf racing'
"I originally chose Kenny McPeek as a trainer because he does well with 2-year-olds," said Polk. This proved to be the case for a second time when the 2-year-old Animal Kingdom filly Sunny Skies, only the second homebred Polk has had in training with McPeek, won by nine lengths first time out in a maiden at Keeneland in April over 4½ furlongs.
The filly was Animal Kingdom's first starter in the Northern Hemisphere. The filly was previously entered to be sold at the Keeneland September 2016 yearling sales but was bought back in the ring for $47,000, which now looks like a very shrewd move.
Polk is staying in Epsom this week. "I have visited England on several occasions, love coming over and am looking forward to the race on Friday," she said. "Like Kenny, I think the horse deserves her place in the race, is bred for turf racing and the distance will be more to her advantage. And, if it comes up soft, even better."
McPeek is not a trainer to send his horses over to Europe without a chance, as Hard Buck and Casper's Touch have already proved. As he pointed out, "The better horses I have, the more you will see me."