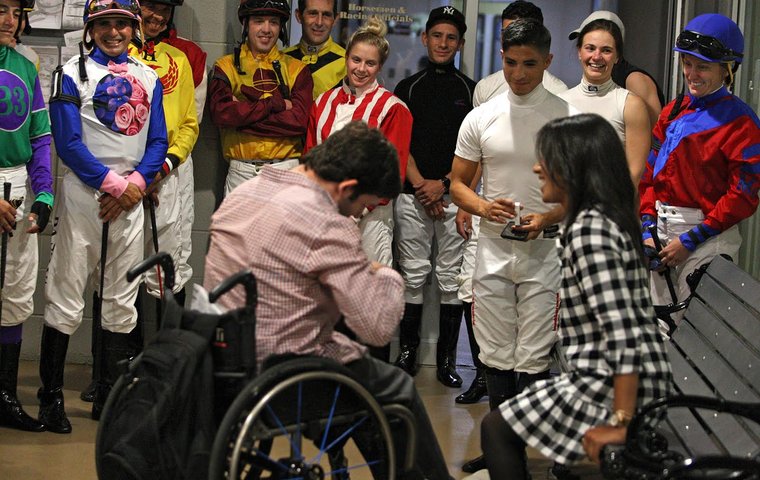 It was a moment Keisha Goberdhan and Goki Ninkovski will treasure for the rest of their lives. And most of the jockeys, outriders, TV crew and staff on duty at Woodbine Racetrack on Saturday will remember it pretty fondly too.

TRC readers were introduced to Keisha and Goki, who both suffer from cerebral palsy, last month in this article about how their relationship developed through horse racing, and grew stronger and stronger thanks to regular visits to Woodbine.
Although they have to travel via public transport for an hour or more each way (no easy matter when you have cerebral palsy), for the past three years the couple have been at the track most race days, from a Wednesday night after work through the weekend.
They have become popular with regulars at the track. Goki says everyone from the jockey colony to the simulcast hosts makes an effort to stop and chat with them. "They do a great job making us feel like we're part of Woodbine," he says. "It's cliché to say that you're part of a sports family, but I feel like I was meant to be here in some way."
So it was hardly surprising that he decided Woodbine was the place to pop the question, and last Saturday - Ricoh Woodbine Mile day - he asked Keisha to marry him. Most of the people working there at the time surrounded the couple to catch the moment, although they hadn't been given much notice - Goki decided this was the time barely an hour earlier.
Keisha said yes, by the way.