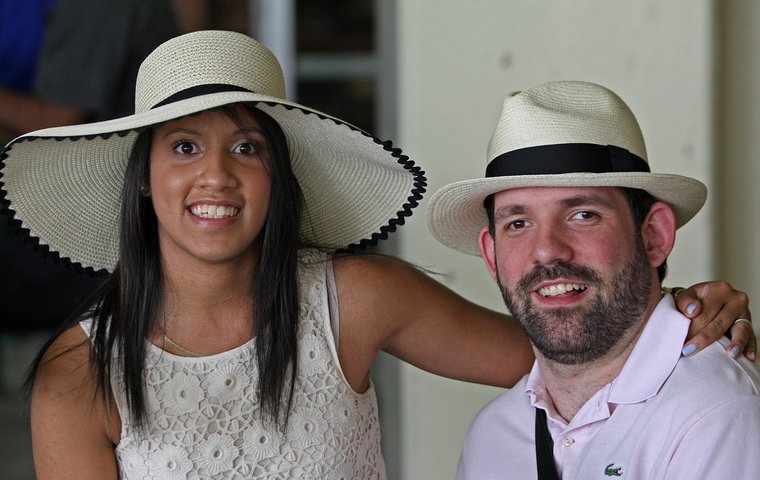 Keisha Goberdhan speaks in animated tones, grinning endlessly with bright eyes. Her companion, Goki Ninkovski, is more reserved, focused on the arduous task of picking winners and arguing his case. They have heated debates about which jockey is better, Rafael Hernandez or Alan Garcia, but agree that California Chrome was a treasure to watch on the racetrack.

Just listening to them handicapping the races and reminiscing about their favorite days at the track, an outsider would have no inkling of the disability that plagues them both.
But watching Keisha determinedly push her wheelchair-bound boyfriend from the saddling paddock rail to the horse path for every race, despite a dramatic limp, signals that there is something special about these two avid race fans.
Both Keisha and Goki suffer from cerebral palsy, a disorder of movement and muscle tone caused by brain damage in birth or very early childhood. Although it cannot be cured, cerebral palsy is non-progressive and can be helped with therapy and surgery.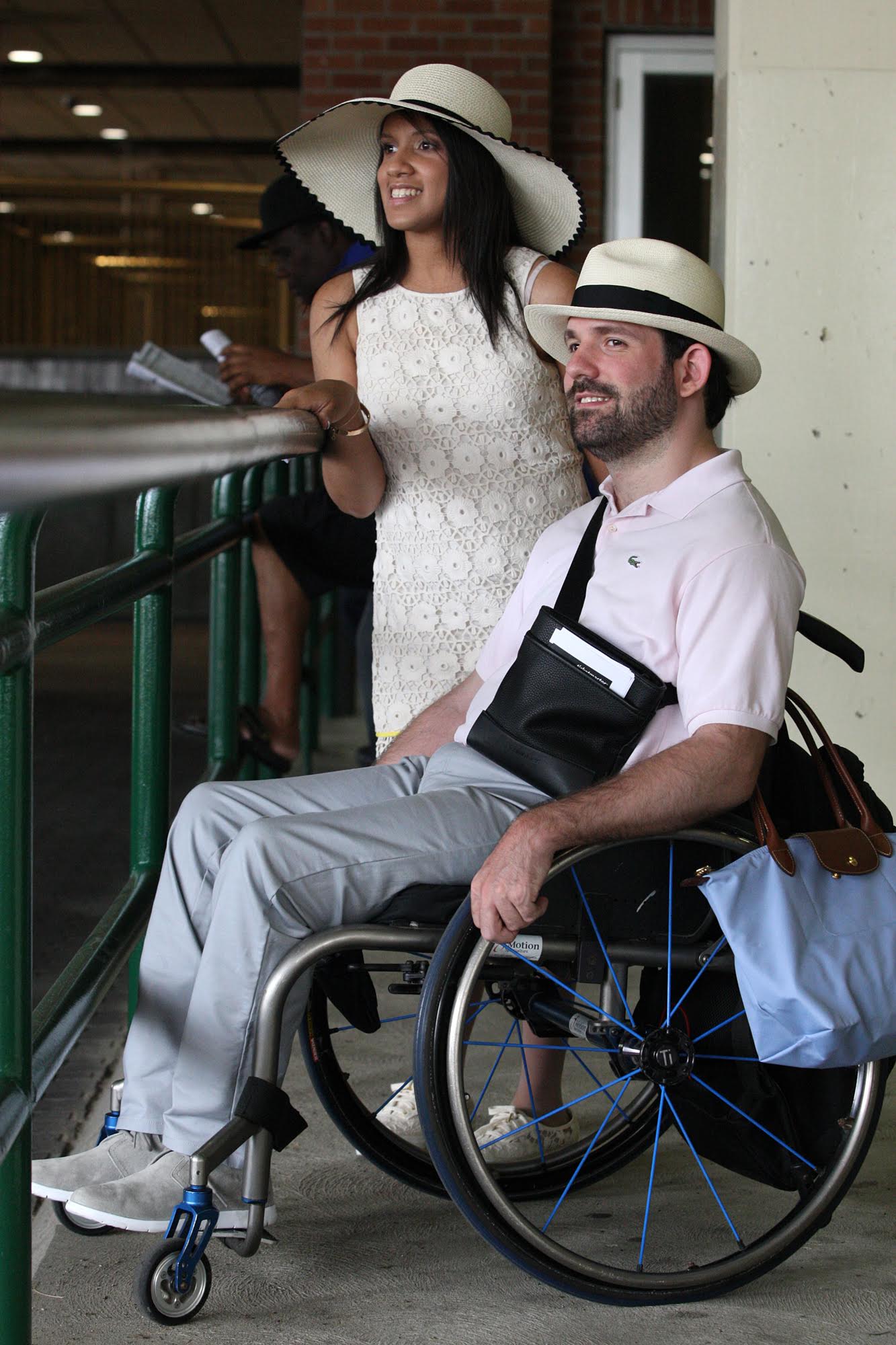 There is perhaps no better therapy than a race day at Woodbine Racetrack outside Toronto, which is where the couple forged a deeper bond than they could have imagined.
Keisha was born in Toronto, but her cousin trained racehorses in Trinidad and she grew up traveling between them and spending time with horses no matter where she was. "Every holiday, anniversary, or birthday, we were at Woodbine," she recalled. "Every birthday photo was just outside the winner's circle."
How they met
Keisha was working at a gym when she first noticed Goki, a client who came to work out. She tears up when she recounts the story of how they met. "I met him when he was running around the corner … " but Goki interrupts her with a gentle reminder: "Rolling. I was rolling around the corner."
Keisha was immediately attracted to him and asked a co-worker, "Who is that?" The co-worker happened to be Goki's mother.
"I spent the next few weeks calling their house every night to ask her to cover my shifts, just hoping that he would answer the phone. He never did. I ended up working about 50 hours a week hoping he would come in to work out, and he never came in!"
"I only answer my cell phone!" Goki protests. The Macedonia native was brought to Canada at the age of six for a short stay to undergo a hamstring release surgery, but his family found Variety Village, a charitable organization that helps children with physical limitations. He ended up staying in Canada, but he always had an eye on returning home to his friends and extended family.
The first time he and Keisha spoke, Goki warned her that he was headed "back home". "I thought he meant down the street," Keisha explains. "When he told me it was a ten-hour flight away, I panicked. I couldn't tell him how I felt because I was so nervous."
Romance via Skype
Goki left. But their friendship grew via Skype conversations every day.
Keisha waited for him for eight months, and, when Goki returned, he knew he had found something special. "For someone to wait for you, that's a wonderful thing," he says. "She's the reason I'm in Canada today, and, while I was very much into moving back home to be with my friends, I now have my best friend here and don't need anything else."
It was a full year into their relationship that Keisha finally brought Goki to Woodbine. "We've been here every Saturday since," she says, now nearly three years later. "I was never going to leave this place, so it was a requirement if he was going to be with me."
"I have to tread carefully so that I don't enjoy it more than she does," Goki jokes. "She is always reminding me that it's her thing and she introduced me."
Although they have to travel via public transport for an hour or more each way, the couple are at the track most race days, from a Wednesday night after work through the weekend. They have been thoroughly accepted into the Woodbine family, with Goki pointing out that everyone from the jockey colony to the simulcast hosts makes an effort to stop and chat with them.
"They do a great job making us feel like we're part of Woodbine," he says. "It's cliché to say that you're part of a sports family, but I feel like I was meant to be here in some way."
They even got to meet a racehorse together when Woodbine's resident ambassador, Will Wong, took them to meet the filly named after him, A Pic By Mrwill. "She was really fun to meet and get to know in the barn. A real sweetheart."
"I've been to tracks all over the world, but here you feel like you're really a part of something," Keisha adds. "This is where I always want to come back to."
"I'm just sorry it took so long into our relationship before we came here," Goki agrees. "I was honestly a skeptic, because I didn't know that horse racing was so entertaining. Growing up, I thought it was an older person's sport. That stigma should be torn down to pieces, because it's not."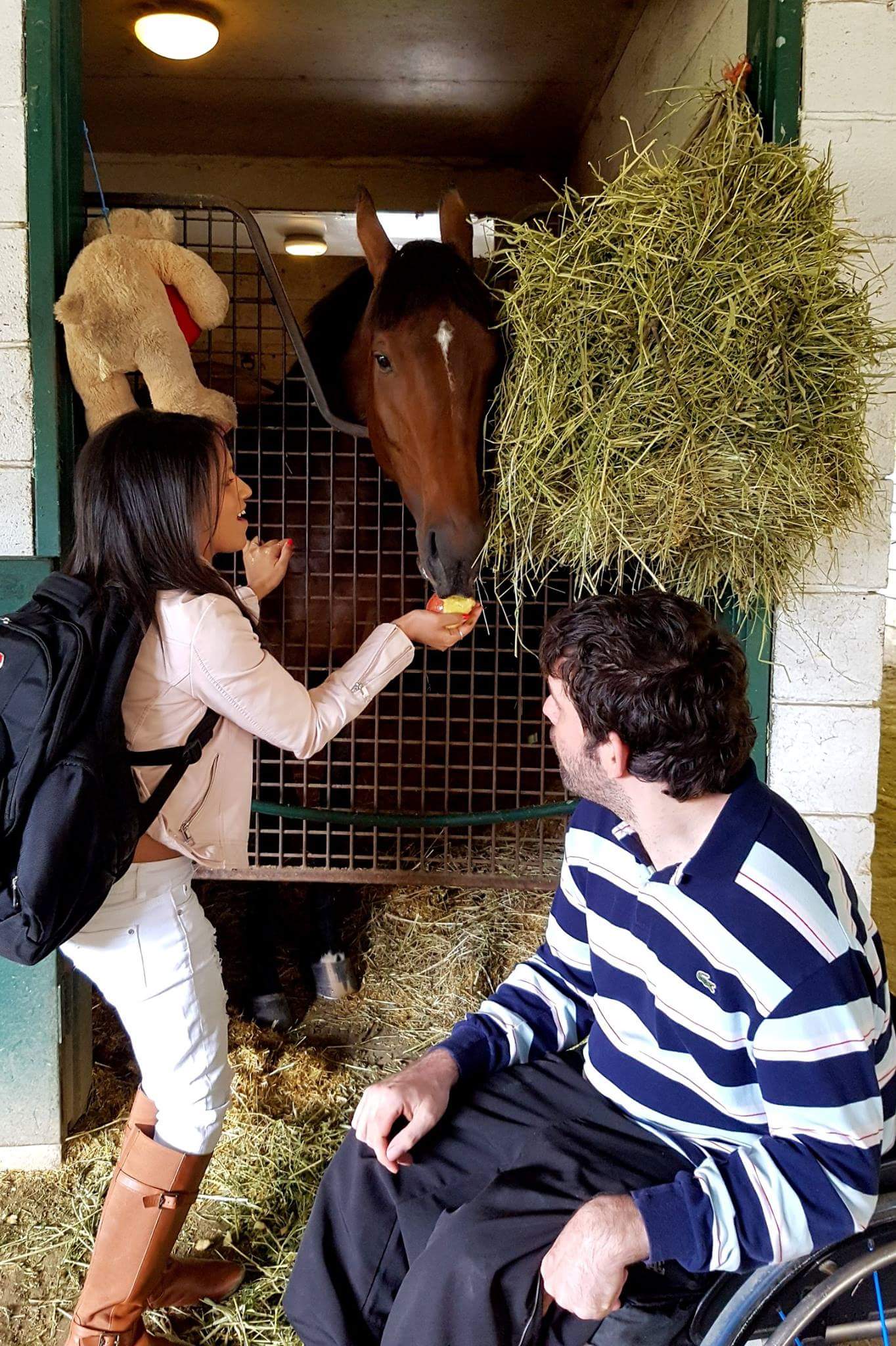 "We're trying to change that," Keisha says. "The big events here at Woodbine are perfect for that, with their concerts they put on."
Time is ticking for Goki to propose to Keisha, but he is planning the perfect moment while she waits for something she knows is on the near horizon.
"I want her to feel like a princess," Goki explains, "but she wants it to happen either at Woodbine on Queen's Plate day, or at the Kentucky Derby. But I want it to be when she least expects it, like a Wednesday night here. Something that won't take the spotlight off her, or the big race."
While they wait for that day, they travel to places such as the Caribbean and Peru, blog about food together, and watch racing from around the world. "We really bonded over California Chrome," Goki says. "How could you root against him, especially after watching that win in Dubai?" He refers to the dramatic performance by $14.7 million earner California Chrome at Meydan Racecourse, where the saddle slipped badly and jockey Victor Espinoza nearly fell.
"I was crying, bawling," Keisha recalls with a grin, while Goki says, "I was just praying that Victor would find balance!"
Looking out at the walking ring before helping Goki back to the saddling paddock, Keisha says, "Being here really brought us closer together. At first we were just best friends, but then I realized this is more than that. And we get to enjoy this place together."