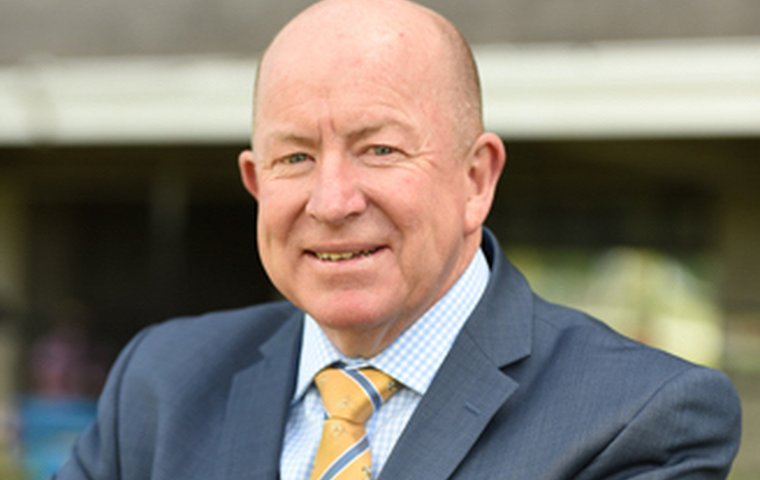 Like many in racing's top jobs, New Zealand's Thoroughbred Racing CEO Bernard Saundry has some tough decisions to make. The country known for producing household names such as Phar Lap, Sunline and So You Think faces pressure to close tracks as well as a struggle to keep the sport relevant in changing times.

Saundry, though aware of the dangers, is relaxed about how to propel racing and breeding forward in his adopted country and has every confidence in its product. New Zealand has been under the spotlight recently – unhappily due to the loss of European Horse of the Year Roaring Lion while there on stud duty and happily due to Michael Pitman's voyage to Royal Ascot with Enzo's Lad.
Saundry is understandably keen to encourage the latter venture, even though Enzo's Lad, trained by amputee and cancer survivor Pitman, finished well beaten in both the King's Stand and the Diamond Jubilee Stakes.
"It always creates interest when our horses take on the best overseas," says the Australian, who took over the reigns at NZTB in 2017. "We want our owners and trainers to be aspirational.
"The likes of Sunline [winner of the 2000 Hong Kong Mile] and Horlicks [winner of the 1989 Japan Cup] have proved that our horses can star on the international stage, as have numerous NZ-bred gallopers, with Beauty Generation, So You Think and Starcraft among the recent examples. Phar Lap, of course, was an early international flagbearer, Cadiz won the 1963 Hollywood Gold Cup and Balmerino was runner-up in the 1977 Arc de Triomphe."
Economies of scale
Saundry boasts an impressive resume, having joined New Zealand Thoroughbred Racing from Racing Victoria, where he spent 14 years, including four as Chief Executive. That experience means few things faze him and he's alive to the challenges facing the sport.
"We need to find ways of modernising the industry, so that it remains relevant and sustainable," he says. "Racing does not have the same hold on the general public that it did 30 or 40 years ago, and we have an ageing base of owners and licence holders. There are a variety of reasons for that, and many sports are facing similar problems, but the NZ racing industry lacks the economies of scale that are available in Australia.
"The geography of the country also provides its own problems and the rapid changes in the wagering landscape have contributed to our financial pressures. However, the industry and the Government are combining to introduce significant structural and legislative changes, which are aimed at improving the revenue streams and reducing costs. I am confident that we can turn things around, provided the participants and clubs are prepared to put the industry's needs ahead of their own."
The changes include the closure of several tracks, with plans to reduce the number to just 27. Seven have already been closed permanently, including Hokitika, which had been in action for more than a century, albeit only on one day per year. Not surprisingly, such moves have been met with resistance, but Saundry and his team are holding firm.
"We have been trying to maintain 48 racetracks – and a few more training tracks – in a period when the horse population and industry profits are declining, and we simply have too many tracks," he explains. "Most courses need improvements to both the track surfaces and facilities and we cannot bring 48 tracks up to the required standard. We need to improve the track surfaces and we are also conscious of the benefits of keeping the racing close to the horse population.
"We will be reducing the track numbers gradually and much will depend on the progress of building synthetic tracks and a couple of greenfield projects. In any event, we will be closing tracks rather than clubs, who will be able to keep racing, but at a new venue. They will have a new home ground, but with their history and traditional races intact."
Despite the closures, Saundry is keen to halt a decline in attendances, which he attributes to societal changes, as well as improved television coverage. Better promotion, particularly of marquee events, is key.
"We are now concentrating our marketing efforts on the major carnivals, together with selected community events, and the results have been encouraging," he says. "For example, the Karaka Million twilight meeting at Ellerslie, on the eve of the National Yearling sale, has, in just a few years, become a real highlight of an Auckland summer."
Female jockeys
Another thing New Zealand racing can rightly be proud of is its prowess in producing top female jockeys, something which other countries look at with envy. Lisa Allpress is among those to have made an impact overseas and there are plenty of others coming through behind her.
"I have found that New Zealand women tend to have a 'can do' attitude, and remember that New Zealand was the first country in the world to give women the vote. Their value as trackwork riders had long been acknowledged and once they were licensed to ride in races – which was a bit of a battle – in 1977, the industry quickly embraced the concept. It helped that Linda Jones was an early star and support has snowballed from there.
"Lisa Allpress recorded her third national premiership win in the just-completed season and Samantha Collett won the 2018 premiership. Women filled four of the top six places on the premiership last year and four of the top ten this year. More than a third of our professional riders are female and the ratio rises to 43 per cent when amateur jockeys are included. As a result, we now get numerous aspiring women riders from overseas seeking opportunities in New Zealand."
It's not just jockeys seeking to call New Zealand home. Northern Hemisphere studs have realised that the country is a good outlet for their stallions during the off season, and New Zealand is happy to have them. Stalwart Iffraaj has been joined by a slew of younger talent, including G1 winners Belardo and Almanzor.
"Shuttle stallions have had a significant impact on our breeding industry since the mid-1990s, providing access to stallions who would never have stood in NZ in pre-shuttle times," says Saundry. "The likes of High Chaparral, Montjeu, Cape Cross, Stravinsky, Pentire, Makfi and Iffraaj have had obvious benefits. The young horses shuttling this year will include Charm Spirit, Vadamos, Almanzor, Satono Aladdin, U.S. Navy Flag and Belardo, all of whom won Group I races in the Northern Hemisphere. Our commercial breeders can also get access to the shuttle stallions in Australia."
While no-one is denying the quality of bloodstock that comes out of New Zealand, therein lies the catch - the very best is marked for export.
"In an ideal world we would retain our best horses for domestic use," Saundry concedes. "But we need to cut our cloth to suit and selling horses offshore has some important benefits. It leads to a stronger sales market for young horses, which benefits our breeders, and the market for tried horses helps our trainers and owners balance their books. Selling our stock offshore also provides regular opportunities to show that our product is world class."
It seems that, under Saundry's supervision, NZTR won't be afraid to make the big decisions, however unpopular, if they believe it benefits the sport. At the heart, though, is a wish to see New Zealand's historic racecourses back to their thriving best.
"We need to sell New Zealand racing to the world and at the same time reignite the love of the Thoroughbred in our own community," he adds. "In order to achieve that, we must improve the customer and racetrack infrastructure and modernise the wagering model. If we get that right, we will have a domestic racing product that will appeal to international punters, and the future will look much brighter."