James Willoughby picks out the jockey, trainer, owner and sire who made the biggest impact on the TRC Global Rankings in the week that ended on Sunday.

TRC JOCKEY OF THE WEEK
Two rides in G1s, two wins. A record like that will make any jockey tough to beat for TRC Jockey of the Week honours. Step forward RICHARD FOURIE (+14ps, #75 from #105) who won the Cartier Paddock Stakes on Oh Susanna and the L'Ormarins Queen' Plate on Do It Again, both at Kenilworth in South Africa.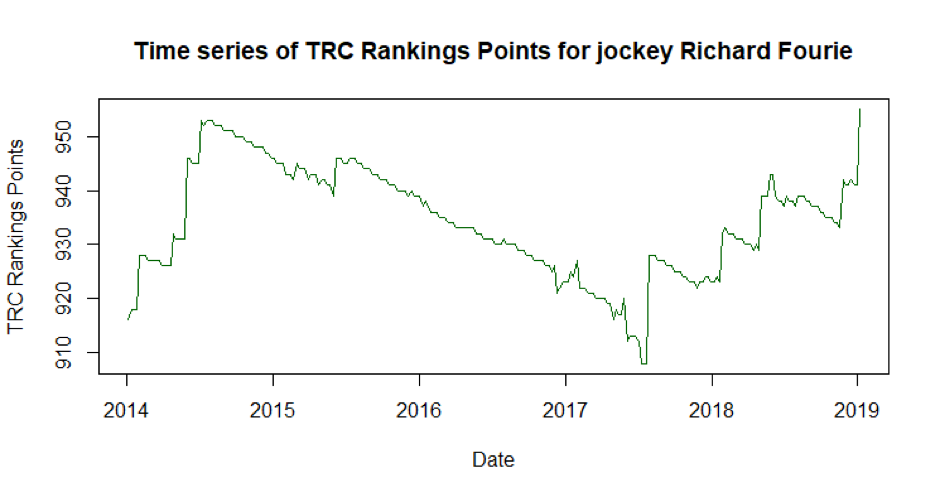 Fourie's 955pts in this week's rankings marks a career high. In 2014, his performance index was 953pts for four weeks across July and August.
Note that indices for South Africa are relatively noisy because TRC Global Rankings counts only G1 races in that country at present. As we mentioned in last week's appreciation of another top South African-based jockey, Anton Marcus, this does not restrict our ranking system because proportionately more points are awarded as compensation for the rarity value of races in any country.
Fourie is the highest climber among jockeys this week and now ranks second to Marcus among riders with South Africa as the Modal Country.
TRC OWNER OF THE WEEK
It's been a truly amazing run recently for Western Australia's PETERS INVESTMENTS (+4pts, stay #12) over the last two months and their TRC Owner of the Week crown is fully deserved here. This week, they added two more winners in the shape of G2 Perth Cup hero Star Exhibit and G3 La Trice Classic scorer Celebrity Dream.
Ranked #41 at the start of their amazing run, the ownership group run by Bob and Sandra Peters has been on an absolute tear. Peters Investments actually lead the world in Group or Graded wins since November 3, as the table shows, based on their results at Ascot racecourse, in the outskirts of Perth.

Their nine have been gained by five different horses, with triple scorers Arcadia Queen, the Kingston Town Classic heroine, and Railway Stakes victrix Galaxy Star leading the way.
TRC TRAINER OF THE WEEK
He's done it again! South African trainer JUSTIN SNAITH (+16pts, #28 from #53) takes a trademark leap up the rankings and gains further TRC Trainer of the Week honours for a dual G1 haul at Kenilworth in South Africa. He and jockey Richard Fourie formed something of a dream team as they annexed the Cartier Paddock Stakes with Oh Susanna and the L'Ormarins Queen' Plate on Do It Again.
Among trainers with South Africa as their Modal Country, Snaith is now ranked second to world #25 Mike De Kock. He is a particular favourite of this site on account of a propensity to cluster big winners together, as described in this article by Chris Smith.
Snaith is one of six trainers to be ranked #1 among those given the same National designation by our system, on account of having the most of their runners in South African races. In total, only ten of these have cracked the TRC Global Top 100, as shown in the table ranked by the number of weeks they have been top dog.

TRC SIRE OF THE WEEK
We are pleased to crown PER INCANTO (re-entry at #289) as the TRC Sire of the Week in a wide-open contest. Absent from the world's top 500 since May, the pride of Little Avondale Stud in the Wairarapa Valley, Wellington, New Zealand, bounds back into the classifications via Santa Monica's win in the G1 Railway Stakes at Ellerslie under Trudy Thornton.

Per Incanto has had three wins and six other places in races that count towards our rankings. You can view his complete results in other races here. This week's ranking is the 14-year-old's highest yet, this being the 114th week of his inclusion. We think he will rank higher still.
Click here for a list of all last week's biggest TRC Global Rankings points gainers.
Click here for a list of all the week's Group and Graded winners.