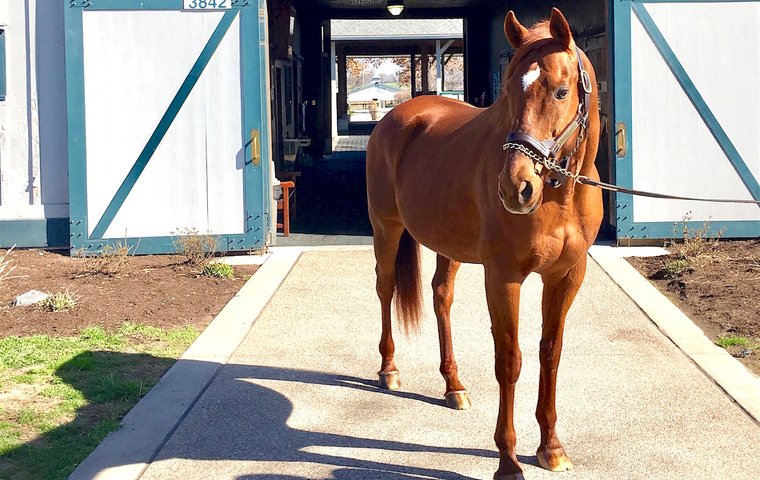 Watching the chestnut stallion stand patiently in the barn aisle way, it was impossible not to think about how time has its way with all of us. Curious and kind, he pricked his ears when being addressed, but otherwise made no fuss about the action around him. It was a far cry from his racing days.

Back then, he was known for his antics — especially his ability to reach for the sky while balancing his massive body, all 17.1 hands of it, on the tips of his hind hooves. Now, at 20-years-old, Point Given takes life at a more sedate pace, which helps make the 2001 American Horse of the Year a perfect candidate for his new job: racing ambassador.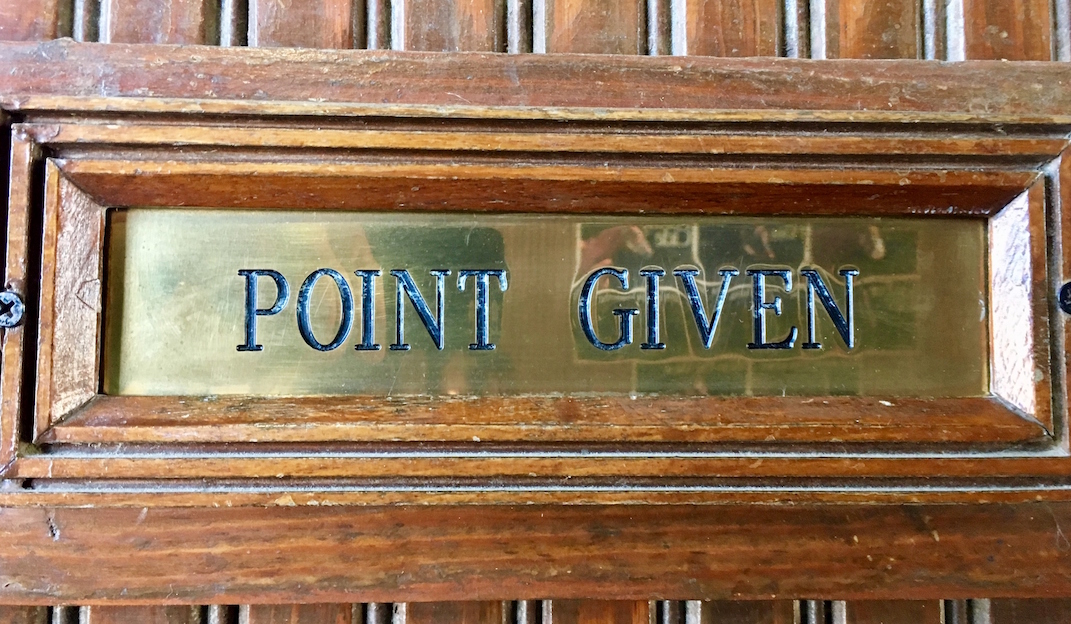 To commemorate this new role, the Kentucky Horse Park is hosting Point Given Day next Sunday (April 8) to officially welcome its newest resident at the Hall of Champions.
"Point Given Day is to celebrate Point Given making his forever home here at the Kentucky Horse Park," said Esther Zunker, the KHP's marketing director. "His owners were gracious enough to let us have him here, so we are having a party for him. The Hall of Champions show that day will focus on Point Given, honoring his career and his accomplishments.
"We will also have an extended meet and greet for his fans who come to see him, and they will be able to pet him, as long as he is in a good mood. He's doing great, and we want to celebrate him."
Changing gears
In 2001, Point Given, known then as The Big Red Train, was nearly unstoppable. He won six of seven starts that year, including five Grade 1s. Unfortunately for him, the worst race of his career came in the biggest.
On a day where the track was faster than fast, Point Given checked-in fifth in the Kentucky Derby. That year's contest, won by Monarchos, is the only Derby besides Secretariat's to be completed in under two minutes. It was also the only time Point Given was worse than second in his entire career.
Trained by Bob Baffert and owned by the Thoroughbred Corporation, the chestnut colt redeemed himself in the Preakness Stakes and left no doubts about his superiority in the Belmont Stakes, which he won by 12¼ lengths in a tour de force. He then reeled off victories in the Haskell Invitational and Travers Stakes to become the first American horse to win four consecutive $1 million races.
Point Given was named Horse of the Year and champion 3-year-old male that season, and he was inducted into the Hall of Fame in 2010.
A tendon injury prompted his retirement, and he began his stallion career at Three Chimneys Farm before later moving to Calumet Farm. His progeny earned more than $28 million, and his most notable runners include two champions, 15 Graded stakes winners and 32 stakes winners.
Last November, Calumet decided to pension Point Given and send him to the Hall of Champions to serve as an ambassador for horse racing. Point Given has been at the KHP since then, but the park decided to delay his welcome party for several reasons.
One, the park reduces its activity in the winter. His return to a full schedule of daily events was scheduled for today (April 1). Two, those in charge wanted to do what was best for the horse.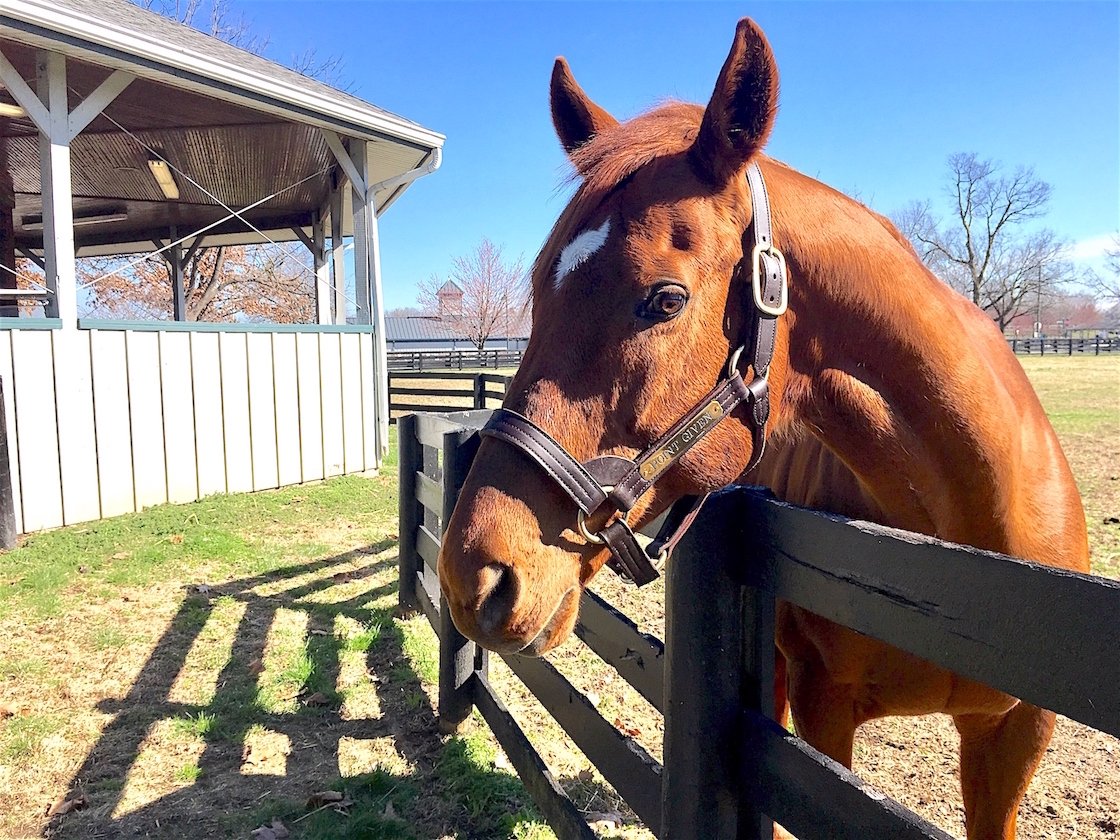 "We wanted Point Given to get fully acclimated before we had an official welcoming party for the public," said Zunker. "He was still in stud mode, but now he has had several months to adjust to his new home.
"You just never know how they are going to acclimate. We've had one or two horses in the past that came here briefly but it just didn't work out for various reasons. We wanted to make sure it was going to be a good fit for him. We knew it most likely would be, but we wanted to let him adjust."
Although it is quieter at the KHP in the winter, it is still open to the public five days a week. It didn't take long for people to notice the new chestnut taking up residence in the Hall of Champions, which prompted the park to send out a press release confirming his arrival.
"People found out via word of mouth, so we were getting a lot of inquiries when he first came," said Zunker. "We have gotten a ton of interest, and his diehard fans have already come out here in the 20 degree weather to see him."
Settling in
Point Given joins Kentucky Derby winners Go For Gin and Funny Cide as well as two-time Breeders' Cup Mile winner Da Hoss as the current Thoroughbred representatives in the Hall of Champions. Overall, he is the fifth Horse of the Year to reside there, following the likes of Alysheba, Cigar, Forego and John Henry.
"With his history and all of those pictures of him rearing up, I was a little apprehensive, but, when Point Given got here, he settled right in from day one," said Robert Willis, the Hall of Champions manager. "He's been absolutely perfect. He's been a high-quality horse his entire life and he's used to being the center of attention, so it's just a different location."
One thing that has been a bit of a change for Point Given is the amount of activity that occurs around the Hall of Champions. Nestled near the back of the park, the barn is close to stabling and arenas for horse shows that occur regularly on the grounds.
"He's used to the other Hall of Champion residents, but he is still adjusting a bit to the outside horses that are in the area showing," said Willis. "We have had some dressage shows here the past couple weekends. He has horses passing him, and he is interested in them, but he has behaved perfectly."
As a member of the Hall of Champions, Point Given will spend his days being paraded for visitors at set times. Other than that, his responsibilities don't extend much beyond grazing and enjoying retirement while being admired by the public.
"We have already had two prep shows for him, and he did great," said Willis. "We had a volunteer education seminar, and we used him and his video and script for it. He's definitely going to fit right in.
"I think he is a great addition to the Hall of Champions. Besides his impressive list of accomplishments, he is big, pretty, sensible, and personable. People will be able to get up close to him."
Although April 8 is his official welcoming party, fans are encouraged to visit Point Given at the Kentucky Horse Park, which is celebrating its 40th anniversary, throughout the year.
"We've had a lot of esteemed horses here over the years, so he is in a good place," said Zunker. "The Kentucky Horse Park has a reputation for taking really good care of its horses. I think people are happy to know he is here, and we are looking forward to attracting a lot of the Thoroughbred fan community out here to come see him."