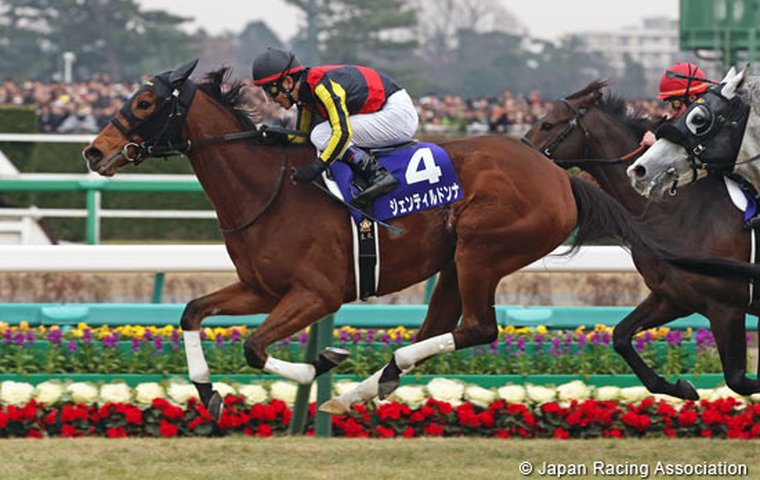 The superlatives keep piling up for Arrogate - and so do the titles. The mighty winner of Saturday's inaugural Pegasus World Cup, the world's richest race, is also the world champion, the holder of the 3-year-old Eclipse Award, and the winner of the Travers and the Breeders' Cup Classic. And it can't be long before his name goes to the top of another renowned page in the racing record books.

The $7 million winner's prize for the Pegasus has lifted the Juddmonte colt all the way up to second place in the U.S. all-time money list. After just his seventh appearance on a racecourse, Arrogate has come from way back to pass lofty earners Animal Kingdom, American Pharoah, Curlin and Cigar. He now sits behind only California Chrome.
He may have missed out to Chrome in the American Horse of the Year voting, but he will surely eclipse his old foe in the earnings list very soon.
Arrogate's total prize money is now close to £8.5 million (the list - compiled by the Newmarket-based International Racing Bureau - is based on British pounds at relevant exchange rates at the time of each race run). And that's enough to put him seventh in the world all-time standings, one place behind Chrome (£9.65 million).
Click here to see the full list of 39 horses who have won more than £5 million.
Ahead of them, of course, are five Japanese turf runners, but there is potential for Arrogate to top them all before his career is over. A victory in the Dubai World Cup, in fact, could send him straight to world number one as early as March.
Top of the pile at the moment is the filly Gentildonna, whose Aladdin's Cave of wins in some of the world's richest races included two Japan Cups, a Japanese Oaks, a Dubai Sheema Classic and an Arima Kinen (all worth well in excess of £1 million). Her career total stands at £12.285 million, which is barely a neck in front of her year-older compatriot Orfevre (Japanese Triple Crown in 2011, two Arima Kinens etc etc - and twice runner-up in the Prix de l'Arc de Triomphe).
Note that Gentildonna's tally came at the end of a 19-race career, and it took Orfevre 21 runs to amass his fortune. The financial muscle of the Pegasus has changed the game so much that Arrogate is thundering towards them before he has even reached double figures.
The remarkable thing about Juddmonte conjuring up a monstrous talent like Arrogate is that they've done it so soon after Frankel. Of course, Prince Khalid Abdullah's operation (ranked four in the global owner's standings) has been producing exceptional horses at an incredible rate for nearly 40 years), but unfeasibly they seem to have upped their game in the last decade. Certainly, if jockey Mike Smith is right when he says he "still hasn't gotten to the bottom" of Arrogate (and he probably is), this new hero could soon have a claim to be ranked as a U.S. equivalent of that Sir Henry Cecil-trained great.
Of course you won't see Frankel's name in the all-time world earnings list (at least not among those who have passed £5 million). The son of Galileo may have gone through his 14-race career unbeaten, racking up ten Group 1s in the awesome process, and he may be the highest-rated Longines World's Best Racehorse champion there's ever been (at a mark of 140), but he did all his racing in Britain, where the prize money is relatively modest, and fell a few notes short of a paltry £3 million by the time he was packed off to stud.