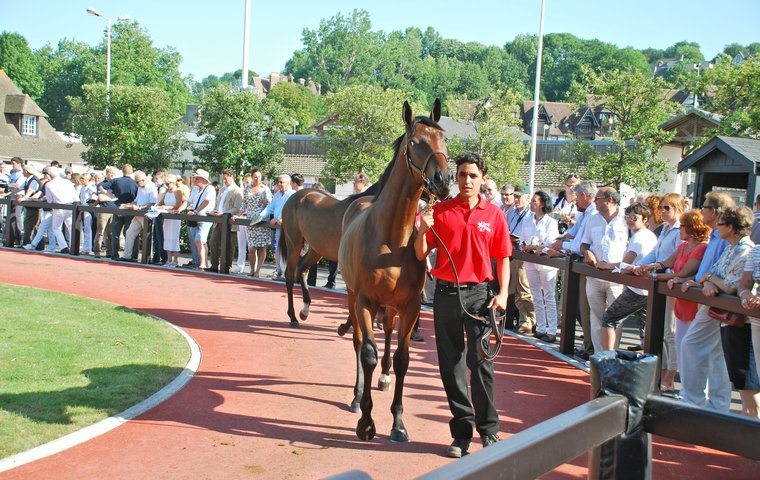 The first of the big European yearling auctions - the Arqana sale at Deauville on August 14-17 - features a rich array of progeny from top turf stallions like Cape Cross, Dubawi, Galileo, Invincible Spirit, Shamardal and Sea The Stars. And, sitting neatly in this elite company, is the U.S. sire Kitten's Joy, who represents the successful fulfilment of an ambitious plan by American owner-breeder Ken Ramsey.

The four days at Arqana feature 189 yearlings (Book 1) and 185 (Book 2) on the first three days, and 128 in the V2 sale geared to sprinting types on the final day (August 17).
The sale is not only the focal point of the glamorous Deauville racing season, the 'month-long opportunity for racing folk to indulge', it is also the one that sets the standard for the major sales to come at Baden Baden, Goffs and Tattersalls.
Ramsey will be sending Kitten's Joy yearlings to the European sales for the third year running as part of his enterprising policy to put his prized stallion on the international map.
Why we can expect extra interest in Ramsey's stallion
The six he is sending this year are expected to attract more interest than usual, especially after the breakthrough success of Kitten's Joy's son Hawkbill, who edged out The Gurkha in the G1 Coral-Eclipse at Sandown last month. Backing that up was the Jean-Claude Rouget-trained Taareef, another son of Kitten's Joy, who took the nine-furlong G3 Prix Daphnis at Chantilly at the end of June.
Up for auction at Arqana this month Ramsey has two Kitten's Joy colts: lot 12 (dam Dynarhythm) and lot 130 (dam Sweet Harp).
At Goffs Orby Sale (September 27-28), there will be two Kitten's Joy yearlings: one out of Celestial Woods (by Forestry), and the other out of Sweet Kassidy (by Saint Ballado).
At Tattersalls (October 4-6), there will be another two: one out of Granny Fanny, a daughter of Grand Slam, and the other out of the Gulch mare Shining Jewel.
How his yearlings fared last year
Last year Ramsey sent over nine Kitten's Joy-sired yearlings to the same three sales. Just one was auctioned at Arqana – a colt called Roaring Trade out of Wave Of Applause, snapped up by John Ferguson for €150,000.
At Tattersalls, of the six presented, just two sold: a colt out of Granny Franny, bought by Sackville Donald for 230,000 gns, and a colt out of Queens Causeway, knocked down to Shadwell Estates for 100,000 gns.
At Goffs, Bristol Missile, a colt out of the Galileo mare Dearest Girl, went to Peter and Ross Doyle for €145,000, and Nepeta, a filly out of La Coruna, went for to €50,000 to Mark Johnson Racing (and made an encouraging debut at Goodwood last week).
The Charlie Appleby-trained Hawkbill, out of the Giant's Causeway mare Trensa, was Kitten's Joy's ninth top-level winner at Sandown, but the Eclipse was the stallion's first success in a major European G1.
Hawkbill was bred by Helen K Groves and bought by John Ferguson at Keeneland in September 2014 on behalf of Godolphin for $350,000.
Maintaining momentum
The Eclipse was Hawkbill's sixth straight victory (including a G3 win at Royal Ascot) and that European momentum was maintained just 10 days earlier when Taareef (Kitten's Joy - Sacred Feather) got the better of stablemate George Patton (War Front - Photograph) at Chantilly.
Taareef, bred by Dixiana Farms in Kentucky, was bought by Shadwell Estates at the September Keeneland sales for $675,000.
"We have used Kitten's Joy over several years for our mares and have also been successful in the sales ring through breeding and selling yearlings by him," said Terry Arnold, Dixiana Farms manager. "We have several turf-type mares, so he suits our programme. We bred two mares to him this season, like his two-turn stamina and, being proponents of turf racing, Kitten's Joy fits our goals."
A 15-year-old son of El Prado (by Sadler's Wells), Kitten's Joy has been leading American turf sire for the past four seasons. His race record included wins in two 2004 Grade 1s - the Secretariat Stakes at Arlington and the Joe Hirsh Invitational at Belmont. He was also second, when favourite, to outsider Better Talk Now in that year's Breeders' Cup Turf (after bad luck in running).
The challenge in America
It was always going to be a challenge for Ramsey to establish Kitten's Joy as a stallion in the dirt-dominated U.S.
In 2013, for instance, of the 38 stakes winners bred from Kitten's Joy, 36 were home bred.
But the success of Stephanie's Kitten in the 2011 Breeders' Cup Juvenile Fillies Turf put him firmly on the map. Two more Breeders' Cups followed - Bobby's Kitten in the 2014 Turf Sprint, and Stephanie's Kitten again in the Filly and Mare Turf at Keeneland last October, and then there was August 17, 2013, when three of Kitten's Joy's offspring won Grade 1s.
"It was very difficult at the beginning and, in the first few years, he had 30 outside mares and approximately 100-plus Ramsey mares," said farm manager Mark Partridge.
This also reflected in the stallion's stud fee, which stood at $25,000 in 2006 and six years later was still the same. Winning three high-profile races at the Breeders Cup meeting in the past five years and the increased interest from other breeders has lifted fee to $100,000 for the past three years.
The European venture
"Kitten's Joy now sires about 100 yearlings a year, which is split 50-50 for home-bred and outside mares, and we sell around 50 a year and there are plenty for all the U.S. sales," said Partridge. "The increased stud fee reduced the number of outside mares but increased the quality considerably."
"The success Kitten was having at stud in the U.S. brought on European interest at the sales and in the breeding shed, so we thought the next logical step would be to sell yearlings in Europe," Partridge added.
"The first three were sold with [consignor] Ted Voute in 2014 and sold very well. The following year we offered nine yearlings, of which only five sold, and we kept four, who are now in training with David Lanigan [in Lambourn]."
Representatives from Arqana, Tattersalls and Goffs now come each spring to inspect the Kitten's Joy yearlings for selection to their sales. "They all come to the farm and inspect every Kitten's Joy we have and then give their wish list," said Partridge. "For the most part they all chose different horses.
An aptitude for softer ground
"I think the European yearling prices are comparable to U.S. prices, but we want to expose Europe to Kitten's Joy even if we have to take them to Europe ourselves. Also it looks like the Kitten's Joys like a softer ground, based on the winners he is having in Europe on this surface. Here in the States, they don't have the opportunity to run on soft ground.
"The recent success of Kitten's Joy produce in Europe may result in us sending more yearlings in the future, but it's not about quantity, it's the quality we want to offer at the sales."
Voute, who has been the European link for Ramsey, said: "My original contact was literally through a cold call approach as they had such a successful turf sire and I consign yearlings in Europe. I thought it would be a good fit to present Kitten's Joy yearlings at the leading European sales.
"They were at the same time considering the same thing and I got lucky. I visit Kentucky in April each year, which I first did in 2014 after writing to Mr Ramsey at the end of March, 2014."
A major factor in this type of venture is the cost of shipping over a yearling. "Freight and quarantine is around $10,000, plus preparation, entry fees, X-rays and the new dope test," said Voute. "I suspect it's around $16,000 [in total], depending on exchange rates."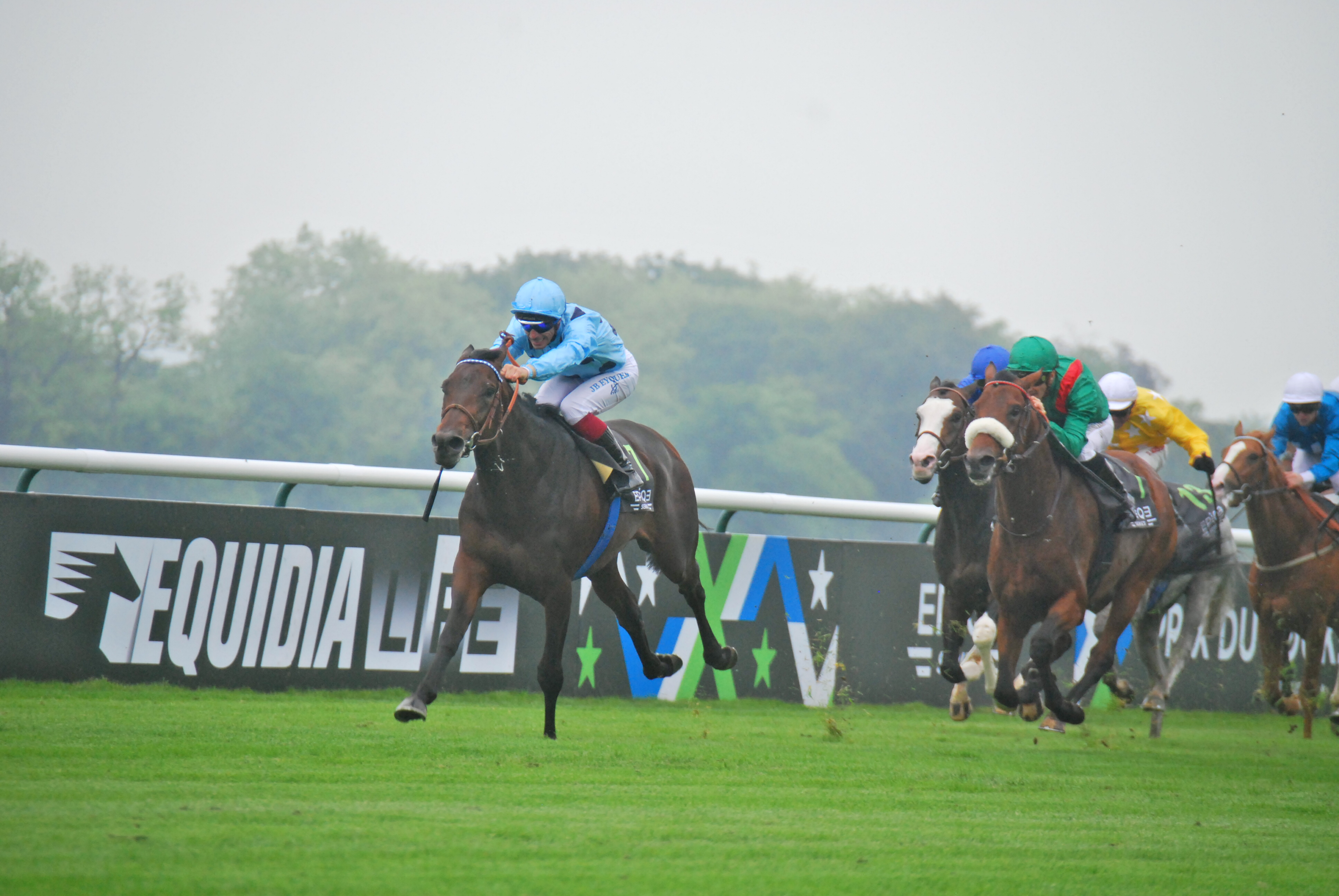 Things to watch for at the sale
Of course, the Kitten's Joy yearlings are just one element of what promises to be a dynamic three days in the sale ring. Here are a few points to note:
First-crop stallions represented include Al Kazeem, Camelot, Declaration of War (who has nine on offer) and Intello.

Two yearlings on offer are by the late Scat Daddy.

Expect plenty of interest from America. Last year on the first day, Justin Casse a Florida-based bloodstock agent, bought a Galileo filly out of Alpha Lupi for €250,000 and an Oasis dream colt out of the Woodman mare Sarabande for €113,000, both presented by Haras d'Etreham.

Former top-class Australian sprinters Fastnet Rock, now based at Coolmore in Ireland, and Sepoy (Darley in England) both have four yearlings on offer.

Ecurie des Monceaux had the sales topper last year with a son of Dubawi out of Pacifique, sold to John Ferguson on behalf of Sheikh Mohammed for €2.6m, the highest price in Europe during 2015. The Ecurie is likely to be challenging again with the only Dubawi on offer - lot 25, a filly out of Gracefully, a half sister to Falmouth Stakes winner Giofra.

Nine Frankel yearlings are set to go under the hammer, five of them presented by Ecurie des Monceaux, which is also responsible for three of the five Galileo yearlings on offer. These include lot 97, a filly out of Prudenzia, dam of Irish Oaks winner Chicquita, who herself was sold at this sale in 2011 for €600,000. A full sister to lot 97 went for €1.1 million at the sale in 2012.

This season's Prix du Jockey Club winner Almanzor (Wootton Bassett - Darkova) went to Jean-Claude Rouget for €100,000 at the sale in 2014.

Five of the last 10 winners of the Jockey Club were sold at either the August or October Arqana sales.

Quemah (Danehill Dancer - Kartica), winner of Sunday's G1 Prix Rothschild at Deauville, as well as the G1 Coronation Stakes at Royal Ascot, was knocked down at the same sale for €200,000 to Al Shaqab.

Buying French-bred yearlings offers a big advantage to prospective owners planning to race them in France, where there are owners' premiums on top of prize money for French breds (64 percent for 2-4 year-old races and 43 percent for older horses in open races).

Shrewd buyers like Jean Claude Rouget generally do most of their buying on the third day, which is supposedly geared to the domestic French market and offers a wide choice of French-based stallions like Le Havre, Siyouni, Kendargent, Motivator and Intello, with prices lower than the first two days.

The average 2015 sale price over the first two days for Book 1 was €245,791 with 129 sold. On the third day, 131 went through the ring at an average price of €81,115 with overall revenue up 9.4 percent to €42,233,000 over the three days.

The last-day V2 sprint sale saw 90 sold at an average price of €33,922, compared to €36,369 in 2014 for 103 sold.