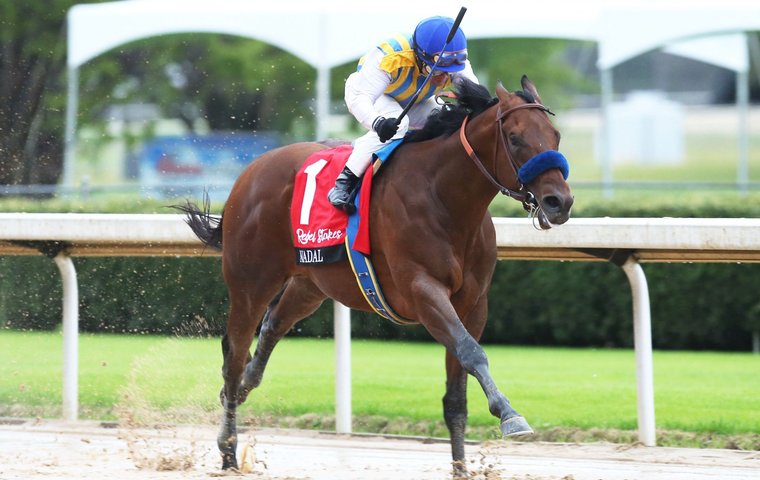 A card like that to be staged at Oaklawn Park tomorrow (Saturday) would be exciting in any circumstances. In these troubled times, its impact is likely to be exponentially greater. This is particularly the case because the G1 Arkansas Derby will be run in divisions.

In the first case, we will find out if the Bob Baffert-trained Charlatan is an inappropriately named as his two starts to date have suggested. If he stumbles, there are some talented rivals ready to take advantage. While, in the second leg, stablemate Nadal bids to take his unbeaten run to a fourth race. Again, this will not be easy for him.

Arkansas Derby (Division 1)
Race #11, Oaklawn Park, 9f, dirt
TOP CHOICE Charlatan
It is with no hesitation that CHARALATAN is put up in this spot: he looks likely to trade at odds on and may be the most talented thoroughbred in the USA. But, after a maiden and allowance win at Santa Anita, he could not make the list when we last published our ranked list of the leading candidates for the Kentucky Derby. That could change in a heartbeat here.
Charlatan debuted with a six-length win in a four-runner maiden, drifting in a bit greenly in the straight when his relentless gallop in the lead had broken his rivals. He ran 1:08.85 for the six furlongs, which, even at Santa Anita, is really flying.
In his entry-level allowance, he again did not see another horse and was even more impressive, hitting the wire more than ten lengths clear and making the $2.60 payoff look like the easiest money his supporters ever earned. A time of 1:36.24 for the mile is very impressive.
Clearly, Charlatan has outstanding claims here. Baffert has a very strong hand of 3-year-old colts in 2020, and it could be that this son of Speightstown finds his way to the top of the list. But it is hard to imagine he will prove great betting value here. He is bound to have a more difficult trip than on his first two starts and it isn't easy to win a first Graded stakes at the highest level for any but the very best.
So, Charlatan isn't recommended as a betting prospect, but what a horse he could be! A lot of questions will be answered about his adaptability, maturity and temperament. He has the chance to shake up the entire 3-year-old picture here.
VALUE PICK Gouverneur Morris
The Todd Pletcher-trained GOUVERNEUR MORRIS sits at #8 in the TRC Derby rankings right now. He retains his spot despite finishing only fourth in the G1 Florida Derby. The reason to retain confidence in him? A sneaky good effort, circling the field five horses wide on a track where this is a difficult feat to achieve at the best of times and certainly was that day.
Gouverneur Morris lacks brilliance. He has nothing like the upside of Charlatan. What he does have is seasoning at the top level. At Gulfstream, he was defeated by Tiz The Law, Shivaree and Ete Indien – all really good colts. Even without a genuine excuse regarding his trip, that's a high standard of form. And, given that we are likely to get five or six times the odds of Charlatan, Gouverneur Morris counts as strictly a value selection in this spot.
Arkansas Derby (Division 2)
Race #13, Oaklawn Park, 9f, dirt
TOP CHOICE Nadal
Currently #3 in our Derby Top Ten (behind Tiz The Law and stablemate Authentic), NADAL did everything that could have been asked of him when winning the G2 Rebel. Once again, he wasn't massively impressive in the end, winning by under a length from 82/1 shot Excession. There were extenuating circumstances though: Nadal duelled though super-fast 22.89 – 23.11 fractions with American Theorem and had that one beaten by 27 lengths.
Stepping up half a furlong in trip, Nadal can be ridden less aggressively here. Having previously won another G2 in the San Vicente, he is ready to step up to the top level and prove himself a highly accomplished colt.
VALUE PICK King Guillermo
There are some very good horses in this line-up – it appeals as a stronger race than Division 1. For one, Wells Bayou could easily have been the pick in this section, such was the impression he created in the G2 Louisiana Derby. And, for his part, Silver Prospector is worth consideration also. Forget his defeat in the Rebel and look back to the G3 Southwest here in which he defeated Wells Bayou.
KING GUILLERMO, the #7 colt in our Derby rankings, has to be the nomination though. Unheralded at 50/1 going into the increasingly influential G2 Tamp Bay Derby, he was massively impressive in drawing five lengths clear of Sole Volante, really powering through the stretch and hitting the line hard.
It wasn't just the visual impression of his victory that stuck. He ran a sensational 1:42.63 under a perfectly judged ride by Samy Camacho, who retains his spot in the plate. That proves there was nothing streaky about his performance. And the extra half-furlong should be right up his street.