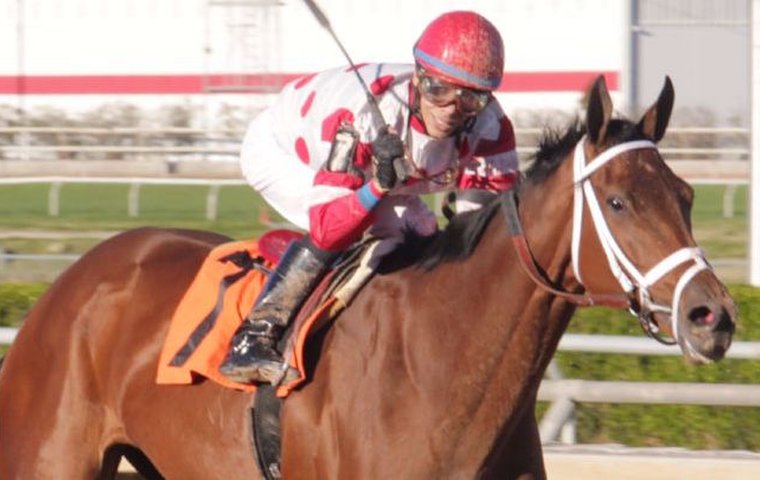 The focus has been squarely on Team Arrogate since the colt delivered a performance worthy of his world champion status in the Pegasus on Saturday. In a landmark moment - and not just because it was a different kind of race and it worked (so much so that the concept is now being copied in Australia) - the Pegasus announced loud and clear that U.S. racing is now bestrode by a new colossus. But there was another huge achiever in that same contest.

You don't have to go back very far in the finishing order to find him, but here was a rider very much on the rise. He was also in the middle of a fabulous weekend.
We give you Jose Ortiz.
While Bob Baffert, Mike Smith and Juddmonte were taking the plaudits for their work with Arrogate, because of their already lofty standings they did little more than strengthen their existing positions in their respective world rankings. It was Ortiz, who rode runner-up Shaman Ghost for trainer Jimmy Jerkens and Stronach Stables, who was the big mover.
Baffert gained one point but remains third in the TRC trainers' standings, Juddmonte gained four in the owners' rankings but stay at #4, and Smith, despite of course riding much the highest-rated winner of the week, didn't gain any points at all. He stayed as the world's #10 jockey (the rankings are based over a rolling three-year period, and this week Smith loses a G2 winner from 2014. His points total - 1007 - is a slightly better 1007 than last week, but still not enough to be rounded up to 1008).
Ortiz, however, is a different matter. Point gains are easier to achieve the further down the rankings you are, and the Puerto Rico-born 23-year-old went into last weekend as world #23.
After victories in three Grade 3s (one at Gulfstream on Saturday and two at Sam Houston on Sunday), plus the not inconsiderable points lift he got for partnering Shaman Ghost into second in the world's richest race, Ortiz is now at #19.
It all amounted to a seven-point gain, which pushes him up to fifth place in the table of U.S.-based jockeys in the TRC standings.
That is three places ahead of his year-older brother, Irad Ortiz Jr., who like Jose has been steadily rising up the rankings since coming to America in 2011 (the year before Jose).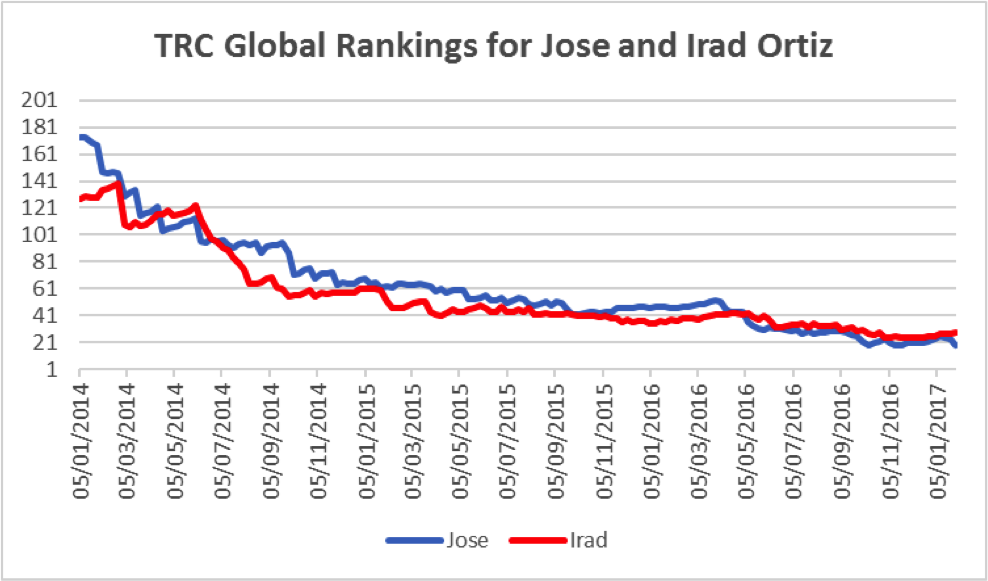 As the graph illustrates, both riders have maintained an improving trajectory in the TRC Global Rankings since the beginning of 2014.
The momentum may narrowly favour Jose at the moment - he was third in the voting for the Jockey of the Year Eclipse Award last month - but there is no jealousy either way, as this superb article by Terese Karmel last October shows.
Back to the Pegasus, however, and to the one Arrogate-associated individual whose position in the rankings did improve: his sire, Unbridled's Song gained four points and climbed eight places to 28 in the sires' standings.
Click on his name in the table to see details of the 110 entries that have counted towards his total during the current three-year window.