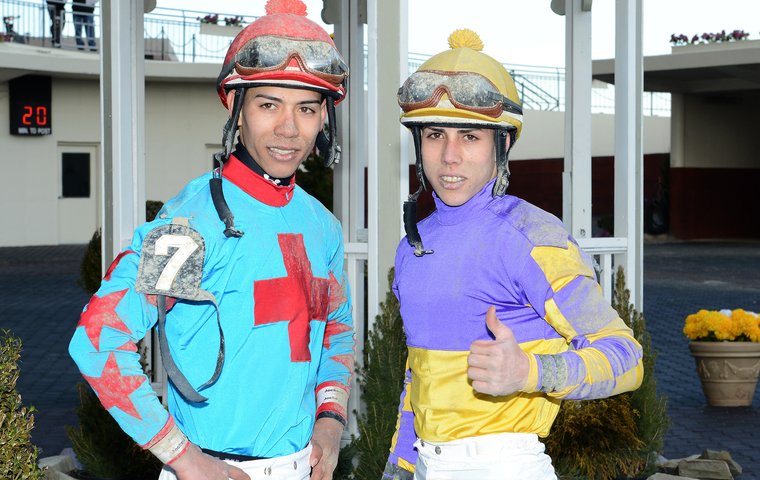 Since they arrived on the New York racing scene a few years ago, jockeys Irad Jr. and Jose Ortiz have totaled 24 Breeders' Cup mounts, and there's not much to brag about with a combined record of just 2-2-1 for the lot of them.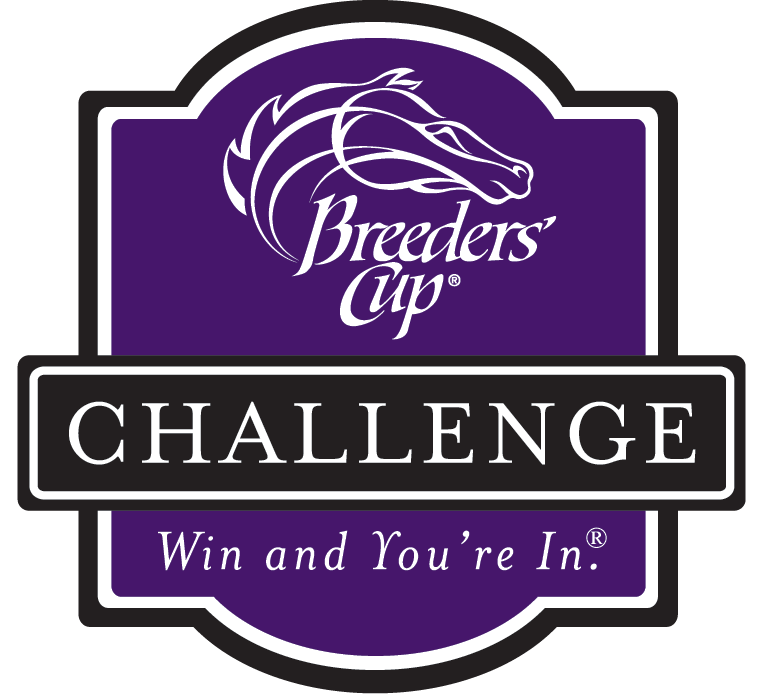 This year, as the Nov. 4-5 Breeders' Cup begins to take final shape, all of that is likely to change – the number of races in which they'll be on the backs of some of America's best Thoroughbreds reflecting a breathtaking, meteoric rise to the top in five years for Irad, 24, and four years for his 23-year-old sibling, Jose.
Barring late scratches or withdrawals, to date they are each in line for at least six mounts out of the 12 total races, and their agents are working on more.
Both are high in the top U.S. jockeys' standings (based on Graded stakes performances over the past three years) in the TRC Global Rankings - Jose is 6th and Irad 9th, with Irad particularly successful on turf (he comes in at third among jockeys in American turf races). Overall, they are both in the world top 30.
Modest to a fault, both jockeys have retained their courteous demeanor with trainers, owners and stable staff while becoming two of the most sought-after jockeys in the talent-laden New York colony.
The true test of their skills and success perhaps came with the conclusion of the 2016 Saratoga meet Sept. 5, widely regarded as the toughest in the U.S., when they finished 1-2 in the jockey standings. Jose's winning record of 294-64-35-33 was worth $4.625 million in earnings, Irad's 314-58-50-48, $5.207 million (more graded stakes).
New York domination
They have dominated the New York jockey colony this year, finishing, 1-2 in the Belmont 2016 spring meet and 1-2 in Aqueduct's winter and spring meets.
To date this year, they are among the top four jockeys in national earnings: Irad at $19.9 million, Jose $19 million and, since 2013, when the older brother broke into the top five national earners for the first time ($14.3 million), both have remained among the elite jockeys in the country. Even though prize money has increased exponentially in the past five years or so, their national earnings figures are still eye-popping.
According to Equibase figures, as of mid-October, Irad has earned $90 million from 8,000 mounts – 32nd among active jockeys in the U.S. - contrasted with the leader, John Velazquez, whose 30,000-plus mounts have earned him more than $355 million since he began racing in 1990.
Jose Ortiz's $68.5 million in earnings from 6,000-plus starts rank him 52nd among active jockeys. Both have the bulk of their careers in front of them.
The pair say hard work, experience and earning the right to being booked on some of the top horses account for their continued success.
When not riding, they are the best of friends but in the jock's room and on track, "there are no jokes," Irad said. "We always talk about horse racing, we handicap together, but on the track it's all business."
The competition between the brothers extends beyond races since they are also going after the same mounts. "We've taken them from each other," Irad said.
Flourishing personal lives
They also aren't afraid to claim foul in races where they're both riding, although, on the large scale, they are fairly clean riders, with only a few incidents. In late June, both were suspended three days for bumping and interference infractions during the Belmont spring meet and so began the 2016 downstate fall meet on the sidelines - five days (Irad) and three (Jose) - for bumping and interference infractions.
Irad's mount, Recruiting Ready, in the Saratoga Special Aug. 21, a G2 for 2-year-olds, was dropped from 2nd to 4th for his infraction.
Since coming to the U.S. in 2011 (Irad) and 2012 (Jose), their personal lives have also flourished.
Irad has an 18-month-old daughter, Sarai, and Jose is engaged to trainer Linda Rice's niece, jockey Taylor Rice. The two will be married in December in Ocala, Florida, where the Rice family live.
Being a father has been "beautiful", Irad said this summer as the Saratoga meet wound down. At the end of a tough day of riding, it's nice to go home to a family. "It's a more full life," he said.
Jose is proud of being an uncle and jokes about his impending marriage to another jockey and what the domestic future could hold. If they have a child, "it's going to come out with a helmet on," he joked, flashing the toothy grin that dominates the faces of both men, who could easily be mistaken for twins.
Both are soft spoken, preferring to do their "talking" through their work.
Jose got his 1,000th win on July 28 at Saratoga, in the $100,000 John Morrissey Stakes, appropriately named for the rough Irish-American boxing champ who established the racecourse in 1863. He was aboard 7-2 Moonlight Song, a 9-year gelding who had not raced since winning the same race a year earlier.
Saratoga the place to be
In his comments on the milestone, Jose acknowledged the help of his brother, who convinced him to come to New York after a year at Parx, where he finished 91st in the nation with $3 million in earnings.
"This means a lot. It's a big goal in my career," Ortiz said in the winner's circle. "I'm just thankful. I want to thank every single owner and trainer who gave me the opportunity. My family, and my fiancée who support me every day, my brother, who taught me a lot when I first started riding. Saratoga is the place to be in the summer, and I really love it. I'm very blessed I could do it here."
Irad won his 1,000th race in less formidable circumstances, on a chilly late November afternoon at Aqueduct aboard the Rudy Rodriguez-trained claimer Island Therapy. Two races later that same day, he rode a Rodriquez's 2-year-old New York-bred, Frosty Margarita, to victory in the Key Cents Stakes.
Their mother, Vilma Morales Adomo, says they are more mature than they were when they first came to the country from Trujillo Alto in Puerto Rico, a municipality of 75,000 on the northern coast of the island, but their goals of being top jockeys, following in the footsteps of their grandfather and uncle, have never changed.
"They always knew what they wanted," she said this summer, which she spent cooking for her family and babysitting in Saratoga.
A mother's prayer
If she watches the races – occasionally on the monitors in front of the jockey's room but more recently from the house – she has one thought on her mind and it's not about winning.
"When they are in the gate, I'm praying 'God, please take care of them ... and the others."
Vilma, whose sons share her smooth, tanned complexion and wide grin, usually covers her dark eyes during a race, especially when they are on the backstretch, occasionally daring to peek through her fingers. "That's where the majority of the spills happen. I don't want to watch that," she said of the midpoint of most contests. But when they enter the stretch, her behavior changes dramatically, as she yells "pronto, pronto" as they make their moves towards the finish line.
When they were very young, their father, who has worked on backstretches in Puerto Rico and more recently for trainer Nick Zito in Saratoga, seeing the potential for his small, slight sons, strapped them onto pillows, equipped them with whips, and ordered them to "ride" while they watched races on television.
Vilma enrolled her sons at the prestigious Escuela Vocacional Hipica jockey school, which has produced among others, Hall of Fame jockey John Velazquez (currently No. 11 in the TRC Global Rankings, meaning Puerto Rico has three riders in the world top 30) and Manny Franco, who is making his own mark in the New York circuit.
Instructors there recalled the Ortiz brothers as shy at first but showing great potential from the outset. To get into the school, which accepts 16 students a year from 100 applicants, candidates are subjected to rigorous interviews and other tests.
Their mother was also rigorous during their upbringing, making sure they stayed out of trouble, worked hard in school and were always respectful of their teachers, family and others around them.
To this day they act the same.
Helping hands
The Ortiz brothers had some important helping hands to ease their transition into New York racing from their close family friend, Efraim Rosa, a NYRA security officer who is known as Pito. A former hotwalker, Rosa housed the pair when they first arrived and, more importantly, introduced them to trainers, jockey agents and others connected to the track.
Another helping hand was Hall of Fame jockey Angel Cordero, who gave them his personal Equicizer as well as important riding advice. His most repeated admonition: stay low in the saddle. They still consult him.
Trainers and other jockeys are quick to praise their work ethic, attention to detail and professional behavior.
"Both have high-quality riding skills," said Velazquez. "It's good for the sport to see kids to come in and in only a few years to have such success. They've surrounded themselves with the right people and are very good at handling business. They're also very level-headed. The future of racing is right there and people should embrace them and the sport," he added.
"When they came to New York, they were very young," said trainer Leah Gyarmati. "But they haven't let success go to their heads, even though they made a lot of money and it is very tempting to go the wrong way. They have surrounded themselves with good people and have a good support system."
Then, on a personal note, she added: "It's very hard to get them to even go out for dinner. They stay at home with their mother and family."
Trainer Gary Contessa has called them "the Manning brothers of horseracing", referring to Peyton and Eli, both Super Bowl quarterbacks. In the 30-plus years he has been training, "I've never seen somebody lose the bug and not fall off. In a very short period of time, they have become world-class riders, he said. "Owners are always talking to me about riders; everyone says get the Ortiz brothers, 'either one.' Everyone wants both of them," Contessa said.
Never too busy or proud
Trainer Linda Rice, who uses Jose more than his brother, said they got a break in 2013 when Ramon Dominguez was forced to retire from racing because of an injury. "This left an opportunity for them and both have flourished since then," she said.
In fact, Irad is represented by Dominguez's agent, Steve Rushing.
Another prominent agent, Jim Riccio Jr, has represented Jose from the start.
From the outset, both jockeys were frequent visitors to New York tracks in the pre-dawn hours to work horses for top trainers, which paid off down the line in mounts.
Their agents say they're a dream to represent. They're never too busy or proud to work horses and are always professional and courteous to trainers and owners.
"Jose has the same work ethic as in the beginning," said Riccio. "This is a tough business with lot of ups and downs but he weathers them well." Riccio recalled a not too distant 0 for 40 slump. "We were losing every day but his attitude was 'Hey, today's a new day. Let's hope we get a win.' He knows you have to look at the bigger picture."
Rushing said: If Irad is in a slump, "we just go day to day doing the same thing that got him here."
Patient riding
Although the pair have mastered most distances and surfaces, Jose's reputation is as a great speed rider with a terrific sense of pace. Rice cited the Oct. 1 mile-and-a-half G1 Joe Hirsch Turf Classic at Belmont, in which he won on the front end with 9-1 Ectot over 1-5 runner-up Flintshire. In the July 30 1 1/8 mile G2 Jim Dandy at Saratoga, he pulled a similar upset,only this time it was with a maiden, Laoban, taking him on a measured pace from gate to wire at 27-1.
Irad's reputation is more of a closer, with particular skill in turf routes. Although not limited to this division by any means, some of his biggest wins have come riding trainer Chad Brown's distance turf horses such as Camelot Kitten, Lady Eli (he helped coax her back to winning ways after a dismal injury) and Dacita.
"The biggest things I've seen about them is that they're young, they're light and they want to be jockeys," said prominent trainer Shug McGaughey about the brothers. "They're out here in the mornings and they don't care how many horses they breeze. In afternoons, they come prepared and focused on what want they have to do."
And they aren't picky about who they work for or where they ride.
"They don't care if it's Belmont, the Meadowlands at night or Delaware Park on Mondays and Tuesdays, McGaughey added. "There's no prima donna in them at all."
McGaughey, who uses Jose more than Irad, said they are accomplished riders on all surfaces and distances, although the younger brother is a little more aggressive and stronger than his sibling.
A gift that can't be taught
Irad, on the other hand, "is very tactical in what he does – he's aggressive about getting his horse where he needs to be to win," said McGaughey.
Trainer David Jacobson, who is among perennial leaders in New York, agreed they can adapt to any type of horse, whether speed or come from behind.
"To me, they don't have a label," he said. "What they have is a gift and an instinct and they use them well. It enables them to make more good judgments than other riders. It's a gift that can't be taught, and they've had it from the beginning of their careers."
Like others, he also said their personalities and work ethic contribute greatly to their success.
"They've worked hard and are both respectable young men. Their parents did a good job of raising them. They've come a long way and they deserve it," Jacobson said.
But not long enough for them – at least when the brothers contemplate their futures.
What does it hold? What can you anticipate when not yet 25, you've already climbed to the top in this gut-checking humbling profession?
"I want to be somebody everybody remembers," said Jose. "Winning Breeders' Cups, the Kentucky Derby and being in the Hall of Fame."
"The Hall of Fame – that's the goal," said Irad. "It's hard work but you have to stay positive."