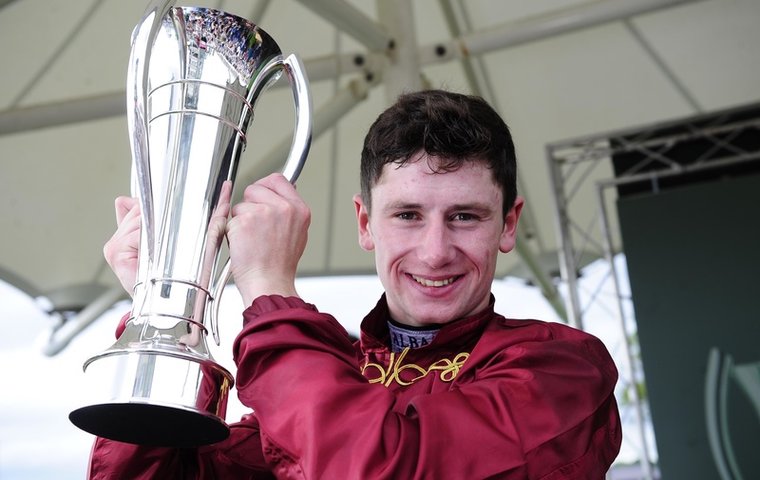 The world order of jockeys in 2018 – revealed here by TRC Global Rankings – provides increasing evidence of the influence of a Golden Generation of riders.

While our overall rankings are the best predictor of the humans involved in Group and Graded success now, we can extract the evidence provided by 2018 races only. This is shown in the table here: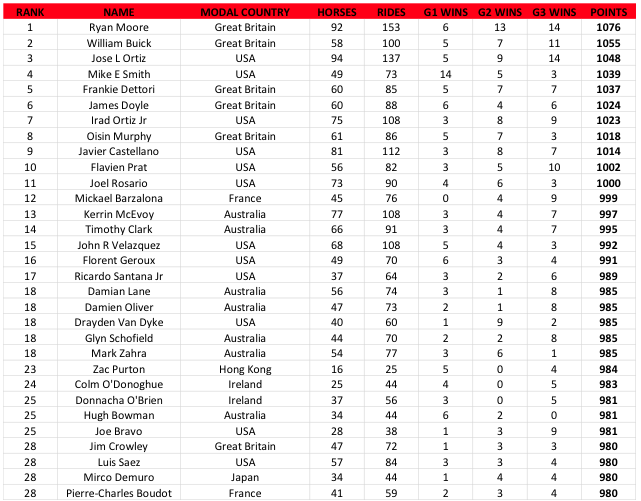 Despite his main stable of Aidan O'Brien taking a step back in 2018, Ryan Moore is still the most globally significant rider of the current era.
Ranked second, however, is Godolphin's British rider, William Buick, who, as the table reveals, has gone 23/100 (23 percent strike rate) on 58 different horses, mainly for Charlie Appleby, in 2018. Buick turned 30 this year and has accumulated a wealth of experience in the plate. His synergy with Appleby – together with the potency of the stock of the brilliant Dubawi – is powering the Godolphin season towards a vintage 2018.
Sitting at #3 on 2018 form – a place above the U.S. #1 rider in our main rankings, Mike Smith – is the super talented 24-year-old Jose Ortiz. Along with brother Irad Ortiz Jr, 25, Jose is box office to watch on a weekly basis. The two should continue to tear it up at the top level in the U.S.
Skipping over Smith and Frankie Dettori, we find James Doyle at #6. A contemporary of Buick, Doyle is a stellar 16/88 (18 percent) on 60 different horses in 2018 Group/Graded races and is firmly established as a top-notch rider in Britain.
Reaching that level with every ride is Oisin Murphy, who has more than two thirds of his 20s still in front of him. First choice to Sheikh Fahad's Qatar Racing, he is gaining in confidence with every ride and has a fruitful partnership with G1 Eclipse and International Stakes winner Roaring Lion. The John Gosden-trained colt was formerly a little wayward under pressure, but Murphy has learned to harness his talent beautifully.
There are numerous other young bucks in the rankings below Murphy, most notably of all, perhaps, U.S. superstar Drayden Van Dyke in the #18 slot.
We singled out the dynamic 23-year-old as a TRC Emerging Talent a year ago when he was ranked 95 in the main TRC jockeys' standings. Today he is #30 in that list, and then only because many of the riders above him have a strong back-catalogue, which makes them more established, statistically speaking. But anyone who witnessed DVD wrest the Del Mar riding title from last year's hero, Flavien Prat, 25, will know he is a young man in a hurry to the top.