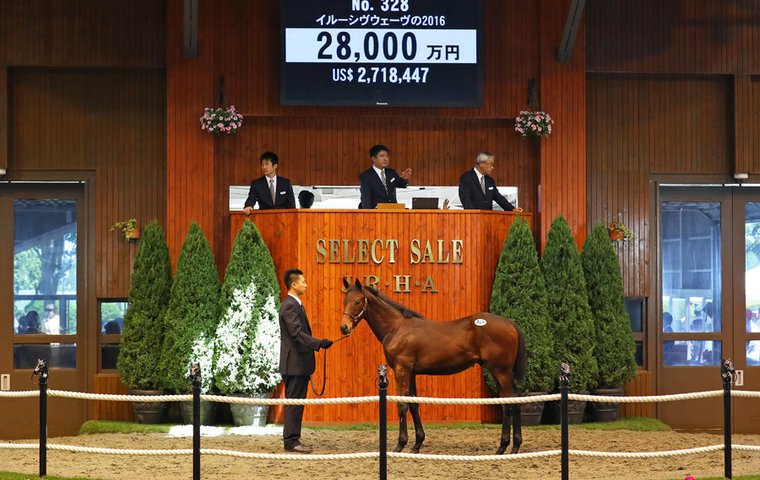 Japan's Select Sale of yearlings and foals, conducted this week at Northern Horse Park, offers a sumptuous smorgasbord of food, beverage and impeccably bred young horses and yet arguably remains world racing's best kept secret.

That is gradually changing, of course, as the JRHA (Japan Horse Racing Association) is now actively courting overseas buyers and working to accelerate the complicated process of non-Japanese owners gaining a permit to race horses in Japan, which is vital to potential investors, especially those from the Southern Hemisphere.
The sale itself combines the sophistication of any major Thoroughbred auction around the world with a charming link to Japan's past in the second-day sale of 232 foals, some born as late as April, who are paraded en masse with their mothers on open ground in the morning.
Traditionally, young horses were sold principally as foals - not as yearlings - in Japan. That changed a decade ago, but it's only in the past four years that overseas buyers have been encouraged, and the presence this year of Australian, European, American, Chinese, Canadian and Hong Kong buyers means the 'secret' is getting out and that Japanese bloodlines will begin to infiltrate the breed elsewhere (especially in Australia).
Regular forays into Europe and America
The JRHA Select Sale was inaugurated in 1998, when foals and yearlings were sold, but the latter was scrapped just two years later. "As the market for yearlings was slow, the JRHA conducted the foal session only from 2000 to 2005," explained respected Japanese racing commentator Naohiro Goda.
The yearling session was reinstated in 2006 with an eye to eventually attracting overseas custom and with the knowledge that Japanese buyers were becoming more familiar with the yearling sale concept after their increasingly regular forays into Europe and America.
Goda said: "The scale of international buyers has been bigger in the last three or four years. There's two reasons. Japanese-bred horses have been running very well at international races around the world, and foreign owners and trainers have started to recognise the quality of the Japanese-bred horse.
"And the JRA regulations on foreign ownership have been relaxed in the past few years, which makes it more attractive to buy here, and we're seeing more foreigners wanting to race their horses here."
Competition prohibitively strong
Australian bloodstock agents, representing buyers from Australia, mainland China and Hong Kong, were most active among the visitors. However, Canada's Charles Fipke was among the action and JRHA officials were certainly pleased to have a first-time visit by Coolmore's MV Magnier, as well as the return of American-based agent John McCormack.
While the welcome is warm, the competition is almost prohibitively strong from the locals, which prompted the Yoshida brothers, Katsumi and Teruya, to regularly go out of their way to thank the underbidders. And the JRHA hospitality and encouragement might be tempered to some degree by the fear of losing too many potential stars from their shores.
Plus there's the growing and determined global ambitions of many of Japan's major players, including Hajime Satomo, who bought the top two lots on day two and denied Coolmore on the $2.8 million Deep Impact colt out of Elusive Wave; and Tetsumi Kurokawa (KT Racing), who bought the top-priced yearling at $2.6 million on day one (a Deep Impact - Awesome Feather colt).
Thus, this year, the overseas spend was a tiny percentage of the record $144 million gross over the two days. However it's clear that major overseas investors are now showing an interest, which simply didn't exist a decade ago, and that many visitors to this year's sale were seeing a bigger picture based on goodwill, fact-finding and establishing relationships.
Australians out in force
That is especially true of the Australians, who were there in force despite only one present, Melbourne-based owner Robert Anderson, having a permit to race in Japan.
As it stands, most of the Northern Hemisphere-bred purchases secured by the visitors will be bound for Europe, including those purchased by Australians, given the racing obstacle imposed by the age difference between the hemispheres.
Unless, of course, like Anderson you have a permit to race, which allows him to leave his two acquired fillies to race in their appropriate age group in Japan, which is his intention.
Anderson bought a yearling daughter of former Japanese champion sprinter Kinsasha No Kiseki. "I chose her purely and utterly on type," he said of his $450,000 purchase, which followed his acquisition of a Daiwa Major filly foal last year.
"I want sprinting mares. You can't sell out of a two-mile mare in Australia. My strategy is to buy fillies with a complete outcross to our stallions; race them in Japan, hopefully get some black type in their age appropriate races. I'd then have them served here to Southern Hemisphere time and sell the offspring in Australia," Anderson said.
Outstanding catalogue
Both fillies will be trained by Mitsu Nakauchida. "He's impressive. He's had experience in England and America and his English is good, which is important for me in terms of communication between home and Japan," Anderson said.
The quest for 'new blood' will be an attraction for many Australian breeders, as indeed will be the overall strength of the Select Sale catalogue, as Hong Kong-based agent Justin Bahen, who secured no fewer than five lots for two clients, observed. "The competition is very strong but this is an outstanding catalogue," he said. "It is very much a select sale and does afford that opportunity to tap into fresh bloodlines."
Bahen bought two Heart's Cry fillies for Perth-based builders Paul and Anthony Silvestro, who raced the 2007 New Zealand Derby winner Redoute's Dancer. "These fillies will stay in Japan for a month or two while the weather's good and then go to Europe with the long-term view that they could be mated with one of the top stallions there," Bahen said.
He also purchased three colts, who may be bound for the U.K., Continental Europe or Hong Kong, for Hong Kong's Hung Kwok Hing Little, including lots 78 and 125 by the brilliant Lord Kanaloa, and that was no surprise given the impression Lord Kanaloa left on Hung with his devastating 2012 and 2013 Hong Kong International Sprint wins.
Gai Waterhouse considering options
Continuing the Australian theme with a twist, Canadian diamond magnate Charles Fipke paid $1.25 million for a Deep Impact filly out of Star Billing and hinted that she might go to the Gai Waterhouse stable in Australia. Fipke was accompanied by Waterhouse's racing manager, Adrian Bott, who said plans were still unclear for the five weanlings and one yearling which Waterhouse purchased at this sale last year. All six are still in Japan as Waterhouse considers her options, including the pursuit of a permit to race in Japan, which is also on Fipke's agenda.
Chinese investor Yida Zhang secured the first lot of the sale, a colt by Rulership. Perhaps he heard the whisper that the first and last lots at sales in Japan are considered to be lucky.
Also active from China was permit-armed Wu Jae, chairman of the Hangzhou-based Rifa Group. Australian agent and former Racing Victoria chairman Robert Roulston, acting on behalf of Wu's Rifa Mustang Pty Ltd, bought two fillies, who are likely to be raced in Japan.
Roulston was also on the lookout for prominent Australian owner Gerry Ryan, who bought two foals destined for France last year, but came up empty-handed, as did Segenhoe Stud's Peter O'Brien for client John Camilleri, breeder of the champion mare Winx. "Second again," O'Brien quipped after failing to secure one of his earmarked lots.
Extending influence
Among the other Australians to embrace the chance to develop contacts with their racing neighbour were Sydney trainer Matthew Smith; Peter and Toby Liston from Three Bridges Farm in Victoria; Sam Hayes, managing director of South Australia's Cornerstone Stud, and Arrowfield's Martin Story. Arrowfield will this year stand Deep Impact's son Real Impact, a G1 winner in Australia and Japan.
James Ross, recently appointed as General Manager, Racing, Wagering and International, for the Australian Turf Club, was also on hand as the ATC's continues its bid to attract international competitors to its Championship series of races.
New Zealanders Bruce Sherwin and Tony Pike were representing Raffles Racing, whose connection with Japanese racing began when it sold Derby-winning filly Shamrocker to Northern Farm.
Shamrocker, champion 3-year-old filly in Australia, had a Deep Impact yearling colt sell this week for $1.7 million to Hajime Satomi and a colt foal, by Orfevre, go to Keneko Makoto Holdings for $900,000.
But, as if to underline racing's globalisation, her influence may well extend beyond Australia and Japan as her first foal, a filly by Deep Impact, was knocked down to David Redvers at the foal sale in 2014 and she is now in work with Ralph Beckett in England and is likely to race, as Deep Sea, at the back end of the season.
Such is the narrowing of racing's borders, and Hokkaido's Select Sale will continue to be a key element of that.